Francoise Bedel Cuvee Entre Ciel et Terre Brut, Champagne NV 750ML ($89.95) Buy Now: $71.90 special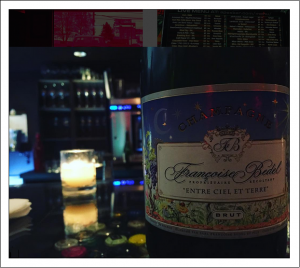 There's a local spot on the other side of town known for their illustrious, borderline-obsessive selection of Champagnes. The wine list hits the table with a weighty thud… Navigating their offerings is equal parts daunting and exciting, so packed with famed producers that it resembles what Sir Winston Churchill's Christmas list. While barside a few months ago, a friend noticed Mme. Bedel's name among the selections and nearly leapt for joy. Without hesitation, a frosty bottle and two glasses were summonsed, our server nodding with approval.
First, some context. Francoise Bedel is about as real-deal as you can get in Champagne. Her estate has practiced biodynamic agriculture for twenty years; harvest is performed by hand and wines are held for a minimum of five years prior to release. With 'Entre Ciel et Terre', free run and press wine is separated before vinification in oak and enameled tanks. The majority of this cuvee comes from the 2006 harvest and spent eight years on the lees. As with all bottlings, it is hand-riddled and disgorged prior to release.
The finished wine – an extra brut composed of 60% Pinot Meunier, 30% Pinot Noir, and the remainder Chardonnay, carries one of the most pleasing textures I've come across with Champagne. Bubbles are tightly-woven and explode across the palate; wildflower aromatics meld with a spice-tinged, honey-soaked flavor profile. Overall, a rich and multifaceted sparkling wine with great integration and no shortage of character. We've just picked up a handful of cuvees from Bedel, though not all that much of 'em. If you can manage to grab a bottle, please do – farmer fizz doesn't get much better than this. – Tyler