Familie Saahs Nikolaihof Neuburger, Wachau, Austria 2011 750ML ($39.95) Buy Now: Was $33, Now $28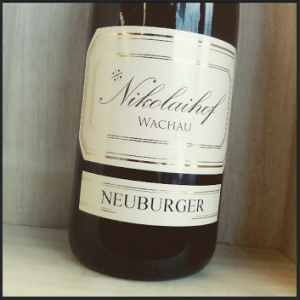 I'd been reading an interview with Nikolaus Saahs, known for making intensely beautiful Riesling and Gruner at the legendary Nikolaihof estate. Tucked between anecdotes about harvest and the minutiae of the winemaking life, Saahs conceded that his favorite varietal to drink was neither which made his family's centuries-old estate famous. Instead, it was Neuberger.
…Neuberger?
Neuburger. Native to Austria, the grape is a cross between Roter Veltliner and Sylvaner. Aromatically, it conjures up thoughts of off-dry Riesling, perhaps a chilly bottle of Gruner smuggled into a park on the first warm day of the year. On the palate, however, comparison is put to rest. The 2011 Neuburger is fleshy and generous, with a hint of spice and lots of savory bookends. The finish is insistent, remaining on your taste buds as the next whiff of honey, melon, and fresh herbs comes to be.
You'd be wisest to decant and play around with the wine a little. It's the sort of bottle which could patch together a lot of otherwise-disparate flavors well, like at a potluck dinner or with that stubborn family recipe which evades perfect pairings. With an open mind, this could truly delight. – Tyler