R. Lopez de Heredia Vina Tondonia Reserva 2003 750ML ($47.95) Buy Now: $33 special
Case-12 R. Lopez de Heredia Vina Tondonia Reserva 2003 750ML ($499.95) Buy Now: $359 special (that's only $29.92/bottle!)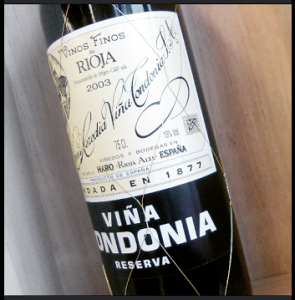 There's a little jazz venue-meets-bottle shop on Portland's east side that has two bottles of Lopez de Heredia from the 1940's sitting on a shelf. While a friend was playing a recent show, I could barely resist temptation of yanking out the still-intact corks and seeing what message the wine bore from three quarters of a century ago. The labels are tattered, the bottle's glass itself is lopsided, and the once-bright red wax seal has assumed a burnt sienna hue. I wonder when, if ever, these wines will see the light of day!
Every bottle I've had from Lopez de Heredia – LdH, as their devotees have dubbed them – bears some variation of this mystery. Their library releases make me wonder about what the weather in Spain was like that year, about what was going on in my own life at the time. I respect LdH because their mission seems unchanged since 1877; they resist temptation of trends and seldom disappoint. Above all – beyond the romance and the story, if one can divorce the two – the wines are powerful yet balanced, hugely expressive and a touch rustic. Soulful, suave, old world.
The 2003 Tondonia is 75% Tempranillo, 15% Garnacha, and 10% Graciano and Mazuelo, all from estate vineyards. Aged six years in barrel and racked twice, the wine presents blackcurrant and smoke in terms or aromas and delivers a brilliant mix of saddle leather, roasted herbs, ripe red fruit, and earth on the palate. The tannins are there – and aren't shy – but the acid, brightness, and body all reconcile in a lively, balanced wine. Decant it, let it sit, tipple here and there, and enjoy over a nice meal. You wouldn't be wrong to grab a case and drink one bottle per year until 2027… I don't say that as a salesman, but rather a fellow drinker. Enjoy this one! -Tyler