New Arrivals: Expressive Northern Rhones / Stupendous Burgundy – Latour-Giraud & Coch-Dury / Electric 2015 Beaujolais: Julie Balagny / Etna BioD Frank Cornelissen; Agathe Bursin: Secret Superstar of Alsace; Arriving Wednesday: Monica Larner – Wine Advocate Super Italian Picks / Catena's Epic Malbecs / Burgundy Best Buy: Olivier Larochette / Best Value Wine of the Year from Molitor; Hot Picks – Limited Allocations
~~~~~~~~~~~~~~~~~~~~~~~~~~
Expressions of Terroir
New Northern Rhone Arrivals
Syrah for the long haul – hide them deep in your cellar for revelatory terroir experiences:
 "[Gilles' wines are] second to none as expression of both site and tradition" –Rare Wine Company
Domaine Gilles Barge Cote Rotie Brune, Rhone 2012 750ML ($119.95) $89 special
Wine Spectator 93 points "Focused, with a supple beam of cassis and plum reduction notes lined with hints of anise, violet and incense. The finish picks up light bay and juniper accents, but stays fleshy and inviting in feel. Solid and approachable now. Drink now through 2022."
Josh Raynolds–Vinous 90 points "Opaque ruby. Aromas of fresh dark berries, olive and violet and a zesty mineral topnote. Juicy and focused on the palate, offering spice-accented blackberry and licorice flavors that become deeper in the glass. Dusty tannins build slowly and add grip to the long, spicy finish."
"Over the last decade, the soft-spoken Franck Balthazar has emerged as one of the most consistently top-notch winemakers not just in Cornas, but in the entire Rhone Valley. Winemaking here is very traditional, utilizing whole clusters and only 10% to 15% new oak 'just to maintain the usual rotation of wood, not for aroma or flavor.' Balthazar's Cornas bottlings are some of the most elegant of the appellation, but their light touch can be deceiving. They have also proven to be excellent cellar candidates even though they show a highly seductive character in their youth." –Josh Raynolds, Vinous Media 
Franck Balthazar Cornas Chaillot, Rhone 2015 750ML ($79.95) $69 special
Josh Raynolds-Vinous 94-96 points "Inky ruby. Spicy, exotically perfumed aromas of cassis, cherry compote, potpourri and incense are complicated and lifted by a smoky mineral quality. Sappy, sweet and expansive in the mouth, offering deeply concentrated but energetic bitter cherry, blueberry, olive and star anise flavors that deepen on the back half. The floral note comes back strong on a strikingly long, seamless, dark-fruit-driven finish that shows just a hint of harmonious tannins."
"Jean-Paul Jamet echoed the opinion of many of his colleagues when he cautioned me that 'if you want to really see terroir in the 2015s, you're going to have to give them time.' [I] can see why he calls it 'a terroir year' – the wines appear, at this very early stage, to be finely etched and focused, favoring energy over ripeness and weight. That's a style that Jamet himself prefers, he said, "because you notice the complexity more than just the fruit." –Josh Raynolds, Vinous Media
Domaine Jamet Syrah, IGP Collines Rhodaniennes 2015 750ML ($39.95) $33 special
Josh Raynolds–Vinous 89 points "(made entirely with de-stemmed fruit): Brilliant ruby. Spicy cherry, black raspberry and pungent flowers on the perfumed nose. Round and fleshy but energetic as well, offering dark berry, allspice and cracked pepper flavors that spread out on the back half. Blends power and vivacity smoothly and finishes sweet and nicely persistent, with subtle tannins folding into the wine's juicy dark fruit.
Domaine Jamet Cote Rotie, Rhone 2014 750ML ($149.95) $119 special 
Josh Raynolds – Vinous 94 points "Deep ruby. Heady, smoke- and mineral-tinged blueberry, raspberry and violet aromas show outstanding clarity and a hint of Asian spices. Sweet and seamless on the palate, offering deeply concentrated but surprisingly animated red and dark berry and floral pastille flavors, along with a suggestion of spicecake. The strikingly long, penetrating finish features intense minerally cut, an echo of juicy red fruit and fine-grained tannins that come in late."
~~~~~~~~~~~~~~~~~~~~~~~~~~
Stupendous Burgundy
New Arrivals!
Domaine Latour-Giraud Les Genevrieres, Meursault Premier Cru 2013 750ML ($149.95) $119 special
Stephen Tanzer–Vinous 93 points "(13.3% alcohol without chaptalization): Pale yellow with green highlights. Ripe, sexy aromas of orange blossom, orchard fruits and hazelnut: this could only be Meursault. Ripe, suave, pliant and rich, but still with lovely delicacy to the lightly saline flavors of orchard and citrus fruits. Very dry, harmonious and long. Boasts terrific depth for the year."
Coche-Dury Meursault 2013 750ML ($599.95) $499 special
Stephen Tanzer–Vinous 91 points "(from Luchets and en la Barre): Pale, bright yellow. Stone fruits and a honeyed nuance on the inviting nose. Concentrated, ripe and dry, conveying a musky complexity to the flavors of peach, pear and minerals. Finishes with excellent energy and a positive phenolic edge. (Burgundy lovers who routinely snap up the Coche-Dury Bourgogne Blanc when they're lucky enough to spot it in a retail shop or on a restaurant wine list will love the very sexy 2013 version, which offers intense white peach and lime flavors framed by lemony acidity and finishes with noteworthy refinement for its humble appellation.)"
~~~~~~~~~~~~~~~~~~~~~~~~~~
Summer Shipping Special:
Midwest, East, & South
For the summer season we are offering UPS Three Day Select Service for the price of UPS Ground for shipments normally traveling 4 or more business days by ground.
Free service upgrade only applies on single orders purchased and shipped during the promotional period.  Additional fees will apply to orders held for any reason until after the promotional period and shipped by Three Day Select.  Offer not valid on items purchased before the promotional period or on pre-arrival items that arrive after the promotional period ends.
~~~~~~~~~~~~~~~~~~~~~~~~~~
New 2015 Beaujolais Arrival
A Bright Shining Star Vintage
Julie Balagny – Electric Depth
The 2015 vintage in Beaujolais is already going down as a modern day classic, drawing comparison to other legendary years like 1945.  The growing season was long, warm and nearly perfect–growers could pick grapes whenever they'd like.  The moderate warmth of the year meant that for a big and powerful vintage, the wines stayed incredibly vibrant, so the wines have 2009-like power but with more freshness.  Like 2009, the wines have approachable textures and lots of rich, plush fruit but have lots of hidden structure as well–these should be wines that will age for a long time.  Our selection of the 2015's keeps changing as wines sell out and new ones are released. We're pleased to announce this new arrival from Julie Balagny. She's an up and comer in Fleurie who began in the caves of Yvon Metras and holds a deep appreciation for the local traditions and the rewards & challenges of natural wine making.
Julie Balagny 'Sex Appeal' Fleurie 2015 750ML ($69.95) $59 special
"She embraces the challenges of natural viticulture and natural vinification with an ardor one rarely finds among the region's more established natural winemakers, whose seniority and generational experience have instilled a plodding realism that borders on pessimism at times… Where and when one manages to find Balagny's work, it's often extraordinary. The best bottles combine the electric acid-focus of Max Breton's wines with some of the suppleness and depth of Métras' Fleurie. If she hasn't yet attained the consistency of either winemaker's production, it only endows her bottles with an excitement all their own. Hers is long, rosey, iron-boned gamay, out there on the edge, like its maker."–Aaron Ayscough, Not Drinking Poison in Paris
We offer fifteen different 2015 Beaujolais wines in stock now. See four more highlights below or visit our web store for the complete list!
Guy Breton Morgon Vieilles Vignes, Beaujolais2015 750ML ($34.95) $29 special, 36+ bottles available
Guy Breton Morgon Vieilles Vignes, Beaujolais 2015 1.5L ($79.95) $69 special, 4 magnums available
Case-12 Guy Breton Morgon Vieilles Vignes, Beaujolais 2015 750ML ($419.95) $319 special, 5 cases available (that's only $26.58/bottle!)
Josh Raynolds–Vinous 94 points "Limpid violet. A seductively perfumed bouquet evokes fresh red berries, Asian spices and potpourri, and subtle cola and licorice nuances emerge with aeration. Juicy and pure on the palate, offering intense raspberry, lavender pastille and spicecake flavors and a refreshingly bitter touch of blood orange. Delivers a serious payload of vibrant berry and spice character without excess weight, and finishes extremely long and nervy, displaying no rough edges and lingering florality."
This is the lowest listed price in the USA today!
The average price is $32
Anne-Sophie Dubois Fleurie Clepsydre, Beaujolais 2015 750ML ($31.95) $28 special, 33 bottles available
Anne-Sophie Dubois Fleurie Clepsydre, Beaujolais 2015 1.5L ($79.95) $66 special, 5 magnums available
VinopolNote: Clepsydre is the French word for 'water clock' and denotes the most age-worthy of the wines that Dubois makes.  It still has her trademark elegance but with more richness and power than her other wines.  One to lay down or decant before opening, for sure.
This is the lowest listed price on the West Coast today!
Daniel Bouland Cote de Brouilly Cuvee Melanie, Beaujolais 2015 750ML ($29.95) $24 special, 22 bottles available
John Gilman 92 points "Daniel Bouland's 2015 Côte de Brouilly "Cuvée Mélanie" is a bit riper than his beautiful Chiroubles, coming in at 14.5 percent alcohol on the label this year. However, the wine shows no signs of sur maturité on the nose, jumping from the glass in a sappy mélange of black cherries, pomegranate, a touch of grilled meats, woodsmoke, dark chocolate, a dollop of fresh herbs, a good base of soil, just a hint of the autumn leaves to come and a bit of cedar in the upper register (this is barrel-fermented). On the palate the wine is deep, full-bodied and flamboyantly sappy at the core, with firm, ripe tannins, tangy acids and outstanding length and grip on the moderately heady finish. This seems higher than 14.5 percent to my palate, as there is a bit of overt heat poking out on the backend right now, but at the same time, the acids are bright and the wine is impressively pure for its octane level and really does not seem overripe. This has the chassis to age for decades and decades, and if it can carry its octane over the long haul, then it will be a magical wine. I have no experience with aging Cru Beaujolais at this level of alcohol for the very long haul, but I am inclined to be that this wine will age like a '47! 2016-2040+. 92."
Josh Raynolds 92 points "Vivid magenta. Ripe cherry and dark berry aromas are complemented by suave floral and Asian spice flourishes. Plush and seamless in texture, offering sappy blackberry and bitter cherry flavors that become sweeter as the wine opens up. Closes smooth, very long and emphatically fruity, leaving notes of red and dark berry liqueur behind."
This is the lowest listed price in the USA today!
Quentin Harel Morgon Les Charmes, Beaujolais 2015 750ML ($21.95) $19 special, 22 bottles available
Josh Raynolds–Vinous 91 points "Vivid purple. High-pitched red and blue fruit, violet and peppery spice scents show very good clarity and pick up a minerally nuance with air. Juicy, focused and light on its feet, offering zesty raspberry and boysenberry flavors that deepen steadily on the back half. Blends richness and vivacity with a deft hand and finishes very long and smooth, with subtle tannins framing lingering blue fruit and floral pastille notes."
~~~~~~~~~~~~~~~~~~~~~~~~~~
New Arrival
Mad Scientist of Etna
Frank Cornelissen 'Rosso del Contadino' Sicilia IGT, Sicily 2015 750ML ($39.95) $33 special
"The mad scientist of Etna offers the world a field blend of biodynamic 50+ year old Nerello Mascalese with small amounts of Nerello Capuccio, Minella Nera, Allicante Bouschet, Minella Bianco from clay/limestone soils. ZERO added SO2, aged in amphora."–Importer note
This is the only listing in the USA today!
~~~~~~~~~~~~~~~~~~~~~~~~~~
Agathe Bursin
Secret Superstar of Alsace
"Alsace continues to be one of the world's finest but most underrated, small wine regions." – Stephan Reinhardt, Wine Advocate
Agathe Bursin is a wonderful producer of Alsatian wines, with a strong following in France, but somehow remains slightly unknown in the US.  Her production sells out before it's even bottled—mostly to private clients in Europe, but a little makes its way over to our shores.  Yet when it gets here, sometimes it gets overlooked, because she makes wines that are useful at the table (and are priced as such) instead of being 'trophy' wines for collectors to fight over.  Part of the reason for her lack of fame might be that she lacks a national importer, though her wines are brokered by Thomas Calder (who also sells Prevost/Bouchard/Pattes Loup/Boulay, etc) which speaks to the quality of the wines.
The Bursin family has been making wines in Alsace for several generations and Agathe has taken the family domaine to new levels.  Educated in Burgundy, she worked in Chablis before returning home to the family winery and there is a marked Chablisienne influence on her wines in terms of their clarity of flavor and brightness.  All the wines she makes are delicious, and she's known in Alsace as something of a Sylvaner whisperer, but we'd urge you to check out the entire range!
In Stock Now from Agathe Bursin:
Agathe Bursin L'As de B, Alsace 2015 750ML ($21.95) $16.60 special, 20 bottles available
Ian D'Agata–Vinous 89 points "Bright straw. Clean, crisp aromas of orchard fruit and botanical herbs. Easygoing, very smooth and possessing a hint of residual sweetness to give it a touch more body, but does not seem especially dry. This strikes me as perhaps less aromatic than past vintages. A blend of 20 percent each of Gewürztraminer, Riesling and Sylvaner, plus 15 percent Pinot Gris, 10 percent Pinot Blanc, 10 percent Auxerrois and 5 percent Muscat Ottonel, all co-planted on the Bollenberg."
VinopolNote: This wine comes from the lieu-dit Bollenberg and is made from an assortment of grapes that are interplanted and harvested at the same time. Made from a mix of Riesling, Sylvaner, Pinot Blanc, Pinot Gris, Gewürztraminer, though the exact blend changes depending on the yields in the vintage.  This wine is a delightlful representation of all of the things we love about Bursin, at a crazy price for its quality.
This is the lowest listed price in the USA today!
The next best price is $18.99
Agathe Bursin Pinot Blanc Parad'Aux, Alsace 2015 750ML ($24.95) $19 special, 8 bottles available
Ian D'Agata–Vinous 90 points "Bright straw-green. Lovely freshness thanks to lemony acidity that lifts the nuanced aromas and flavors of white flowers and stone fruit. A touch of spicy honey (it's the Auxerrois) gives this a creamier texture than anticipated on the nose. Finishes bright and juicy, with good length. A 50/50 blend of Pinot Blanc and Auxerrois. Bursin likes to use quite a bit of Pinot Blanc, as she believes her Auxerrois on its own is a little too rich and round, and I for one am happy she does so, as the wine gains in drinkability."
VinopolNote: Classic Alsace Pinot Blanc.  Clean, crisp with nice minerality and a touch of nuttiness.  This would make an excellent aperitif or a smashing pairing with fish.
This is the only listing in the USA today!
Agathe Bursin Gewurztraminer Zinnkoepfle, Alsace Grand Cru 2015 750ML ($41.95) $37 special, 15 bottles available
Wine Advocate 93 points "The 2015 Gewurztraminer Grand Cru Zinnkoepflé opens with a clear, smoky/flinty, vegetal and spicy/herbal rather than fruity bouquet with flavors of anise, licorice and peony—fascinating and unique! On the palate the wine is rich, intense and elegant, shows a creamy texture and reveals a great power, but also character. This Zinnkoepflé is more the classic style of Gewurztraminer compared to the Dirstelberg and its finish is compact, nicely bitter and very expressive. Bottled with 31 grams of residual sugar, 4.16 of total acidity and a pH of 3.59. Drink over the next 20+ years."
This is the only listing in the USA today!
Agathe Bursin Pinot Gris Dirstelberg, Alsace 2015 750ML ($26.95) $21.90 special, 9 bottles available
Ian D'Agata–Vinous 90 points "Straw-yellow. Green apple, lemon juice, unripe pear and minerals on the complex nose. Then sweet and rather large in the typical Dirstelberg style, displaying a tactile mouthfeel and an almost chewy quality to the apple and pear flavors. Finishes off-dry and medium-long."
This is the only listing in the USA today!
Agathe Bursin Riesling Dirstelberg, Alsace 2015 750ML ($26.95) $21.90 special, 10 bottles available
Wine Advocate 90 points "From a southeast-facing single vineyard on red sandstone soils at 400 meters altitude in Westhalten (Vallée Noble), the 2015 Riesling Dirstelberg displays a clear, fresh and very precise bouquet of crushed sandstones, white fruits and lemon flavors. Lovely pure and fresh, as if there was spring in the glass! Medium-bodied but concentrated and aromatic on the palate, this is an intensely fruity but dry and mineral Riesling, with the fiery warmth of generous 13.8% alcohol and three grams of residual sugar."
This is the lowest listed price in the USA today!
Agathe Bursin Sylvaner Eminence Zinnkoepfle, Alsace Grand Cru 2013 750ML ($31.95) $28 special, 20 bottles available
Ian D'Agata–Vinous 92 points "Gold-tinged straw. Delicate aromas of peach, apricot and poached apple. Rich and dense on the palate, with lively acidity lifting the sweet flavors of orchard and tropical fruits. Finishes very long, with impeccable balance. These Sylvaner vines grow in the grand cru Zinnkoepflé, the soils of which are marked by calcaires à entroques. Planted in 1930 with a southeast exposure, these vines give the description vieilles vignes real meaning, but Bursin doesn't care to use this wording on the label since she believes the term has been reduced to mainly marketing purposes. "In France, vieille vigne wines are made with vines ranging anywhere from as little as 20 years to as much as 100 years of age, so what's the point?" she asks."
This is the only listing in the USA today!
Agathe Bursin Sylvaner Eminence Zinnkoepfle, Alsace Grand Cru 2015 750ML ($31.95) $28 special, 2 bottles available
Ian D'Agata–Vinous 94+ points "Bright straw-green. Enticing aromas of apple, pear and jasmine. Then very pure quince, green apple and coriander flavors are complicated by a peppery note of crystallized ginger. Finishes long and clean, with harmonious acidity. The Sylvaner vines used to make this wine were planted in 1930 and are located in the heart of the Zinnkoepflé grand cru on calcaire soil, a site that has a long and distinguished history of giving superlative Sylvaner wines. This is never a particularly dry wine ("It's an especially lazy yeast that doesn't always manage to close out the fermentations," laughed Bursin) and it tastes a little sweeter than the 2014 (24 g/L residual sugar in 2015, and only 18 g/L in 2014; the total acidity was also lower in 2015 at 5.9 g/L, compared to 6.2 g/L in 2014). This is an absolutely gorgeous wine of mind-blowing crystalline purity."
This is the only listing in the USA today!
Agathe Bursin Sylvaner Lutzeltal, Alsace 2015 750ML ($24.95) $19 special, 12 bottles available
Ian D'Agata–Vinous 91+ points "Luminous straw-yellow. White flowers, chamomile and stone fruit on the perfumed nose. Clean and fresh on entry, then more glyceral, showing sneaky concentration and size to the quince and white stone fruit flavors. This lovely wine is both rich and round and doesn't quite taste completely dry, but in fact it has only 5 g/L residual sugar with 5.7 total acidity, and the latter masks the sugar's presence very effectively. The finish is bright, long and creamy. Bursin is a recognized master of the Sylvaner variety; in her hands, it gives wines that are better than many Rieslings and Pinot Gris from other producers."
This is the lowest listed price in the USA today!
Agathe Bursin Wines Arriving in October:
These new releases will feature a few special 2015's (her VT and SGN wines, some Pinot Noir) and the range of 2016 whites.  2016 looks to be a really good Alsatian vintage, with wines showing good ripeness but less than some of the extremes that 2015 displayed.  Acids are good and the wines will show great freshness (which is also a hallmark of the Bursin style).  The 2015 late harvest wines look to be stunners—the vintage allowed for very ripe wines that are stunners now and will age for a long time. It also looks to be the best vintage for Pinot Noir in Alsace since 2009 and potentially better than that.
See the complete list of Agathe Bursin wines arriving in October below – visit our web store to read full descriptions & reviews and to shop online.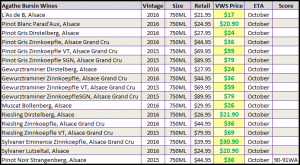 ~~~~~~~~~~~~~~~~~~~~~~~~~~
Monica Larner – Wine Advocate Picks
Super Italians
Arriving Wednesday, August 23rd
Cantine del Notaio Il Repertorio Aglianico del Vulture, Basilicata 2013 750ML ($27.95) $21.90 pre-arrival special
Monica Larner – Wine Advocate 93 points "The Cantine del Notaio 2013 Aglianico del Vulture Il Repertorio is a fabulous wine that possesses the depth and noble sophistication that you should expect from this small, quality wine denomination in the deep south of Italy. The bouquet is beautifully embellished with blackberry preserves, tobacco, bitter chocolate and smoky granite. The presentation is tight and seamless with a firm tannic nature that pulls the wine together in terms of substance and length. This excellent wine should flesh out further with more aging."
Elio Grasso Gavarini Vigna Chiniera, Barolo DOCG 2013 750ML ($99.95) $89 pre-arrival special
Elio Grasso Gavarini Vigna Chiniera, Barolo DOCG 2013 1.5L ($219.95) $189 pre-arrival special
Monica Larner – Wine Advocate 95 points "The 2013 Barolo Gavarini Chiniera stands apart in this tasting of Elio Grasso's new releases. The fruit portrayed shows a very crisp and focused quality. It absolutely pops from the glass with brilliant sharpness. Gianluca Grasso tells me lab reports confirm the higher acidic tenor of the wine, although this is not necessarily perceived acidity that you taste. Aromas of wild berry, balsam herb, licorice and smoke emerge delicately from the bouquet. The wine's mouthfeel evokes a profound sense of elegance thanks to those noble tannins and its silky texture."
Elio Grasso Ginestra Vigna Casa Mate, Barolo DOCG 2013 750ML ($99.95) $89 pre-arrival special
Elio Grasso Ginestra Vigna Casa Mate, Barolo DOCG 2013 1.5L ($219.95) $189 pre-arrival special
Monica Larner – Wine Advocate 96 points "The 2013 Barolo Ginestra Casa Maté does a great job of portraying its vineyard characteristics. This single vineyard is located at higher altitudes with thicker clay soils. This combination helps to build the wine's intensity, structure and muscle. It undergoes 45 days of submerged cap fermentation. Dark cherry and blackberry open the bouquet. These aromas are followed by spice, smoke, iron and crushed mineral. The robust nature of those aromas makes for a beautiful contrast to the fine, silky and more delicate (relatively speaking) nature of the mouthfeel."
Punset Campo Quadro, Barbaresco DOCG 2004 750ML ($69.95) $59 pre-arrival special
Case-6 Punset Campo Quadro, Barbaresco DOCG 2004 750ML ($399.95) $339 pre-arrival special (that's only $56.50/bottle!)
Monica Larner – Wine Advocate 95 points "Going back one more year, the 2004 Barbaresco Campo Quadro opens with a lean, garnet color and pretty aromas of old spice and dried berry fruit. The wine is streamlined and thin in texture, but the tannins are still very present at the back. Aging-wise, the wine is on its way. But it's not quite there yet. Anticipated maturity: 2015-2025. In the 1980s, after graduating from high school, Marina Marcarino bet her father that she could run the family winery in Barbaresco at a profit. He gave her one year to try. If she won, she could take over management. If she lost, she'd enroll in civil engineering classes at the local university. After a grueling 12 months, she closed her accounting books with a profit of less than 100 Euros, or 100,000 Lira at the time. But she won the wager and became the first female vintner in the Langhe. [Tasted Jun 2013]"
Monica Larner – Wine Advocate 93+ points "This is the third or fourth time I have tasted the 2004 Barbaresco Campo Quadro. This is one of my favorite vintages of this single vineyard expression from Punset. The wine is harmonious and balanced with bright fruit flavors of cassis and pressed raspberry. You don't always get this level of purity with Punset's biodynamic wines. They tend to show less consistency overall. [Tasted Jan 2017]"
~~~~~~~~~~~~~~~~~~~~~~~~~~
Catena's Epic Malbecs
Arriving Wednesday, August 23rd
Catena is the standard bearer for what we think of as classical, high end Malbec, you know–the stuff that rivals Bordeaux and California.  We scored an incredible deal on two of their top wines.  The Wine Advocate and James Suckling loved them, and we think you will, too. The average prices on Wine Searcher are over $100 and we're almost half that.  These are a stupendous wines and, for the price, unbelievable values.
Catena Zapata Nicasia Vineyards Malbec, La Consulta, Argentina 2012 750ML ($129.95) $59 pre-arrival special
Wine Advocate 95 points "The 2012 Malbec Catena Zapata Nicasia Vineyard feels fresher and more harmonious than the 2011, when in reality the vintage character is the opposite. It is sourced from the vineyard that names the wine and that is located in Altamira. The Malbec grapes fermented in open barrels and cement vats with 15% whole-cluster Cabernet Franc. There is one extra level of precision and harmony here. It has an elegant nose and the palate almost reflects the tension in the skin of the grapes with its a velvety texture and great acidity. This is really tasty and long, it could be the best Nicasia ever produced."
James Suckling 95 points "Vivd aromas of currants and blackberries. So much dark fruit. Violets too. Full body, yet buttressed with a center palate of salty acidity and firm tannins. From grapes grown in Altamira. Persistent and vibrant. Drink or hold."
This is the lowest listed price in the USA today!
The average price is $108
Catena Zapata Malbec Argentino, Uco Valley, Argentina 2012 750ML ($129.95) $69 pre-arrival special
James Suckling 98 points "Very dense and powerful with a tight palate of blue fruit and raspberry undertones. Salty with wonderful length and intensity. A blend of malbec from Nicasia Vineyard in Altamira and Adrianna Vineyard in Gualtallary. Drink in 2022 but so great now."
This is the lowest listed price in the USA today!
The average price is $106
~~~~~~~~~~~~~~~~~~~~~~~~~~
Burgundy Best Buy
Arriving Wednesday, August 23rd
Olivier Larochette Bourgogne Rouge Vieille Vignes 2009 750ML ($19.95) $14 pre-arrival special
Case-12 Olivier Larochette Bourgogne Rouge Vieille Vignes 2009 750ML ($199.95) $138 pre-arrival special (that's only $11.50/bottle!)
VinopolNote: It's an old vine bottling from a small nego Olivier Larochette. Ruby red in color. Intense aromas of crushed black raspberry, fresh plums and violets with a light herbal note underneath that's akin to Sencha tea. The rich aromas translate into rich initial flavors at the first sip with a lingering, zippy acidity and very fine tannins. The note of fresh red plums continues on the palate accented by toasted almonds and red raspberries. This would make a great pairing with roast chicken or caramelized onions.
This is the only listing in the USA today!
~~~~~~~~~~~~~~~~~~~~~~~~~~
Markus Molitor's
#1 Best Value Wine of the Year–Stephen Reinhardt-The Wine Advocate
Arriving Wednesday, August 23rd!
Markus Molitor Graacher Domprobst Riesling Kabinett White Capsule, Mosel 2015 750ML ($24.95) $21.90 pre-arrival special
Wine Advocate 93 points "Provided with tropical aromas such as passion fruits, the dry 2015 Riesling Graacher Domprobst Kabinett (White Capsule) is deep, ripe, intense and smoky on the nose and is very pure and fascinating in its terroir expression: Domprobst Riesling on the rocks! Full-bodied, round and rich, it is expressive, perfectly balanced and gorgeously lush on the palate and also shows stimulating grip and a lot of salt followed by perfectly ripe fruit flavors in the long, complex finish. It's a grand cru par excellence that comes along with just 10.4 % of alcohol."
David Schildknecht – Vinous 92 points "Apple and Persian melon on the nose achieve succulent presence on a polished and (at 10.5 percent alcohol) delicate palate. Bittersweet nuttiness typical for this site lends counterpoint and richness while white fruit-skin tartness contributes invigorating tang and an influx of mineral salts for saliva-inducement on the animated, mouthwatering finish, which is superbly sustained and impeccably balanced (being neither austerely dry nor the least bit sweet)."
~~~~~~~~~~~~~~~~~~~~~~~~~~
Don't Miss Offers!
These three hot picks are selling out fast. Don't miss your chance on these great buys arriving tomorrow!
Joseph Phelps Vineyards Insignia, Napa Valley 2013 750ML ($239.95) $199 pre-arrival special
Case-6 Joseph Phelps Vineyards Insignia, Napa Valley 2013 750ML ($1,439.95) $1,119 pre-arrival special (that's only $186.50/bottle!)
Robert Parker 98+ points "The 2013 Insignia (their 40th vintage) is a blend of 88% Cabernet Sauvignon, 5% Petit Verdot, and the rest Merlot, Malbec and Cabernet Franc. This wine is aged 24 months in 100% new French oak barrels, and the production can vary from just over 10,000 cases to nearly 20,000 cases in a very abundant vintage. There were 12,300 cases produced in 2013, and this vintage of Insignia is certainly going to turn out to be one of the great ones. The wine offers a stunning inky blue/purple color, a gorgeous nose of blueberry and blackberry liqueur, pen ink, graphite, new saddle leather and barrique. The wine has fabulous concentration, a full-bodied, multi-layered mouthfeel, and tremendous finish with moderate tannin. It's interesting to note that the Phelps winemaking staff had been gradually reducing the amount of Merlot in this wine over recent vintages. The 2013 should hit its peak in 5-7 years and last for 35-50."
Il Poggione Brunello di Montalcino DOCG, Tuscany 2011 750ML ($79.95) $58.50 pre-arrival special
Case-6 Il Poggione Brunello di Montalcino DOCG, Tuscany 2011 750ML ($419.95) $319 pre-arrival special (that's only $53.17/bottle!)
Wine Advocate 95 points "Il Poggione has done a terrific job with its 2011 Brunello di Montalcino. The wine is soft, yielding and charged with a velvety and smooth texture. It is deeply redolent of dark berry, black cherry, spice, leather and tobacco. The wine's sunny personality never feels flat or too dense. In fact, the wine offers a very tight and steely backbone that gives the wine stature and strength. This is one of my favorite Brunellos from the 2011 vintage."
Antonio Galloni 94 points "A dark, powerful wine, the 2011 Brunello di Montalcino offers notable depth and intensity. Il Poggione's 2011 is one of the richest, most powerful wines of the year. Black cherry, plum, lavender, cloves and new leather are some of the first nuances that open up. With time in the glass, the 2011 becomes more lifted, as brighter red cherry and raspberry-infused flavors gradually release. This is a rare 2011 that demands at least a good few years in the cellar. In 2011, Il Poggione did not bottle a Riserva. All the juice went into the straight Brunello."
This is the lowest listed price in the USA today!
The average price is $75
Krug Brut Champagne 2002 750ML ($319.95) $249 pre-arrival special
James Suckling 100 points "The much-anticipated 2002 has impeccable detail and depth with a lot of chalky, stony and flinty elements on the nose as well as a very fresh edge. The nose is very complex and wound up tight but presents itself as very integrated and compressed. There are aromas of lemon rind, lime juice and a lime custard all at once, complemented in turn by a super-restrained hazelnut-like edge. Undertones of brown mushrooms, chalky minerals and lemon leaf. The palate has a core of sizzlingly intense, concentrated chardonnay framed whitin a powerful phenolic structure that will underpin the future of this Champagne. Flawlessly fresh and as perfect as it gets. Give this time as it needs to settle: best from 2020 and then for another decade beyond."
Wine Enthusiast 100 points "This is a fabulous wine from the greatest Champagne vintage so far this century. Still young, it blends almost equal amounts of Pinot Noir and Chardonnay fleshed out with Pinot Meunier. The minerality and the rich apple and green fruits are balanced, and acidity cuts into the wine with a pure, perfumed line of freshness. The wine could be drunk now, but it will age well into the the 2020s."
Wine & Spirits 100 points "This has the stamina of the 2002 vintage from the first scent, a fragrance like pear skin and butterscotch, and something fresher, like meadow flowers. All of that fragrance comes in a wine that's expansive and dry, almost austere in the power of its acidity. Over the course of several days, the wine remains impervious to the fraying of oxidation, instead building on its flavors, deepening to scents of white truffles. Initially, the power of the acidity not only cleans up after the wine's substantial flavor, but also seems to lash all those notes together and rocket them through a buzz of energy that lasts for minutes. That energy, undiminished four days later, when the bubbles have finally gone, takes on a gentler power, presenting the harmony and elegance at the center of the wine. The 2002 may well be the greatest vintage wine Henri Krug produced during his four-decade career."
This is the lowest listed price in the USA today!
The average price is $307
~~~~~~~~~~~~~~~~~~~~~~~~~~
Thank you for reading!