2014 Opus One – Luxury at the Best Price!; Top Flight Spanish Wine: New La Rioja Alta Offer; New Weekend – New Arrivals – Joseph Phelps & Il Poggione Brunello; Lopez de Heredia – New Whites; Near Perfect Grapelive Score: Selbach-Oster; Staff Picks; Domaine Leflaive; It's Back! The Early Contender for Vinopolis Wine of the Year: Saint Cosme Gigondas '15; Opulent Rhone Whites Arriving Wednesday; Top Flight Spanish Wines: Arriving Wednesday; 2016 Donnhoff
~~~~~~~~~~~~~~~~~~~
New Jump Start Offer
2014 Opus One
Best Price in the USA!
The Luxurious Pride of Napa, With the Medoc Soul
Wine Arrives in October
Opus One Proprietary Red Napa Valley 2014 750ML ($319.95) $289 pre-arrival special
James Suckling 97 points "Mesmerizing aromas of flowers, bark, currants and blackberries. So perfumed. You just want to smell it. Exquisite tension and finesse with an almost Burgundian texture, yet it's Napa in its soul with ripe fruit, stones, spices and Chinese tea leaf flavors. Savory and delicious. Drinkable but better in 2020."
Antonio Galloni 95+ points "The 2014 Opus One has turned out to be a gorgeous wine. Savory, tightly wound and intensely aromatic, the 2014 is going to need time to unwind, but it looks like it will develop along the more classic vintages here. The tannins are firm but also impeccably balanced. A sleeper wine for the year, the 2014 is shaping up to be a gorgeous wine that will handsomely repay several decades of cellaring. The 2014 is not an obvious Opus One, like the 2010, 2012 or 2013, but over time, I will not be surprised if it challenges or even surpasses some of those vintages. In short, the 2014 is a wine of tension, power and grace."
This is the lowest listed price in the USA today!
The next best price listed today is $299
~~~~~~~~~~~~~~~~~~~
Top Flight Spanish Wine
New Offer!
Arriving in December 2017
La Rioja Alta Vina Arana Reserva, Rioja DOCa2009 750ML ($31.95) $27 pre-arrival special
Case-12 La Rioja Alta Vina Arana Reserva, Rioja DOCa 2009 750ML ($349.95) $299 pre-arrival special (that's only $24.92/bottle!)
James Suckling 96 points "This is a powerful and rich red with black truffle and blueberry character. Sweet tobacco, too. Full body, tannic and flavorful. Yet open and polished. Fantastic finish. Great ageing potential. Drink or hold."
See more superb Spanish wines below – arriving on Wednesday, August 23rd!
~~~~~~~~~~~~~~~~~~~
Summer Shipping Special:
Midwest, East, & South
For the summer season we are offering UPS Three Day Select Service for the price of UPS Ground for shipments normally traveling 4 or more business days by ground.
Free service upgrade only applies on single orders purchased and shipped during the promotional period.  Additional fees will apply to orders held for any reason until after the promotional period and shipped by Three Day Select.  Offer not valid on items purchased before the promotional period or on pre-arrival items that arrive after the promotional period ends.
~~~~~~~~~~~~~~~~~~~
New Weekend – New Arrivals
The buzz is great / the prices are, too!
Joseph Phelps Vineyards Insignia, Napa Valley 2013 750ML ($239.95) $199 special
Case-6 Joseph Phelps Vineyards Insignia, Napa Valley 2013 750ML ($1,439.95) $1,119 special (that's only $186.50/bottle!)
Robert Parker 98+ points "The 2013 Insignia (their 40th vintage) is a blend of 88% Cabernet Sauvignon, 5% Petit Verdot, and the rest Merlot, Malbec and Cabernet Franc. This wine is aged 24 months in 100% new French oak barrels, and the production can vary from just over 10,000 cases to nearly 20,000 cases in a very abundant vintage. There were 12,300 cases produced in 2013, and this vintage of Insignia is certainly going to turn out to be one of the great ones. The wine offers a stunning inky blue/purple color, a gorgeous nose of blueberry and blackberry liqueur, pen ink, graphite, new saddle leather and barrique. The wine has fabulous concentration, a full-bodied, multi-layered mouthfeel, and tremendous finish with moderate tannin. It's interesting to note that the Phelps winemaking staff had been gradually reducing the amount of Merlot in this wine over recent vintages. The 2013 should hit its peak in 5-7 years and last for 35-50."
Il Poggione Brunello di Montalcino DOCG, Tuscany 2011 750ML ($79.95) $58.50 special
Case-6 Il Poggione Brunello di Montalcino DOCG, Tuscany 2011 750ML ($419.95) $319 special (that's only $53.17/bottle!)
Wine Advocate 95 points "Il Poggione has done a terrific job with its 2011 Brunello di Montalcino. The wine is soft, yielding and charged with a velvety and smooth texture. It is deeply redolent of dark berry, black cherry, spice, leather and tobacco. The wine's sunny personality never feels flat or too dense. In fact, the wine offers a very tight and steely backbone that gives the wine stature and strength. This is one of my favorite Brunellos from the 2011 vintage."
Antonio Galloni 94 points "A dark, powerful wine, the 2011 Brunello di Montalcino offers notable depth and intensity. Il Poggione's 2011 is one of the richest, most powerful wines of the year. Black cherry, plum, lavender, cloves and new leather are some of the first nuances that open up. With time in the glass, the 2011 becomes more lifted, as brighter red cherry and raspberry-infused flavors gradually release. This is a rare 2011 that demands at least a good few years in the cellar. In 2011, Il Poggione did not bottle a Riserva. All the juice went into the straight Brunello."
This is the lowest listed price in the USA today!
The average price is $75
~~~~~~~~~~~~~~~~~~~
Lopez de Heredia
New White Releases
Lopez de Heredia is one of the world's elite wine estates.  This statement isn't a surprise to anyone who reads at all about Spanish wines, but it bears repeating.  "Why?" you might ask, "would you tell us something we already know?"  The answer to that question is that for all of the grace, complexity, age-worthiness and profundity of the wines, the prices are shockingly low.
R. Lopez de Heredia Vina Tondonia 'Vina Gravonia' Crianza Blanco, Rioja DOCa 2007 750ML ($34.95) $29 special
Luis Gutierrez – Wine Advocate 93 points "The cooler 2007 produced a superb 2007 Viña Gravonia Blanco from very old Viura vines on gravel soils; the wine fermented in ancient oak vats where they have never added any yeasts, and matured in oak barrels for four years, fined with egg whites and bottled in September 2012. The nose is unique, showing aromas of chamomile, beeswax, honey, mushroom and spices, with reminiscences of a white Graves or an aged white Hermitage, quite developed, showing it all and ready. The palate shows great acidity with some oaky hints, with a chalky sensation, deep flavors with persistence and superb length. This has to be one of the greatest bargains in white Rioja. It feels lively, approachable, but with enough of everything to provide pleasure for a long time. There are 21,500 bottles of this wine."
R. Lopez de Heredia Vina Tondonia Reserva Blanco, Rioja DOCa 2003 750ML ($44.95) $39 special
Josh Raynolds – Vinous 93 points "(raised in American oak barrels for six years) Light bright yellow-gold. Dried citrus and pit fruits, white flowers, vanilla and a hint of beeswax on the highly perfumed nose. Concentrated but nervy as well, offering orange and pear nectar and toasted nut flavors; a gingery quality adds spiciness and lift. The floral note repeats emphatically on the impressively long, incisive finish, which features notes of chamomile and candied orange zest."
Lopez de Heredia Wines Available Here Now:
R. Lopez de Heredia Vina Tondonia Gran Reserva Blanco, Rioja DOCa 1973 750ML ($999.95) $799 special, 4 bottles available
Wine Advocate 98 points "The 1973 Vina Tondonia Blanco Gran Reserva is so sublime, so complete and natural that it may bring tears to the eyes. It has a complex bouquet of beeswax, lanolin, lemon curd and almond that is effortlessly combined. The palate is nigh-perfectly balanced with very good weight. It has a seamless waxy texture and a peacock's tail of almond, creme brulee, marzipan and dried apricot. There is a beguiling sense of completeness here. Heaven in a glass, and one of the finest Tondonia Blancos I have encountered. Drink now-2020+"
This is the lowest listed price in the USA today!
R. Lopez de Heredia Vina Cubillo Crianza, Rioja DOCa 2008 750ML ($27.95) $24 special, 9 bottles available
Wine Advocate 92 points "The first of the reds here is the 2008 Viña Cubillo Tinto Crianza from a cooler vintage that produced some austere and serious wines–a year with higher acidity and lively fruit. It feels effervescent and it makes you salivate. This is usually a blend of 70% Tempranillo, 20% Garnacha, 5% Graciano and 5% Mazuelo from 50-year-old vines that ferments in ancient oak vats, and ages in barrel for three years. This cuvée has increased its quality tremendously since the 1990s. These cooler years provide citric freshness, and a very fine texture and vibrant acidity. This is so easy to drink that it can be dangerous.This was the Rioja clarete fino–the everyday red. It's both elegant and powerful. Very good value, too."
R. Lopez de Heredia Vina Tondonia Gran Reserva, Rioja DOCa 1961 750ML ($1,499.95) $1,289 special, 2 bottles available
Winery-direct cellar release!
Stephen Tanzer–Vinous 94 points "Medium red. A highly perfumed bouquet displays red fruit preserves, smoked meat and potpourri. Deeply pitched redcurrant and bitter cherry flavors show a slight medicinal reserve, which makes this wine seem far younger than it is. The potpourri note builds with air and carries through a long, chewy, smoky finish. Definitely let this air out for an hour or so. Incidentally, I had the chance to drink two lithe and highly fragrant bottles of the 1961 Vina Bosconia at a restaurant in San Sebastian that had been in their cellar for at least the last 20 years. If you're lucky enough to own that wine (like these older wines, it is still available from the winery) there's absolutely no reason to hold off drinking it. I couldn't hold off, twice."
This is the lowest listed winery-direct price in the USA today!
R. Lopez de Heredia Vina Tondonia Gran Reserva, Rioja DOCa 1964 750ML ($1,199.95) Was $999, Now $899, 2 bottles available
Winery-direct cellar release!
Decanter 98 points, Wine Spectator 95 points "Extraordinary. Sweet vanilla and dried berry aromas and flavors have an unexpected richness in this vibrant red. Impressive for its balance of concentration and elegance; firm tannins meld with a creamy texture. The long finish defines traditional Rioja at its best."
~~~~~~~~~~~~~~~~~~~
Near Perfect Grapelive Score
For the Master of the Mosel:
Selbach-Oster 'Anrecht' Zeltinger Himmelreich Riesling, Mosel 2012 750ML ($39.95) $33 special, 36 bottles available
Grapelive 97-100 points "Johannes Selbach's magnificent Anrecht is easily a potential 100 Point perfect wine. This 2012 is set for a glorious future and is a top echelon wine on par with the finest white wines in the world (be they from Hermitage, Batard-Montrachet or anywhere) and without question of the most collectable Rieslings of the vintage, as well as being an amazing value. Germany in 2012 produced wines that are mind blowing. Even famed importer Terry Theise can't hide his enthusiastic thrill from this vintage. He usually maintains that all the vintages are special, but 2012 is certainly more equal than most, it may just be the best year in my lifetime, for sure in my experience tasting wines and it continues to get better as the wines start to develop. Such is the case with great producers, names like Donnhoff, Leitz and Diel made some wines that will be legendary, as will this Anrecht by Selbach-Oster. The 2012 Selbach-Oster "Anrecht" has massive extract, texture and complexity, but it is still very primary and involved at this stage. Honestly it will need a few years to truly begin to reveal just the surface of its greatness, though like the tip of the iceberg, you can see it is there. The nose is still shy, but when coaxed shows citrus blossoms, a melted icy stream of freshness with river stones, a hint of sea salt and brine, honeyed white peach, crisp apple and tropical essences. In the mouth this wine expands with a full range of layers and amazing texture and creaminess. There is exotic passionfruit, lime, white tea, orange marmalade and apricot along with a steely and spicy mineral core. This wine is heavenly rich, though it has wonderful class and detail and lingers for ages on the finish with tangerine, pineapple and white plum. The Anrecht is stunning. It has everything you'd ever want in a Riesling. It has a touch of botryitis that will serve it well long term, as well as a full sweet palate, but there is well integrated acidity and this wine has staggering intensity and vigor. Johannes Selbach has made one of the world's great wines with this Anrecht."
This is the lowest listed price in the USA today!
We offer an astounding collection of Selbach-Oster wines, rivaling all but perhaps the winery itself. See a special selection below or browse the complete list of over 1,000 bottles or 32 different options over 9 vintages in stock now on our web store!
Selbach-Oster 'Schmitt' Zeltinger Schlossberg Riesling, Mosel 2014 750ML ($59.95) $44 special, 36+ bottles available
Wine Advocate 95 points "Picked with 105° Oechsle, the 2014 Zeltinger Schlossberg Riesling Auslese Schmitt displays a stunning freshness and purity on the slightly spicy-toned nose, where stony and flinty flavors–but less botrytis flavors–are indicated compared to the Rotlay. Piquant and salty on the palate, with a nice grip and more purity and freshness, this is the finest and most piquant of the single parcel crus; the finish is as long as it is stimulatingly salty and grippy. White peach and nectarine flavors in the long aftertaste. Great Riesling."
This is the lowest listed price on the West Coast today!
The average price nationally is $49
Selbach-Oster Zeltinger Sonnenuhr Rotlay Riesling, Mosel 2011 750ML ($59.95) $33 special, 36+ bottles available
Wine Advocate 91+ points "Carob and toasted nuts inflect baked apple and vanilla on the nose of Selbachs' block-picked 2011 Zeltinger Sonnenuhr Rotlay, which comes to the palate expansive, creamy, and buoyant (at 8.5% alcohol), its apple joined by almost overripe Persian melon. Hints of pip and botrytis bitterness add interest, but there is not the subtle interaction of flavors or the layer of primary juiciness that rendered the corresponding Anrecht bottling so memorable, but instead a more dominantly honeyed, soothingly rich personality. This long-finishing beauty may well – as its author suggests – just need some time to reveal its multiple layers."
This is the lowest listed price in the USA today!
The next best price is $42.99
The average price is $48
Selbach-Oster Wehlener Sonnenuhr Riesling Auslese, Mosel 2015 750ML ($39.95) $36 special, 36+ bottles available
Stephan Reinhardt-Wine Advocate 95 points "The 2015 Wehlener Sonnenuhr Riesling Auslese is bright, pure, very fine, floral and flinty on the nose. It is provided with perfectly ripe and concentrated, slate-flavored fruit aromas intermixed with lemon and grapefruit notes. This is a lush, piquant and elegant, filigreed and finessed Auslese. It has great finesse and provided with a lot of Spiel and salt. The finish is pure, piquant and salty, but also lush and generous. This is a very precise, straight and stimulating, highly digestible Auslese with a lot of energy, tension and aging potential. It is very clear and there is no hint of botrytis here."
This is the only listing in the USA today!
Selbach-Oster Zeltinger Schlossberg Riesling Beerenauslese*, Mosel 2005 375ML ($149.95) $99 special, 36 half-bottles available
Wine Spectator 98 points "Sweet and backed by a vibrant structure, this is elegant and detailed, with concentrated red berry, lime and nectarine. One of the few BAs to show a mineral component. Terrific balance and harmony, ending with a long, slate-tinged aftertaste. Drink now through 2040."
This is the lowest listed price in the USA today!
The next best price for the one star is $120
~~~~~~~~~~~~~~~~~~~
Staff Picks
Andy:
The '13 vintage certainly leaned to the leaner side and the resulting wine has an edge and raciness that is well balanced with the rich nose of baker's spices and wafts of liqueur. The weight across the palate is even and persistent leading up to a finish that lingers longer than you'd expect. A touch of something wild makes this a great pairing with lamb, sausages or charcuterie. Pleasant on its own, the wine definitely finds its voice with food. I could imagine drinking this for quite some time and enjoying thoroughly at each opportunity.
Saint Cosme Chateauneuf-du-Pape, Rhone 2013 750ML ($49.95) $39 special, 39 bottles available
Case-6 Saint Cosme Chateauneuf-du-Pape, Rhone ($279.95) $219 special, 2 cases available (that's only $36.50/bottle!)
Josh Raynolds–Vinous 92-93 points "Deep ruby. An expressive bouquet evokes red fruit liqueur, incense and spicecake and a smoky mineral element adds energy. Silky, concentrated and energetic, offering intense, spice-laced raspberry and cola flavors firmed by a spine of juicy acidity. Concentrated but graceful wine that finishes very long, spicy and gently tannic. Note that this wine was not in bottle when I visited Barruol in February."
Saul:
In all of our breathless hype for the 2015 vintage in Germany, we seem to forget how wonderfully so many of the wines from '14 turned out.  It was a cool vintage, with higher acidity and lighter framed wines—exactly what I want out of Riesling most of the time.  Compounding my outrage is the fact that this bottling from Selbach-Oster, their version of a GG wine, is somehow overlooked when we talk about the great dry wines of the Mosel.
Johannes Selbach doesn't want to join the VDP/make the 'Grosses Gewachs' classification of wines because they'd be more expensive and unnecessarily more expensive.  Instead, he bottles this guy, the "R" Trocken, from 80+ year old vines, and we can have it on the shelf for far less than a BS bottle of Puligny.  I worry if this wine doesn't get more (financial) love, he's just going to say "screw it" and give in to the marketing monster that is the GG designation, and this wine will be fawned over at $60.  Anyway, it's great stuff—drink some.
Selbach-Oster Zeltinger Sonnenuhr R Riesling Spätlese Trocken 2014 750ML ($34.95) $28 special, 30 bottles available
Wine Advocate 92 points "The 12.5% alcohol 2014 Zeltinger Sonnenuhr R Riesling Spätlese trocken was picked on October 20 — so almost one month later than the regular Spätlese — from 80+ year-old, ungrafted vines in and next to the Rotlay plot, with a higher percentage of well selected botrytis. The wine displays a ripe and intense fruit aroma intermixed with coolish stony and flinty, as well as herbal flavors on the nose. Full-bodied, rich and elegant, with a mouthful of concentrated Riesling fruit, a piquant acidity and minerality, this is an expressive and "big," ripe yet pure and very terroir-driven Riesling of remarkable complexity and length that can go for up to 15 years."
~~~~~~~~~~~~~~~~~~~
Domaine Leflaive
Few Names Shine Brighter
There are few names more permanently identified with a village than Domaine Leflaive and Puligny-Montrachet. Following the phylloxera tragedy of the last years of the 19th century, and recovering after the Great War, Joseph Leflaive laid the groundwork of rehabilitating the vineyards and eventually selling wine under his own label instead of selling to negociants. The quality of the wines has been a trajectory nearly unmatched by any producer in the Cote d'Or. His descendants have thrown themselves into the Domaine, stepping into their roles with pride and renewed vigor. The family has committed themselves for five generations to improving vineyard health and the quality of their wines with every vintage.
The wines are an experience and a master class in terroir. The vineyard team has had direct lineage for 3 generations. They have dug into the clay and limestone, isolating individual mineral traces showing up in narrow bands throughout the individual vineyards. This allows Leflaive to further narrow the profile they want to achieve with every vineyard, every vintage. Intensity, concentration and volume are hallmarks, especially with a tremendous vintage like '15, but beyond the power come the finesse and beauty that reveal themselves more every year that you can keep your hands off of them. With wines like these, scents of apple become apple tartine, citrus becomes lemon oil or toasted zest; superlative becomes the norm. These are, quite simply, the best wines you'll find in Puligny-Montrachet, and you'll be hard pressed to find a more pure expression of Chardonnay anywhere on the planet.
Newly Arrived from Domaine Leflaive:
Domaine Leflaive Les Combettes, Puligny-Montrachet Premier Cru 2014 750ML ($279.95) $249 special, 2 bottles available
Wine Spectator 95 points "This precise white exudes apple, lemon, stone and sweet spice aromas and flavors. Balanced and vibrant, with a bracing finish of lemon and apple. Best from 2019 through 2029."
Domaine Leflaive Les Folatieres, Puligny-Montrachet Premier Cru 2014 750ML ($279.95) $249 special, 7 bottles available
Stephen Tanzer — Vinous 92 points "Bright, pale yellow. Subtle, complex scents of spices, flowers, minerals, menthol and white pepper, along with a smoky nuance. Very suave and fine-grained, conveying a light touch to its flavors of lemon, lime and dusty stone. The long, rising finish cleanses the palate. This is excellent, but it may already be closing down in the bottle following the late-April bottling."
Domaine Leflaive Puligny-Montrachet 2014 750ML ($149.95) $119 special, 9 bottles available
Wine Spectator 93 points "A racy style, this white is sleek and intense, with acacia and lime blossom notes leading the way for lemon, peach, spice and mineral flavors. Harmonious and long, with a mouthwatering finish. Delicious now, but should be better in a year. Best from 2018 through 2028."
Wine Advocate 90 points "The 2014 Puligny Montrachet Village Cru offers lilting dewy green apple and wet limestone aromas on the nose, underneath subtle scents of orange blossom lending more complexity as it opens in the glass. The palate is crisp and fresh with a twist of bitter lemon on the entry. This is well balanced with good weight, plenty of energy on the tip of the tongue with a pleasant saline finish. It does not quite possess the drive of the premier crus, although there is a pleasant spicy note that pops up on the aftertaste. Tasted December 2016."
~~~~~~~~~~~~~~~~~~~
The Early Contender for
Vinopolis Wine of the Year
What wine offers incredible value, ageability, versatility, complexity, and a dozen other superlatives from one of the oldest wine estates in the world?
2015 Saint Cosme Gigondas
Hop on the bandwagon before it leaves you behind!
Back in Stock
Chateau de Saint Cosme Gigondas, Rhone 2015 750ML ($41.95) $33 special
Chateau de Saint Cosme Gigondas, Rhone 2015 1.5L ($89.95) $79 special
Wine Spectator 95 points "A textbook version of the brawny side of Gigondas, this offers a grippy alder bass line underneath layers of dark currant and fig fruit, while lots of tobacco, rosemary and bay fill in throughout. Muscular and energetic, this is built for the cellar. Best from 2019 through 2030."
This is the only listing for the magnum in the USA today!
~~~~~~~~~~~~~~~~~~~
Arriving Wednesday, August 23rd
Opulent Rhone Whites
2015 – The Year of Near World-Wide Glory!
M. Chapoutier Hermitage Blanc Chante-Alouette, Rhone 2015 750ML ($89.95) $69 pre-arrival special
Wine Advocate 95 points "The finest vintage for this cuvée I've ever tasted, the sensational 2015 Hermitage Chante Alouette boasts awesome notes of white peach, orange marmalade and white flowers in a rich, full-bodied, concentrated style. Coming from three different terroirs on Hermitage Hill (Méal, Les Murets and Chante Alouette), don't miss it!"
E. Guigal Condrieu La Doriane, Rhone 2015 750ML ($119.95) $89 pre-arrival special
Wine Advocate 99 points "Easily one of the greatest Condrieu I've ever tasted is the 2015 Condrieu La Doriane. A wine that needs to be tasted to be believed, it possesses a huge nose of toasted brioche, liquid rocks, apricot, flower oil and salty minerality. Unctuous, full-bodied, massively rich, yet also elegant and graceful, with beautiful freshness, enjoy this tour de force over the coming 5-6 years."
Josh Raynolds – Vinous 95 points "Brilliant yellow-gold. Powerful orange, nectarine and honeydew aromas are complemented by suave floral, vanilla and chalky mineral accents. Supple and expansive in the mouth, offering deeply concentrated, smoke-tinged poached pear and peach nectar flavors that pick up honey and iodine qualities as the wine opens up. Lush and seamless but surprisingly energetic in style, showing superb closing thrust and lingering suggestions of buttery brioche and candied pit fruits."
Wine Spectator 95 points "Lush, with papaya, mango and ginger notes layered seamlessly, while hints of heather honey, anise and piecrust hang in the background. The long and rich finish has no choice but to let the fruit power on. All hedonism and thoroughly delicious. Drink now through 2022."
This is the lowest listed price on the West Coast today!
We offer 21 different white Rhone wines in stock now. Check out additional top picks below or visit our web store to see the complete list!
Domaine Jean-Louis Chave Hermitage Blanc, Rhone 2012 750ML ($249.95) $199 special, 11 bottles available
Wine Spectator 97 points "A stunner from the start, with distinct depth to the creamed mango, white peach and heather flavors, this maintains superior precision and definition as the singed almond, chamomile, salted butter and ginger notes fill in. Glazed pear, elderflower honey and beeswax details chime in on the extremely long finish. Enjoyable now, but needs serious cellaring to show its full potential. Best from 2016 through 2037. 500 cases made." JM
Wine Advocate 96 points "Much more open, fleshy and sexy, the 2012 Hermitage Blanc was just bottled a month prior to this tasting. Coming from l'Ermite, Les Rocoules, Maison Blanche and Peleat lieux-dits, it's always a rough blend of 80% Marsanne and 20% Roussanne that's aged in barrel. Loaded with notions of honeysuckle, orange marmalade, powered rock, buttered citrus and green almond, it's full-bodied, rich, upfront and fruit loaded. While I think it will be a relatively accessible early in its life, it has the concentration to hold for two decades." WA
Josh Raynolds–Vinous 94-96 points "Tasted in single-site components from tanks as the wine awaited blending: #1, from Peleat: Ripe pear and honey aromas, with a suave floral accent and a hint of smoky minerals. At once rich and lively, showing excellent back-end power. #2, from Rocoules: Intense, mineral-accented citrus and orchard fruit aromas, with a sexy floral nuance building with air. Bright, focused and mineral-driven, with a strong Meyer lemon quality lingering on the tangy finish. #3, also from Rocoules: Showing more emphasis on orchard fruit than the first Rocoules tank, with powerful quince and pear flavors and a touch of bitter quinine. Dusty minerals sharpen the long, sappy finish. #4, from l'Ermite: Spicy citrus zest and ginger scents along with a chalky mineral note and a hint of anise. Smoky and penetrating, with superb finishing clarity and lingering spiciness. #5, also from l'Ermite: More floral and masculine than the previous l'Ermite, with strong jasmine and orchard fruit character and a touch of bitter quinine. Bright and nervy on the finish, which doesn't want to let up." JR
M. Chapoutier Ermitage Le Meal Blanc, Rhone 2011 750ML ($219.59) $159 special, 11 bottles available
Wine Advocate 99 points "Surprisingly, I preferred the 2011 Ermitage le Meal Blanc over the 2012 on this occasion and it showed a more flamboyant, sexy style in its caramelized pineapple, tropical, honeyed and floral personality. Big, rich and decadent, with fabulous fruit intensity and length, this rock star flirts with perfection and will keep for another 3-4 decades."
And arriving in October:
E. Guigal Saint-Joseph 'Cuvee Lieu-Dit Saint-Joseph' Blanc, Rhone 2015 750ML ($69.95) $49 pre-arrival special
Wine Advocate 96 points "The second year where they've moved away from 100% new oak, the 2015 St Joseph Lieu Dit St Joseph Blanc is all Marsanne and offers an utterly profound bouquet of orange blossom, white flowers, crushed rocks, licorice, white peach and honeysuckle. Full-bodied, rich and layered, yet with incredible purity, it's the finest example of this cuvée I've tasted. Bravo!"
~~~~~~~~~~~~~~~~~~~
Top Flight Spanish Wines
Part Two
Arriving Wednesday, August 23rd
La Rioja Alta Gran Reserva 904, Rioja DOCa 2005 750ML ($69.95) $57.50 pre-arrival special
Case-12 La Rioja Alta Gran Reserva 904, Rioja DOCa 2005 750ML ($799.95) $619 pre-arrival special (that's only $51.58/bottle!)
Wine Advocate 96 points "The 2005 Gran Reserva 904 is a superb blend of Tempranillo from the villages of Briñas, Labastida and Villalba with 10% Graciano from Briones and Rodezno. The grapes were destemmed and crushed and fermented in stainless steel for 18 days at 25 C. Malolactic fermentation was spontaneous and lasted 38 days. These wines are marked by a long aging in used American oak barrels following the most strict Riojan tradition; four years during which time the wine was manually racked eight times. This is usually my favorite wine from La Rioja Alta and 2005 is one of its best showings, going back to the quality of the vintages of the 1950s and 60s. The nose is very balsamic with notes of camphor, hints of mint, leather and hung game wrapped around a core of cherries in liqueur. Together it is balanced, subtle, truly elegant and classical. The palate is only medium-bodied but with great concentration of flavors that are very tasty, mineral, almost salty and framed by ultra-fine tannins and smashing balance. A great classic. At this quality level this is a bargain." 4/2015
Bodegas Vina Herminia Rioja Crianza DOCa, Rioja 2013 750ML ($24.95) $18 pre-arrival special
Decanter 95 points –Platinum-Best Red Rioja– "An elegant and intense nose comprising black fruit, blackberry and herbs, with a real medicinal edge is followed deliciously by a well-structured palate of licorice, plums, tobacco and black fruit notes, which also has round meaty tannins, a lovely texture and a beautiful long finish."
Bodegas Arrayan Estela de Arrayan, Mentrida, Spain 2010 750ML ($39.95) $33 pre-arrival special
James Suckling 95 points "Beautiful, layered wine showing great depth on the nose. Ripe strawberries, cacao, roasted coffee beans, iodine and salt undertones. Full-bodied and round-textured red with soft tannins following through to a mouth-watering and juicy finish. Blend of syrah, merlot, cabernet sauvignon and petit verdot. Drink now."
This is the only listing in the USA today!
Finca La Emperatriz Cepas Viejas Garnacha, Rioja DOCa 2014 750ML ($39.95) $33 pre-arrival special
James Suckling 95 points "An intensely herbal and floral nose displaying raspberries, cherries and hints of cloves. Mint, too. Medium body, ripe and juicy tannins and a very long, citrusy and savory finish. Made from vines over 65 years old. A wine that boasts superb finesse and style. Drink or hold."
Wine Advocate 93 points "The wine that won my heart this time was without a doubt the 2014 Finca la Emperatriz Garnacha Cepas Viejas. This wine is sourced from the Rioja Alta subzone, not quite the classical Garnacha place, from the only old-vine Garnacha plot they have in the estate. It displays a captivating nose of sweet Garnacha fruit akin to cherries in liqueur, but keeping the freshness in a coolish vintage like 2014. The uncrushed grapes fermented in open-top stainless steel vats and 500-liter oak barrels with indigenous yeasts after five days of pre-fermentative maceration, and it matured in 500-liter oak barrels for ten months. The palate is medium-bodied with fine tannins, delicious fresh flavors and very good length, ending with a tasty, almost salty note."
~~~~~~~~~~~~~~~~~~~
2016 Donnhoff
Arriving in October
Otherworldly Riesling from the King of the Nahe. Many 2015s sold through before landing last year, so don't miss your opportunity to secure your bottles today!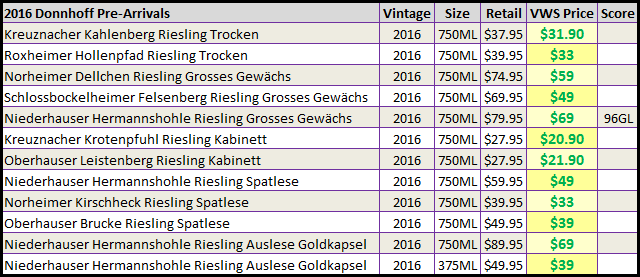 ~~~~~~~~~~~~~~~~~~~
Thanks for reading!