Eugen Muller Forster Kirchenstuck Auslese 2011 500ML ($34.95) Buy Now: $27 Special
Saul:
Normally we'd write a nice long description on the Eugen Muller Kirchenstuck Auslese, but this time I'm handing it over to the importer, who says all the things I want to say, but better: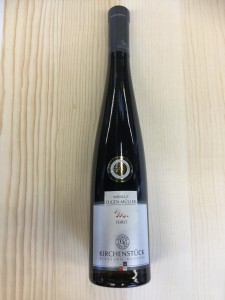 "So when I sat with Jay MacInerney for the Wall St. Journal article, I said I'd bring along something to drink. I could have chosen anything, blown him away with a great Dönnhoff or with a Selbach Eiswein or a Leitz Roseneck. What I actually chose to bring was the 2001 Kirchenstück Auslese from Müller.
Every year for the last fifteen or more, this wine has been a masterpiece, and I can think of few if any parallels in the wine world—or in my wine world—of such sustained stellar performance year after year.
From one of the great Riesling vineyards on earth. The price, let us observe, doesn't reflect this…
In early the 19th century this was considered the best Riesling site because the grapes consistently reached greater maturity. In the early 20th century the wines were just as expensive as those from the top Rheingau growths.
'Savagely fine vineyard fragrance, a city made of cherry blossom.  The palate is literally stunning in the ferocity of its terroir, endlessly salty and flowery, already expressive and integrated, and lashing and electric… Every year for the last fifteen or more, this wine has been a masterpiece, and I can think of few if any parallels in the wine world—or in my wine world—of such sustained stellar performance year after year.' "–Terry Theise