Domaine Servin Butteaux, Chablis Premier Cru 2014 750ML ($37.95) Buy Now: $28 Special
Chablis is a word that conjures up a lot of different wines for a lot of different people.  Classically it's a crisp clean white Burgundy, made from vines that grown in extremely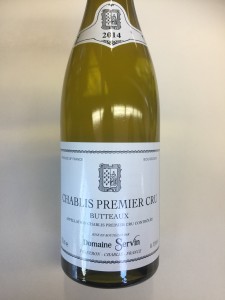 chalky, limestone soil.  Chablis became so popular that its good name was co-opted, most notably by big California jug wine producers.  That leaves us with our current state; a once-world famous wine region now somehow undervalued, with all but a couple of producer's wines affordable enough to drink regularly.
Domaine Servin is a perfect example of what might be termed 'new-classic' Chablis.  They're pure wines that speak very loudly of the soil and climate they come from and from great holdings too, yet somehow are undervalued.  Premier Cru white Burgundy from the Cote d'Or usually costs two to three times what this does, often without as much character or distinction.
The Butteaux vineyard is in the heart of Montmains and is great place to start with Domain Servin. This wine comes from the 2014 vintage, a bright and classic year that emphasizes all of the classical traits you'd want in Chablis.  It's super versatile at the table and would go deliciously with everything from oysters to a roast chicken or a green salad.
-Saul