Camille Giroud Santenay, Cote de Beaune 2012 750ML ($49.95) Buy Now: $39 Special
We'll keep this one short and sweet.  We love the 2012 vintage in Burgundy, we love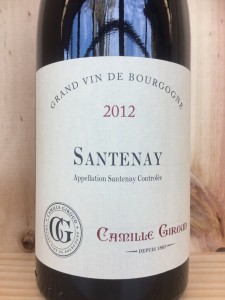 anything Becky Wasserman imports (Giroud especially) and Santenay is always one of the best value areas in red Burgundy.
This is one classy Pinot Noir, with everything you'd want in a ready-to-drink bottle.  Camile Giroud's Santenay is about 20% declassified Premier Cru vineyards and it tends to be one of best early-drinkers in their portfolio of vineyards. It's a great bottle of Burgundy to drink while you wait for all of your longer term wines to age (though it will only improve over the next ten years).
As with most red Burgundy, this is going to be super versatile at the table and you could drink this with everything from richer fish dishes to chops and roasts.
-Saul