New May Sale Wines; New Arrivals; Vinsanity Cases- New World Edition; A Bedrock-in' Spring; Some Old World Vinsanity Cases; Bouchard and Bollinger Bubbles; More May Sales; Wine Futures-Right Bank and Produttori
~~~~~~~~~~~~~~~~~~~~~~~~~~~~~
New May Sale Wines
Perseval-Farge C. de Pinots Premier Cru Brut, Champagne NV 750ML ($49.95) Was $37, Now $33
Josh Raynolds–Vinous 90 points "(55% Pinot Noir and 45% Pinot Meunier; 7 g/l dosage): Light yellow. Ripe pear and nectarine on the musky, floral nose and palate. In a fleshy, ample style, showing a sweet touch of vanilla on the back half. Closes smooth and broad, with building spiciness and a hint of smokiness."
This was the lowest listed price in the USA today,
Now it's even lower!
The next best price is $44.89
The average price is $46
Perseval-Farge 'La Pucelle' Premier Cru Brut Nature, Champagne NV 750ML ($69.95) Was $59, Now $49
Winery Note: Solely made of Pinot Noir grapes and exclusively coming from the location named "La Pucelle" on the Charmery Land. The Vintage Premier "La Pucelle" os "non-dose".
This was the lowest listed price in the USA today,
Now it's even lower!
The next best price is $62.01
New May Sale Wine Arriving May 12th
R. Lopez de Heredia Vina Cubillo Crianza, Rioja DOCa 2008 750ML ($27.95) Was $24, Now $21.90 pre-arrival special
Wine Advocate 92 points "The first of the reds here is the 2008 Viña Cubillo Tinto Crianza from a cooler vintage that produced some austere and serious wines–a year with higher acidity and lively fruit. It feels effervescent and it makes you salivate. This is usually a blend of 70% Tempranillo, 20% Garnacha, 5% Graciano and 5% Mazuelo from 50-year-old vines that ferments in ancient oak vats, and ages in barrel for three years. This cuvée has increased its quality tremendously since the 1990s. These cooler years provide citric freshness, and a very fine texture and vibrant acidity. This is so easy to drink that it can be dangerous.This was the Rioja clarete fino–the everyday red. It's both elegant and powerful. Very good value, too."
This is the lowest listed price in the USA today!
The average price is $27
Read on to see our complete recap of all wines on sale through the month of May!
~~~~~~~~~~~~~~~~~~~~~~~~~~~~~
New Arrivals
Allegrini Valpolicella, Veneto 2015 750ML ($14.95) $11.90 special
Case-12 Allegrini Valpolicella, Veneto 2015 750ML ($159.95) $126 special (that's only $10.50/bottle!)
Jancis Robinson 16.5/20 "Mid garnet. Pale rim. Pure, whistle-clean Corvina fruit on the nose – so direct! What's not to like? Such a rarity, a pure, well balanced local expression of Veneto red with very light bitter cherry notes on the end but without a hint of a dried grape. Made for the table – cheese? Something white and creamy?"
This is the lowest listed price in the USA today!
The average price is $15
Louis M. Martini Lot No. 1 Cabernet Sauvignon, Napa Valley 2013 750ML ($299.95) $269 special, 3 bottles available
Robert Parker 100 points "A perfect wine, that seems to have gone from one strength to another since I first tasted it, the 100% Cabernet Sauvignon 2013 Cabernet Sauvignon Lot 1 is absolutely amazing wine. It was aged 21 months in 87% new French oak, finished at 15.3% alcohol and was another abundant vintage, as this lot produced 850 cases, which is even more than 2012 and slightly less than 2003 and 2014. The wine has an inky purple color, a gorgeous nose of graphite, blueberry liqueur intermixed with cassis, blackberry, espresso roast, chocolate and graphite. Dense and incredibly intense with good acidity (slightly lower pH than the 2012, reflected in the character of the wine), fabulous purity and a finish that goes on for close to 50+ seconds. This could well turn out to be the greatest wine ever made at the Louis Martini Winery and that is saying something. It has at least 30-50+ years of aging potential and is clearly a compelling effort from this historic and iconic winery in Napa."
~~~~~~~~~~~~~~~~~~~~~~~~~~~~~
Case of VinSanity
Insane Roundup – Part 1: New World
New New World Case Deals
What's the best producer to pair with your summer soiree? If you want a refreshing wine for the summertime that's from Argentina, prepared to be amazed: these are not mutually exclusive things. Aged in concrete eggs instead of your typical (heavy dose of) new oak, these wines are light, bright and minerally with a healthy dash of fruit!
Case-12 Zorzal Eggo Blanc de Cal, Tupungato, Argentina 2014 750ML ($319.95) $249 special, 2 cases available (that's only $20.75/bottle!)
Zorzal Eggo Blanc de Cal, Tupungato, Argentina 2014 750ML ($29.95) $24 special, 36 bottles available
Wine Advocate 92 points "The 2014 Eggo Blanc de Cal is pure Sauvignon Blanc from two different vineyards in Gualtallary. The full clusters are pressed and the must was fermented and aged in contact with the lees for nine to ten months in their famous egg-shaped cement vats. This is more subtle and earthy, less Sauvignon, with the fruit expressing itself in a lower-pitched voice, more of a baritone. It's also has a little wider, pungent and powerful character in the mouth. This is only around 13% alcohol, and even though in 2014 it didn't go through malolactic fermentation, it's still a very light and fresh wine. Groundbreaking Sauvignon. 4,800 bottles were produced, fruit of two eggs." LG
This is the only listing in the USA today!
Case-12 Zorzal Eggo Franco Cabernet Franc, Tupungato, Argentina 2015 750ML ($319.95) $249 special, 3 cases available (that's only $20.75/bottle and the lowest listed price in the USA today!)
Zorzal Eggo Franco Cabernet Franc, Tupungato, Argentina 2015 750ML ($29.95) $24 special, 36+ bottles available
Wine Advocate 93 points "The second vintage I tasted from this Cabernet Franc, the 2015 Eggo Franco is produced, like many of their wines, with grapes from Tupungato Winelands in Gualtallary. It fermented in cement eggs with some stems and with 50% of the wine kept in contact with skins for some three to four months, then pressed and put back in the eggs to complete its élevage, which lasted some nine months. It shows a mixture of herbal and candied berry aromas, hints of beef blood and iron. The absence of oak shows the naked tannins and provides an earthy side, which to me is very much the wild character of Gualtallary. 6,000 bottles were filled in December 2015 (it was harvested in March)."
We offer 79 case-12 and case-6 deals from around the world. See below for the complete list of all in-stock case deals on New World wines, including highlights from Bow & Arrow and Matello!:

~~~~~~~~~~~~~~~~~~~~~~~~~~~~~
Rockin' the Bedrock
Bedrock Wine Co.
You'd be forgiven for thinking Morgan Twain-Peterson was taking a free ride into the industry, his father Joel Peterson founded Ravenswood, but you'd soon learn that he is blazing his own, very opinionated and talented trail. Morgan's passion is preservation of California's heritage vineyards and the myriad of varietals not found anywhere else. This appreciation and dedication came from a distance as he was in New York finishing his degree in American History. Absence makes the heart grow fonder, and Morgan returned to make wine.
Most notably, the focus of Bedrock is their ancient vines. Morgan repeats again and again that wines are made in the vineyard. And what tremendous vineyards he works with. Gnarled old dinosaurs poking their heads up through cracked and ancient soil: varietals like Carignane, Mourvedre, Tempranillo, Alicante Bouschet, Valdigué, Peloursin, Serene, Petite Bouschet, Grand Noir de la Calmette to name a few. These vines, in Twain-Peterson's view, represent so much more than California's history. They represent a wine that is uniquely Californian, a style not to be found or replicated anywhere else in the world. This is could well be California's future.
These wines aren't shy, but the surprising little aromatics and spice notes are delicate and only get better with time. They've got the fruit and depth that you would expect from California, but they're tight, structured and will reward patience. Similar to some of the older Ridge Zinfandels, you won't be disappointed if you throw them into the decanter and punch your ticket, but book in advance. Getting there is half the fun.
Bedrock Wines Arriving Late May:
Bedrock Wine Co. Kick Ranch Sauvignon Blanc, Sonoma County 2016 750ML ($29.95) $26 pre-arrival special
"This wine is almost entirely from the lovely Uboldi Ranch, which is planted on some of the only Sandy Goldridge Loam outcroppings in Sonoma Valley.  Located to the south of the town of Kenwood as the valley hills begin to creep towards Sonoma Mountain, the site is both steep and rocky, which helps balance the natural vigor of the Sauvignon Blanc vines.  Our section of the vineyard is planted exclusively to Musqué clone, which I prefer for its soaring aromatics.  In order to give ourselves the most options when assembling the blend we fermented the wine in a combination of stainless steel tank at cold temperature, cigare barrels (the same used by Dagueneau in the Loire) and smaller piece.  Though normally we tend to get pretty close to 50% of each in the final blend, we found that the increased texture and expressiveness provided by the barrel-fermented lots was too hard to resist, and the final wine this year saw 95% barrel fermentation.  Of that just about 17% of it is new.  It is so much fun to make Sauvignon Blanc!"
This is the lowest listed price in the USA today!
Bedrock Wine Co. Pagani Ranch Heirloom-Heritage Wine, Sonoma Valley 2015 750ML ($51.95) $46 pre-arrival special
Antonio Galloni 95 points "The 2015 Pagani Heritage is the most overt and flamboyant of the Sonoma Valley wines. Inky red fruit, wild flowers, violet, mint and plum infuse this super-concentrated, dense Zinfandel-based wine."
This is the lowest listed price in the USA today!
~~~~~~~~~~~~~~~~~~~~~~~~~~~~~
Also Arriving Late May from California
Talley Vineyards 'Oliver's Vineyard' Chardonnay, Edna Valley 2015 750ML ($39.95) $33 pre-arrival special
Wine Advocate 93 points "This chardonnay is produced entirely from the original section of Oliver's Vineyard planted in 1991 and named for Talley Farms founder Oliver Talley. One of two vineyards owned by the Talley Family in the Edna Valley AVA, just four miles from the ocean, the sandy clay loam soil of the site produces balanced Chardonnay with pronounced saline notes in the aroma and flavor. Native yeast ferment, natural malo, and 17 months sur lie in French oak, 20% new, bottled unfiltered."
This is the lowest listed price in the USA today!
~~~~~~~~~~~~~~~~~~~~~~~~~~~~~
Case of VinSanity
Insane Roundup – Part 2: Old World – In Stock
We're offering 59 wines at crazy-low case discounts – see the full list below or click here to see all case discounts we offer!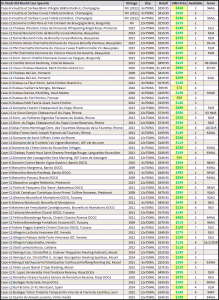 ~~~~~~~~~~~~~~~~~~~~~~~~~~~~~
A Bit of Bubbles
Arriving May 19
Cedric Bouchard Roses de Jeanne Blanc de Noirs Cote de Val Vilaine, Champagne NV (2013) 750ML ($99.95) $79 pre-arrival special
Antonio Galloni 92 points "Bouchard's NV (2013) Blanc de Noirs Côte de Val Vilaine is quite a bit creamier and richer than normal, the result of yields of just 26 hectoliters per hectare, as opposed the more typical 45, which is already absurdly low within the context of Champagne. Orange zest, white flowers, mint, chamomile and sweet spices flesh out as this exotic, unctuous Val Vilaine shows off its distinctive personality. The Val Vilaine is often a bit reduced when young, but that is not the case in the 2013, where the level of richness is pretty much off the charts."
Bollinger La Grande Annee Brut, Champagne 2004 750ML ($149.95) $119 pre-arrival special
Antonio Galloni 95 points "Bollinger's 2004 Brut La Grand Année is a beautiful wine with a lot of vintage character, but the style is a bit less oxidative than Bollinger fans are likely to expect. Pears, hazelnuts, spices and crushed rocks all flow through to the tense, vibrant finish. It will be interesting to see if the 2004 puts on weight in the bottle, as so many wines from this vintage have. Today, it is bright, linear and quite pretty. Green apples, pears and flowers all add lift on the close."
~~~~~~~~~~~~~~~~~~~~~~~~~~~~~
May Sale Recap
Only 27 more shopping days until these great deals expire!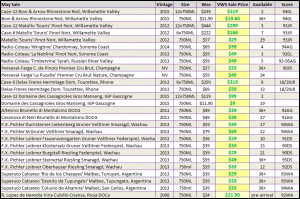 ~~~~~~~~~~~~~~~~~~~~~~~~~~~~~
Your Fall Crystal Ball
2017 Fall Arrival
This Right Bank property is complete under the radar but with an incredible history and terroir. The Quenin family has owned it since 1997 and has employed soil guru Claude Bourgignon, known for his work with Ausone, DRC and Selosse to name a few.
The surrender following the French victory at the Battle of Castillon La Bataille, putting an end to the Hundred Years War, took place at Chateau de Pressac. And 'Pressac' is also a local name for Malbec, of which there are still some vines that end up in the cepage.
Grab a glass of history – arriving this fall!
Chateau de Pressac, Saint-Emilion Grand Cru 2014 750ML ($39.95) $31.90 pre-arrival special
Antonio Galloni 92 points "A gorgeous wine, the 2014 de Pressac is dark, bold and voluptuous. Dark cherry, plum, bittersweet chocolate, smoke, lavender, sage and licorice all run through it. Deeply expressive, pliant and succulent, the 2014 will drink well with minimal cellaring. The dark, flamboyant style works beautifully here.The blend is 69% Merlot, 18% Cabernet Franc, 9% Cabernet Sauvignon plus dollops of Malbec and Carmenère. Tasted two times."
This is the only listing in the USA today!
Further Future-Gazing: