New Releases of Agathe Bursin Arriving Tomorrow; Hot New Review: Dagueneau; Staff Pick; Domaine Guiberteau; #Trending – Spanish Edition; Rivesaltes '31/'33/'45/'49….; Ganevat – Rare, Precious & Affordable; Champagne Season – October Arrivals; Late Breaking News: Best-Price Beaucastel VV & 96 Point d'Alessandro Tuscan Syrah
~~~~~~~~~~~~~~~~~~~~~~~~~
New Releases of Agathe Bursin Arriving Tomorrow
Secret Superstar of Alsace
"Alsace continues to be one of the world's finest but most underrated, small wine regions." – Stephan Reinhardt, Wine Advocate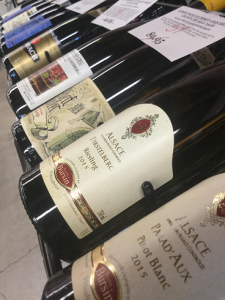 Agathe Bursin is a wonderful producer of Alsatian wines, with a strong following in France, but somehow remains slightly unknown in the US.  Her production sells out before it's even bottled—mostly to private clients in Europe, but a little makes its way over to our shores.  Yet when it gets here, sometimes it gets overlooked, because she makes wines that are useful at the table (and are priced as such) instead of being 'trophy' wines for collectors to fight over.  Part of the reason for her lack of fame might be that she lacks a national importer, though her wines are brokered by Thomas Calder (who also sells Prevost/Bouchard/Pattes Loup/Boulay, etc) which speaks to the quality of the wines.
The Bursin family has been making wines in Alsace for several generations and Agathe has taken the family domaine to new levels.  Educated in Burgundy, she worked in Chablis before returning home to the family winery and there is a marked Chablisienne influence on her wines in terms of their clarity of flavor and brightness.  All the wines she makes are delicious, and she's known in Alsace as something of a Sylvaner whisperer, but we'd urge you to check out the entire range!
These new releases will feature a few special 2015's (her VT and SGN wines, some Pinot Noir) and the range of 2016 whites.  2016 looks to be a really good Alsatian vintage, with wines showing good ripeness but less than some of the extremes that 2015 displayed.  Acids are good and the wines will show great freshness (which is also a hallmark of the Bursin style).  The 2015 late harvest wines look to be stunners—the vintage allowed for very ripe wines that are stunners now and will age for a long time. It also looks to be the best vintage for Pinot Noir in Alsace since 2009 and potentially better than that.
About half of our allocation has been released, arriving tomorrow. The remaining wines are not far behind and will arrive October 6th: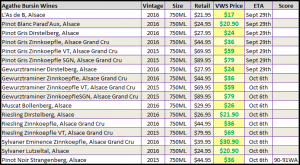 If you're truly in a rush to experience her wines, we have over 80 bottles in stock. See the complete list on our web site!
~~~~~~~~~~~~~~~~~~~~~~~~~
Hot New Review
Sauv Blanc for the Cellar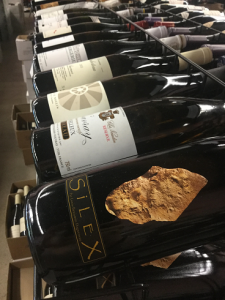 The Washington Wine Blog is a project directed by Dr. Owen Bargreen, who also writes for the International Wine Report. He is a Level Two Certified Sommelier with the Court of Master Sommeliers. His primary areas of interest are his home state of Washington as well as Oregon and California. He has written on wine for over ten years and has traveled extensively in the wine growing regions in France, Spain, Germany and Italy.
Didier Dagueneau Pouilly-Fume Silex, Loire 2014 750ML ($149.95) $119 special, 8 bottles in stock now
Washington Wine Blog 95 points "From an enclave just outside the cuverie in Saint Andelain, the Dagueneau Blanc Fume de Pouilly Silex is produced by Didier Dagueneau's son Louis-Benjamin (whose name now appears on the label). Benjamin Dagueneau oversees the estate's 11 hectares (27 acre) vineyard. The smoky accents aromatically are immediately expressive.  Ash, Serrano pepper, Bosc pear and cantaloupe aromatics impress. The palate shows incredible weight and plush texture. Smoke, white peach, Gravenstein apple, and gooseberry character complete this astringent and mineral driven wine. You have to admire the stony comportment here.  The downright oily texture beautifully coats the mid palate. This has the tension to cellar well past the next decade. Drink 2017-2028"
~~~~~~~~~~~~~~~~~~~~~~~~~
Staff Pick
Andy:
When the points came out for Burlotto's 2013 Monvigliero (100 points Antonio Galloni) the initial excitement for the rest of the lineup was palpable. The Movigliero evaporated, with the Acclivi quickly on its heels. Thankfully there is still a small amount of the '13 normale. Thank goodness, too, that it is so delicious. I bought 3 initially, intending to add them to the 21st birthday stash for my daughter. I need to buy an additional 3 because these are showing incredibly well right now. Intense, deep aromatics of licorice, mushroom, citrus, and fresh crushed mint fill the room while it is in the decanter. The tannins are a big part of the mouth feel, but the fruit is undeniable. Underneath the foundation, there is verve to this wine. It is built solidly and will age well, if we can keep from drinking it.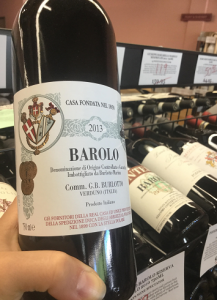 G. B. Burlotto Barolo DOCG, Piedmont 2013 750ML ($59.95) $44 special, 27 bottles available
Antonio Galloni 92 points "Burlotto's 2013 Barolo is one of the very best wines in its price range and class. Orange peel, bright red stone fruit, mint, licorice and star anise give the 2013 its exotic aromatic profile. The tannins are incisive and piercing, but also very fine grained. Best of all, the 2013 will drink well with minimal cellaring while giving readers a terrific look at the vibrancy, energy and polish. There is so much to like here. Breri, which is a vineyard close to Monvigliero, is the core of the Barolo, while Rocco dell' Olmo and Neirane round out the blend. The 2013 is as good or better than many vineyard designate Barolos in this vintage. Don't miss it."
This is the lowest listed price on the West Coast today!
The average price is $54
~~~~~~~~~~~~~~~~~~~~~~~~~
Domaine Guiberteau
The Voice of Their Vineyards:
When a winemaker starts generating the amount of charge that Romain Guiberteau has built in such a short amount of time, our ears perk up, and we take notice. A quick look at the volume of somm chatter being written about the Domaine assures you that the wines must be absolutely electric. In short: they are. Consider that Dani Foucault of Clos Rougeard took so much interest in Romain that he regularly insisted that visitors also go to Guiberteau to taste.
The Loire is full of cutting edge producers as of late and, while there are plenty of grapes to go around, some of the best belong to the Guiberteau family. After selling their fruit for almost 40 years, young Romain came back from an uninspired law career to take over the farming of his family's 14.5 hectares. The prize of this acreage was 7 hectares on a hill by the name of Brézé, considered by some as the best terroir in the entire Loire. The entire estate is planted to Chenin Blanc and Cabernet Franc, and the wines are pure, pungently wonderful expressions of the two grapes, somehow managing to be wild and alive while remaining crystal clear in their delivery. From the entry level Saumur Rouge or Blanc (quite likely the best introductory wines you'll find) to the pinnacle of his Saumur Blanc Brézé, the purity of the wines is remarkable.
There is a serious trend afoot in the Loire. Some producers of note are untouchable now, both due to price and tiny production, and we can only hope Domaine Guiberteau doesn't shoot out of reach. Now is the time to try these wines or pick up a few to lay down for the long haul. They'll age beautifully, and you can have one of those back-when wines to brag about in the decades to come.
Available Here Now from Domaine Guiberteau:
Domaine Guiberteau Saumur Blanc Le Clos de Guichaux, Loire 2013 750ML ($59.95) $49 special, 7 bottles in stock now
Vinopolnote: From younger vines planted to chalk and clay soils. Whole clusters are gently pressed by pneumatic press; native yeast fermentations with light filtration in order to discourage secondary fermentations. Low yields and an all-manual harvest and sorting, with organic viticulture and wines never chapitalized.
Domaine Guiberteau Saumur Blanc Le Clos de Guichaux, Loire 2014 750ML ($59.95) $49 special, 6 bottles in stock now
Domaine Guiberteau Saumur Blanc Les Moulins, Loire 2015 750ML ($39.95) $33 special, 20 bottles in stock now
Vinopolnote: All stainless-steel fermentation with the intent to present freshness and complexity of fruit; native yeast fermentations with hand-harvesting and no chapitalization.
Domaine Guiberteau Saumur Rouge Cuvee Les Motelles, Loire 2013 750ML ($59.95) $49 special, 25 bottles in stock now
VinopolNote: Located in Montreuil-Bellay, this vineyard was planted to Cabernet Franc in 1955. The soils here are clay under a layer of sand and gravel. The grapes are grown organically with a local pruning technique known as Guyau Val de Loire. At harvest, the grapes are completely destemmed before macerating for up to two months. The wine is fermented with natural yeasts before being aged for 12 months in 2-3 year old oak barrels.
This is the lowest listed price on the West Coast today!
Domaine Guiberteau Saumur Blanc, Loire 2015 750ML ($29.95) $26 special, 3 bottles in stock now
Importer note "The grapes come from younger vines in Clos des Carmes and Clos de Guichaux, and older vines on the bottom of the hill of Brézé. Pruning method is Guyau Val de Loire. 5,500 vines are planted per hectare. Maximum average yield is 45 hl per hectare. Pressing of whole clusters, indigenous yeast fermentation in tank. Aging on fine lees in tank, light filtration. Organic."
~~~~~~~~~~~~~~~~~~~~~~~~~
#Trending
With the weather cooling off, Spanish wines are heating up!
Bodegas Olivares Altos de la Hoya Monastrell, Jumilla 2014 750ML ($14.95) $10.90 special, 16 bottles in stock now
Wine Advocate 89 points "The 2014 Monastrell Altos de la Hoya is produced from the fruit of dry-farmed, ungrafted, old Monastrell vines and some 5% Garnacha. It fermented with indigenous yeasts in 10,000-liter stainless steel tanks and matured for six to eight months in used barriques and larger oak vats. The nose is clean and textbook Mediterranean with aromas of esparto grass, tree bark, blackberries and thyme, with perfectly integrated oak. The palate feels compact and balanced, with fine tannins and good acidity. I think this shows very well for such a challenging vintage in Jumilla."
Autocton Celler 'Autocton' Negre, Catalonia 2015 750ML ($19.95) $16 special, 34 bottles in stock now
Winery note "Autocton negre is a red wine made from indigenous, native very old vines of 80% Sumoll and 20% Ull de Llebre. Harvested and selected by hand, the wine is aged for 10 months in 300 and 400 liter French oak barrels."
This is the lowest listed price in the USA today!
The next best price is $19.99
Cecilio Black Slate Gratallops, Priorat DOCa 2015 750ML ($21.95) $18 special, 36+ bottles in stock now
Wine Advocate 90 points "The Black Slate series wines are produced by different producers from different villages of Priorat for US importer Eric Solomon, as is the case of the 2015 Black Slate Gratallops from Celler Cecilio. They want to show the character of the Priorat grapes in the different villages. It's a blend of Cariñena, Garnacha and Syrah from (guess what?) slate soils that fermented separately with indigenous yeasts and with 20% of the volume being raised in oak barrels for some eight or nine months. I noticed the Syrah here, combined with classical Gratallops sweet Garnacha and a pinch of spices. The palate is medium-bodied, with the fine slate texture, generous, warm and showy, but without excess, with the graphite holding it together. This is a Gratallops Vi de Villa."
Bodegas Ilurce Rio Madre Graciano, Rioja DOCa 2014 750ML ($14.95) $9.90 special, 36+ bottles available
Case-12 Bodegas Ilurce Rio Madre Graciano, Rioja DOCa 2014 750ML ($149.95) $99 special, 2 cases available (that's only $8.25/bottle and the lowest listed price in the USA today!)
Josh Raynolds 90 points "Brilliant violet color. Intensely perfumed dark berry and floral pastille scents, along with suggestions of anise, violet and pipe tobacco. Sweet and expansive on the palate, offering sappy black and blue fruit flavors that put on weight with air. Shows very good energy and power on the long, gently tannic finish, leaving behind notes of blueberry and peppery spices."
Buil & Gine 17-XI, Montsant 2014 750ML ($21.95) $18 special, 36+ bottles available
Case-12 Buil & Gine 17-XI, Montsant 2014 750ML ($249.95) $199 special, 3 cases available (that's only $16.58/bottle!)
Josh Raynolds–Vinous 91 points "Brilliant ruby. Highly perfumed, evoking ripe cherry and blackcurrant that are complemented by slowly emerging aromas of cured meat, lavender and minerals. Enlivened by a spicy nuance, the silky, sweet and penetrating palate offers intense dark fruit and floral pastille flavors. Seamless and very nicely concentrated, with smooth tannins lending shape to a very long, fruit-driven finish." JR
Raul Perez Ultreia de Valtuille, Bierzo 2014 750ML ($69.95) $59 special, 36+ bottles in stock now
Wine Advocate 96 points "The 2014 Ultreia de Valtuille was very open and expressive, impressive too, with notes of freshness, blood orange, red cherries and also flowers (violets, lilies) and an earthy touch. It's elegant and complex, with very fine tannins and a velvety sensation. As with all the reds, the oak is unnoticeable, perfectly integrated and folded into the wine."
Arriving Tomorrow
Adela Algueira Brandan Godello, Ribeira Sacra 2015 750ML ($19.95) $14 pre-arrival special
Josh Raynolds–Vinous 91 points "(all stainless steel) Pale onion skin. Vibrant citrus and orchard fruit aromas are complemented by suggestions of white flowers and dusty minerals. Juicy, incisive and energetic on the palate, offering bitter pear skin and Meyer lemon flavors and a hint of tarragon. Becomes deeper with air and finishes with very good clarity, power and a lingering floral note."
This is the lowest listed price in the USA today!
Camino de Navaherreros Garnacha, Madrid 2015 750ML ($19.95) $14 pre-arrival special 
Case-12 Bernabeleva Camino de Navaherreros Garnacha, Madrid 2015 750ML ($219.95) $149 pre-arrival special (that's only $12.42/bottle!)
Wine Advocate 90 points "The entry-level red 2015 Camino de Navaherreros is always produced with Garnacha from organically farmed vineyards in the zone of Navaherreros in San Martín de Valdeiglesias. It fermented in stainless steel with some 45% full clusters and aged in 5,000- and 10,000-liter oak vats for nine months. This is a very serious red Garnacha for the price asked, with an herbal touch, faint phenolic twist and no oak whatsoever, as well as a very balanced palate, refined tannins and the austere texture provided by the granite minerality. Very impressive. 33,000 bottles produced."
This is the lowest listed price on the West Coast today!
The average price nationally is $15
~~~~~~~~~~~~~~~~~~~~~~~~~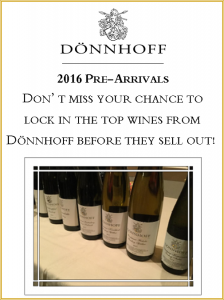 ~~~~~~~~~~~~~~~~~~~~~~~~~
Rivesaltes Featurette
(We decided it would be too confusing to call this feature 'The French Port-Style Madeira-esque Sherry-Like Rancio Dessert Wine')
Arriving in Late October
Since the 14th century, the region of Rivesaltes has been prized for producing some of the world's finest examples of vins doux naturels. A vin doux naturel wine is produced by adding grape spirits to the must (stopping fermentation) while a large portion of the natural sugars remain. Rivesaltes are produced with mostly Grenache (Noir, Gris and/or Blanc). The upper end wines are aged oxidatively for at least two or five years before release.
Recently, Domaine Cazes' manager Lionel Lavail discovered several ancient barrels tucked away in their cellar, untouched for decades. He has released these precious vintages to much fanfare with the critics. Check in on these historic wines dating back to the 1930s!
Chateau Las Collas Rivesaltes, Languedoc-Roussillon 1961 750ML ($119.95) $89 pre-arrival special
Wine & Spirits 93 points 
Chateau Las Collas Rivesaltes, Languedoc-Roussillon 1970 750ML ($119.95) $99 pre-arrival special
Wine & Spirits 94 points 
Domaine Cazes Rivesaltes, Languedoc-Roussillon 1932 750ML ($279.95) $249 pre-arrival special
Wine Advocate 97 points "The creme of the lineup, the 1932 VDN Rivesaltes Old Collection Ambre (100% Grenache Blanc aged 30 years in cask) is a monumental effort that makes your eyes roll back in your head and has you wondering why you don't drink more of these. A borderline perfect dessert wine, it thrills on all accounts with fabulous aromas and flavors (toffee, cigar, cedar, sweet spice), full-bodied depth and richness, and yet no weight or heaviness whatsoever. It has serious acidity (and sugar) if you hunt for it, but everything is perfectly balanced, and it hangs on the palate until you either take another sip or do something to physically remove it. Find it if you can."
This is the lowest listed price in the USA today!
Domaine Cazes Rivesaltes Collections, Languedoc-Roussillon 1933 750ML ($219.95) $189 pre-arrival special
Wine Advocate 96 points "The white grape-based Cazes 1933 Rivesaltes smells gorgeously of creme brulee infused with iris, violet and orange blossom; then comes to the palate at once creamy, texturally caressing and expansive, yet also gushing with juicy and zesty evocations of grapefruit and blood orange that took me by delighted surprise. Toasted nuts and haunting, smoke-tinged liquid floral essences help balance and compliment the sweetness in a profound, protracted, and impeccably balanced finish."
Domaine Cazes Rivesaltes Collections, Languedoc-Roussillon 1945 750ML ($179.95) $149 pre-arrival special
Wine Advocate 93 points "The white grape-based Cazes 1945 Rivesaltes, smells of smoke-infused dried figs as well as saline, alkaline sea breeze. Dried fig and complexly floral honey engage with smoky, saline mineral nuances in a sustained finishing dialogue."
This is the lowest listed price in the USA today!
Domaine Cazes Rivesaltes Collections, Languedoc-Roussillon 1949 750ML ($179.95) $149 pre-arrival special
Wine Advocate 95 points "The white grape-based Cazes 1949 Rivesaltes displays spiciness, verve, and remarkable sheer juiciness at the same time as a complex array of dark and decadent elements. Peat, tobacco, black tea, and decadent forest floor confront spiced oranges, mouthwatering salinity, and an almost crystalline sense of shimmering mineral elements such as I would rarely associate with fortified wines. There isn't one bit of superfluous sweetness in the penetratingly and dynamically persistent finish of this incandescent beauty. What's more, as the glass stood open, this elixir's performance become even more impressive."
Domaine Cazes Rivesaltes Collections, Languedoc-Roussillon 1962 750ML ($119.95) $99 pre-arrival special
Wine Advocate 94 points "The black grape-based Cazes 1962 Rivesaltes is pungently scented with candied grapefruit rind, cocoa, cinnamon, and quinine, its palate performance correspondingly mingling the rich torrefactionwith the citric and offering subtly satisfying integration of bitterness to balance its sweetness. Zesty and piquantly nutty, it finishes with impressive grip and simultaneous projection of bright high-tones and toasty low notes as well as alkaline cut and mouthwatering salinity."
Domaine Cazes Rivesaltes Collections, Languedoc-Roussillon 1978 750ML ($119.95) $99 pre-arrival special
Wine Advocate 94 points "The 1978 VDN Rivesaltes Aime Cazes is comprised of 80% Grenache Blanc and Grenache Gris, and 20% black Grenache, that spent 22 years in cask. Sporting a fabulous light gold color, it burst from the glass with notions of dried plums, fig, toffee and creme brulee. Full-bodied, seamless and incredibly layered and silky, with vibrant acidity keeping it light and downright gulpable, it's a brilliant Rivesaltes that will probably age forever."
This is the only listing in the USA today!
~~~~~~~~~~~~~~~~~~~~~~~~~
ETA October 13th
Ganevat – Rare, Precious & Affordable
Since 1650, Jean-Francois Ganevat's family has grown wine grapes and produced wine in the hamlet of La Combe in the Jura.   Jean-Francois Ganevat, after working for his father and Domain Jean-Marc Morey in Burgundy, took over the domaine in 1998 as the fourteenth generation of the family.  From his small 21 acres of land, he produces up to forty different wines in tiny quantities each year.  Some of these varieties are ancient native varieties inter-planted in his vineyards yet not allowed under the AOC, such as Petit Béclan, Portugais Bleu, Enfariné, Argant, Poulsard Blanc.
Ganevat's vineyards are grown along slopes in this cool climate.  His vineyard and winery practices are exacting and biodynamic.  He is known for hand trimming individual grapes from the stems directly into old barrels to ferment whole-berry.
In recent years, poor growing conditions have moved him to source grapes from friends around the Jura and even outside of the region. These wines, labeled A & JF Ganevat below, are held to the same exacting standards and no less a true expression of his unique style.
Ganevat Wines Arriving October 13th:
~~~~~~~~~~~~~~~~~~~~~~~~~
Tis Nearly the Season
Though Champagne Needs No Reason!
Arriving Wednesday, October 4th:
Arlaux Grande Cuvee Premier Cru Brut, Champagne 750ML ($39.95) $33 pre-arrival special
Case-12 Arlaux Grande Cuvee Premier Cru Brut, Champagne 750ML ($479.95) $359 pre-arrival special (that's only $29.92/bottle!)
Wine Advocate 92 points "The nose of this wine seduces you straight away with a great balance of autolytic and fruit aromas: toasted hazelnuts, warm apple tart and kaya (coconut and egg) jam. The palate is equally well balanced providing plenty of evolved fruit and toasty / yeasty flavors. Small, fine bubbles, seamless use of dosage and a long nutty finish. This fine if relatively unknown Brut NV takes first place in the derby – a shocker even for me!"
Importer notes: "Arlaux is a small family-run champagne house producing only 5,000 cases a year located in a small village on the Petit Montagne de Reims called Vrigny.  Arlaux has been producing champagne since 1826 but the Arlaux-Marchal family have lived in Vrigny since the 13th century. Exclusively 1er Cru Champagne with a minimum of 4 years aging. They only use their own grapes from 20 to 100 year old vines which are hand-picked in order to select only the very best. All Arlaux cuvées are 100% Premier Cru and 100% Tête de Cuvée (meaning that they only use the juice of the 1st press)."
This is the lowest listed price in the USA today!
More Champagnes Also Arriving in October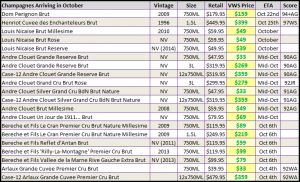 ~~~~~~~~~~~~~~~~~~~~~~~~~
Late Breaking News
Arriving in October
Chateau de Beaucastel Chateauneuf-du-Pape Blanc Roussanne Vieilles Vignes, Rhone 2015 750ML ($159.95) $128 pre-arrival special
Wine Advocate 94-97 points "Even better than the Chateauneuf du Pape Blanc, the richer, more concentrated 2015 Châteauneuf du Pape Roussanne Vieilles Vignes comes from a single parcel of vines located beside the Chateau that were planted in 1909. Full-bodied, rich, gorgeously concentrated and textured, with fabulous notes of orange blossom, buttered citrus, marmalade and honey, it will be up with the crème de la crème of the vintage. It's worth noting that since 2009, the estate has changed the viticulture with regards to their whites, moving to slightly larger yields, with the goal of making a more elegant white that ages more predictably."
This is the lowest listed price in the USA today!
The average price is $136
Arriving in March
Tenimenti Luigi d'Alessandro Manzano 'Il Bosco' Syrah Cortona, Tuscany 2013 750ML ($49.95) $39 pre-arrival special
James Suckling 96 points "Plenty of smoke and berry character with dark tea and sweet tobacco. Full body, silky and fine tannins and a beautiful finish. Seriously classy. Drink now."
This is the lowest listed price in the USA today!
The next best price is $49.94
~~~~~~~~~~~~~~~~~~~~~~~~~
Thank you for reading!