September 2017
Domaine Guiberteau
The Voice of Their Vineyards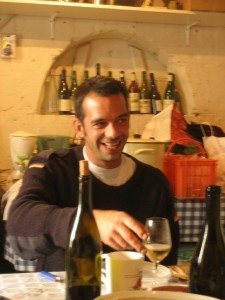 When a winemaker starts generating the amount of charge that Romain Guiberteau has built in such a short amount of time, our ears perk up, and we take notice. A quick look at the volume of somm chatter about the Domaine assures you that the wines must be absolutely electric. In short: they are. Consider that Dani Foucault of Clos Rougeard took so much interest in Romain that he regularly insisted that visitors also go to Guiberteau to taste.
The Loire is full of cutting edge producers as of late and, while there are plenty of grapes to go around, some of the best belong to the Guiberteau family. After selling their fruit for almost 40 years, young Romain came back from an uninspired law career to take over the farming of his family's 14.5 hectares. The prize of this acreage is 7 hectares on a hill by the name of Brézé, considered by some as the best terroir in the entire Loire.
The entire estate is planted to Chenin Blanc and Cabernet Franc, and the wines are pure, pungently wonderful expressions of the two grapes, somehow managing to be wild and alive while remaining crystal clear in their delivery. From the entry level Saumur Rouge or Blanc (quite likely the best introductory wines you'll find) to the pinnacle of his Saumur Blanc Brézé, the purity of the wines is remarkable.
There is a serious trend afoot in the Loire. Some producers of note are untouchable now, both due to price and tiny production, and we can only hope Domaine Guiberteau doesn't shoot out of reach. Now is the time to try these wines or pick up a few to lay down for the long haul. They'll age beautifully, and you can have one of those back-when wines to brag about in the decades to come.
Domaine Guiberteau Saumur Blanc, Loire 2015 750ML ($29.95) Buy Now: $26 special
Importer note "The grapes come from younger vines in Clos des Carmes and Clos de Guichaux, and older vines on the bottom of the hill of Brézé. Pruning method is Guyau Val de Loire. 5,500 vines are planted per hectare. Maximum average yield is 45 hl per hectare. Pressing of whole clusters, indigenous yeast fermentation in tank. Aging on fine lees in tank, light filtration. Organic."
Domaine Guiberteau Saumur Blanc Le Clos de Guichaux, Loire 2013 750ML ($59.95) Buy Now: $49 special
Domaine Guiberteau Saumur Blanc Le Clos de Guichaux, Loire 2014 750ML ($59.95) Buy Now: $49 special
Vinopolnote: From younger vines planted to chalk and clay soils. Whole clusters are gently pressed by pneumatic press; native yeast fermentations with light filtration in order to discourage secondary fermentations. Low yields and an all-manual harvest and sorting, with organic viticulture and wines never chapitalized.
Domaine Guiberteau Saumur Blanc Les Moulins, Loire 2015 750ML ($39.95) Buy Now: $33 special
Vinopolnote: All stainless-steel fermentation with the intent to present freshness and complexity of fruit; native yeast fermentations with hand-harvesting and no chapitalization.
Domaine Guiberteau Saumur Rouge Cuvee Les Motelles, Loire 2013 750ML ($59.95) Buy Now: $49 special
VinopolNote: Located in Montreuil-Bellay, this vineyard was planted to Cabernet Franc in 1955. The soils here are clay under a layer of sand and gravel. The grapes are grown organically with a local pruning technique known as Guyau Val de Loire. At harvest, the grapes are completely destemmed before macerating for up to two months. The wine is fermented with natural yeasts before being aged for 12 months in 2-3 year old oak barrels.