The Legendary 2015 Hermitage La Chapelle
Paul Jaboulet Aine Hermitage "La Chapelle", Rhone 2015 750ML ($319.95) Buy Now: $236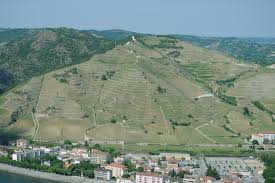 The 2015 Jaboulet Hermitage La Chapelle has already reached legendary status. Between the wine's consistently excellent track record and the quality of the 2015 vintage, we knew that this was going to be a wine to pay attention to. Jeb Dunnuck rated the wine a perfect 100 points and it was the highest rated Northern Rhone in Vinous (98 points). All of this is to say that we expect this to remain a coveted wine for decades to come (and for good reason).
The hill of Hermitage is both one of the most famous wine landmarks in the world and also so much more interesting than common lore purports it to be. The story goes that the hill of Hermitage was the home of a knight seeking solace from the horrors of the Crusades upon his return home. He planted the vineyards that would become Hermitage and then built a chapel to pray in and that building, the Chapel of Saint Christopher, is the defining marker of the hillside. The name, Hermitage, takes the name of the hermit's refuge.
In reality, the hill of Hermitage has probably been planted since the time of the Romans (if not before) and is composed of three hillsides, which range from very granitic soils to more of a sandy clay. There is a lot of soil variation over the 137 hectares of vines and that variation means that the different lieu-dits all have their own personality. Most of the top producers, like Chave and Jaboulet, own land across the slope, but several offer bottlings from individual parcels.
Jaboulet purchased the Chapel of Saint Christopher and the surrounding plot of land in 1919—possibly the choicest part of the whole appellation. This is the core of their blend for La Chapelle, which for many defines what Hermitage can be. The 2015 version is a true legend in the making and we expect this will be a wine that is talked about reverentially in twenty years. We have a small parcel for sale, in stock now.
Paul Jaboulet Aine Hermitage "La Chapelle", Rhone 2015 750ML ($319.95) Buy Now: $236
Jeb Dunnuck 100 points "Lastly, and a legendary wine in the making, the 2015 Hermitage La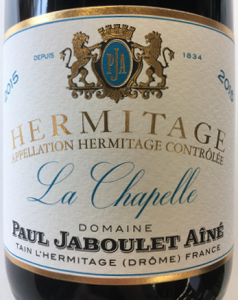 Chapelle is reminiscent of the 1990 with its full-bodied, opulently, sexy, yet concentrated style. Offering sensational notes of blackcurrants, smoked herbs, beef blood, and chocolate, it's a huge yet elegant wine that has masses of sweet tannin, incredible purity and finesse, and a killer finish. It's the finest wine from this estate in close to 30 years. Hats off to Caroline Fray and Jacques Desvernois!"
Josh Raynolds-Vinous 98 points "Bright purple. Explosive, smoke- and spice-accented blueberry, cherry cola, incense and smoky mineral aromas show outstanding delineation and pick up a hint of olive with aeration. Sweet and expansive on the palate, offering deeply concentrated dark berry liqueur, fruitcake and floral pastille flavors, along with a suggestion of star anise. The remarkably long, penetrating finish features strong minerally cut, an echo of sweet blue fruit and harmonious tannins that come in late and fold effortlessly into the deeply concentrated fruit. At this stage, this is a contender for the wine of the vintage, at least by estimation."
Wine Advocate 97-100 points "A wine that might surpass the 2009 and 2010 is the 2015 Hermitage La Chapelle, which has more than a passing resemblance to the 1990. This inky black/blue-colored Hermitage offers an off-the-charts array of blackberries, blueberries, crushed rocks, wood smoke and charred meats. Thick, unctuous, full-bodied and incredibly layered, with sweet tannin, it's a tour de force that's going to have three to four decades of longevity."