October 2011
these wines scheduled for arrival here November 1-5 2011,
and listed for pre-arrival purchase now
Paolo Bea Santa Chiara Umbria Bianco 2009 ($44.95) $37 net pre-arrival special
Antonio Galloni 90 points "The 2009 Santa Chiara is a totally intriguing wine. A blend of 20% Grechetto, 20% Malvasia and 20% Garganega plus other white grapes, the Santa Chiara spent 17 days on its skins in steel tanks and was fermented with ambient yeasts with no temperature control. It is a striking wine, most notably for the way it completely covers every inch of the palate with fruit. Despite its textural richness, this never comes across as heavy. Sweet peach, almond, spices and a hint of orange peel linger on the multi-dimensional, almost lush finish. Readers who want to explore the whites that are sometimes referred to as 'orange wines' without going to the more eccentric styles may want to start here. This is a stunning wine from Giampaolo Bea. Anticipated maturity: 2011-2019."  AG
Paolo Bea Rosso di Veo Umbria  2005 ($59.95) $49 net pre-arrival special
Antonio Galloni 91 points "Bea's 2005 Rosso de Veo, a Sagrantino made from the estate's youngest vines, is another of the wines that is showing better today than it did a year ago. Delicate, pure and classy, the Rosso de Veo flows with exotic dark fruit, wild herbs and flowers, all of which are framed by pure, silky tannins. Though not inexpensive, the Rosso de Veo is a great introduction to the very personal style of Giampiero Bea in Sagrantino. Anticipated maturity: 2010-2017" AG
Paolo Bea Montefalco Rosso Riserva Pipparello 2005 ($69.95) $59 net pre-arrival special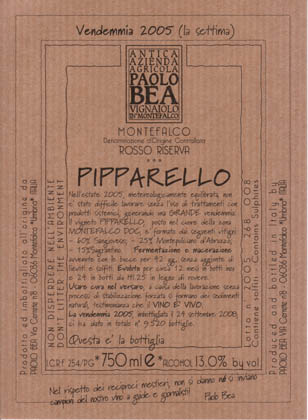 Antonio Galloni 94 points "The 2005 Montefalco Rosso Riserva Pipparello is a rock star wine. This powerful, intense red emerges with generous dark cherries, plums, licorice, smoke and leather. The late harvest in 2005 resulted in an extraordinarily complete wine blessed with tons of pedigree. The 2005 Pipparello is 60% Sangiovese, 25% Montepulciano d'Abruzzo and 15% Sagrantino. The wine saw 42 days of contact on the skins and was aged for a year in stainless steel followed by two years in cask. Simply put, it is magnificent! Anticipated maturity: 2013-2025."  AG
Paolo Bea Sagrantino di Montefalco Secco Vigneto Pagliaro 2005 ($89.95) $69 net pre-arrival special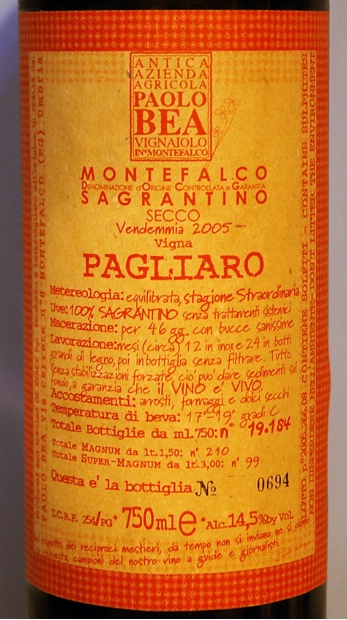 Antonio Galloni 94 points "The 2005 Montefalco Sagrantino Vigna Pagliaro has put on quite a bit of weight over the last year. Today it is a rich, sumptuous wine that totally covers the palate with dense, dark fruit. In 2005 the Pagliaro is impressive in the way it achieves superb density while retaining the elements of delicate, nuanced subtlety that inform Bea's finest wines. This is a fabulous effort from Bea. The 2005 Pagliaro saw 46 days on the skins, followed by a year in stainless steel and two years in cask." AG
Paolo Bea Sagrantino di Montefalco Secco Vigneto Pagliaro 2004 ($89.95) $69
Antonio Galloni 94 points The 2004 Sagrantino di Montefalco Pagliaro is more linear than the 2005 and perhaps just a touch more advanced as well. Sweet tobacco, herb and earth aromas waft out of the glass followed by a perfumed core of fruit that emerges over time. A long, refined finish rounds out the wine nicely. The 2004 is more ethereal than the 2005, but it, too, is quite beautiful, not to mention a terrific effort in what was a challenging vintage for this property. Interestingly, what seems to come through most in tasting the 2005 and 2004 side by side are the qualities of this vineyard first, and those of vintage second. The 2004 Pagliaro was macerated on the skins for 48 days and spent 32 months in large, neutral casks. Anticipated maturity: 2009-2019. AG
Paolo Bea Sagrantino di Montefalco Passito 2001 375ml ($119.95) $89 net pre-arrival special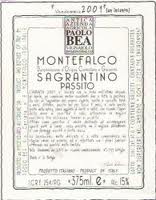 Sublime. The original nature of Sagrantio wine. The grapes laid out on mats and partially dried pre-pressing, in the fashion of Amarone. The sweetness envelopes the dark and brooding Sagrantino. Cheeses and dried fruits are the classic accompaniment, but I could also enjoy this with North African inspired stews. The production of this wine should be protected by some Heritage Foundation- it is truly one of those things from the past worth preserving.
 to purchase- select link- upper right- SHOP VINOPOLIS NOW,
in the online shop use the search tool- input "Paolo Bea"