5/29/16
+ + + + +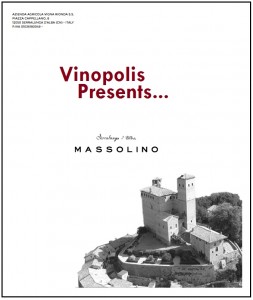 A Bright Light Burns in Barolo
Presenting the Wines of Massolino

Serralunga d'Alba would not be the same without the Massolino family. Besides the fact that Giovanni Massolino brought electricity to the town in 1896, he also established the storied wine estate that bears his family name. The classic Massolino Barolo dates back to 1911, and the wines are still grown and produced by the Massolino family, now in its fourth generation of winemakers.
In all, Massolino owns 57 acres of vineyard, including four Barolo crus. With such a reputation to uphold, tradition still guides the way here: fermentation in cement tanks, ageing in large Slavonian oak casks. Yet modernity has its hand, too: Not at all rustic, the wines are smooth, clean, and extremely pleasurable. These are some of the finest Barolos around, unafraid of long cellar time. With or without electricity, Serralunga and the Langhe have the Massolinos to thank.
We are thrilled to offer a wide range of the classic Massolino wines,
available as pre-arrivals and arriving late June.
+ + + + +
Massolino Wines Arriving Late June
+ + + + +

Massolino Langhe Nebbiolo, Piedmont 2013 750ML ($31.95) $24 pre-arrival special
Case-12 Massolino Langhe Nebbiolo, Piedmont 2013 750ML ($359.95) $249 pre-arrival special (that's only $20.75/bottle!)
Vinopolnote: A classic, easy-drinking, younger-vine bottling of Nebbiolo from the Serralunga.
This is the lowest listed price in the USA today!
Massolino Barolo DOCG, Serralunga d'Alba 2011 750ML ($49.95) $33 pre-arrival special
Wine Spectator 92 points "A tightly coiled version, with a solid core of black cherry framed by licorice and spice accents. Though locked up for now, this shows the potential for a long evolution. Delivers fine ripeness and midpalate density. Best from 2019 through 2033."
James Suckling 92 points "Lots of pretty, ripe yet subtle fruit in this wine with plum, dried strawberry and spice character. Full body, silky tannins and a fresh finish. Better in 2018."
This is the lowest listed price in the USA today!
The average price is $45

Massolino Margheria, Barolo DOCG 2009 750ML ($89.95) $66 pre-arrival special
Wine Advocate 93 points "The 2009 Barolo Margheria, however, moves us over to the Serralunga d'Alba township where power and structure are the name of the game. This wine shows big bones with firmly rooted tannins and a bold, fleshy quality of fruit. Black currant, chopped mint and licorice are woven tightly within the fabric of the wine. Anticipated maturity: 2015-2028."
This is the lowest listed price in the USA today!
The average price is $85
Massolino Barolo Parafada, Barolo DOCG 2011 750ML ($89.95) $69 pre-arrival special
Wine Enthusiast 95 points "Structured and focused, this gorgeous wine offers enticing scents of pressed violet, woodland berry, baking spice, tilled soil and leather. The firm palate delivers ripe black cherry, licorice, mint, tobacco and ground clove alongside youthfully assertive but refined tannins. Give this time to fully develop—it should blossom into a beauty. Drink 2018–2026."
Wine Spectator 93 points "A mix of ripe cherry, raspberry, plum, tobacco and tea aromas and flavors are the hallmarks of this well-defined red. A stiff backbone of tannins and vivid acidity keeps this moving toward the lingering, earth-tinged aftertaste. Best from 2019 through 2032"
This is the lowest listed price in the USA today!
The average price is $82

Massolino Parussi, Barolo DOCG 2007 750ML ($89.95) $69 pre-arrival special
Wine Spectator 94 points "Warm and inviting, featuring macerated cherry, leather, tobacco and spice flavors. The balance leans toward the tannic side, yet this shows an extra level of ripeness and integration, with excellent length. Best from 2015 through 2032."
Stephen Tanzer–Vinous 93 points "Bright medium red. Compelling perfume of strawberry, raspberry, red cherry, flowers, minerals and wild herbs. Dense, sappy and concentrated; wonderfully silky Barolo but also much more vibrant than the 2008. The tannins are a bit youthfully aggressive but the wine's lingering mineral and wild herb perfume suggests it will be a beauty with another four to six years in the cellar."
This is the only listing in the USA today!
Massolino Parussi, Barolo DOCG 2009 750ML ($89.95) $66 pre-arrival special
Wine Advocate 94 points "The 2009 Barolo Parussi sees fruit sourced from the Castiglione Falletto township and consequently shows the most ethereal and refined characteristics of these three vineyard-designate wines. Rosehip, forest berry and even a touch of stone fruit or apricot emerge at first, followed by heavier aromas of tar and black licorice. The wine shows impressive elegance, finesse, silky tannins and fresh acidity. Those overall attributes, melded so perfectly together, are rare to find in the warmer 2009 vintage. Anticipated maturity: 2015-2025."
This is the lowest listed price in the USA today!
The average price is $80
Massolino Parussi, Barolo DOCG 2011 750ML ($89.95) $69 pre-arrival special
Wine Advocate 93 points "With fruit from Castiglione Falletto, the 2011 Barolo Parussi is an epic wine with thick layers of dark fruit, spice and pressed rose. This expression is absolutely irresistible in terms of its generosity, overall intensity and silky smoothness. It presents a more immediate style with soft lines and a generous, fruity texture. Massolino has produced an impressive line of new releases. "
This is the lowest listed price in the USA today!
The next best price is $76.79

Massolino Vigna Rionda Riserva, Barolo DOCG 2009 750ML ($149.95) $108 pre-arrival special
Luca Gardini 98 points, Wine Advocate 94 points "The 2009 Barolo Vigna Rionda Riserva burst from the glass with enormous confidence and personality. Nothing is understated here or otherwise hidden from view. This Riserva immediately puts its best assets forward with dark fruit nuances that are woven tight with veins of exotic spice and crushed mineral. The wine also reveals lovely aged characteristics of licorice, dried tobacco and balsam herb. The 2009 vintage is slightly broader and flatter compared to 2007 and 2006."
James Suckling 94 points "There's cedar and sandalwood undertone to this Barolo with ripe fruit and milk chocolate as well. Medium to full body, firm and silky tannins and a long, flavorful finish. A late release from a fine producer of Barolo showing energy and tension. Drink now."
This is the lowest listed price in the USA today!
The average price is $117
Massolino Barolo Vigna Rionda X Dieci Anni Riserva, Barolo DOCG 2004 750ML ($249.95) $199 pre-arrival special
VinopolNote: The Dieci is a special reserve bottling released by the winery after 10 additional years.
Wine Advocate 96 points "The 2004 Barolo Riserva Vigna Rionda reveals superb complexity and nuance in a never-ending display of aromas and flavors that saturate the palate. Tobacco, truffles, spices, licorice and dark fruit swirl around in the glass as the wine continues to gain volume and depth with air. The tannins are massive yet beautifully balanced and the stage seems set for the 2004 to develop into one of the finest Vigna Riondas crafted here. Constantly changing in the glass, the wine captures that characteristic Rionda elusiveness that invites a second taste and then a third. In sum, it is a Barolo that will provide endless fascination for many years to come. Incredibly, it tastes almost as youthful as it did from barrel a few years ago! Anticipated maturity: 2016-2031."
This is the only listing in the USA today!
Special Sale: $10 off the Massolino 2010 Barolo:
Massolino Barolo DOCG, Serralunga d'Alba 2010 750ML ($59.95) Was $49, Now $39, 21 bottles available
Antonio Galloni 92 points "The 2010 Barolo is gorgeous. Sage, rosemary, tar, dried rose petals and sweet spices meld together. An impeccable, perfumed Barolo, the 2010 impresses for its balance. Fine, silky tannins support the gracious finish in this medium-bodied, refined Barolo. Readers who want to get a sense of what the 2010 vintage is all about will want to check out this fabulous effort from Massolino. This is decidedly a medium-bodied style for Serralunga, but it works." AG
+ + + + +
Of course, we're back tomorrow with your regularly scheduled programming.
Enjoy your long weekend and don't hesitate to call or email if you need help – we're open 10-6 today and tomorrow!

– The Vinopolis Team
info@vinopoliswineshop.com
(503) 223-6002