2015 G.B. Burlotto Barolo
6-2-19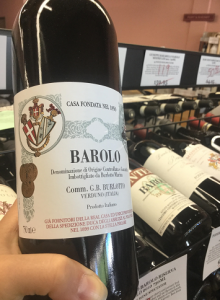 G.B. Burlotto was considered among the absolute greatest winemakers in the world for the seventy plus years he was at the helm of the estate. After his passing in 1927, the winery and his hometown of Verduno slipped into obscurity. Now Fabio Alessandria, the great-great-grandson has taken over and Burlotto is among the best small producers in the Piedmont.
2015 Burlotto Barolos Arriving in July:
G.B. Burlotto Barolo DOCG, Piedmont 2015 750ML
Antonio Galloni 92 points "Burlotto's 2015 Barolo is absolutely gorgeous. Pliant and open-knit, the straight Barolo captures all of the natural richness of the vintage. Succulent red cherry, plum, lavender, rose petal, spice and new leather all meld together in a supple, inviting Barolo that will be impossible to resist in its youth. This is such a beautiful and alluring wine. The base of the Burlotto Barolo is built on Breri, which is adjacent to Monvigliero, plus the portions of Rocche dell' Olmo and Neirane that don't make it into the Acclivi. This is a positively stellar wine. Don't miss it."
James Suckling 92 points "Very aromatic with sliced strawberries and cherries and hints of tangerines on the nose. Full body. Rich and juicy and a flavorful finish. Drink in 2022."
G.B. Burlotto Barolo 'Acclivi', Barolo DOCG 2015 750ML
Antonio Galloni 94 points "The 2015 Barolo Acclivi is another stellar wine from Fabio Alessandria and Burlotto and is a blend of fruit from Monvigliero, Rocche dell' Olmo and Neirane, all in Verduno. Bright, perfumed and silky on the palate, the Acclivi is a jewel of a wine. Floral notes appear in the glass, adding lift, perfume and sensuality. All the elements are in the right place. Today, Burlotto's Cannubi and Monvigliero have become hard to find, but savvy readers will want to focus on the Acclivi, a wine that offers superb quality for the money. Another few years in bottle should help some of the fruit soften."
G.B. Burlotto Barolo Monvigliero, Barolo DOCG 2015 750ML 
Antonio Galloni 98 points "The 2015 Barolo Monvigliero is a wine of pure and total seduction. The warm vintage has filled out the wine's frame beautifully. The interplay of ripe, succulent 2015 fruit and aromatic intensity from the whole clusters yields a positively stunning, breathtaking wine of the very highest level. Once again, Burlotto's Barolo Monvigliero takes a place among the most compelling wines of the vintage. Readers who can find it should not hesitate!"
For pricing & availability, shop the complete list of Burlotto wines on our web store.