The experience of stumbling across a small vineyard or winemaker in Tuscany can be moment that forever changes your expectations of what Sangiovese can be. The first time we dipped into the Il Carbonaione from Poggio Scalette was just that special. Try it and see for yourself.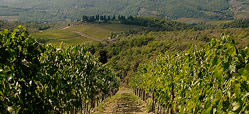 The estate, which had been largely abandoned to active cultivation after the death of the previous owner, come into new hands and the fortunate discovery of Sangiovese di Lamole, planted just after the first World War, reinvigorated the estate. The vineyard may be the only example planted primarily to this classic member of the Sangiovese family. In the early nineties Vittorio Fiore came to make the wines from this special place. The results, year after year, have been singular in their depth, spice and underlying fruit. From the winery,"This is the wine conceived and desired by Vittorio Fiore after long years of study and working experience, and it is the result of an exceptional pairing and synergy: Sangiovese and the Ruffoli vineyards in Greve in Chianti. The results of this synergy – grapes harvested in the Carbonaione vineyard – are worked with passion and dedication by Vittorio Fiore and his son Jurij in order to obtain a wine of great power and elegance, capable of expressing in all of its richness the terroir in which it is born."
Podere Poggio Scalette Il Carbonaione Alta Valle della Greve IGT, Tuscany 2013 750ML ($69.95), Buy Now $41.90 special
Antonio Galloni 95+ points "The 2013 Il Carbonaione is compelling. That's the good news. The bad news, if you can call it that, is that the 2013 is going to take the better part of the next decade to be at its best. Black cherry, plum, licorice and menthol are all fused together. Today, the 2013 is rich, deep and unctuous, with superb depth and striking balance. Opening a bottle anytime soon, though, is likely to be a mostly academic exercise, as the Carbonaione is so primary, it almost tastes like a barrel sample!"
The average price is $52 across the country.
Podere Poggio Scalette Il Carbonaione Alta Valle della Greve IGT, Tuscany 2012 750ML ($69.95) Buy Now $44 special
Antonio Galloni 95 points "The 2012 Il Carbonaione comes across as quite shy and reserved today, with less of its typical exuberance. That just makes me think the wine is going to need a few years to blossom. Sweet red cherry, plum, kirsch, spice and rose petal nuances gradually emerge from the glass, but the 2012 remains reticent and not fully expressive. I would not be surprised to see the market look past the 2012, as it is not at all showy, but that will just create an opportunity for savvy consumers. There is plenty to look forward to. Readers will have to be patient, though. Over the years, Il Carbonaione has built a tremendous track record of aging very well. Next to Chianti Classico's other 100% Sangioveses, Carbonaione is made in a sweeter, jammier style with more mid-palate opulence. Although showy in its youth, Carbonaione needs time in bottle to show at its best."
Podere Poggio Scalette Il Carbonaione Alta Valle della Greve IGT, Tuscany 2010 750ML ($99.95) Buy Now $79 special
Antonio Galloni 97 points "The 2010 Carbonaione (Sangiovese) is a stunner. Deep, rich and utterly impeccable, the 2010 boasts breathtaking richness, energy and power. The flavors remain incredibly primary in a wine that will require years to develop. Graphite, crushed rocks, blue/black fruit, plums and smoke emerge over time. As phenomenal as the 2010 is today, it really should be cellared for at least a few years. This is a drop dead gorgeous wine from Vittorio and Jurij Fiore." AG