Jump Start October Sale; Cameron Dundee Hills Chardonnay; Philipponnat Champagne; Domaine La Roquete; Bergstrom Does It Again: Another Outstanding Wine Spectator Review; October Super Deals!; Il Poggione – Wine Spectator #4 Wine of the Year Here Now & 98+ Point Wine Arriving Next Week!; Clos Rougeard; Selbach-Oster: New Reviews for 2015 Rieslings; Domaine Leflaive: White Burgundy Defined; Continuing Deals: Great New Napa Wines; October Sales Recap
Jump Start October Sale
Back in Stock
Domaine Ostertag Riesling Muenchberg, Alsace Grand Cru 2013 750ML ($69.95) Was $49, Was $41.90, Now $39
Wine Advocate 95 points "From 30- to 75-year-old vines on red sandstone and volcanic sediments, Ostertag's 2013 Riesling Grand Cru Muenchberg shows a clear, very precise and deep, multi-layered bouquet with flinty flavors intertwined with tropical aromas; it is absolutely fascinating in its ripeness and intensity. Very deep, rich and fleshy on the palate, with the dense and juicy texture of ripe Riesling mingled with the precisely mineral taste of pure stones and rocks, this is a firm, very complex, highly elegant and persistent Riesling, still fairly stringent in its mouth-watering and salty finish, but with an aging potential of 20+ years."
James Suckling 94 points "A dense and rich white with a wonderful clarity and brightness plus flowers, strawberry and sliced apple character. Full body, fresh acidity and a mineral, citrus undertone. Made from biodynamically grown grapes. Dry. Drink now."
Ian D'Agata – Vinous 93 points "Medium yellow. Aromas of fresh peach, orange zest, lemon verbena and flint. Big, fat and broad, with concentrated stone fruit, lime, brown spice and honey flavors. Conveys an element of oiliness buffered by musky herbs and minerality. Finishes long, spicy and honeyed; very Muenchberg! Still very youthful; I'd suggest cellaring it for at least another four years before pulling the cork."
This was the lowest listed price in the USA today,
Now it's even lower!
The next best price is $48.99
The average price is $51
We've cut prices on 44 wines for the month of October.
See our full list of sale wines at the bottom of the newsletter!
Just Arrived from Cameron Winery:
Dundee Hills Chardonnay
A visit from John Paul of Cameron happens often here at Vinopolis, yet not often enough. No other Willamette Valley winemaker displays his sort of charisma and laid-back, quasi-genius: the mastermind behind Clos Electrique has an electrified brain, it seems. He makes us laugh, and shares his wines. John says 2015 is a beautiful white wine vintage, and his Dundee Hills Chardonnay proves it. Granted, as John pointed out, the oak has yet to integrate, but the silkiness, suppleness, and succulence already signal a charming cuvee: Give this wine a few months or more before consumption. You'll be glad you did, and even gladder that you swooped some up before this Cameron wine goes the way of all the others… out of stock soon enough.
Cameron Winery Dundee Hills Chardonnay, Willamette Valley 2015 750ML ($21.95) $19 special
VinopolNote: A blend of wine sourced from 36-year-old clone 108 vines in Abbey Ridge and two barrels from the estate Clos Electrique Vineyard.
Philipponnat Champagne
Royal Rarity
Former suppliers to the court of Louis XIV, Philipponnat has made extraordinary champagne for many generations. Sole ownership of the illustrious Clos des Goisses adds another feather in Philipponnat's cap. Horses plough the 42 acres of vineyard, all of it Premier and Grand Cru, and a solera process adds complexity. This is a Champagne house of style.
Philipponnat Clos des Goisses Brut, Champagne 1996 750ML ($399.95) $348 special, 11 bottles available
Antonio Galloni 97 points (December 2015); Antonio Galloni 96 points (March 2015) "One of the all-time greats from Philipponnat, the 1996 Clos des Goisses captures the essence of a vintage in which both sugars and acidities were elevated. Tension, energy and salinity are the signatures. Readers who can wait on the 1996 will be rewarded with a stunning bottle of Champagne that will likely still be profound at age fifty."
Philipponnat Clos des Goisses Brut, Champagne 2006 750ML ($249.95) $199 special, 10 bottles available
Wine Spectator 94 points "Floral and ripe apricot notes ride the creamy bead of this elegant Champagne, accented by hints of black currant, pastry and candied kumquat. Bright and lively, with a hint of smoky mineral lingering on the finish. Disgorged in May 2015. Drink now through 2026."
Other Incredible Champagnes, Available Here Now:
Pierre Peters Cuvee Speciale 'Les Chetillons' Blanc de Blancs Grand Cru Brut, Champagne 2008 750ML ($149.95) $136 special, 36+ bottles available
Pierre Peters Cuvee Speciale 'Les Chetillons' Blanc de Blancs Grand Cru Brut, Champagne 2008 1.5L ($319.95) $299 special, 3 magnums available
Wine Spectator 95 points "This harmonious Champagne offers fine interplay between power and finesse, with ripe poached apricot, rich lemon meringue pie and spun honey flavors married to chalky minerality and focused acidity. The overall impression is elegant and fresh. Drink now through 2030."
Gosset Cuvee Celebris Extra Brut Millesime, Champagne 2002 750ML ($149.95) $119 special, 18 bottles available
Antonio Galloni 96 points "Magnificent in its complexity and pure breeding, the 2002 Extra Brut Celebris has it all. The Extra Brut style confers the signature Gosset drive, while extended time on the lees has given the wine just enough texture and body to fill out nicely. In the meantime, the aromas and flavors have mellowed into those that are typical of Champagne entering the first plateau of its maturity. The 2002 is vinous, fleshy and super-expressive, yet retains striking freshness throughout. Candied lemon peel, apricot jam, honey, mint, spices and sage form a compelling fabric of flavors and textures in a knock-out Champagne that is peaking today. The 2002 is 52% Chardonnay, 48% Pinot Noir from vineyards in Aÿ, Bouzy, Verzy, Chouilly and Cramant."
Wine Advocate 95 points "The 2002 Celebris Vintage Extra Brut displays a noble, clear, fresh and subtle bouquet with white fruit and brioche flavors intertwined with mineral aromas. Silky textured and highly elegant, this full-bodied yet delicate blend of 48% Pinot Noir and 52% Chardonnay is clear and straight on the palate, revealing a ripe and intense, yet refined fruit. It has a persistent and complex, firmly structured, stimulatingly pure and salty finish. Great finesse and ethereal lightness here, with great purity and mineral tension. It also has the intensity of perfect fruit in the long and persistent finish. A great Champagne for the next ten and probably many more years."
Vouette et Sorbee Cuvee Fidele Extra Brut, Champagne NV (2012) 750ML ($89.95) $59 special, 36+ bottles available
Case-6 Vouette et Sorbee Cuvee Fidele Extra Brut, Champagne NV (2012) 750ML ($479.95) $336 special (that's only $56/bottle!), 9 half-cases available
Antonio Galloni 95 points "The NV (2012) Extra Brut Fidele is another fabulous wine from Vouette & Sorbée. Here, the richness of Pinot Noir comes through loud and clear in the wine's depth and overall richness. Creamy and beautifully layered throughout, the 2012 hits all the right notes. Red berry, mint, flowers, sweet spices and candy fill out the wine's broad frame effortlessly. What a gorgeous wine this is. Simply put, the 2012 is a total knock-out."
Staff Pick Notes: I can say with pleasure that I've had the opportunity to enjoy the past three releases of the Vouette e Sorbee Fidele ('09, '10 and '11) and jumped at the chance to try the 2012. The Fidele is made with a small amount of reserve wine held in solera and topped off with each vintage. It gives the wine a core note of lightly oxidation that shows more or less depending upon the vintage. This year, that note hit the mid-palate with a savory-salty wisp of butterscotch and preserved lemon. I particularly like the way it plays off the richness and aromatics to keep everything in balance. The 2012 is best described as a marriage of the previous releases. Here we find the heady fig, floral and orchard fruit notes of the 2009 with the solid acidity and grace of the 2011 and the spice, body, length and structure of the 2010. It's a mélange of distinct flavors, the complexity is astounding, all balanced by the unique influence of the reserve wine base. I suggest decanting the Champagne if you must break into it now (the Champagne showed even better the second night) otherwise cellar for a couple years. –Suzanne
Dom Perignon Limited Edition by Michael Riedel Brut 2006 750ML ($199.95) $149 special, 16 bottles available
Antonio Galloni 97 points "The 2006 Dom Pérignon is a beautifully balanced, harmonious Dom Pérignon that strikes an incredibly appealing stylistic middle ground. Rich, voluptuous and creamy, the 2006 shows off fabulous intensity in a style that brings together the ripeness of 2002 with the greater sense of verve and overall freshness that is such a signature of the 2004. Bass notes and a feeling of phenolic grip on the finish recall the 2003, as the Pinot Noir is particularly expressive today. After an irregular summer that saw elevated temperatures in July followed by cooler, damp conditions in August, more favorable weather returned in September, pushing maturation ahead and leading to a long, protracted harvest. The 2006 falls into the family of riper, more voluptuous Dom Pérignons, but without veering into the level of opulence seen in vintages such as 2002."
Wine Advocate 96 points "The 2006 Dom Pérignon comes from a very rich vintage with an early ripeness that brought a lot of aromatic maturity. The white-golden prestige cuvée contains a bit more Chardonnay than Pinot Noir and opens with a deep and seductive, pretty accessible nose with intense yet fresh fruit aromas of pineapples, with peaches and tangerines. Lively and elegant on the palate, this is a full-bodied, unusually aromatic and fruity DP with a long and tension-filled expression."
Richard Juhlin 94(97) points (English Translation) 'It's not often you fall backwards when a wine is first launched on the market. This time both me and my friends, who got to try this jewel at my champagne bar, fell in love instantly. It is all here so beautifully orchestrated in this incredibly well-balanced and flowing rich symphony. It is so voluptuously charming and welcoming immediately, but at the same time so complex that the interest in what you will discover in the next gulp never ceases. Here are all the pillars that I perceive a Dom Pérignon should have. A gigantic large and intense aroma, a silk caressing structure and a dazzling grand finale. Notes from the sea, roasted nuts, coffee, brioche, tropical green fruits, stone fruit, green apples, sweet orange citrus, gunpowder, nougat, mushroom cream and black truffle are all there like a perfectly tailored tuxedo. Love at first sight.'
This is the lowest listed price in the USA today!
The average price is $170
Krug Vintage Brut 2003 750ML ($279.95) $199 special, 23 bottles available
Wine Spectator 95 points "Like taffeta in texture, this harmonious Champagne is finely honed and fresh. A wonderfully expressive version, with ample spice and graphite accents to the blackberry pâte de fruit, coffee liqueur, dried apricot, singed orange peel and crystallized honey notes. Hard to stop sipping."
James Suckling 95 points "A rich nose with deep, ripe chardonnay and pinot noir, red fruits, some dark mushrooms and plenty of grilled nuts, plus caramel, some deep spices, dried citrus, lemon peel and bready aromas. The trademark complexity is here and it freshens with air. The palate is intricately detailed and stitched together like needlework; very precise, very even. The acidity is articulated with some finesse and yet it has much more in terms of phenolics as the leading structural component. The phenolics are rich and ripe, sitting polished and even around immensely concentrated fruit with flavors of peach, nectarine and white cherry. The finish is deep, even and resonant. Drink now but rest assured it will hold for a very long time, just like Krug has proven in other warm years like '76."
Josh Raynolds-Vinous 95 points "Light yellow. Powerful, complex bouquet evokes fresh peach, pear, floral honey, green almond and smoky minerals. Deep, palate-staining citrus and orchard fruit flavors show outstanding vivacity for a hot vintage, picking up ginger and talc notes with air. The strikingly long, sappy finish features zesty orange pith, smoky minerals and an echo of honeysuckle. I'd be in no rush to drink this one. Speaking of waiting, I had the chance to revisit the 2000 Vintage Krug and it has begun to pick up the smoky, weighty and nutty character that long-time fans of this producer crave. It's still plenty young but already unmistakably Krug, with a chewy texture and a sexy floral nuance dominating right now."
Incredible Champagne Arriving in November:
(A Vinopolis Favorite!)
Pierre Peters Blanc de Blancs Grand Cru Brut NV (2013 base) 750ML ($59.95) $48 pre-arrival special
Case-12 Pierre Peters Blanc de Blancs Grand Cru Brut NV 750ML ($579.95) $519 pre-arrival special (that's only $43.25/bottle and the lowest listed price in the USA today!)
Wine Spectator 92 points "Fragrant, with floral and mineral accents, this vibrant blanc de blancs shows tropical hints of passion fruit and guava layered with salted almond and honey notes. Finely knit, featuring a lasting, delicate finish."
Wine Advocate 91+ points "The NV Cuvée de Réserve Blanc de Blancs Grand Cru Brut is a blend of 60 parcels in the Côte des Blancs, so 100% Chardonnay. The newest disgorgement from November 2015 is based on 2013, which was "a great year for Chardonnay," according to Rodolphe Péters. There were "102 or 103 instead of the normal 90 to 93 days between flowering, and harvest simply caused another, a better ripeness," he adds. Fifty percent of the blend is based on 2013, the other 50% come from the perpetual réserve, which is stored in stainless steel, cement and oak vats. The wine has a brilliant color, is very clear, precise and complex on the nose, displaying fresh lemon fruit aromas. Intense and complex as well as super fresh and clear on the palate, this elegant wine is still very young, but offers a stunning fruit intensity and a firm and mineral structure; there is a long and complex finish with a refreshing grip. Very promising. The Cuvée de Réserve has been in the markets since April. Dosage is 6.7 grams."
Domaine La Roquete
From Vignobles Brunier
Purchased in 1986 by the Brunier family, of Vieux Telegraphe fame, Domaine de la Roquete crafts Chateauneuf wines of fabulous breed. The 2010 vintage yielded a red blend with muscular intensity, one to lay in the cellar for a while. Seventy percent Grenache gives sweet, red fruit, while Syrah and Mourvèdre add to the wine's backbone. Considering its roots, this smooth, brooding Chateauneuf-du-Pape cannot be overlooked.
Domaine La Roquete L'Accent de La Roquete Chateauneuf-du-Pape 2010 750ML ($89.95) $59 special
Wine Spectator 94 points "Flavors of melted licorice, blood orange, black tea, macerated black currant, anise and smoldering tobacco have been woven together here with a thread of alder that ties up the full-bodied finish with grace. Shows power, but also definition, and retains a lovely, lingering feel. Best from 2013 through 2026. 89 cases imported."JM
This is the lowest listed price in the USA today!
Shipping Season Has Arrived
Don't miss out!
If you have wine being held for cooler weather, please contact us to arrange shipping at this time. Email or call today!
Bergstrom Does It Again!
Another 94 points & "Hot Wine" designation from Wine Spectator
Bergstrom Wines Gregory Ranch Pinot Noir, Yamhill-Carlton District 2014 750ML ($69.95) $59 special
Wine Spectator 94 points -Hot Wine- "Broad and spicy, with pepper, white chocolate and bay leaf overtones to the rich cherry and raspberry fruit. Glides into a generous and open-textured finish. Drink now through 2024."
Don't miss the Le Pre du Col, also recognized with 94 points & "Hot Wine" designation
Bergstrom Wines Le Pre Du Col Vineyard Pinot Noir, Ribbon Ridge 2014 750ML ($69.95) $59 special
Wine Spectator 94 points -Hot Wine- "Expressive, rich and complex, layering blueberry, cherry and plum flavors with savory spice and cedar notes. Fine, powdery tannins lift the long finish. Best from 2018 through 2024. 500 cases made."
October Super Deals
Catherine et Pierre Breton Bourgueil Cuvee Trinch, Loire 2014 750ML ($24.95) $16 special
Wine Spectator 90 points "Lovely olive, bay and pepper notes stream forth, all well-embedded in a core of crushed plum and blackberry fruit. The bay detail lingers through the finish, showing a leathery echo in the background. Drink now through 2020. 495 cases imported."
This is the lowest listed price in the USA today!
The next best price is $18.98
The average price is $22
Eric Chevalier Domaine de l'Aujardiere Pinot Noir Rose, Loire 2015 750ML ($21.95) $14 special
Josh Raynolds–Vinous 88 points "Bright orange. Ripe red berries, pungent flowers and a hint of spiciness on the nose. Plush and open-knit, offering gently sweet raspberry and cherry flavors that tighten up on the back half. Clings with good authority and a bit of heat, leaving a bitter cherry pit note behind."
This is the lowest listed price in the USA today!
Chateau La Roque Pic Saint-Loup Cuvee Mourvedre, Languedoc-Roussillon 2012 750ML ($19.95) $11.90 special
"Savory notes of black olive and tobacco leaf lead the way in this medium-bodied red. The underlying plum and blackberry flavors are matched with fresh acidity and integrated tannins, with an easy, clean finish. Drink now. 190 cases imported." –Wine Spectator
This is the lowest listed price in the USA today!
The next best price is $17.19
Il Poggione
One of the original producers of Brunello di Montalcino, Tenuta Il Poggione was established at the end of the 19th century and is still owned today by the 5th generation of the family, siblings Leopoldo and Livia Franceschi. Il Poggione owns approximately 250 acres of vineyards in the Brunello di Montalcino zone, with 118 acres producing the Brunello Riserva and Brunello wines. Many of the vines are grown at more than 1,315 feet above sea level and are among the oldest in the appellation, with cool maritime breezes from the southwest. The Sangiovese grape reaches its maximum ripeness here giving fuller and richer wines than anywhere else in Tuscany. The Riserva Paganelli, made only in the finest vintages, receives at least one year extra ageing in French oak casks. A benchmark wine capable of ageing, Il Poggione's typical style is full-bodied and powerful, packed with dark fruit, sweet smoke, and spice flavors.
Il Poggione was recognized in 2015 by the Wine Spectator for their Brunello di Montalcino. The 2010 was named #4 Wine of the Year in 2015. The 2010 Riserva Vigna Paganelli reached a near unheard of score from the Wine Advocate of 98+ points.
Available Here Now
Il Poggione Brunello di Montalcino DOCG 2010 1.5L ($199.95) $179 special, 13 magnums available
#4 Wine of the Year 2015 – Wine Spectator
Wine Advocate 98 points "The 2010 Brunello di Montalcino is a striking wine that shows uncompromising varietal pureness, albeit in a most concentrated and elaborate form. This is what great Sangiovese is all about. There's so much happening on the nose and the wine brings you to cherry, spice, licorice, cured meat, pressed rose and grilled meat in equal measure. No one element overpowers the next. The mouthfeel is also tight and bright with the kind of fruit intensity that promises long cellar aging. This Brunello is only at the beginning of a long road ahead. The longer the wine stays in the glass, the more it offers in terms of complexity and intensity. This is a true standout that can be enjoyed for up to 20 years ahead." ML
Wine Spectator 95 points "Rich, with excellent density, ripe cherry and plum fruit, and a well-integrated structure. Licorice, earth and tobacco notes add depth while this cruises to a long, tobacco- and mineral-tinged finish. Shows balance and grip. Best from 2018 through 2033."
Arriving in October:
Il Poggione Vigna Paganelli, Brunello di Montalcino Riserva DOCG 2010 750ML ($149.95) $99 pre-arrival special
Il Poggione Vigna Paganelli, Brunello di Montalcino Riserva DOCG 2010 1.5L ($249.95) $219 pre-arrival special
Wine Advocate 98+ points "The 2010 Brunello di Montalcino Riserva Vigna Paganelli is a phenomenal achievement and a wine that captures not only the spirit of this classic vintage, but the true essence of an age-worthy wine like Brunello. This single vineyard Riserva is sharp, pristine and immaculate. It starts slow and shy, but then blossoms to beautiful intensity and aromatic brilliance. It delivers a very authentic and genuine read of Sangiovese with wild berry aromas followed by pressed violets, wet earth, tobacco and lightly toasted spice. The bouquet is seamless and very long in persistence. The same holds true for the mouthfeel. The wine delivers a fine and silky texture with a good dose of power and personality at the rear."
Antonio Galloni 95 points "The 2010 Brunello di Montalcino Riserva Vigna Paganelli is magnificent. Huge swaths of tannin coat the palate as the 2010 shows off its power, breadth and overall intensity. Plum, black cherry, bittersweet chocolate, smoke, licorice and cloves are some of the many notes that hit the palate. The Riserva is dark, powerful and brooding. It will require at least a handful of years before it becomes approachable. These old vines, planted in 1964, confer weight, power and gravitas, all qualitites that come through loud and clear on the huge, explosive finish." AG
Clos Rougeard
Arriving in October
From one of the most famed and hard-to-find estates in the Saumur!
Clos Rougeard Saumur-Champigny Les Poyeaux, Loire 2010 750ML ($319.95) $289 pre-arrival special
Wine Advocate 95 points "Only recently released, the purple-colored 2010 Saumur-Champigny Les Poyeux attracts with a delicate and very elegant, though not over-concentrated, bouquet of floral and fruity aromas exhibiting Mediterranean herbs and very clear and coolish cherry and wild berry aromas along with cedar wood flour. Full-bodied, smooth, and intense, this absolutely delicate and elegant red is structured by the finest tannins and a delicious acidity that let this persistent wine sing on your palate. It combines finesse with intensity in a very remarkable manner and is divinely balanced. A great wine to drink now or in the next 20-25 years." (10/2014)
Selbach-Oster
Mosel's Rising Star
Newly Reviewed by Mosel Fine Wines
"This is one of the (if not the) best collections we have tasted so far by Johannes Selbach." –Mosel Fine Wines
"The ambitiousness of Johannes Selbach has made this estate the region's most prominent rising star. Since 1989, [Selbach-Oster is] always among the very best wines of the collection." –Terry Thiese
"…the vintage was a dream. The harvest was pleasantly uneventful. You could graze and take your time. It was balm for the soul of a winemaker after the stressful 2014 and 2013 vintages. We started on September 30 and finished on November 1. The sugar levels were good but not outrageously high: Our Kabinett came in at 88° Oechsle and our Spätlese were made with 90-95° Oechsle fruit. The sweet spot of the vintage was the Spätlese and Auslese fruit. When nature hands you such a gift on a plate, you have to take it." – Johannes Selbach
As the Mosel heads out of Brauneberg it makes a characteristically tight turn at Bernkastel, and here rise the Badstube vineyards. Acre per acre, the Badstube represents some of Germany's finest terroir. After the river quickly straightens out again it flows past Zeltingen and the famous, sheer Sonnenuhr blue slate vineyards: you can almost sense the bouquet of stone fruits, lemon, and vanilla. With a mere four centuries under its winemaker's belt, the Selbach family honors tradition, nature, and the benefits of unmechanized vineyard work. Selbach-Oster wines respond to such care by delivering minerality, sweetness, and crisp acidity in harmonious balance, vintage after vintage.
We're pleased to announce new scores from Mosel Fine Wines for Selbach-Oster for this fantastic vintage. Don't hesitate on these – 2015 German Rieslings have already begun to sell out which each wave of scores!
Newly Reivewed Selbach-Oster Wines Arriving This Fall
Selbach-Oster Riesling Trocken, Mosel 2015 750ML ($24.95) $18 pre-arrival special
"This bottling offers a gorgeous nose of pear, melon and white minerals. The wine is nicely fresh and easy on the palate. Bright fruits and herbs bring some pep to the finish of this nice and easy-drinking wine. Now-2018" –Mosel Fine Wines
This is the only listing in the USA today!
Selbach-Oster Riesling Kabinett, Mosel 2015 750ML ($27.95) $21.90 pre-arrival special
Mosel Fine Wines 89 points "This fruity-styled Kabinett was fermented to a low 30 g/l of residual sugar. It offers a rather reduced but very fresh nose of green apple, some under-ripe white peach and aniseed herbs on the nose. The wine delivers a gorgeously zesty feel on the slender palate and a really crispy Kabinett feel in the finish. Now-2025"
Selbach-Oster Zeltinger Himmelreich Riesling Kabinett Halbtrocken, Mosel 2015 750ML ($27.95) $21.90 pre-arrival special
Mosel Fine Wines 89+ points "This offers a rather delicate nose of green grass, grapefruit and white minerals. The wine is nicely light and beautifully balanced on the palate and leaves a mouth-watering and tart feel in the finish. While enjoyable now, we would not be surprised if this will even improve with age. 2017-2025+"
This is the lowest listed price in the USA today!
The next best price is $23.20
Selbach-Oster Zeltinger Schlossberg Riesling Kabinett, Mosel 2015 750ML ($29.95) $24 pre-arrival special
Mosel Fine Wines 92 points "This offers a nice nose of herbs, grapefruit and spices. The wine is gorgeously fruity and elegant on the palate, with some Spätlese presence but also true Kabinett character and lightness. The wine is gorgeously long and elegant. 2023-2040"
Selbach-Oster Bernkasteler Badstube Riesling Spatlese, Mosel 2015 750ML ($34.95) $28 pre-arrival special
Mosel Fine Wines 92 points "This delivers a zesty and restrained nose of laurel, a hint of fresh yellow fruits and spices. The wine is delicately creamy and fruity on the palate with great acidity cleansing the mouth-watering finish. This is plain gorgeous and hard to resist at this early stage. It will gain in finesse with age though. 2025-2040"
Selbach-Oster Zeltinger Sonnenuhr Riesling Spatlese, Mosel 2015 750ML ($34.95) $28 pre-arrival special
Mosel Fine Wines 92 points "Notes of spontaneous fermentation give way to candied grapefruit, cassis and peach, with herbs and spices firmly pushed to the background. The wine delivers a slightly Auslese creamy feel on the palate and leaves a clean fruity feel in the long finish. 2025-2040"
This is the lowest listed price in the USA today!
Selbach-Oster Wehlener Sonnenuhr Riesling Auslese, Mosel 2015 750ML ($39.95) $33 pre-arrival special
VinopolNote: blue devonian slate soil.
Mosel Fine Wines 93 points "This offers a beautiful nose of cassis, grapefruit, greengage, apricot tree flower, white flowers and herbs. A more yellow fruit driven side comes through on the palate with yellow peach playing with acidity to produce a mouth-watering cocktail of Mosel charm. A hint of sweetness in the finish is still in need of integration of this gorgeous Auslese in the making. 2025-2045"
This is the only listing in the USA today!
Domaine Leflaive
White Burgundy Defined
Leflaive… If one winery represents the sublime potential of white Burgundy, it remains Domaine Leflaive. Three centuries of family ownership and dedication to the terroir of Puligny have resulted in a symbiosis of vineyard, wine, and vigneron, which have become a sort of holy trinity. Leflaive consistently achieves excellence, in part thanks to biodynamics, terrific vineyard holdings, and a formidable budget, but mostly because of the family's commitment to their vines and wine. In lesser years the Leflaive line-up shines, and in better years, like 2014, the wines have us wondering about divine inspiration.
The 2014 vintage started off fast, presenting challenges up until late summer, when an Indian Summer's sun carried the Chardonnay to exquisite ripeness, with cool nighttime temps maintaining acidity, all culminating in one of the healthiest harvests in years. These are classic Leflaive wines, Premier and Grand Cru to cellar for many years. We're excited to have the 2014s in our shop soon. But be forewarned: those who know Leflaive will probably deplete our stocks before they even reach the shelves. Such is the fame of Domaine Leflaive.
Domaine Leflaive Wines Arriving October 24th:
Domaine Leflaive Batard-Montrachet Grand Cru 2014 750ML ($699.95) $599 pre-arrival special
Stephen Tanzer–Vinous 93+ points "Pale yellow with green highlights. Deeper and leesier on the nose than the Bienvenues, with ripe peach and hazelnut aromas complicated by sexy reduction. Large-scaled and powerful but not heavy, and totally different in style from the Bienvenues. Thick, plump and adamantly dry, with harmonious acidity giving shape to the wine's very ripe stone fruit and pineapple flavors. In a rather masculine style and not yet explosive, rather like a barrel sample. The phenolic, firmly structured finish leaves behind citrus and mineral notes."
Domaine Leflaive Bienvenues-Batard-Montrachet Grand Cru 2014 750ML ($599.95) $569 pre-arrival special
Wine Advocate 93-95 points "The 2014 Bienvenue Bâtard Montrachet Grand Cru has a come-hither bouquet that is very immediate: passion fruit, apricot blossom, cold stone and even a faint touch of strawberry winegums. The palate is well balanced with a keen line of acidity, good weight in the mouth with a touch of citrus lemon and lime, but perhaps just needing more complexity and terroir expression to come through on the finish. This is one of the best 2014 Bienvenues that I have come across — an absolute delight."
This is the lowest listed price in the USA today!
Domaine Leflaive Bourgogne Blanc 2014 750ML ($79.95) $69 pre-arrival special
Winery note: "2 parcels: "Les Houlières" (40 ouvrées, that is 4.23 acres) planted in 1979 and 1982, and "Les Parties" (35 ouvrées, that is 3.78 acres) planted in 1998, 1999 and 2003."
Domaine Leflaive Chevalier-Montrachet Grand Cru 2014 750ML ($899.95) $766 pre-arrival special
Stephen Tanzer–Vinous 95 points "Bright yellow. Reticent nose smells softer than the Batard, offering scents of ripe stone fruits, grilled almond, ginger, smoke and musky white flowers. Big and plush in the mouth, conveying a considerably sweeter impression than the Batard. This wonderfully silky, seamless wine mounts in volume on the back half, finishing very ripe but dry, with splendid length. Perhaps not quite as taut and iodiney as it was from barrel a year ago but I'm just quibbling. Production here was just 33 hectoliters per hectare."
Domaine Leflaive Sous le Dos d'Ane, Meursault Premier Cru 2014 750ML ($199.95) $179 pre-arrival special
Wine Advocate 90-92 points "The 2014 Meursault 1er Cru Sous le Dos d'Ane has a stony, slate-scented bouquet, perhaps more Puligny-like than Meursault. The palate is crisp and fresh with a fine line of acidity. This is a pretty Meursault with a detailed, citrus peel finish that is poised and pure. I appreciate the Zen-like personality of this Meursault that dovetails nicely with its Puligny 'cousins.'"
Domaine Leflaive Clavoillon, Puligny-Montrachet Premier Cru 2014 750ML ($199.95) $169 pre-arrival special
Stephen Tanzer–Vinous 91-92 points "(tasted from tank, after fining): Bright, light yellow. Restrained aromas of lemon, minerals and flint. Juicy, lemony and brisk, with underlying minerality giving the broad mid-palate a light touch. Best today on the echoing, dusty finish, which really piques the taste buds."
Continuing Deals
Great New Napa Wines
Available Here Now:
Spottswoode Family Estate Grown Cabernet Sauvignon, St. Helena 2013 750ML ($219.95) $179 special, 18 bottles available here now
Robert Parker 99+ points "Yields continued to increase in 2013, with just over 4,000 cases of wine from a blend of 88% Cabernet Sauvignon, 8% Cabernet Franc and 4% Petit Verdot. This is another killer effort from Spottswoode. Inky bluish purple to the rim, it has hints of violets intermixed with sweet foresty notes, blackcurrants, chocolate and a touch of subtle smoke and earth. It is dense, with higher acidity and more noticeable structure than the 2012, but is as concentrated, dense and promising. Some patience is warranted in 2013, and I would suggest waiting another 5-6 years before pulling the cork on one. It is a 50-year wine at the very minimum and a great classic."
Quintessa Proprietary Red Wine, Rutherford 2013 750ML ($189.95) Was $169, Now $138 special, 7 bottles available
Robert Parker 96 points "The 2013 Proprietary Red Wine has always been good, but I think they have re-positioned themselves at a much higher pinnacle with the 2013. This is a Cabernet Sauvignon-dominated blend but has important component parts such as Cabernet Franc, Merlot and Petit Verdot from their gorgeous vineyards just off the Silverado Trail in Rutherford. The wine has a dense bluish/purple color and a beautiful nose of black raspberries, blueberries, lead pencil shavings, and touches of oak and spring flowers. The complexity of the fragrance is followed by a wine with terrific body, stunning purity, wonderful balance, and great depth and richness. This is certainly the most profound Quintessa made to date and should evolve gracefully for at least 20-25 years."
This is the lowest listed price in the USA today!
The next best price is $149.94
The average price is $182
Arriving October 21st
Opus One Proprietary Red Napa Valley 2012 750ML ($279.95) $228 pre-arrival special
James Suckling 97 points "Glorious purity of fruit here with blackcurrants, blueberries, dark chocolate, fresh herbs and forest floor. Hints of mint. Full body, seamless tannins and wonderful balance. Tight and compacted tannins with beautiful fruit and great length. Hazelnut and chocolate. Goes on for minutes. One of the best Opus in years. Compacted and beautiful. Hard not to drink now but better in 2018. October 2015 release. This is 79% cabernet sauvignon, 7% cabernet franc, 6% merlot, 6% petit verdot and 2% malbec. (4/21/15)"
Antonio Galloni 96 points "Rich, powerful and seductive, the 2012 Opus One blossoms in the glass with superb textural richness and volume. Dark red and black fruit, smoke, cedar, new leather and tobacco all meld together as the 2012 shows off its personality. Fine, silky tannins support the huge, creamy finish. The 2012 has just been bottled, but it is superb. I expect the 2012 will offer a long and broad drinking window of pure pleasure. Drink: 2018-2032. (Dec 2014)"
Opus One Overture, Napa Valley 2012 750ML ($149.95) $99 pre-arrival special
This wine is the 2012 vintage based multi-vintage blend; released by Opus One in October 2015
This is the lowest listed price in the USA today!
The next best price is $109.99
Arriving October 28th
Hundred Acre Few and Far Between Cabernet Sauvignon, Napa Valley 2012 750ML ($599.95) $499 pre-arrival special, 3 bottles available
Robert Parker 100 points "Woodbridge's vineyard tucked away near the famous Eisele Vineyard, now owned by Château Latour, produces the wine known as the 2012 Cabernet Sauvignon Few and Far Between Vineyard. This is another luxurious, exceptionally concentrated and loaded wine with great intensity, a multi-dimensional mouthfeel, unbelievable amounts of blackberry, cassis and blueberry fruit, crushed rock minerality, and a floral note. It is easily the most backward of the five Cabernet Sauvignons I tasted from Woodbridge in 2012. The wine is super-intense, displays plenty of tannin, but is silky and well-integrated. This wine needs at least 4-5 years of cellaring, and should keep for 30-50 years, as it promises to be one of the modern-day legends from Napa."
This is the lowest listed price in the USA today!
Our Current
Shipping Promos:
Welcome to the club, Colorado!
Along with Oregon, Washington, Idaho, and California,
we now offer flat rate shipping to Colorado. Here's the scoop:
Single orders of any quantity of wines qualify for the flat rate;
this does not apply to orders held in storage for any reason
or multiple orders consolidated into one shipment.
The flat reach for each state is, as follows:
-to Oregon for $17,
-Washington & Idaho for $20,
-and California & Colorado for $25
Take Advantage of the Flat Rate!
October Sales Recap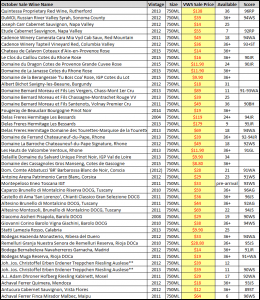 Read reviews and browse the full selection of sale wines by searching for "October Sale" on our web store – we're also happy to talk you through the offerings if you email us at info@vinopoliswineshop.com or call 503-223-6002.