Subscriber Special Preview: Faiveley Sale Teaser; Champagne Sale: New Best Prices on La Grande Dame, Selosse and Vintage Krug; Staff Picks: Janasse & Baudry; Zorzal: New 96 Point Review; Beaujolais Highlight: Nicolas Chemarin; Faiveley Sale – Over 20 Wines on Sale!; New Review for Thierry Germain from Grapelive; Biondi Santi Riserva Sale – Lowest Price Just Got Lower!; Bourgogne Rouge – The Essence of Burgundy; Miani; Matt Kramer's New Year/New Wine Resolutions: Sicily & Terre Nere New Arrivals; Late Breaking News from Dom. Digier Dagueneau & Vieux Telegraphe (Best Price!)
~~~~~~~~~~
Subscriber Special Preview
We've taken 10% off on all in-stock wines from Faiveley
Featured sale wine:
Domaine Faiveley Les Saint-Georges, Nuits-Saint-Georges Premier Cru 2008 750ML ($129.95) Was $99; Now $89.10, 36+ bottles available
Stephen Tanzer 92-94 points & Burghound 91-93 points "Palish medium red. Medicinal red cherry, minerals, crushed stone, violet, rose petal and white pepper on the noble nose. Wonderfully silky and pure, with ineffable flavors of red fruits, spices, flowers and minerals. This is wonderfully delicate, and not a fleshy wine, yet saturates every square millimeter of the palate with flavor. The long, sweet, rising finish offers terrific cut and floral lift. Should make a worthy successor to the outstanding 2007, which also transcends its village. Hervet says that this will be bottled by hand, without filtration."ST
Keep reading to see the additional twenty in-stock Faiveley wines on sale now!
~~~~~~~~~~
Champagne Sale
We've slashed prices so you can save. With Valentine's Day on the horizon, be prepared by stocking up on these three vintage blockbusters from three top Champagne producers!
Including the newly reviewed Veuve Cliquot LGD:
Veuve Clicquot Ponsardin La Grande Dame Brut, Champagne 2006 750ML ($149.95) Was $112, Now $99, 19 bottles available
New Review from Stephan Reinhardt-Wine Advocate 94 points "The prestigious 2006 La Grande Dame is made from 47% Chardonnay and 53% Pinot Noir, and assembles the fruit of eight grand cru villages. Very intense and complex on the nose, this is a full-bodied, round, rich and mouth-filling, but also refined prestige cuvée; it reveals a fascinating purity, precision and freshness. The finish is long and complex, and shows a spicy minerality. There are coffee beans, bread and toast aromas in the aftertaste. This comes highly recommended."
Wine Spectator 94 points "Bright and graceful, this seamlessly knits a subtle streak of smoke-tinged minerality with flavors of almond financier, poached pear, candied kumquat and crème de cassis, focused by vibrant acidity and a refined, creamy mousse. Drink now through 2030."
This was the lowest listed price in the USA today,
Now it's even lower!
The average price is $153
Jacques Selosse Blanc de Blancs Grand Cru Millesime, Champagne 2003 750ML ($519.95) Was $399, Now $379, 13 bottles available
James Suckling 97 points "A wine that has an absolutely unique character, Selosse has interpreted a truly extraordinary vintage with poetic insight. He describes the double stresses of an April frost that claimed 75% of the yield in Avize, coupled with a very hot and dry June and August. He speaks of the evapotranspiration and the effect of depositing an immense amount of mineral residue into the plant, which has manifested in this striking wine, and compares it to a chef reducing and concentrating a sauce. The smoky, toasty notes are more than autolysis; you can smell the heat of the vintage here. It has profound stony and chalky aromas, gentle spices, grilled hazelnuts and dehydrated stone fruits. The minerals explode onto the palate. It's electric, hitting like an ionic blast before rolling out dark nutty flavors ahead of plush orange and ripe nectarine, peach and big, rich phenolics. It has many layers through the finish. Extremely long, balanced and resolved. Drink now or age confidently for a fascinating savory journey – this has a sturdy nature."
This was the lowest listed price in the USA today,
Now it's even lower!
The next best price is $445
The average price is $519
Krug Brut, Champagne 2003 750ML ($279.95) Was $199, Now $179, 17 bottles available
Wine Spectator 95 points "Like taffeta in texture, this harmonious Champagne is finely honed and fresh. A wonderfully expressive version, with ample spice and graphite accents to the blackberry pâte de fruit, coffee liqueur, dried apricot, singed orange peel and crystallized honey notes. Hard to stop sipping."
James Suckling 95 points "A rich nose with deep, ripe chardonnay and pinot noir, red fruits, some dark mushrooms and plenty of grilled nuts, plus caramel, some deep spices, dried citrus, lemon peel and bready aromas. The trademark complexity is here and it freshens with air. The palate is intricately detailed and stitched together like needlework; very precise, very even. The acidity is articulated with some finesse and yet it has much more in terms of phenolics as the leading structural component. The phenolics are rich and ripe, sitting polished and even around immensely concentrated fruit with flavors of peach, nectarine and white cherry. The finish is deep, even and resonant. Drink now but rest assured it will hold for a very long time, just like Krug has proven in other warm years like '76."
Josh Raynolds-Vinous 95 points "Light yellow. Powerful, complex bouquet evokes fresh peach, pear, floral honey, green almond and smoky minerals. Deep, palate-staining citrus and orchard fruit flavors show outstanding vivacity for a hot vintage, picking up ginger and talc notes with air. The strikingly long, sappy finish features zesty orange pith, smoky minerals and an echo of honeysuckle. I'd be in no rush to drink this one. Speaking of waiting, I had the chance to revisit the 2000 Vintage Krug and it has begun to pick up the smoky, weighty and nutty character that long-time fans of this producer crave. It's still plenty young but already unmistakably Krug, with a chewy texture and a sexy floral nuance dominating right now."
This is the lowest listed price in the USA today!
The average price is $255
~~~~~~~~~~
Staff Picks
Daniel:
Janasse makes Chateauneuf wines for those who like 'em big, dark, and brooding, sort of like Washington State extraction meets French finesse. Nothing is spared at Janasse: a big budget and lots of dedication go into each cuvee, every vintage. The Chaupin comes across as the more restrained of the two, its Vielles Vignes sibling showing more ripeness and concentration. Plenty to like here in both wines, especially in a flavorful, gently tannic year like 2012. Decant and enjoy now, or cellar for a good long while.
Domaine de la Janasse Chateauneuf-du-Pape Cuvee Chaupin, Rhone 2012 750ML ($79.95) $59 special, 36+ bottles in-stock
Wine Advocate 94 points "The 2012 Châteauneuf du Pape Cuvee Chaupin, which I was able to taste (and drink) from multiple bottles, is a beautiful Grenache that comes from the cooler, northeastern edge of the appellation. Coming almost all from the Chapouin lieu-dit (it gets a small bit from La Janasse), it gives up the classic notes of black berries, spring flowers, violets, and licorice that I always seem to find in this cuvee. Building nicely on the palate, it is medium to full-bodied, beautifully textured, has tons of sweet fruit and solid, if not firm, tannin that come out on the finish. It will be better in another couple of years and have 15+ years of overall longevity."
Domaine de la Janasse Cuvee Vieilles Vignes, Chateauneuf-du-Pape 2012 750ML ($119.95) $89 special, 36+ bottles in-stock
Wine Advocate 96 points "Up in the top handful of wines in the vintage (which should come as no surprise to anyone who follows this estate), the 2012 Châteauneuf du Pape Vieilles Vignes is a full-bodied, beautifully concentrated, rich and layered Châteauneuf that doesn't put a foot wrong. Made from 85% Grenache, 10% Mourvedre and the rest Syrah, it offers blockbuster notes of blackberry, liquid-violets, spice and serious minerality to go with awesome mid-palate depth and layers of sweet tannin. Like the Cuvee Chaupin, it will be better in another handful of years and thrill through 2027"
Saul:
Baudry makes the best Cabernet Franc in the Loire that you can actually get your hands on (so, everybody but Rougeard).  This is his entry level bottling and is very reflective of the house style.  Less herbaceous than some Chinon producers, the wine nonetheless shows great typicity and just oozes class.  Dark fruit, incredible freshness and a minerality that you don't find outside the Loire valley.
Bernard Baudry Chinon Cuvee Domaine, Loire 2014 750ML ($24.95) $21.90 special, 36+ bottles in-stock
Importer note "'Le Domaine' is a wine with body and elegant tannins. The maturing process in oak brings harmony and finesse to the wine enabling it to be kept in a good cellar for 5 to 10 years. Soil of gravel and clay."
~~~~~~~~~~
Zorzal – New 96 Point Review!
Zorzal makes wines that never cease to impress. Their 2014 Eggo Tinto de Tiza just caught Decanter's palate, earning itself a 96-point score in the British wine magazine along with being tagged a "Top Ten 2016 Exciting Buy" – when's the last time you heard of a Malbec being described as "refreshing" or "invigorating?" This is a truly great follow up after the 94 point review from Luis Gutiérrez of the Wine Advocate.
We knew the sleek, sublime power of this wine, and the rest of the Zorzal range, long before Decanter tasted it, so we have a range of the never-oaked Eggo wines for you to try, including a Pinot Noir, a Cabernet Franc, and a Sauvignon Blanc. At $26 a bottle, the 2014 Tinto de Tiza is a wine to enjoy as often as you crave.
Zorzal Eggo Tinto de Tiza, Tupungato, Argentina 2014 750ML ($39.95) $26 special, 36+ bottles available
Decanter 96 points 'Top 10 Exciting Buys' "Refreshing, beautiful nose with herbal and minty cool notes but also some chalky, mineral nuances so characteristic of the Gualtallary terroir. Bags of red fruits and lemon on the palate, vibrant, with a sensational invigorating freshness. Austere, precise, Malbec is one of the few grapes able to get such a pure expression. Texture is amazing, tannins are finely grained and oak is superbly managed. This is the treasure of Argentina."
Wine Advocate 94 points "The 2014 Eggo Tinto de Tiza is a blend from three different vineyards in Tupungato Winelands in Gualtallary. It's a blend of mostly Malbec with some Cabernet Franc and Cabernet Sauvignon. As is the case with the whole Eggo range, the wine didn't see any oak, and in this case it was matured in egg-shaped cement vats for one year. There are violets, plums, dark cherries and something earthy. This is slightly riper than the 2013. The medium-bodied palate has is fresh with a silky texture, pure flavors and a mineral-driven finish. At this price I'd buy it by the case. Super!"
Also Newly Reviewed:
Zorzal Eggo Franco Cabernet Franc, Tupungato, Argentina 2015 750ML ($34.95) $21.90 special, 36+ bottles available
Wine Advocate 93 points "The second vintage I tasted from this Cabernet Franc, the 2015 Eggo Franco is produced, like many of their wines, with grapes from Tupungato Winelands in Gualtallary. It fermented in cement eggs with some stems and with 50% of the wine kept in contact with skins for some three to four months, then pressed and put back in the eggs to complete its élevage, which lasted some nine months. It shows a mixture of herbal and candied berry aromas, hints of beef blood and iron. The absence of oak shows the naked tannins and provides an earthy side, which to me is very much the wild character of Gualtallary. 6,000 bottles were filled in December 2015 (it was harvested in March)."
This is the only listing in the USA today!
Also available from Zorzal:
Zorzal Eggo Filoso Pinot, Tupungato, Argentina 2014 750ML ($29.95) $20.90 special, 35 bottles available
Wine Advocate 92 points "The 2014 Eggo Filoso Pinot Noir is produced with fruit from Gualtallary. It fermented after carbonic maceration in cement vats and like the whole Eggo line, it matured in cement eggs for some nine months and never saw any oak. Pale-colored, floral and showing a lactic touch, it is earthier than the Gran Terroir. The palate is medium-bodied, with floral flavors, very good acidity and a fine texture."
This is the lowest listed price in the USA today!
Zorzal Eggo Blanc de Cal, Tupungato, Argentina 2014 750ML ($27.95) $20.90 special, 36+ bottles available
Wine Advocate 92 points "The 2014 Eggo Blanc de Cal is pure Sauvignon Blanc from two different vineyards in Gualtallary. The full clusters are pressed and the must was fermented and aged in contact with the lees for nine to ten months in their famous egg-shaped cement vats. This is more subtle and earthy, less Sauvignon, with the fruit expressing itself in a lower-pitched voice, more of a baritone. It's also has a little wider, pungent and powerful character in the mouth. This is only around 13% alcohol, and even though in 2014 it didn't go through malolactic fermentation, it's still a very light and fresh wine. Groundbreaking Sauvignon. 4,800 bottles were produced, fruit of two eggs." LG
This is the lowest listed price in the USA today!
The next best price is $26.25
The average price is $33
~~~~~~~~~~
Our Current
Shipping Promos:
Welcome to the club, Colorado!
Along with Oregon, Washington, Idaho, and California,
we now offer flat rate shipping to Colorado. Here's the scoop:
Single orders of any quantity of wines qualify for the flat rate;
this does not apply to orders held in storage for any reason
or multiple orders consolidated into one shipment.
The flat reach for each state is, as follows:
-to Oregon for $17,
-Washington & Idaho for $20,
-and California & Colorado for $25
Take Advantage of the Flat Rate!
~~~~~~~~~~
Beaujolais: The Best Buy Region of France
Special Highlight: Nicolas Chemarin
The best wine buying opportunities are, in our minds, at less-than-famous wineries just after a generational changeover.  The younger generation is often highly motivated to make a name for themselves and begins to transform the wines.  The prices, though, often lag behind the new quality of the wines, which is possibly the best part. Not to mention the back to back outstanding vintages from the very region in question!
The wines of Nicolas Chemarin are one such example, which we're happy to highlight today. Born into a family with holdings in Beaujolais-Villages, Regnie and Morgon, his father ran the winery (that was started by Nicolas' grandfather) and made wine in a commercial style that wasn't focused on extreme quality.  In the last few years since Nicolas took over, he's started plowing to avoid herbicide usage and moved to natural yeast fermentation with minimal sulfur useage.
The Regnie is what we want to highlight today.  Made from 40+ year old vines in what has been called "The Prince of the Crus," this is everything we love about Beaujolais in the 2014 vintage.  Snappy, bright and classical, it's extremely aromatic and energetic—to drink some is to want to immediately drink more.  Best yet, unlike wines that we feel are comparable (eg Breton or his friend Coquelet), this Regnie is still under $20.  Back up the truck.
Nicolas Chemarin Regnie Les Haute Ronze, Beaujolais 2014 750ML ($21.95) $18 special, 36+ bottles available
Josh Raynolds–Vinous 92 points "Vivid ruby-red. Sexy, mineral-laced aromas of ripe red and dark berries, violet and licorice. Sappy and penetrating, offering bitter cherry and black raspberry flavors that become sweeter as the wine opens up. Concentrated yet lithe, delivering excellent finishing clarity and strong, mineral-driven persistence."
This is the only listing in the USA today!
Don't miss these other great picks from Beaujolais, available here now:
Pierre-Marie Chermette Domaine du Vissoux Moulin-a-Vent Les Trois Roches, Beaujolais 2015 750ML ($29.95) $24 special, 23 bottles available
Case-12 Pierre-Marie Chermette Domaine du Vissoux Moulin-a-Vent Les Trois Roches, Beaujolais 2015 750ML ($299.95) $259 special, 1 case available (that's only $21.58/bottle and the lowest listed price in the USA today!)
John Gilman 96 points "The 2015 Moulin-à-Vent "Les Trois Roches" from Domaine du Vissoux is another absolutely stellar example of the vintage from Pierre-Marie Chermette, coming in at 13.5 percent octane and offering up all of the depth and intensity of the vintage, without sacrificing any of the customary Vissoux precision and purity. The stunning nose is youthful, but oh, so promising, as it delivers scents of sweet cassis, black cherries, espresso, violets, dark soil tones, a touch of licorice, gamebird, woodsmoke and lead pencil. On the palate the wine is pure, full-bodied and seamlessly balanced, with ripe tannins, laser-like focus, a superb core and a very, very long, soildriven and still quite youthful finish. If one wanted a prime example of a 2015 that might replicate the longevity of the finest 1947s, this would be it, as it has stunning concentration, tied to impeccable balance and plenty of structural integrity. 2022-2075. 96."
Daniel Bouland Morgon Delys Vieilles Vignes, Beaujolais 2015 750ML ($31.95) $27 special, 36+ bottles available
Wine Advocate 93 points "The 2015 Morgon De Lys Vieilles Vignes, which includes a hectare planted in 1926 and is aged in stainless steel rather than foudres, has a very complex bouquet with cola-tinged blackberry and briary fruit, broody in style with subtle slate-like aromas that it has in common with the Côte de Brouilly this year. The palate is very concentrated with almost honeyed like notes infusing the red berry fruit. This is plush and generous, though it avoids being overbearing thanks to that tightly wound acidity. If you are seeking a more opulent take on Morgon whilst retaining typicité then this will fit the bill. This is a killer Beaujolais from Daniel Bouland."
John Gilman 90-94 points "These great old vines are getting very close to their ninetieth vintage, as they were planted in 1926. This wine is also listed at 14.5 octane, but seems like it might be just a touch higher to my palate. The bouquet is deep, black fruity and ripe, delivering a fine blend of black cherries, sweet dark berries, woodsmoke, roasted gamebird, a touch of garrigue, dark soil tones and a hint of cedar. On the palate the wine is pure, full-bodied, sappy and rock solid at the core, with firm, slightly coarse tannins, fine focus and grip and a very long, nascently complex and very promising finish. This has almost bottomless depth and stunning length on the backend, and it may well be a legend in the making that will need a decade of bottle age to blossom completely. It is more hunkered down out of the blocks than the Bellevue, and though it is hard to get a precise read on out of the blocks, I would be willing to bet it will ultimately be a great bottle of Morgon. 2023-2050+. 90-94?"
Coudert Pere 'Clos de la Roilette' Fleurie Griffe du Marquis, Beaujolais 2014 750ML ($37.95) $33 special, 22 bottles available
Josh Raynolds–Vinous 93 points "Deep ruby. Potent, mineral-accented dark berry, licorice and floral aromas are complemented by a hint of spicecake. Fleshy and appealingly sweet, offering concentrated black raspberry and violet pastille flavors underscored by an energizing mineral nuance. Shows excellent focus and lift on the long, sappy finish, which is framed by harmonious tannins. My instinct says that this will be more than worthy cellar candidate."
This is the lowest listed price in the USA today!
Chateau Grange Cochard Morgon Cote du Puy, Beaujolais 2014 750ML ($27.95) $24 special, 36+ bottles available
Josh Raynolds–Vinous 93 points "Deep ruby. Mineral-accented cherry and blackberry aromas are underscored by a spicy element that gains strength as the wine opens up. Sappy and penetrating, offering sweet dark berry flavors with complicating suggestions of star anise and violet. The spice and floral qualities build steadily through an impressively long, sappy finish, which is framed by harmonious tannins that fold easily into the intense fruit."
This is the lowest listed price in the USA today!
Domaine Marcel Lapierre Morgon, Beaujolais 2015 750ML ($34.95) $28 special, 32 bottles available
Josh Raynolds 93 points "Bright magenta. An expressive, intensely perfumed bouquet evokes ripe red and blue fruits and candied flowers, and suggestions of smoky minerals and Asian spices add vivacity. Concentrated, seamless and alluringly sweet, offering juicy, mineral-laced raspberry, boysenberry and violet pastille flavors and a subtle white pepper quality that builds on the back half. Finishes with superb focus and tenacity, leaving an echo of sappy red berries behind."
Domaine Richard Rottiers Moulin-a-Vent, Beaujolais 2014 750ML ($24.95) $21.90 special, 36+ bottles available
Wine Enthusiast 93 points "Produced from vines up to 80 years old, this is a powerful, wood-aged wine. Tannins are mixed with toast, spice and dark plum flavors. Acidity gives freshness and finishes the wine with very fine fruits as well as structure. Age this impressive wine and drink from 2018."
Josh Raynolds-Vinous 92 points "Brilliant violet. Smoke-accented blackberry and cherry scents are complicated by suggestions of vanilla, violet and licorice. Sweet and seamless in texture, offering intense dark berry and floral pastille flavors that tighten up and become spicier with air. Weighty yet lithe, delivering a solid finishing punch of sappy dark fruit, smooth tannins and excellent persistence. This substantial yet energetic wine has the stuffing as well as the balance to age."
We have 35 different Beaujolais in stock now to choose from! To see the complete list, visit our web store!
~~~~~~~~~~
Subscriber Special Preview
We've taken 10% off on all in-stock wines from Faiveley
Many were already the lowest listed prices in the USA, now these are even lower!
This includes these five cellar-worthy gems and superbly cellared releases ready for your table:
Domaine Faiveley Chambertin Clos de Beze Grand Cru 2011 750ML ($349.95) Was $219, Now $197.10, 26 bottles available
Stephen Tanzer 94 (+?) points "Medium red.  Highly nuanced yet quite primary on the nose, offering scents of raspberry, underbrush, dried rose, ginger and smoky oak.  Juicy, saline and quite dry, with dark berry and strawberry flavors complicated by an earthy perfume.  Finishes with substantial dusty tannins and excellent length.  With 24 hours in the recorked bottle, this beauty showed a silkier texture and chewy, deep flavors of raspberry and spices that saturate the palate without leaving any impression of weight.  A great effort for the vintage." ST
This was the lowest listed price in the USA today,
Now it's even lower!
The average price is $296
Domaine Faiveley Les Porets-Saint-Georges, Nuits-Saint-Georges Premier Cru 2013 750ML ($119.95) Was $79, Now $71.10, 17 bottles available
James Suckling 91 points "Pretty dark fruits such as blackberry and blueberry with hints of spice. Full body, tight center palate, and fine tannins. Better in a year or two, but very delicate, firm and delicious." JS
This was the lowest listed price in the USA today,
Now it's even lower!
The next best price is $89.99
Domaine Faiveley Corton 'Clos des Cortons' Faiveley Monopole Grand Cru 2011 750ML ($199.95) Was $119, Now $107.10, 36+ bottles available
Antonio Galloni 95 points "Faiveley's 2011 Corton Clos des Corton is a fitting conclusion to this great night of wine and food. Intensely saline and pointed, the 2011 impresses for its pure energy and tension. The flavors are vibrant and impeccably delineated in a Burgundy that is all about finesse. This is a great showing from the Clos des Corton." AG
Stephen Tanzer 94 points "Medium red.  Ineffable nose and palate offer red fruits, minerals, spices and flowers, complicated by game, earth and leather.  Sweet, concentrated and very intense, boasting outstanding density and a fine-grained texture, with salty minerality giving the wine a weightless impression that's remarkable considering its density.  A strong tannic spine and brisk acidity energize and draw out the finish of this sharply delineated, pristine grand cru." ST
This was the lowest listed price in the USA today,
Now it's even lower!
The average price is $178
Domaine Faiveley Fremiets, Volnay Premier Cru 2011 750ML ($79.95) Was $59, Now $53.10, 7 bottles available
Stephen Tanzer 89-92 points "(this and the following wines were still in barrel in November; this vineyard was picked first in 2011, along with the Beaune Clos de L'Ecu):  Bright red.  Pungent red fruits and orange peel on the lively nose.  Reticent and rather tight in the mouth, but with a suave grain and lovely lift to the red fruit flavors.  Quite closed in the early going." ST
This is the lowest listed price in the USA today!
Domaine Faiveley Volnay-Santenots, Volnay Premier Cru 2011 750ML ($79.95) Was $69, Now $62.10, 11 bottles available
Burghound 90-92 points "As would typically be the case this is notably riper than the Frémiets with notes of cassis, plum and black cherry. There is equally good phenolic maturity to the quite solidly structured and even robust flavors that exhibit a taut muscularity before terminating in a delicious and complex finish. This is much less refined and mineral-driven but there is just more depth and a bit more persistence as well though patience will be necessary" BH
You can see the full list of our on-sale Faiveley wines below: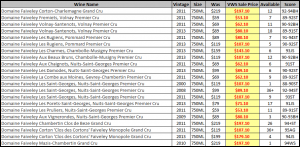 To read full reviews and order, visit our web store!
~~~~~~~~~~
New Arrival/New Review:
A Cab Franc producer to pay attention to: Thierry Germain!
Thierry Germain "Les Roches" Saumur-Champigny, Loire 2015 750ML ($27.95) $21.90 special
Grapelive 93+ points "The beautiful and detailed all biodynamic/organic 2015 Les Roches by Thierry Germain takes a few moments to unveil itself, like an exotic fan dancer. But then wow, this gorgeous chalky and perfumed 100% Cabernet Franc really shows its class and energy, it's absolutely stunning. The Thierry Germain Saumur Champigny Les Roches comes from mostly 30 to 40 year old vines set on clay, chalk, sand and limestone. It was 100% de-stemmed, native yeast fermented in stainless and raised in old foudres and stainless steel on the fine lees for just a few months without added sulfur. This pure and natural Saumur Champigny is medium bodied and delicate. It has layers of graceful flavors and intriguing class. The nose brings earth, violets, mineral notes and a hint of bell pepper and mixed spices leading to a refined palate of blackberry, creme de violet, tart currants, black cherry and earthy mulberry fruits with cinnamon, truffle, chalky dust, lavender oil and sweet basil. This charming Cabernet Franc speaks to the soul and heart. It gives remarkable terroir expression and is a great value. At 13% alcohol it is perfectly balanced and wonderfully open knit with ripe opulence and dreamy texture. Imported now by Kermit Lynch, drink over the next 3 to 5 years, though I suspect it can easily go well longer. Cab Franc lovers will not want to miss this vintage of Thierry Germain, and especially this seductive and classic Les Roches Saumur Champigny which really over delivers, it's a brilliant starting point to explore his wines and the region."
~~~~~~~~~~
Biondi Santi Riserva
Great wine – Great deal – Great price
We're saving you almost 40%!
Biondi Santi Tenuta Greppo Riserva, Brunello di Montalcino DOCG 2006 750ML ($699.95) Was $319, Now $299, 17 bottles available
Wine Spectator 97 points "A mix of sweet cherry, raspberry, floral, tobacco, tea and balsamic flavors mingle in this complex and layered red. The acidity and tannins are present and well-integrated as this remains elegant and harmonious on the lingering finish. There's a racy aspect, with a tobacco and mineral aftertaste. Best from 2016 through 2035."
Wine Advocate 95 points "The 2006 Brunello di Montalcino Riserva comes across as a bit reticent. It reveals lovely detail and nuance, but without the firmness of many other young vintages. Today the 2006 is quite accessible. I will be surprised if it doesn't start shutting down at some point. Regardless, the 2006 appears to be built more on finesse rather than power. Freshly cut flowers, hard candy and licorice are layered into the finish. Anticipated maturity: 2016-2046."
This was the lowest listed price in the USA today,
And was over 35% off the next best price of $495.95
Now it's even lower!
The average price is $568
~~~~~~~~~~
Bourgogne Rouge
The Essence of Burgundian Pinot
Appellation Bourgogne Rouge, Red Burgundy—Cote d'Or reds begin here. No village name attached, no cru, only a producer's name, a year, and maybe an informal name for a particular cuvee or plot of vines: Simplicity, economy, and unmistakable Burgundian style, often for the price of a basic Oregon Pinot. The best value in Burgundy lies in regional Bourgogne Rouge, especially when made by a top producer like Ghislaine Barthod, Thibault Liger-Belair, or Fourrier. They drink well young, but the best-made examples can age for years. We have an overwhelming amount of red (and white) Burgundy to offer, but we don't want the fundamentals, i.e. Bourgogne Rouge, to go overlooked. Have a look at the selection below, open a bottle, and experience for yourself the inimitable beauty of what remains, even at entry-level, the world's finest Pinot Noir.
Below are five of our top picks for in-stock Bourgogne Rouge:
Domaine Forey Pere et Fils Bourgogne Pinot Noir, Burgundy 2013 750ML ($29.95) $26 special, 12 bottles in-stock
Burghound "A pretty and attractively fresh nose features notes of assorted red berries, herbal tea and earth. There is good volume to the textured, complex and nicely voluminous flavors that possess fine length on the slightly edgy finish. This racy effort should be approachable young."
This is the lowest listed price in the USA today!
Domaine Fourrier Bourgogne Rouge, Burgundy 2014 750ML ($69.95) $59 special, 11 bottles in-stock
Burghound "A fresh, cool and attractively ripe nose features notes of red berries and earth that lead to punchy and delicious flavors that terminate in a mildly austere, balanced and persistent finale. This should age well but be approachable young."
Domaine Jean-Marc Pillot Bourgogne Les Grandes Terres, Burgundy 2014 750ML ($29.95) $24 special, 25 bottles in-stock
Importer note "This little red is a favorite of ours for its rustic, wild berry fruit and ebullient palate presence.  The vineyard is located south of Chassagne in the town of Remigny.  Some of the vines are quite old, approaching the 60-year mark."
Alain Hudelot-Noellat Bourgogne Rouge, Burgundy 2009 750ML ($59.95) $49 special, 6 bottles in-stock
Burghound "Outstanding Top value. A very fresh and expressive nose of red and black pinot fruit is nuanced by a discreet earthiness that continues onto the fleshy, delicious and surprisingly fine flavors that are really quite lovely for this level. Worth strong consideration and this could be enjoyed almost immediately."
This is the only listing in the USA today!
Domaine Ghislaine Barthod Bourgogne Rouge, Burgundy 2014 750ML ($59.95) $49 special, 36+ bottles in-stock
Importer note "Sourced from the lovely parcel of "Bons Batons" situated at the crossroads of Chambolle Musigny and Gilly les Citeaux, this cuvee is as refined as any you will find at the Bourgogne level."
More examples to choose from:

See all of our 347 listings for red Burgundy, from Bourgogne Rouge all the way to Grand Cru, including producers like Dujac, Gouges, de Montille, and Dugat-Py, in-stock now, at our webstore!
~~~~~~~~~~
Miani
The website Vinous.com, perhaps our favorite source for wine reviews, just published a short piece on the wines of Miani. We wholeheartedly agree with writer Ian d'Agata's view:
"If there is a better set of white wines made in Italy than Miani's Friulano, Chardonnay, Sauvignon Blanc, Ribolla Gialla and seldom-made Malvasia, I have yet to encounter them. Simply put, Enzo Pontoni's wondrous, world-class wines have few peers. Unfortunately for collectors, however, they are made in homeopathically small quantities (only 1,200 bottles a year of the Ribolla Gialla, for example) and finding them requires serious effort."
We received minimal quantities of the 2014 Bianco, Chardonnay, and Friulano last Fall. While the Friulano quickly sold out, a handful of the other two Miani whites remains in-stock here at Vinopolis. Rare is the opportunity to secure bottles of these wines, and transcendent is the experience of drinking one.
Miani Colli Orientali del Friuli Bianco, Friuli-Venezia Giulia 2014 750ML ($89.95) $79 special, 8 bottles in-stock
VinopolNote "Ribolla, Chardonnay, and Sauvignon Blanc form this year's Bianco. Fresh, sumptuous, firm, and dry, no other white blend compares, especially from Italy. Regarded worldwide as the finest producer of Italian white wine, Miani sets the standard."
Miani Chardonnay Colli Orientali del Friuli, Friuli-Venezia Giulia 2014 750ML ($89.95) $79 special, 7 bottles in-stock
VinopolNote "Burgundian, yet exotically Italian, the Miani Chardonnay impresses with precise aromatics, sublime balance, and unctuous delight. Cellar-worthy thanks to its concentration, this wine will also astound in its youth."
~~~~~~~~~~
Matt Kramer – New Wine Resolutions:
Sicilian Wines
Tired of Pinot, Cab and Syrah? Why not explore the wines of Sicily! With two very distinct styles (finesse-ful and elegant wines of Mount Etna and ripe & rich wines from the Nero d'Avola grape), Matt writes that "once across the 20-buck line, you're not likely to go wrong with Sicily; quite the opposite."
We couldn't agree more – especially when you explore selections from some of the top estates on the island, such as Terre Nere, Gulfi and Passopisciaro. Fear not, you don't have to reach too far past the twenty dollar line to find mind-blowing wines to re-invigorate your wine passion.
With new releases on the horizon, we'll turn our focus to the highest vines in all of Europe: those of the Terre Nere domain on Mount Etna. Native varietals Nerello Mascalese and Nerello Cappuccio make for an extraordinary blend, offering high acidities and lots of spice, layers and complexity. At their peak, these varietals offer the complexity of Pinot Noir with style and aromatics all their own.
Fiercely dedicated to the terroir of Etna and preserving old rootstocks, some pre-phylloxera vines date back 130+ years!, owner and founder Marco de Grazia owns vines across ten parcels on the slopes of this quite active volcano. 80% of the estate's vines are 50-100 years.  The wines of Terre Nere are an astonishing value considering their quality.
In with the New – Just Arrived Friday:
Tenuta delle Terre Nere 'Vigne Niche' Calderara Sottana Bianco Etna, Sicily 2015 750ML ($39.95) $29 special
Winery note "As opposed to my other Etna Bianco, which is a field blend of five varieties, Vigne Niche is 100% Carricante. I made this wine for the first time in 2007, after having had the fortune of tasting a 42 year old Carricante from the East side of the Etna. It was so beautiful, vigorous and impeccable in its venerable age that I was moved to produce something like it myself. I tried to imagine how a talented winemaker would have made such a wine half a century ago, with little or no technology and sought to do the same. Vigne Niche is the result. Have it with leek, pumpkin or onion soup, lobster bisque, risotto, oven baked fish, poultry, braised rabbit."
This is the lowest listed price in the USA today!
The next best price is $34.80
Tenuta delle Terre Nere 'Vigne Niche' Santo Spirito Bianco Etna, Sicily 2015 750ML ($37.95) $29 special
Winery note "The two new white Crus, Calderara Sottana and Santo Spirito, feature Carricante grapes from old and young vines, for Carricante is a rare commodity in a D.O.C. overwhelmingly devoted to reds, rarer still on Etna's Northern slopes. In fact, Carricante vineyards answer for only 4% of the appellation. Both wines are barrel fermented and aged in large oak barrels. These are late blooming wine of unusual complexity and great longevity, which will reward you for your patience with a rare, noble beauty."
This is the lowest listed price in the USA today!
The next best price is $34.80
Tenuta delle Terre Nere Calderara Sottana Rosso Etna, Sicily 2014 750ML ($39.95) $33 special
Ian D'Agata–Vinous 92+ points "Good deep red. Captivating aromas of sweet cherry, crushed rocks and violet. Juicy, suave and perfumed, showing excellent vinosity to the complex, very precise flavors of plum, sour red cherries and dried herbs. Fine-grained tannins and lovely lingering aromatic perfume are featured on the long, very pure finish. Another superb vintage for this bottling, which is the most Burgundian of all of Terre Nere's various Etna Rosso crus. It also strikes me as having less of an alcohol thrust than the other reds made at Terre Nere in this vintage."
This is the lowest listed price in the USA today!
The average price is $40
Tenuta delle Terre Nere 'Feudo di Mezzo' Etna Rosso, Sicily 2014 750ML ($49.95) $39 special
Ian D'Agata–Vinous 89 points "Bright ruby-red. Aromas of raspberry, minerals, potpourri and ink. Suave, clean and tight, offering reticent red fruit flavors accented by mint and botanical herbs. Less expressive and showy than is common for this cru; though it's suave and sharply delineated, it seems a tad clenched and simple today on the long, firmly tannic, almost tough back end. The 2104 vintage, one of the greatest ever on Etna, has generally given more austere, deeper Etna Rosso wines that aren't as forward as usual, so I may in fact be underestimating this wine. Time will tell."
Tenuta delle Terre Nere Guardiola Rosso Etna, Sicily 2014 750ML ($59.95) $49 special
Ian D'Agata–Vinous 95+ points "Good full red. The captivating nose combines raspberry, red currant, minerals, violet and truffle and has a penetrating quality. Then sweet, fresh and juicy, showing outstanding purity and a Nebbiolo-like texture to the red fruit, floral and sweet spice flavors. Impeccably balanced, fine-grained Etna Rosso that finishes extremely long, vibrant and suave. Guardiola is the Etna cru that most often delivers Barolo-like reds. It's also a relatively cool site whose wines really benefit in warmer vintages, when Nerello Mascalese's anything-but-shy tannins are able to reach optimal ripeness, giving a highly structured but magically polished wine. I wouldn't be surprised to see this merit an even higher score in four or five years' time."
Tenuta delle Terre Nere Prephylloxera La Vigna di Don Peppino Rosso Etna, Sicily 2014 750ML ($99.95) $89 special
Ian D'Agata–Vinous 96+ points "Luminous red. Red cherry, marzipan, raspberry jam, quinine, blood orange and a dusting of powdered minerals on the drop-dead gorgeous nose. Wonderfully juicy, sweet and gripping in the mouth, showing superb nuance and verve to the soft, fleshy red fruit, candied violet and balsamic flavors. Finishes vibrant and with noteworthy length; broad but polished tannins coat the entire mouth. An Etna Rosso of memorable purity and precision, this is great to drink already but promises greater things still to come. Made from a parcel of old pre-phylloxeric vines that grow in the Calderara Sottana vineyard (one row of which actually grows in the Santo Spirito cru), but at 100+ years of age, the Don Peppino vines are much older than those used for the Calderara Sottana bottling. In fact, this wine is a textbook example of the importance of old vines, because as delightful as the Calderara Sottana Etna Rosso is, the Don Peppino is vastly superior due to its softer, nobler tannins and greater depth and complexity of fruit."
This is the lowest listed price in the USA today!
The next best price is $110
Tenuta delle Terre Nere Santo Spirito Rosso Etna, Sicily 2014 750ML ($49.95) $39 special
Ian D'Agata–Vinous 94 points "Deep red. Fresh, very deep red cherry, almond paste, sweet spice and fresh herbs on the aromatic nose. Then vibrant, juicy and dense, showing a firm tannic backbone; lively but harmonious acidity extends the ripe deep red cherry and mineral flavors on the long, suave, complex back end. Very typical of the Santo Spirito cru. With its soft, fleshy, perfumed personality, this is readier to drink than some of the other crus from Terre Nere in 2014, but has the stuffing to age well. A truly outstanding Etna Rosso, made from grapes grown in the highest portion of Santo Spirito, not far from the Guardiola cru."
Out with the Old – On Sale Now:
Tenuta delle Terre Nere 'Vigne Niche' Bianco Etna, Sicily 2013 750ML ($39.95) $33 special, 14 bottles available
Wine Advocate 92 points "I was delighted by the 2013 Etna Bianco Cuvèe delle Vigne Niche because it shows a broader style that I did not expect. This is a pure expression of Carricante from vines that are up to 60 years old in age. It sees brief oak contact. You get a pure sense of mineral dryness at first, but that layer lifts gracefully to expose orange peel, dried jasmine and exotic fruit at the back. This Etna white delivers a firm style with muscle and density. It should evolve nicely over the next five years."
Ian D'Agata–Vinous 91 points "Deep straw-gold. Yellow flowers, minerals, fennel and a smoky note on the nose. Densely packed, bright and juicy, offering rich orchard fruit and botanical herb flavors. Finishes vibrant, complex and long. This was fermented in oak and aged for about nine months in 20-hectoliter barrels."
This is the only listing in the USA today for the 750ML!
Tenuta delle Terre Nere Calderara Sottana Rosso Etna, Sicily 2013 750ML ($49.95) Was $39, Now $33, 11 bottles available
Ian D'Agata–Vinous 92 points "Dark red. Strong stony minerality currently overshadows aromas of red cherry and raspberry. Penetrating and vibrant on the palate, with red berry and mineral flavors displaying noteworthy purity and complexity. Lingers long on the youthfully chewy finish, which features a bright mineral overlay and a violet topnote. This cru is located at roughly the same altitude as Feudo di Mezzo but the soil is extremely gravelly. It's almost always the most Burgundian of Terre Nere's many crus and it's no different this year. Only about 800 meter walk away from the Feudo di Mezzo Quadro delle Rose vineyard, but the wines are a world apart."
Wine Advocate 91-93 points "The 2013 Etna Rosso Calderara Sottana shows a different personality compared to Tenuta delle Terre Nere's other single-vineyard expressions. Calderara Sottana offers more balsamic definition with wild fennel, rosemary spring, dark fruit and scorched earth. To my palate, it is the most ethereal of the bunch and the hardest to pin down given that the aromas are in constant evolution and flux. Pretty fruit and berry tones fill in the back. Despite the enormous definition presented on the bouquet, the wine is more immediate and direct in the mouth. Bright berry is followed by ash, smoke and dusty tannins. This vintage feels less complex overall but it should age nicely. "
Tenuta delle Terre Nere 'Feudo di Mezzo' Etna Rosso, Sicily 2013 750ML ($49.95) Was $39, Now $33, 20 bottles available
Ian D'Agata–Vinous 91 points "Vivid red. Earth tones and licorice on the nose. Then fruitier and large-scaled in the mouth, offering ripe red fruit and botanical herb flavors that carry through a long, vibrant, chewy finish. The polished tannins provide lovely backbone to the rich red fruit flavors. This is always the first cru to be harvested, roughly two weeks ahead of Guardiola, which is located about 350 meters higher."
Tenuta delle Terre Nere Santo Spirito Rosso Etna, Sicily 2012 750ML ($47.95) Was $39, Now $33, 11 bottles available
Wine Spectator 90 points "Though medium-bodied and elegant overall, there's a density to this spicy red. Sinewy tannins wrap around a juicy core of crushed black raspberry and rich loamy earth flavors, accented by hints of bergamot and mocha. Drink now through 2022"
This is the lowest listed price in the USA today!
The average price is $39
Tenuta delle Terre Nere Santo Spirito Rosso Etna, Sicily 2013 750ML ($49.95) Was $39, Now $33, 27 bottles available
Wine Advocate 92-94 points "The 2013 Etna Rosso Santo Spirito is an abundant and enriched expression from the darkened volcanic slopes of Mt. Etna Santo Spirito runs through parts of Passopisciaro at the heart of Etna's best production zones. This gorgeous wine opens to a dark garnet appearance with inkier colors of crimson and ruby. Crisp and crunchy tones of wild berry, cranberry, red rose and dark mineral characterize the mouthfeel. This was a difficult vintage that saw slow and uneven ripening for many producers. Marco De Grazia has evidently mastered when to harvest his fruit at optimal ripeness."
~~~~~~~~~~
Late Breaking News
Legend of Loire
Digier Dagueneau is a name we rarely get the opportunity to mention. His passionate yet renegade wine-making style attracted followers and the world was moved when he passed unexpectedly in 2008. His eldest son, Louis-Benjamin, now heads the estate and more and more his wines express the same zeal and intensity. Though the new releases are unrated, the vintage itself was lauded as "one of the finest Loire vintages ever" by Charles Sydney writing for Jancis Robinson.
Arriving January 27th
Didier Dagueneau Pouilly-Fume Silex, Loire 2014 750ML ($149.95) $119 pre-arrival special, 15 bottles available
This is the lowest listed price in the USA today!
The next best price is $125
Didier Dagueneau Blanc Fume de Pouilly, Loire 2014 750ML ($89.95) $69 pre-arrival special, 24 bottles available
This is the lowest listed price in the USA today!
The average price is $84
Didier Dagueneau Pouilly-Fume Pur Sang, Loire 2014 750ML ($119.95) $99 pre-arrival special, 3 bottles available
Didier Dagueneau Les Jardins de Babylone, Jurancon 2012 500ML ($119.95) $99 pre-arrival special, 6 500ml-bottles available
Also Arriving January 27th
Unmatched value!
Domaine du Vieux Telegraphe Chateauneuf-du-Pape La Crau, Rhone 2013 750ML ($69.95) Was $69, Now $49 pre-arrival special
Josh Raynolds – Vinous 92 points "Limpid ruby. A highly expressive bouquet evokes ripe red berries, potpourri and peppery spices, and a smoky mineral nuance gains strength as the wine opens up. Offers concentrated raspberry liqueur and spicecake flavors and deeper licorice and bitter chocolate flavors sharpened and given spine by juicy acidity. Effortlessly plays richness off elegance and finishes sweet, spicy and impressively long, with velvety tannins lending shape and grip."
Wine Spectator 92 points "Rather perfumy up front, with savory, mint and incense notes leading the way for silky cherry and raspberry coulis flavors. The finish is lined with subtle tobacco, warm stone and floral hints, ending with a light balsam twinge. This should put on some weight with age. Best from 2017 through 2026." WS
This is the lowest listed price in the USA today!
The next best price is $56.50
~~~~~~~~~~