February 2018
A Vinopolis-Cellared Treasure:
Giacosa's Incredible 2005 Barolo Falletto
Now Entering Its Prime Drinking Window
A Barolo legend to enjoy now, or in the years to come…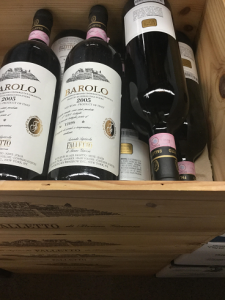 We have over six original import cases of 2005 Bruno Giacosa Falletto Barolo DOCG that have been in our (temperature-controlled) care almost 10 years:
Falletto di Bruno Giacosa 'Falletto', Barolo DOCG 2005 750ML ($249.95) Buy Now: $169 special, 36+ bottles available
Antonio Galloni 94 points "The 2005 Barolo Falletto offers up a gorgeous bouquet of red cherries, flowers, spices and menthol. This is a relatively delicate, elegant Barolo Falletto yet it offers gorgeous balance, tons of inner perfume and a long, refined finish. It is one of the overachievers in 2005. Anticipated maturity: 2015-2025."WA
Stephen Tanzer 94 points "Medium red. Backward yet precise aromas of red cherry, blood orange, dried flowers and spices; there's something almost Chambolle-like about this. Then suave and silky in the mouth, but with superb density and energy to the savory red fruit and spice flavors. Finishes very long and chewy, with a broad dusting of tannins and sneaky length."
"In my opinion, the 2005 Barolos are the best balanced of the last decade." – Sergio Germano, winemaker, Ettore Germano estate, Serralunga d'Alba
"Many [2005 Barolos] show dark tonalities of fruit and generally virile, masculine personalities. I initially thought the 2005s would age on the faster side (in relative terms for Barolo), and while that will likely be the case compared with the recent highly tannic, structured vintages (2006 and 2010 come to mind), firm tannins and high acidities will almost certainly give the 2005s plenty of ageworthiness. I have been following Giacosa's 2005 Barolos for several years and I have been fond of these wines for some time, as they have always demonstrated exceptional balance. Now that the wines are in bottle they are every bit as delicious as they were from barrel. Giacosa fans will want to give these 2005 Barolos (and the Barbarescos, too) careful consideration. The wines seem to have been helped quite a bit by the southern exposure of the Falletto vineyard." – Antonio Galloni, Vinous Media
The perfect marriage of Bruno Giacosa and his winemaker Dante Scaglioni came full circle with the classic 2005 vintage. Just a few years shy of Scaglioni's resignation in order to pursue his own label, this bottling presents the absolute best of their 16-year partnership. As we revisit tasting notes and scores, it comes to our attention that this cuvee from Signore Giacosa is just beginning to enter the early stages of a drinking window which will extend, most likely, across many years. We raise our glass to that!