New Review from Grapelive; Staff Picks; Faiveley 2011 Grand Crus; #Trending; Don't Forget: Limited Time Champagne Offers & Subscriber-Special Pre-Arrival Pricing; New Bedrock Co. Releases; Arriving Mid-November: Marques de Caceres; New Oregon Pinot Reviews – Part 2; Late Breaking News! Arriving October 20th: Beaux Freres Upper Terrace
~~~~~~~~~~~~~~~~~~~~~~~~~~~~~
New Review from Grapelive
(Cameron Winery Hooks Another)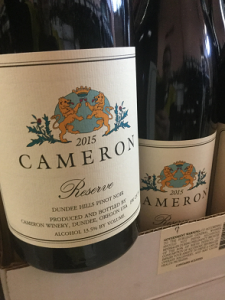 Cameron Winery Pinot Noir, Dundee Hills 2015 750ML ($31.95) $24 special, 36+ bottles in stock now
Kerry Winslow – Grapelive 92 points "I adore the authentic and rustic nature of the Cameron wines and John Paul's winemaking, which is a bit more raw than the modern examples, but enthralling and vital. These are gorgeous and earthy/sexy wines, and especially the serious value Dundee Hills 2015 bottling! This 2015 Cameron Dundee Hills Pinot starts with Burgundy like earthy reduction and expressive red fruits, spice, minty herb and subtle oak shading with layers of dusty cherry, raspberry, wild plum and tangy currant along with leather, smoke and mineral tones. Opening with air this well balanced, stylish and stupid good bargain gains rose petal, truffle and dried blueberry/cranberry, flint as well as red/tea spices and mineral elements. Native ferments and longer than normal elevage makes for a textured and long lasting wines, and this is a great vintage to put away. This could be a Gevrey-Chambertin if tasted blind! Coming off two of Cameron's non irrigated (dry farmed) vineyards this red soil (Jory) influenced Pinot is pure heaven in the glass, I wish I had bought a effing case of this stuff, it is so wonderful I could easy not share this and make it my own secret treat! Thanks to Vinopolis Wine Shop in Portland for turning me on to this one. From declassified barrels of Clos Electrique and Abbey Ridge Vineyards, this offering 13.5% alcohol Dundee Pinot, lacks for nothing in terms of poise, ripeness, depth and mouth feel and the price is stunning for what you encounter in the glass and bottle, it only makes you wonder just how fantastic Paul's top cuvees are in this vintage, I think it's pretty safe to say they must be out of this world! Drink this one for the next 10 or 15 years!"
This is the lowest listed price in the USA today!
The next best price is $32.99
PS – Kerry, there's still plenty more here!
~~~~~~~~~~~~~~~~~~~~~~~~~~~~~
~~~~~~~~~~~~~~~~~~~~~~~~~~~~~
Staff Picks
Suzanne: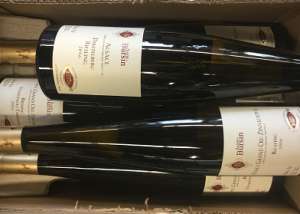 Riesling has long been a passion of mine, though my tastes lean more toward the Mosel then Alsace or domestic. When I tasted the two vineyard designates from Bursin, I was skeptical at first, but knew that she tends to pick earlier than most to preserve acidity and freshness. The Dirstelberg vineyard was the lighter of the two. This site is composed of pink sandstone and often produces linear and crisp wines. The wine opened with shy aromas of dried apricots and fresh daisies. It had very good acidity that balanced out the barest hint of sweetness (think German feinherb). It was light and zippy on the palate and offered aromas of grapefruit peel and chalk. An excellent expression of the vineyard. But the next Riesling, from the Grand Cru Zinnkoepfle, was the more notable. It was rounder and richer in body and the aromatics seemed poised to jump out of the glass. As the wine warmed in my glass, it offered up notes of lime zest and white tea. There was a marked stoniness on the palate. There was a great tension to the wine – tasted oh so young – that it seemed to be begging for a long, luxurious sit in a decanter (or a few decades in the cellar).
Agathe Bursin Riesling Dirstelberg, Alsace 2016 750ML ($26.95) $21.90 special
VinopolNote: The Dirstelberg vineyard is mostly composed of pink sandstone and is known as a high quality vineyard for a variety of grapes.  The wines from the site tend to be linear and crisp, with good varietal character.  Unlike many Alsatian producers, Bursin errs on the side of delicacy and raciness rather than pick too late and allow the wines to become rich and flabby for the sake of "power."
This is the lowest listed price in the USA today!
The average price is $24
Agathe Bursin Riesling Zinnkoepfle, Alsace Grand Cru 2016 750ML ($44.95) $36 special
VinopolNote: The Zinnkoepflé vineyard has been recognized as a top site since the beginning of vine cultivation in Alsace.  The vineyard sits in a protected area that allows for exceptional sun exposure while limiting risk of botrytis and other problems. As a result, we always see very pure-fruited wines with a lot of finess coming from this site, owing in part to the shelly-limestone soils which provide for great acidity and nerve.
This is the lowest listed price in the USA today!
The average price is $39
Andy: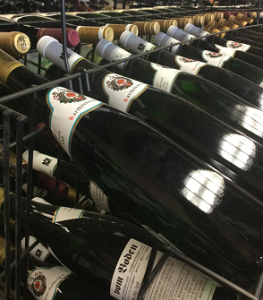 The '13 Eitelsbacher GG is not the first wine I would go for in the shop. It looks as subtle as can be, but the gold capsule and the tall, slender, green bottle with a simple little necktag give you all you need to know: this wine is built for the long haul, and will rock your socks off. Old friends from the wine industry were in town and we wanted to have something impressive without too much age on it, and to be honest we were nervous that we were doing this wine in way before its time. Upon initial opening it was a little tight, but we walked away and came back to find something wild in its place. The animal that crept out the bottle and shook the room with its power made it clear that yes, we could have waited another decade, but there was no need to feel bad about the pure hedonistic joy in drinking this now. The minerals came right out of the sea and the smoky citrus and green apple was up front and intense. Subtle brown baking spices and Asian spice notes came across. It was a stellar bottle that had to expand at its own pace and it will definitely grow and develop over time. Let the animal out though:
Weingut Karthauserhof Eitelsbacher Karthauserhofberg Riesling Grosses Gewachs, Mosel 2013 750ML ($69.95) $49 special, 34 bottles in stock now
Case-6 Weingut Karthauserhof Eitelsbacher Karthauserhofberg Riesling Grosses Gewachs, Mosel 2013 750ML ($359.95) $269 special, 6 six-packs in stock now (that's only $44.83/bottle!)
Weingut Karthauserhof Eitelsbacher Karthauserhofberg Riesling Grosses Gewachs, Mosel 2013 375ML ($39.95) $24 special, 1 half-bottle in stock now
Wine Advocate 93 points "Very clear, discreet and refined on the nose – where the 2013 Eitelsbacher Karthauserhofberg Riesling GG displays fine stone and fruit aromas of lemons and green apples. Lean and vital but also intense, rich and juicy on the palate, this is a lovely pure, straightforward, piquant and very salty expression of the Karthäuserhofberg terroir and the 2013 vintage. This long-distance runner has more fruit intensity than the Edition and reveals a very fine raciness and a complex finish with lingering lemon aromas." WA
John Gilman 93+ points "The 2013 Grosses Gewächs is showing as beautifully this year as it did a year ago, wafting from the glass in a salty constellation of tart pear, pink grapefruit, plenty of smokiness, dried flowers, a touch of lemongrass and lovely slate-driven salinity. On the palate the wine is pure, fullish and absolutely seamless, with fine youthful complexity, a lovely core, bright acids and a very long, refined and racy finish. This is a touch lower in alcohol than the 2014 version (11.5 versus twelve percent), but is just a tad more tightly-knit and complete. A fine bottle in the making. 2020-2050. 93+."
This is the lowest listed price in the USA today!
~~~~~~~~~~~~~~~~~~~~~~~~~~~~~
~~~~~~~~~~~~~~~~~~~~~~~~~~~~~
Faiveley 2011 Grand Crus
Classically Styled Vintage
Classically Styled House
"a very rare vintage that combined the low grape sugars and freshness of a very cold vintage with an unusually early harvest. The wines are never boring… [it is a] vintage of pleasure but one that isn't at the same time banal." –Bernard Hervet of Domaine Faiveley
When discussing the wines of the Cote de Nuits it is hard not to mention Domaine Faiveley. Founded in 1825, with its seventh generation now at the helm, Faiveley carries a long-standing tradition of winemaking in Nuits-Saint-Georges. But the domaine also believes in progress: pre-sorting of all grapes, long low-temperature fermentations, barrel ageing in the family's 19th century vaulted cellar. From red and white regional Bourgogne and village-level cuvees, to the estate-farmed 62 acres of Premier Cru and 25 acres of Grand Cru, Faiveley makes wine like a small, quality-driven producer. Hence their reputation as one of Burgundy's finest large domaines.
We're focusing on two very special Grand Cru bottlings from Faiveley: the Clos des Cortons is a Grand Cru Monopole in the Cote de Beaune and the Clos de Beze is a Grand Cru in the Cote de Nuits. 2011 was a difficult vintage. Much like in the Willamette Valley, the weather was cool and acids were high. Potential alcohols tended to max out around 13% – a not too common thing these days. It was a vintage where one could truly see the profound difference between Regional, Village, Premier and Grand Cru wines. (Differences that used to be more common fifty some odd years ago.) As a challenging year, it took much skill and expertise to produce excellent results, and Faiveley did so in spades producing balanced wines of grace and character. These two Grand Crus in particular stood out among the many others both in praise and potential.
Domaine Faiveley Corton 'Clos des Cortons' Faiveley Monopole Grand Cru, Cote de Beaune 2011 750ML ($179.95) $119 special, 24+ bottles in stock now
Antonio Galloni 95 points "Faiveley's 2011 Corton Clos des Corton is a fitting conclusion to this great night of wine and food. Intensely saline and pointed, the 2011 impresses for its pure energy and tension. The flavors are vibrant and impeccably delineated in a Burgundy that is all about finesse. This is a great showing from the Clos des Corton." AG
Stephen Tanzer 94 points "Medium red.  Ineffable nose and palate offer red fruits, minerals, spices and flowers, complicated by game, earth and leather.  Sweet, concentrated and very intense, boasting outstanding density and a fine-grained texture, with salty minerality giving the wine a weightless impression that's remarkable considering its density.  A strong tannic spine and brisk acidity energize and draw out the finish of this sharply delineated, pristine grand cru." ST
Wine Spectator 93 points "Lean, yet succulent and defined, sporting aromatic floral, cherry, strawberry and spice notes, accented by a touch of briar. The structure is firm and linear, with a tightly wound finish for now. Very elegant, this should come into its own in the next several years. Best from 2017 through 2028. 304 cases imported."
Burghound 92-95 points "Don't Miss! As is usually the case with this wine when it's young, the nose is restrained to the point of being almost mute though aggressive swirling liberates aromas of earth, spice, red currant and hints of the sauvage. And instead of the robust and well-muscled mid-palate there is an almost caressing mouth feel to the full-bodied yet refined flavors because while the supporting tannins are definitely firm and dense they are also quite finely-grained. There is excellent length to the moderately austere, tight, focused and linear finish that delivers outstanding persistence."
This is the lowest listed price in the USA today!
The average price is $176
Domaine Faiveley Chambertin Clos de Beze Grand Cru, Cote de Nuits 2011 750ML ($349.95) $219 special, 24+ bottles in stock now
Stephen Tanzer 94 (+?) points "Medium red.  Highly nuanced yet quite primary on the nose, offering scents of raspberry, underbrush, dried rose, ginger and smoky oak.  Juicy, saline and quite dry, with dark berry and strawberry flavors complicated by an earthy perfume.  Finishes with substantial dusty tannins and excellent length.  With 24 hours in the recorked bottle, this beauty showed a silkier texture and chewy, deep flavors of raspberry and spices that saturate the palate without leaving any impression of weight.  A great effort for the vintage." ST
Burghound 93-95 points "Don't Miss! An exuberantly spicy, cool and airy nose that mixes a variety of wild red berries, humus and earth nuances where the latter component is also well-represented on the solidly well-detailed and powerful medium weight plus flavors that possess superb length. This is a big but not burly Bèze that is actually more a wine of finesse than outsized power and weight."
This is the lowest listed price in the USA today!
The average price is $287
~~~~~~~~~~~~~~~~~~~~~~~~~~~~~
#Trending
Cameron Winery Clos Electrique Rouge, Willamette Valley 2014 750ML ($79.95) $66 special
Wine Advocate 92-94 points "The 2014 Pinot Noir Clos Electrique has the most Burgundian bouquet from barrel with gorgeous, detailed brambly red fruit that blossoms from the glass. The palate is medium-bodied with supple tannin, finely judged acidity, plenty of redcurrant and raspberry fruit with a harmonious and quite effortless finish that leaves a minerally residue in the mouth. Not powerful, but it does not need to be. This is exquisite Pinot Noir."
This is the lowest listed price in the USA today!
The average price is $73
Felsina Berardenga Chianti Classico Riserva DOCG, Tuscany 2013 750ML ($37.95) $26 special
Antonio Galloni 93 points "A deep, powerful wine, the 2013 Chianti Classico Riserva has quite a bit of depth for a cool, late-ripening vintage. Sage, tobacco, menthol, smoke and dark cherry hit the palate in a deep, beautifully layered Chianti Classico endowed with real personality and class. This is another terrific wine from Fèlsina. Hints of leather, smoke and licorice reappear on the deeply expressive, virile finish."
This is the lowest listed price on the West Coast today!
Bodegas Perez Barquero La Canada Pedro Ximenez, Montilla-Moriles NV 750ML ($59.95) $39 special
Wine Advocate 94 points "The NV La Canada PX is sourced from a vineyard in the Moriles Mountains called Cerro de La Canada, 'the canyon hill' and undergoes oxidative aging in solera and is bottled at an average of 25 years old. It boasts the characteristics of a very old PX, incense, licorice, roasted coffee and the sweetness is nicely compensated by a bitter chocolate touch. What is surprising in such an old wine is the overall sensation of freshness and elegance of fruit, with balsamic flavors of dried herbs, flowers and camphor. A truly elegant sticky. Drink 2013-2025."
This is the lowest listed price in the USA today!
The next best price is $47.79
~~~~~~~~~~~~~~~~~~~~~~~~~~~~~
Don't Forget 
Limited Time Champagne Offers: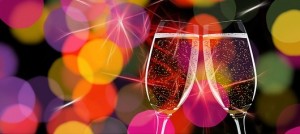 Subscriber-Special Pre-Arrival Pricing
$55 Now / $59 On Arrival
Don't Hesitate!
Arriving October 13th
Charles Heidsieck Brut Rose, Champagne NV 750ML ($89.95) $55 pre-arrival special
Decanter 96 points "33% Pinot Noir, 33% Pinot Meunier, 34% Chardonnay Tasting notes: The nose on this awesome wine has a perfect balance of fruit and autolytic toasty notes. The palate also has a stunning elegance, beautiful richness and depth, perfect acidity and fruit notes, and a fabulous length that keeps lingering in the mouth."
James Suckling 93 points "Attractive pale red color. The nose has pure and fresh red berry fruit aromas with a little pastry-like complexity; really vibrant. The palate's a little richer than the nose suggests, but still crisp and packed with light red berry fruit flavors. Strawberry really singles itself out on the finish. Balanced, supple and smooth. Drink now."
Wine Spectator 93 points "A rich and toasty style that's framed by vivid acidity, this shows lovely integration and an expressive palate of coffee liqueur, baked peach and roasted hazelnut, with hints of orange marmalade and star anise. Long and creamy, with a mouthwatering finish. Drink now through 2023. Tasted twice, with consistent notes."
This is the lowest listed price in the USA today!
The average price is $72
Arriving October 20th
(This price won't last forever, either!)
Drappier Carte d'Or Brut Champagne NV 750ML ($49.95) $36 pre-arrival special
Case-6 Drappier Carte d'Or Brut Champagne NV 750ML ($299.95) $199 pre-arrival special (that's only $33.17/bottle and the lowest listed price in the USA today!)
 Wine Spectator 92 points "This bright and zesty Champagne is lightly juicy and appealing, offering flavors of Honeycrisp apple, ripe white cherry, biscuit and pickled ginger. Balanced and lacy in texture, with a lingering, spiced finish. Drink now through 2022."
~~~~~~~~~~~~~~~~~~~~~~~~~~~~~
Arriving Late October
Rockin' the Bedrock
Bedrock Wine Co.
A favorite producer of the shop and a rock star among the wine forums!
You'd be forgiven for thinking Morgan Twain-Peterson was taking a free ride into the industry, his father Joel Peterson founded Ravenswood, but you'd soon learn that he is blazing his own, very opinionated and talented trail. Morgan's passion is preservation of California's heritage vineyards and the myriad of varietals not found anywhere else. Most notably, the focus of Bedrock is their ancient vines: gnarled old dinosaurs poking their heads up through cracked and ancient soil: varietals like Carignane, Mourvedre, Tempranillo, Alicante Bouschet, Valdigué, Peloursin, and Petite Bouschet to name a few. These vines, in Twain-Peterson's view, represent so much more than California's history. They represent a wine that is uniquely Californian, a style not to be found or replicated anywhere else in the world. This is could well be California's future. These wines aren't shy, but the surprising little aromatics and spice notes are delicate and only get better with time. They've got the fruit and depth that you would expect from California, but they're tight, structured and will reward patience.
Arriving Late October
Bedrock Wine Co. Evangelho Vineyard Heritage Red, Contra Costa County 2016 750ML ($41.95) $34.90 pre-arrival special
Winery note "Coming from own-rooted Zinfandel, Mataro, Carignan, Palomino, Alicante, and Mission planted in the 1890s on 40' banks of granitic beach sand, this wine is a unique expression of a California field blend."
This is the lowest listed price in the USA today!
Bedrock Wine Co. 'The Bedrock Heritage', Sonoma Valley 2016 750ML ($59.95) $46 pre-arrival special
Winery note "Diane Kenworthy, who has overseen farming at Bedrock Vineyard for the last ten years, has a sage mantra that the best vineyards teach you how to farm them over time.  I think the same can be said of making wines from a great vineyard.  Over time you see the gentle nuances of ripening and subtle variations in a vineyard.  You gain a better understanding of maximizing the potential of a vineyard in a given year rather than attempting to force it into a particular style.  Bedrock Vineyard is always going to have orange-scented perfume and rooted tannins, but outside of that I have been amazed by the variations of vintage. A wine that is well-built, a little gruff at first, but full of nuance, soft eyes, and a well-hewn heart. Composed of the 27 different varieties found in the old vines at Bedrock Vineyard, the wine is dominated by the classic California field blend of Zinfandel, Carignane, Mataro, Petite Sirah, Syrah, and Alicante Bouschet.  However, it also has Cabernet, Merlot, Castets, Trousseau Noir, Grenache, Bequignol, Mondeuse, Semillon, Tempranillo, Muscadelle, and more.  From the heart of Sonoma Valley, this is the wine closest to our hearts."
This is the lowest listed price in the USA today!
Top Picks from Bedrock Wines In-Stock Now:
Bedrock Wine Co. Sauvignon Blanc, Sonoma County 2016 750ML ($29.95) $26 special
"This wine is almost entirely from the lovely Uboldi Ranch, which is planted on some of the only Sandy Goldridge Loam outcroppings in Sonoma Valley.  Located to the south of the town of Kenwood as the valley hills begin to creep towards Sonoma Mountain, the site is both steep and rocky, which helps balance the natural vigor of the Sauvignon Blanc vines.  Our section of the vineyard is planted exclusively to Musqué clone, which I prefer for its soaring aromatics.  In order to give ourselves the most options when assembling the blend we fermented the wine in a combination of stainless steel tank at cold temperature, cigare barrels (the same used by Dagueneau in the Loire) and smaller piece.  Though normally we tend to get pretty close to 50% of each in the final blend, we found that the increased texture and expressiveness provided by the barrel-fermented lots was too hard to resist, and the final wine this year saw 95% barrel fermentation.  Of that just about 17% of it is new.  It is so much fun to make Sauvignon Blanc!"
Bedrock Wine Co. 'The Bedrock Heritage' Wine, Sonoma Valley 2015 750ML ($59.95) $49 special
Robert Parker 96 points "Possibly the flagship wine is the 2015 Proprietary Red The Bedrock Heritage. This ancient vineyard is planted with 27 different varieties, so I won't even begin to list them, as that is a book in itself. This is Rhône Valley-like, with notes of Mediterranean herbs, blackberries, blueberries, loamy soil notes, incense, creosote, steak tartare and pepper followed by a wine of great intensity – built like a skyscraper, with layers of fruit and extraction. It is a sensational effort, super-complex, and best drunk over the next decade."
~~~~~~~~~~~~~~~~~~~~~~~~~~~~~
Arriving Mid-November
Marques de Caceres
La Rioja rides the balancing act between young and old very carefully. There are the old-guard traditionalists, who eschew any sort of stainless steel and strive for firm wines that can reach into nearly oxidative states upon release. And there are the young guns who look to showcase the incredible fruit, first and foremost, bringing modern materials and techniques into their gleaming wineries. Marques de Caceras falls somewhere in between the two poles, and this could well explain why their wines are found on thousands of wine lists around the world. The wines can indeed be structured and solid, but they are also inherently drinkable without cellaring required.
The Forner family was exiled from Spain during the revolution, finding harbor in France where they worked in wine purchasing and exporting. They eventually bought two estates in Bordeaux but returned to Spain after the death of Franco. Returning with them were the Chateau methods they learned in France, as well as tanks and new barrels. The idea was to bring immediate drinkability to the wines they were selling. Their team went out on a mission to make it known that the Marques wines were meant for drinking and enjoying. 47 years into their mission, the winery finds that they are still growing.
Marques de Caceres hasn't gone fully into the modern overripe style as some of the Spanish producers have. In fact, the overall sense is that they know their delicate balancing act has won them a special place in the market and the wine will paint with a broad brush, attracting a wider selection of fans. There have been some moves back to a slightly more traditionalist stance in the cellar, but there is still the hallmark freshness that makes the wine so enjoyable.
We are excited to be able to offer the new release of the 2012 Reserva – arriving mid-November:
Marques de Caceres Reserva, Rioja DOCa 2012 750ML ($29.95) $18.50 pre-arrival special
Case-12 Marques de Caceres Reserva, Rioja DOCa 2012 750ML ($299.95) $199 pre-arrival special (that's only $16.58/bottle!)
Wine Spectator 93 points "Black cherry, currant and floral notes are expressive and alluring, balanced by loamy earth, tobacco and mineral elements that add a savory quality. Firm, well-integrated tannins give support to the polished texture, while orange peel acidity fuels the fresh finish. Drink now through 2027."
This is the lowest listed price in the USA today!
The average price is $22
~~~~~~~~~~~~~~~~~~~~~~~~~~~~~
New Oregon Pinot Reviews – Part 2
Burghound Edition
Bergstrom
Bergstrom 'Cumberland Reserve' Pinot Noir, Yamhill-Carlton District 2015 750ML ($44.95) $39 pre-arrival special
Burghound 91 points "(Willamette Valley, a blend of five estate-farmed vineyards, 13.6%). Here there is no reduction to speak of as the pretty and well-layered nose offers up perfumed aromas of black raspberry, violet and Asian style tea. There is good richness and solid mid-palate volume to the delicious middle weight flavors that possess a relatively suave mouth feel that contrasts markedly with the firm, intense and firmly structured (though not hard or particularly austere) finale. This will need at least a few years to unwind as it's fairly tightly wound today. 91/2023+"
This is the lowest listed price in the USA today!
The average price is $42
Bergstrom Gregory Ranch Pinot Noir, Yamhill-Carlton District 2015 750ML ($69.95) $61.90 special
Burghound 92 points "This opens with a hint of reduction but it rapidly dissipates with aggressive swirling to reveal exceptionally pretty, indeed even perfumed red and dark cherry, anise, clove and once again, Asian style tea scents. The mouth feel of the middle weight flavors is notably finer if less powerful though this is not without a reasonably firm tannic spine as well that shapes the lingering and refined finale. This is less dramatic but I like the balance and the delivery. 92/2022+"
Bergstrom Shea Vineyard Pinot Noir, Yamhill-Carlton District 2015 750ML ($69.95) $59 special
Burghound 93 points "There is a whiff of menthol to the ripe blend of plum, violet, briar and dark cherry-scented nose. The sleek, intense and moderately powerful flavors also possess plenty of sappy and tannin-buffering dry extract that helps materially in maintaining the balance on the comparatively robust, persistent and driving finish. Good stuff but note well that this is very much built-to-age. 93/2025+"
Bergstrom Silice Vineyard Pinot Noir, Chehalem Mountains 2015 750ML ($79.95) $69 special
Burghound 90 points "An interesting nose combines notes of maraschino cherry with those of spice, menthol and a range of both red and darker fruit elements. The intense and solidly delineated medium-bodied flavors possess good mid-palate volume and punch while delivering sneaky good length on the slightly warm if sneaky long finale. While this is not, at least not at present, a standout in terms of its level of complexity, it could very well surprise to the upside if given a few years of cellaring. 90/2022+"
Cristom
2014 is already regarded as one of the most epic vintages in recent years.  A warm year that's produced powerful wines that are easy to drink (by virtue of their rich fruit) but have intense structure that should make these extremely long lived wines.  Cristom, in particular, made outstanding wines in 2014.  Their house style leans on high-percentages of whole-cluster fermentation and a clear Burgundian influence, so in riper years the wines seem to combine the best of both worlds and show why they're a top producer.  These are wines to win blind Burgundy tastings in 10+ years and also to enjoy today—a rare combination.  They're a core winery for us and we have plenty in stock, direct from the source"
Cristom Eileen Vineyard Pinot Noir, Eola-Amity Hills 2014 750ML ($69.95) $59 special
Burghound 93 points "A strikingly perfumed nose mixes notes of spice, Asian-style tea, rose petal and a lovely range of red berry fruit aromas. The ultra-pure and sleek middle weight flavors possess excellent delineation while exhibiting outstanding complexity and sneaky good length on the impeccably well-balanced finale. This elegant effort is positively Volnay-esque in character and it is highly recommended."
Cristom Jessie Vineyard Pinot Noir, Eola-Amity Hills 2014 750ML ($69.95) $59 special
Burghound 92 points "A pretty, expressive and relatively high-toned nose offers up layered aromas of raspberry, cherry, spice elements and a hint of rose petal. The succulent, delicious, round and seductively textured medium weight flavors that deliver excellent depth and persistence on the well-balanced finish. This is really lovely and like the Eileen could be enjoyed young or cellared to good effect."
Cristom Louise Vineyard Pinot Noir, Eola-Amity Hills 2014 750ML ($69.95) $59 special
Burghound 91 points "A mild touch of reduction does not completely overshadow the otherwise well-layered array of raspberry, cherry, briar and spice-scented nose. The supple, round and delicious flavors possess a velvety mid-palate before concluding in a lingering and solidly complex finish. This is really quite good as well and while it can't quite compete with the best in the range, it is still worth investigating. Note that if you're going to try a bottle young to be sure to allow it 15 to 20 minutes of air first."
Cristom Mt. Jefferson Cuvee Pinot Noir, Eola-Amity Hills 2014 750ML ($31.95) $24 special
Burghound 91 points "A high-toned, airy and exceptionally pretty, not to mention very pinot, nose is composed by notes of rose petal, herbal tea and discreet spice elements. The lighter weight but delicious and beautifully textured flavors seduce with the silky mouth feel, all wrapped in a lingering and solidly complex finish. This offers outstanding quality for the price and is highly recommended for value. Note that it could be enjoyed now or successfully aged for a few years if desired."
This is the lowest listed price on the West Coast today!
Need more Cristom? Click here to explore the 21 different Pinots (including rare winery-cellared releases from the '94/'98'09 and '11 vintages!) and one Syrah – that's 331 bottles – in stock now!
~~~~~~~~~~~~~~~~~~~~~~~~~~~~~
Late Breaking News!
Arriving October 20th: 
Beaux Freres Upper Terrace
Beaux Freres The Upper Terrace Pinot Noir, Ribbon Ridge 2015 750ML ($109.95) $99 pre-arrival special
Wine Spectator 95 points "A dynamic wine, with beguiling rose petal and violet aromas, accented by dark plum and blueberry notes. The flavors are focused and structured, yet supple, with espresso and smoky spice details that gain traction toward polished tannins. Drink now through 2025. 1,120 cases made."
~~~~~~~~~~~~~~~~~~~~~~~~~~~~~
Thank you for reading!