Thanksgiving is a special day packed with memories for everybody. But for us an added memory, as it denominates the birthday of our business, now 12 years old.
Below, we've curated several lists of wines to help you navigate the holidays whether you're looking for a last minute gift, food- or party-friendly wines, or cellar treasures to enjoy in the years to come!
~~~
Thanksgiving Weekend Shop Hours
Our shop is closed for Thanksgiving, Thursday, November 24th
We will reopen for our regularly scheduled hours on Friday, November 25th
10 am – 6 pm
Our website is packed with 2772 wine selections available for your browsing pleasure……
~~~~~~~~~~~~~~~~~~~~~~
Crowd Pleasing Budget Beating Party Wines
Hosting a party in the next month or two?  You're going to want a crowd-pleasing wine to suit a range of tastes.  Whether that wine is going to be the evening's refreshment all by itself or will accompany a thoughtful meal, we've highlighted a few things that we'd be proud to pour at our own shindigs.
Domaine Servin Chablis Les Pargues, Burgundy 2015 750ML ($27.95) $21.90 special, 36+ bottles available
Case-12 Domaine Servin Chablis Les Pargues, Burgundy 2015 750ML ($279.95) $239 special, 2 cases available (that's only $19.92/bottle!)
"(made from a variety of parcels near Préhy): Bright, light yellow. Pineapple, melon and menthol on the nose, accented by a minty nuance. A step up in energy and intensity from the of pineapple, melon and menthol; touch of mint. A step up in energy and intensity from the slightly diffuse Petit Chablis Sur Le Clos but still a bit minty and awkward. This dry, stony wine finishes with a lemony streak."–Stephen Tanzer
Domaine Philippe Tessier Phil'en Bulle, Loire NV 750ML ($27.95) $24 special, 27 bottles available
Importer note "Philipe's fizzy "pet-nat" is the least serious but perhaps the most fun wine in the Tessier lineup. To be enjoyed fresh and frothy. 90% Romorantin and 10% Orbois."
This is the lowest listed price in the USA today!
Buil & Gine 17-XI, Montsant 2014 750ML ($21.95) $18 special, 36+ bottles available
Case-12 Buil & Gine 17-XI, Montsant 2014 750ML ($249.95) $199 special, 8 bottles available (that's only $16.58/bottle!)
Josh Raynolds–Vinous 91 points "Brilliant ruby. Highly perfumed, evoking ripe cherry and blackcurrant that are complemented by slowly emerging aromas of cured meat, lavender and minerals. Enlivened by a spicy nuance, the silky, sweet and penetrating palate offers intense dark fruit and floral pastille flavors. Seamless and very nicely concentrated, with smooth tannins lending shape to a very long, fruit-driven finish." JR
This is the lowest listed price in the USA today!
Zorzal Eggo Tinto de Tiza, Tupungato, Argentina 2014 750ML ($39.95) $26 special, 36+ bottles available
Wine Advocate 94 points "The 2014 Eggo Tinto de Tiza is a blend from three different vineyards in Tupungato Winelands in Gualtallary. It's a blend of mostly Malbec with some Cabernet Franc and Cabernet Sauvignon. As is the case with the whole Eggo range, the wine didn't see any oak, and in this case it was matured in egg-shaped cement vats for one year. There are violets, plums, dark cherries and something earthy. This is slightly riper than the 2013. The medium-bodied palate has is fresh with a silky texture, pure flavors and a mineral-driven finish. At this price I'd buy it by the case. Super!"
Case-12 Zorzal Eggo Mixed Case ($319.95) $279 special, 4 mixed-cases available
A mixed case containing 3 bottles each of the following Zorzal wines:
Zorzal Eggo Blanc de Cal Sauvignon Blanc 2014, 92 points Wine Advocate
Zorzal Eggo Cabernet Franc 2015 (not yet rated)
Zorzal Eggo Pinot Noir 2014, 92 points Wine Advocate
Zorzal Eggo Tinto de Tiza Malbec 2014, 94 points Wine Advocate

~~~~~~~~~~~~~~~~~~~~~~
Wonderful West Coast Wines
The Pacific is the lifeblood of some of the greatest wines in the world.  We're big supporters of wines made up and down the West Coast, so we've highlighted some of our favorites that are in stock now. If you like wines from California, Washington or Oregon and you haven't tried these, you should.
Crowley Entre Nous Pinot Noir, Dundee Hills 2014 750ML ($31.95) $28 special, 24 bottles available
Winery note "What can we say about this wine? It's always great…owing to the signature combination of Pommard and Wadenswil. It's distinction this year is the multiple levels of whole cluster inclusion in each of the lots…ranging from no stem to 100% stem and everything in between! It's a fascinating result and we expect a complexity that unravels short term but especially long term. We're glad this is the 10th Anniversary edition because it demonstrates quite possibly our best Entre Nous yet. 50% La Colina Vineyard, Dundee Hills AVA,  30% Laurel Hood Vineyard, Chehalem Mountains AVA,  20% Four Winds Vineyard, Coast Range. All dry-farmed.  Aged 20 months, no new oak."
This is the only listing in the USA today!
Reynvaan Family Vineyards In The Hills Syrah, Walla Walla Valley 2014 750ML ($79.95) $69 special, 36+ bottles available
Wine Advocate 94 points "Another beauty is the 2014 Syrah In the Hills, which is this estate's take on a Cote Rotie and incorporates 5% co-fermented Viognier. Raspberries, bacon fat, violets and olive all emerge from this medium-bodied, elegant, ethereally textured beauty. It too will drink beautifully for 10-15 years."
This is the lowest listed price in the USA today!
The next best price is $84.99
Bedrock Wine Co. 'The Bedrock Heritage' Wine, Sonoma Valley 2013 750ML ($49.95) $39 special, 33 bottles available
Antonio Galloni 94+ points "The 2013 Bedrock Heritage Wine is one of the most intriguing wines in the range. Smoke, cedar, tobacco and a host of savory notes meld together in a powerful yet nuanced wines built on delineation and energy. Even with all of its intensity, the 2013 remains lifted, floral and light on its feet for such a big wine. This is by far the most polished and refined wine I have tasted from the Bedrock Vineyard, where the wines have often been much riper and bigger." AG
This is the lowest listed price in the USA today!
The average price is $48

~~~~~~~~~~~~~~~~~~~~~~
Holiday Shipping Guide
Plan Ahead Now
Toast Your Forethought Later
No UPS Shipping service on Thanksgiving Day, Thursday, November 24th
No UPS shipping services on December 24th, 25th and 26th.
No UPS shipping services on December 31st, January 1st and January 2nd.
~~~~~~~~~~~~~~~~~~~~~~
Culinary Companions
While we're always happy to recommend specific wines with specific foods, there's a lot of value in having a stockpile of a house white or red that just seems to go with everything.  We've got a great curated list of those sorts of wines here to help prevent those sorts of wine/food emergencies.
Veyder-Malberg Liebedich Gruner Veltliner, Wachau, Austria 2014 750ML ($41.95) $33 special, 12 bottles available
"Beginning this vintage, Malberg's "Loveyou"cuvée features not just pre-harvest cullings from the Hochrain and bits of Grüner Veltliner from Bruck, Schön, and Buschenberg, but also his entire harvest from Kreutles (formerly subjected to site-specific bottling), which constitutes the wine's majority share. Delicate and infectiously juicy, polished and persistent, this features apple, green bean and turnip for a fruity and intriguingly earthy showing. Palpable extract is strikingly allied (at just 11.6%) to alcoholic levity in a way you will seldom experience from any Austrian Grüner Veltliner outside of this vintage and address."–Vinous Media
This is the lowest listed price in the USA today!
Domaine de la Pepiere Muscadet Sevre-et-Maine Sur Lie, Loire 2015 750ML ($17.95) $14 special, 36+ bottles available
VinopolNote: This is the best value in white wine, year in and out.  Crisp, minerally with bright citrusy flavors and not a hint of oak in sight.  The wine stays on the lees until right before bottling, which is traditional for the region, but labor intensive (so a lot of wineries don't do it anymore).  Oysters, crab, shrimp—all kinds of seafood pairs perfectly with this guy.  Buy it, drink it, repeat.
"The 2015 Muscadet is a classic of the region! Pale in color and yeasty in its pure, fresh and lemony ripe apple flavors on the nose, this is a light and crisp, 11.2% alcohol Muscadet with a lovely purity and grip, but also a certain juiciness in the finish. Nice grapefruit flavors in the good aftertaste." –Wine Advocate
Daniel Bouland Cote de Brouilly Cuvee Melanie, Beaujolais 2014 750ML ($31.95) $24 special, 36+ bottles available
Case-12 Daniel Bouland Cote de Brouilly Cuvee Melanie, Beaujolais 2014 750ML ($319.95) $259 special, 4 cases available (that's only $21.58/bottle!)
Josh Raynolds–Vinous 93 points "Youthful violet. Intense, highly perfumed boysenberry, cherry liqueur and floral pastille aromas show excellent clarity, and a smoky mineral overtone builds in the glass. Sappy and sharply focused, offering concentrated red and blue fruit flavors that show impressive vivacity given their heft. Juicy, pure and precise, finishing with outstanding focus and persistence and silky, even tannins that add gentle grip."
This is the lowest listed price in the USA today!

~~~~~~~~~~~~~~~~~~~~~~
Bubbles!
Sparkling wine is inherently festive.  The bubbles catch light in a glass and dance across your palate. We're happy to feature a broad variety of bubbly wine here and wanted to highlight a few, from farmer-fizz to cava and everything in between.
Domaine Carneros by Taittinger Brut Cuvee, Napa Valley 2011 750ML ($29.95) $21.90 special, 36+ bottles available
Wine Spectator 89 points "Soft and delicate, this glides toward rich complexity, offering notes of fresh vanilla, creamy apple, pear and lingering spice."
Winery note "This wine was aged a full three plus years in our cellar.  A wonderful array of aromas including white flower, pear, golden apple, honeycomb and brioche create a bouquet for the nose. The palate flavors are true to the aromas and are enhanced by a texture that is creamy, full and elegantly structured. The long finish hints of the wines aging potential."
This is the lowest listed price in the USA today!
Vouette et Sorbee Cuvee Fidele Extra Brut, Champagne NV (2012) 750ML ($89.95) $59 special, 36+ bottles available
Case-6 Vouette et Sorbee Cuvee Fidele Extra Brut, Champagne NV (2012) 750ML ($479.95) $336 special, 9 half-cases available (that's only $56/bottle!)
Antonio Galloni 95 points "The NV (2012) Extra Brut Fidele is another fabulous wine from Vouette & Sorbée. Here, the richness of Pinot Noir comes through loud and clear in the wine's depth and overall richness. Creamy and beautifully layered throughout, the 2012 hits all the right notes. Red berry, mint, flowers, sweet spices and candy fill out the wine's broad frame effortlessly. What a gorgeous wine this is. Simply put, the 2012 is a total knock-out."
Staff Pick Notes: I can say with pleasure that I've had the opportunity to enjoy the past three releases of the Vouette e Sorbee Fidele ('09, '10 and '11) and jumped at the chance to try the 2012. The Fidele is made with a small amount of reserve wine held in solera and topped off with each vintage. It gives the wine a core note of lightly oxidation that shows more or less depending upon the vintage. This year, that note hit the mid-palate with a savory-salty wisp of butterscotch and preserved lemon. I particularly like the way it plays off the richness and aromatics to keep everything in balance. The 2012 is best described as a marriage of the previous releases. Here we find the heady fig, floral and orchard fruit notes of the 2009 with the solid acidity and grace of the 2011 and the spice, body, length and structure of the 2010. It's a mélange of distinct flavors, the complexity is astounding, all balanced by the unique influence of the reserve wine base. I suggest decanting the Champagne if you must break into it now (the Champagne showed even better the second night) otherwise cellar for a couple years. –Suzanne
This is the lowest listed price in the USA today!
The average price is $74
Pol Roger Cuvee Sir Winston Churchill, Champagne 2000 1.5L ($519.95) $419 special, 3 magnums available
Antonio Galloni 94 points "The first thing that is evident about the 2000 Brut Cuvee Sir Winston Churchill is its finesse and total silkiness. The 2000 is a rich, creamy and deeply expressive Winston Churchill. I don't see the 2000 being an especially long-term ager, but it is wonderfully radiant and open today. Hints of pastry, spice, apricots and succulent ripe pears blossom on the expansive, broad-shouldered finish. Anticipated maturity: 2012-2030." AG
This is the lowest listed price in the USA today!

~~~~~~~~~~~~~~~~~~~~~~
Somethings Special – Classics Corner
Old World or New World, modern styled or ultra-classic, we have your picks for long term cellaring or serious statement bottles:
Sine Qua Non Rattrapante Grenache, California 2012 750ML ($899.95) $699 special, 2 bottles available
Robert Parker 100 points "A perfect wine any way you look at it, the 2012 Grenache Rattrapante comes all from the Eleven Confessions Vineyard in the Sta. Rita Hills and spent 33 months in 27% new French oak. My notes start – and end – with "Wow." Giving up tons of black raspberries, peppery herbs, licorice, dried flowers and cured meats, it's a massively concentrated, rich and layered Grenache that somehow manages to stay graceful, lively and fresh on the palate. There are roughly 800 cases of this elixir and any Grenache lover should do their best to latch onto a bottle (or two). It's also worth noting that this cuvee saw 26% whole clusters, which is a small change from past vintages."
This is the lowest listed price in the USA today!
The next best price is $995
Ulysses Vineyard, Napa Valley 2012 750ML ($189.95) $169 special, 9 bottles available
James Suckling 97 points "Subtle aromas of crushed berries and tile. Mushrooms. Almost dusty. Full to medium body, powdery tannins and mouthfeel. Bright acidity that gives the wine beautiful and enticing freshness. Gentle and ethereal red. The first vintage of the new wine from the owners of Dominus. The vineyard is located in Oakville near Vine Hill. Drink or hold. (16-Jan-2016)."
E. Guigal Cote Rotie La Landonne, Rhone 2009 750ML ($599.95) $499 special, 6 bottles available
Robert Parker 100 points "The 2009 Cote Rotie La Landonne is a killer wine. An extravagant bouquet of black truffles, roasted meats, licorice, ground pepper, blackberries, scorched earth and camphor soars from this muscular, dense, over-the-top, serious, masculine La Landonne. Built like Arnold Schwarzenegger was two decades ago, this enormously concentrated bodybuilder of a wine should hit its prime in a decade, and last 40-50 years. This is no trivial boast as the debut vintage of La Landonne, the 1978, is just reaching full maturity at age 34." RP
Wine Spectator 99 points "This delivers a stunningly ripe, pure, polished bolt of plum confiture, along with notes of anise, mocha, blueberry coulis, Black Forest cake and espresso. The finish sports admirable grip for this ripe-styled vintage, with a grounding rod of iron buried deeply. There's fruit and muscle now, with minerality to burn while this is cellared. Best from 2015 through 2040."
Biondi Santi Tenuta Greppo Riserva, Brunello di Montalcino DOCG 2006 750ML ($699.95) Was $369, Now $319, 17 bottles available
Wine Spectator 97 points "A mix of sweet cherry, raspberry, floral, tobacco, tea and balsamic flavors mingle in this complex and layered red. The acidity and tannins are present and well-integrated as this remains elegant and harmonious on the lingering finish. There's a racy aspect, with a tobacco and mineral aftertaste. Best from 2016 through 2035."
Wine Advocate 95 points "The 2006 Brunello di Montalcino Riserva comes across as a bit reticent. It reveals lovely detail and nuance, but without the firmness of many other young vintages. Today the 2006 is quite accessible. I will be surprised if it doesn't start shutting down at some point. Regardless, the 2006 appears to be built more on finesse rather than power. Freshly cut flowers, hard candy and licorice are layered into the finish. Anticipated maturity: 2016-2046."
This is the lowest listed price in the USA today!
The next best price is $495.95
The average price is $576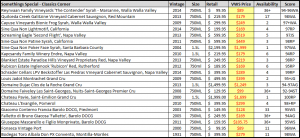 ~~~~~~~~~~~~~~~~~~~~~~
Only 30 Shopping Days Until Christmas
And we are kicking off the Season with the arrival Friday of our annual best seller for gifting:
Long Shadows Gift Box
The Perfect Gift
(For Yourself or Someone Else!)
Long Shadows Gift Box 2014
Arriving December 2nd
Case-6 Long Shadows Vintners Collection, Columbia Valley, USA 2014 750ML ($449.95) $333 pre-arrival special
Note: Contains one 750ML bottle each of Long Shadows' six acclaimed red wines, packaged together in a beautifully etched wood box:
Pirouette: A blend of Cabernet Sauvignon and Petit Verdot from the Wahluke Slope, Sagemoor's Old Vine and Red Mountain Vineyards with Merlot from the estate Benches Vineyards in Horse Heaven Hills.  Richly layered and complex, the wine is unfiltered and unfined to allow for a generous spectrum of aromas and flavors including black cherry, sweet spices and a hint of earth.  The wine's refined texture provides a seductive mouth feel and lengthy finish.
Feather: Randy Dunn selects the Cabernet Sauvignon the Feather from a diversity of sites: the estate Benches Vineyards for dark fruit and earthiness, the Wahluke Slope for structure and ripe tannins, and two of Washington State's oldest vineyards, Weinbau and Dionysus, for complexity.  The wine is concentrated and beautifully balanced; Feather might best be described as 'an iron fist in a velvet glove.'  This incredibly complex wine offers an array of fresh berry aromas, complimented by spicy, dark cherry and dried current flavors that persist on the palate.
Pedestal: Produced by one of the world's most famous winemakers, Michel Rolland.  Rolland selects the Merlot from the Conner Lee and Dionysus Vineyards as well as from the estate Benches Vineyards to produce an unusually complex Merlot.  Tapteil Vineyards Cabernet from Red Moutain gives it its strength and extra richness.  The wine shows intense, fruit-forward notes, bursting with fresh blueberries, ripe plum, cedar and spice.  Good concentration in the wine adds to its pleasing mouth feel; balanced acidity enhances its appeal.  Supple tannins are well-integrated on the entry, across the mid-palate and throughout a long, layered finish.
Sequel: John Duval, formerly the the iconic Penfolds Grange, chose the Columbia Valley as his "Sequel" for the continuation of his life's work with Syrah. He uses grapes from the Benches Vineyard for its dark flavored fruit, the Red Mountain Vineyard adds structure, and Boushey Vineyards add elegance.  A generous and concentrated wine of great character, Sequel is notable for its deep purple hue, rich aromatics and layers of flavor.  Almond, dark chocolate and cherry notes fill the glass, complemented by hints of black licorice, blackberry, cocoa powder and a touch of smoke.
Saggi: Father and son team Ambrogio and Giovanni Folonari teamed up to produce a wine that showcases Washington's terroir with plenty of Italian character.  Saggi, meaning 'wisdom,' is a blend of Cabernet Sauvignon, Sangiovese and Syrah.  The Folonaris selected Sangiovese from a 1993 planting at Boushey Vineyard which provides delicate flavors and silky tannins.  Cabernet Sauvignon from Stone Tree Vineyard and Syrah from Bacchus and Boushey Vineyards enhance the wine's refined texture.  Dark cherry aromas and raspberry flavors combine with a hint of nutmeg and smoky earthiness.  An elegant entry in the front of the mouth reveals refined tannins with focused concentration, enhanced by the wine's rich and supple mouth feel.
Chester-Kidder: Allen Shoup selected winemaker Gilles Nicault to produce his vision of a wine that says "this is how good Washington wine can be."  The back bone of this wine is Cabernet from Walla Walla and nearby Candy Mountain.  Its deepness and darkness is Syrah from the estate's Benches Vineyards in Horse Heaven Hills.  Finally, a unique complexity is produced by the Petit Verdot and Cabernet Franc from the Sagemoor farms.  Aromas of dried figs and cocoa powder, along with hints of tamarind and toasty oak are followed by intense violent and blueberry jam flavors beautifully integrated around a spicy core.
~~~~~~~~~~~~~~~~~~~~~~
Our Current
Shipping Promos:
Welcome to the club, Colorado!
Along with Oregon, Washington, Idaho, and California,
we now offer flat rate shipping to Colorado! Here's the scoop:
Single orders of any quantity of wines qualify for the flat rate;
this does not apply to orders held in storage for any reason
or multiple orders consolidated into one shipment.
The flat reach for each state is, as follows:
-to Oregon for $17,
-Washington & Idaho for $20,
-and California & Colorado for $25.
Take Advantage of the Flat Rate!
~~~~~~~~~~~~~~~~~~~~~~
Ongoing November Sales
Don't wait, our November sales expire in seven days!
These deals expire November 30th at midnight
We're up to 56 wines on sale through the month of November. Here is the complete list: