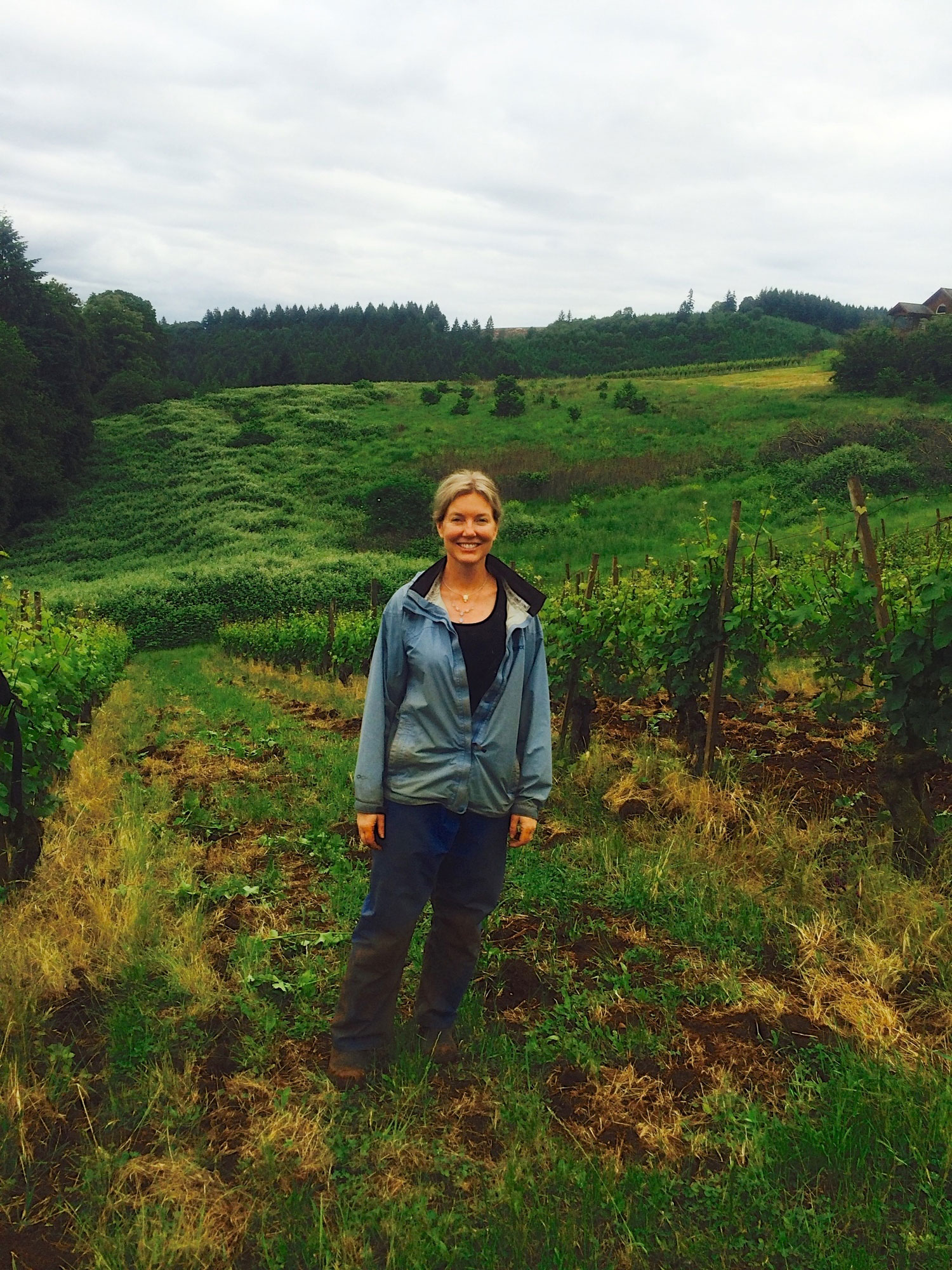 The most remarkable thing for me about 2021 was the incredible perfume and aromas of every fermenting wine, regardless of whether they were white, red, or pink. Stunning across the board. My winery was not alone in this. It seemed to happen with my colleagues, too. The wines are so delicious […] 2022 is a year that I have been the happiest about my whites to date and I love the balance and beauty of the Pinots.
-Kelley Fox

There's no greater pleasure for a wine shop than to see beloved winemakers and estates flourish with success and improve their craft vintage after vintage. As each new release of a vintner's wines hit our shelves, we have the privileged opportunity to be the curators of another memorable wine experience for our customers and the translator of that vintner's vision. Sadly, we must also watch as that success rockets many wines and many wineries into the realm of unnobtainable and cult exclusive.

We are now, you and Vinopolis, at a entirely special turning point in the wines of Kelley Fox from the Willamette Valley. What is unmistakeably clear is that Kelley has become a true mater of her craft with few peers that can match in her region and style. It's hard to see these wines getting any better, but we've been telling ourselves that for years since Kelley founded the winery in 2007. What is also clear is that the world is watching…….and they are responding. Consistently now achieving some of the highest press and reviews for Oregon pinot noir, Kelley's single vineyard bottlings are becoming highly sought after from a global market that is willing to pay a premium to drink literally some of the top pinot noir not made in Burgundy.
BUT! What we perceive in the 2021 and 2022 vintages are perhaps a final salvo in the opportunity to get in on the Kelley Fox wine craze before these bottles ascend to the heights of the rare and luxurious. We still have a number of single vineyard cuvees on offer here at Vinopolis that are yours to seize if you can recognize the moment and the opportunity. These bottlings are true masterpieces conveying the nuanced terroir of some of the Willamette's oldest and top vineyards, and the crazy delicious talent of one of the world's most impressive winemakers. They're going fast……
SEIZE THE MOMENT! HERE'S WHAT WE HAVE LEFT!Kelley Fox Durant Vineyard Chardonnay 2022 750ml $44.50 special, 5 bottles availableJeb Dunnuck
95 Points
"A bright yellow hue with green highlights, the 2022 Chardonnay Durant Vineyard is expressive in its lacy perfume of jasmine, tarragon, salty earth, and bright green apple. Medium-bodied, it offers beautiful, pristine, ripe fruit, a pithy texture, and a delicate arch to its rounded mouthfeel, with no harshness. It's refined and graceful, with a floral flourish of lemon blossoms lasting long on the finish. Drink 2024-2034."
Kelley Fox Freedom Hill Pinot Blanc 2022 750ml $36 special, 12 bottles availableWinery Notes
"The colour is a highly transparent, pale, brilliant lemon-yellow. The nose is full of subtle creamy citrus and tropical fruits with a hint of floral tones and powdery minerals and is incredibly inviting. The texture is light on its feet but has lovely heft. The mouth is much like the nose and is balanced with lovely tension and texture. This Pinot blanc is very clean on the palate, and long. I love how this turned out: the energy of ocean-fresh air and delicious fruit."
Kelley Fox Maresh Vineyard Golden-Crowned Sparrow Blocks Pinot Noir 2022 750ml $89 special, 9 bottles availableWinery Notes
"The Maresh Golden is a medium, youthful and rich blue-red with brilliant transparency. Of course, the nose is full of Hood strawberries with the cool freshness of rain and the Pacific Ocean in the spring air, along with dark red cherries and spice. This beautifully structured wine has disarming purity and weightless power."
Kelley Fox Weber Vineyard Pinot Noir 2021 750ml $89 special, 12 bottles availableJeb Dunnuck 96 Points
"The jeweled ruby 2021 Pinot Noir Weber Vineyard takes on a riper though equally pristine character, with wild raspberry liqueur, pressed roses, forest herbs, and blood orange. On the palate, it has a rounded mouthfeel with more concentration and delivers ripe tannins as well as a pure, long, earth-toned finish with beetroot spice. Drink 2025-2035."
Kelley Fox Carter Vineyard Pinot Noir 2021 750ml $89 special, 8 bottles availableJeb Dunnuck 98 Points
"From 40-year-old self-rooted vines that are organically farmed, the 2021 Pinot Noir Carter Vineyard is a ripe ruby hue and offers notes of grenadine, candied roses, and cinnamon. Its tannins are ripe and fine, and it fills the palate with ripe red fruit, apricot, and notes of crushed stone along with mouthwatering salinity. Drink 2023-2038."
Kelley Fox Canary Hill Vineyard Pinot Noir 2021 75ml $89 special, 4 bottles availableJeb Dunnuck 97 Points
"Moving over to the Eola-Amity Hills, the 2021 Pinot Noir Canary Hill Vineyard is packed with energetic tension, opening to notes of crushed stone, ripe pomegranate, and rosemary. Focused, with balanced ripeness and even-keeled acidity, it's seamless and long on the palate, with sweet tannins and a refined feel. It has fantastic energy, with delicate incense on the long finish, and will be an age-worthy wine to enjoy over the coming 10-12 years."
Kelley Fox Maresh Vineyard Liminal Pinot Noir 2021 750ml $89 special, 9 bottles availableJeb Dunnuck 95 Points
"A gorgeous perfume lifts from the glass of the 2021 Pinot Noir Maresh Vineyard Liminal revealing notes of rhubarb, rosehip, and raspberry eau di vie. Coming from vines planted in close proximity to walnut trees and pouring a vibrant ruby color with youthful hints of orange, it offers fine tannins, a linear, weightless feel, and a clean, long, perfumed finish. It is very attractive now but will have significant longevity over the coming 6-8 years."
Kelley Fox Maresh Royal Ann Block Pinot Noir 2021750ml $89 special, 3 bottles availableJeb Dunnuck 96 Points
"The 2021 Pinot Noir Maresh Vineyard Royal Ann Block takes on an exuberant, energetic lift of bright red cherry, incense, spiced orange zest, and delicate clove spice. Medium-bodied and taking on a touch more depth compared to the Liminal, it brings fine, ripe tannins and has a long finish."
All Kelley Fox Wines Available:
| | | | |
| --- | --- | --- | --- |
| KELLEY FOX WINES | VWS PRICE | AVAILABLE | LINK |
| KELLEY FOX CANARY PINOT NOIR 21 | $89.00 | 4 | Link |
| KELLEY FOX CARTER PINOT NOIR 21 | $89.00 | 8 | Link |
| KELLEY FOX DURANT CHARDONNAY 22 | $44.50 | 5 | Link |
| KELLEY FOX FH PINOT BLANC 2022 | $36.00 | 12 | Link |
| KELLEY FOX GOLD CROWN SPARROW 22 | $89.00 | 12 | Link |
| KELLEY FOX MARESH LIMINAL PN 21 | $89.00 | 9 | Link |
| KELLEY FOX NERTHUS 2022 | $24.00 | 1 | Link |
| KELLEY FOX PINOT MIRABAI 2022 | $39.00 | 7 | Link |
| KELLEY FOX ROYAL ANNE BLK PN 21 | $89.00 | 3 | Link |
| KELLEY FOX WEBER PINOT NOIR 2021 | $89.00 | 12 | Link |