Sequitur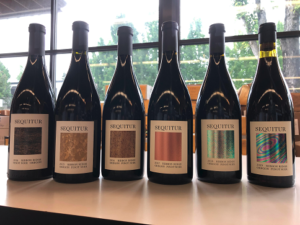 Mike Etzel, the founder and winemaker of Sequitur, is a living legend in the Willamette Valley. He co-founded Beaux Frères in the late 1980s and was the winemaker there until recently handing off the duties to his son. Never one to rest on his laurels, he began planting a vineyard adjacent to Beaux Frères in 2010—a project that became what we know as Sequitur.

It's helpful to think of Sequitur as a distillation of everything Mike Etzel learned from Beaux Frères over the decades. The Sequitur vineyard sits right next to the Beaux Frères "Upper Terrace" but is planted to a wider array of clones at tighter spacing. It's been farmed biodynamically since the beginning and is sheltered with Douglas Fir—in short, it's the fully realized vision of a man who's helped define Willamette Valley Pinot Noir.

The winemaking style is exactly what you'd expect—these are wines that are made by the same hand that delivered so many high scores to Beaux Frères. Big, powerful and bold, these nevertheless have energy and grace that we think comes from the extra-attentive farming and unique clonal selection in the vineyard. In short order, Sequitur has established itself as one of the very best producers in the Willamette Valley and deserves your attention as such. We're proud to offer a massive selection of current and winery-cellared vintages.

Sequitur wines in stock now!