Trending April Sales; New Weekend – New Arrivals; Exploring Vosne-Romanee; Staff Producer Pick: Pascal & Nicholas Reverdy – Sancerre; Mind the Mencia; May Preview: Corliss' Sister Estate Tranche & More Great Buys!; Late Breaking News: 2015 Jaboulet Releases; April Sales Recap
~~~~~~~~~~~~~~~~~~~~~~~~~~~~
Trending April Sales
$aving is so in right now
Reynvaan Family Vineyards The Unnamed Syrah, Walla Walla Valley 2014 750ML ($79.95) Was $69, Now $49, 36+ bottles available
Wine Advocate 92-94 points "Incorporating 8% Grenache Blanc and from the Rocks region of Walla Walla, the 2014 The Unnamed Syrah offers a unique profile with pretty notes of white peach (from the Grenache Blanc no doubt), dried violets, plums and bouquet garni. Medium to full-bodied, supple, layered and beautifully balanced, it should shine right out of the gate, yet also evolve gracefully."
This is the lowest listed price in the USA today!
PM Chermette Dom. Vissoux Fleurie les Garants, Beaujolais 2014 750ML ($27.95) Was $24, Now $21.90, 36+ bottles available
Josh Raynolds–Vinous 93 points "Deep ruby. Intense black raspberry, cherry and floral pastille aromas are complemented by suggestions of licorice and smoky minerals. Juicy and penetrating, offering sappy red and blue fruit flavors that effortlessly marry power to finesse. The mineral and floral notes linger impressively on the finish, which is given shape by fine-grained, sneaky tannins."
This is the lowest listed price in the USA today!
Peter Lauer Senior Fass 6 Riesling, Mosel 2015 750ML ($27.95) Was $24, Now $19, 36+ bottles available
Mosel Fine Wines 89+ points "This offers bright and delicately flowery scents of ginger, candied grapefruit peel, Provence herbs and slate. The wine is mineral and delicately fruity on the palate and leaves a clean and linear feel in the still slightly hard finish. This is best left alone for a year to give it time to integrate. 2017-2025."
This was the lowest listed price in the USA today,
Now it's even lower!
The average price is $28
See the complete list of all 51 wines on sale through the month of April at the bottom of this newsletter!
~~~~~~~~~~~~~~~~~~~~~~~~~~~~
New Weekend – New Arrivals
California
Louis M. Martini Alexander Valley Cabernet Sauvignon, California 2014 750ML ($41.95) $38 special
Robert Parker 97 points "The bigger, richer 2014 Cabernet Sauvignon Alexander Valley is 98% Cabernet Sauvignon and 2% Petite Sirah aged 16 months in 50% new French and American casks. This is a bigger wine and close to 2% higher in alcohol at 15.5%. There are 11,000 cases of this big, full-bodied, boisterous Cabernet Sauvignon that has a dense ruby/purple color, notes of underbrush, forest floor, tobacco leaf and oodles of blackcurrants and black cherries, with a touch of woodsmoke. The full-bodied wine hits the palate with a cascade of glycerin, fruit and purity. This is a beauty – dense, rich, and structured, but capable of lasting 20 or more years."
Louis M. Martini Lot No. 1 Cabernet Sauvignon, Napa Valley 2013 750ML ($299.95) $269 special
Robert Parker 100 points "A perfect wine, that seems to have gone from one strength to another since I first tasted it, the 100% Cabernet Sauvignon 2013 Cabernet Sauvignon Lot 1 is absolutely amazing wine. It was aged 21 months in 87% new French oak, finished at 15.3% alcohol and was another abundant vintage, as this lot produced 850 cases, which is even more than 2012 and slightly less than 2003 and 2014. The wine has an inky purple color, a gorgeous nose of graphite, blueberry liqueur intermixed with cassis, blackberry, espresso roast, chocolate and graphite. Dense and incredibly intense with good acidity (slightly lower pH than the 2012, reflected in the character of the wine), fabulous purity and a finish that goes on for close to 50+ seconds. This could well turn out to be the greatest wine ever made at the Louis Martini Winery and that is saying something. It has at least 30-50+ years of aging potential and is clearly a compelling effort from this historic and iconic winery in Napa."
This is the lowest listed price in the USA today!
The next best price is $295.95
France – Rhone 
Domaine Auguste Clape Cornas 2011 750ML ($149.95) $119 special
Wine Advocate 95 points "Starting with his 2011 Cornas, it's a rocking wine in the vintage that's still showing every bit as well as it did on release. Massive minerality, violets, bloody meat and sweet blackcurrant and black raspberry-like fruit all emerge here, and it's fabulously textured and silky on the palate. It will be interesting to see if this ever shuts down, but right now, it's a great drink. If you have multiple bottles, give one a try."
This is the lowest listed price in the USA today!
The average price is $128
Italy – Tuscany 
Valdicava Brunello di Montalcino DOCG, Tuscany 2010 750ML ($149.95) $89 special
James Suckling 99 points "Absolutely stunning aromas of nectarine, orange peel, sweet black cherry, plum, flower, licorice and mushroom. Full body with layers of ultra-fine tannins and hints of tangy acidity. Such beautiful length and beauty to this wine. It's powerful and structured but shows a gorgeous finesse and length. Truly wondrous. So long and refined. The texture is phenomenal. Better in 2016."
Wine Spectator 96 points "Effusive aromas of incense, green olive, sweet strawberry and cherry, licorice and leather mark this structured version. The tannins are on the beefy side, but this finishes long, with enough fruit and spice for balance. Best from 2018 through 2032."
This is the lowest listed price in the USA today!
The average price is $127
~~~~~~~~~~~~~~~~~~~~~~~~~~~~
Vosne-Romanee
Allen Meadows (the Burghound) loves the village of Vosne-Romanee so much that he decided to write a book about it.  It's called "The Pearl of the Cote" and goes into detail on the land and the wines that Meadows thinks are the finest in all of Burgundy.  We tend to agree with him–there's something special about Vosne* that's hard to define and even harder to find in other wines.
The generic descriptor is always something like "five spice," but to us the way Vosne tastes and feels is exotic in a way that is hard to put into words.  Like a beautiful song that seems to grab you when you hear it, the wines always seem just out of reach of normal descriptors.  We wanted to highlight some of our favorites, from village wines all the way to grands cru vineyards.  These are wines that we think capture the quintessence of the place and should captivate you like they've captivated us.
*One very special thing about it is the look on Burgundy enthusiasts' faces when you pronounce it phonetically.  Seriously, try it sometime, it's a great party trick. (It's also actually pronounced Vohn Romanay in the native tongue)
We have 21 wines in stock from Vosne Romanee. Browse below to see our top six picks!
Domaine Follin-Arbelet Romanee-Saint-Vivant Grand Cru 2009 750ML ($499.95) $333 special, 3 bottles available
Burghound 92-94 points "A ripe and exuberantly spicy nose also features an expansive range of fruit aromas that include red, blue and black berries plus plum nuances. The rich, seductive and mouth coating flavors are underpinned by phenolically mature tannins and excellent length where a touch of menthol surfaces. If there is a nit, it seems that this does not have the same level of energy of the best in the range but at this stage of development, this could easily change."BH
This is the lowest listed price in the USA today!
Maison Roche de Bellene Aux Malconsorts, Vosne-Romanee Premier Cru 2009 750ML ($219.95) $189 special, 7 bottles available
Burghound 91-94 points "This is presently the spiciest of the three Vosne 1ers in the range which adds plenty of background nuance and complexity to the red currant, plum and cassis aromas. The earthy and relatively powerful big-bodied flavors possess excellent intensity and copious amounts of dry extract that coats the palate on the hugely long finish. Despite the youthful expressiveness presently being displayed, this is really quite a serious effort that I suspect will shut down for a good while as it's clearly built to age."BH
This is the only listing in the USA today!
Bruno Desaunay-Bissey Les Beaux Monts Vieilles Vignes, Vosne-Romanee Premier Cru 2014 750ML ($119.95) $89 special, 6 bottles available
VinopolNote: "From 80+ year old vines, farmed sustainably.  Les Beaux-Monts is a premier cru vineyard that is just north of Richbourg and above Suchots and Echezeaux.  The Desaunay-Bissey vines are some of the oldest in the vineyard and represent an outstanding value for Vosne premier cru"
This is the only listing in the USA today!
Domaine Dugat-Py Vosne-Romanee Vieilles Vignes 2009 750ML ($249.95) $199 special, 5 bottles available
Wine Advocate 90-93 points
"The 2009 Vosne-Romanee Vieilles Vignes is a sweet, sensual wine graced with exquisite depth in its spiced dark red fruit. Mineral notes add to a sense of thrust as the wine works its way through to the intense, textured finish. Anticipated maturity: 2019-2029."WA
This is the lowest listed price on the West Coast today!
Domaine Forey Pere et Fils Vosne-Romanee 2013 750ML ($69.95) $59 special, 5 bottles available
Burghound 88 points "A pungent nose of crushed leaf, red pinot fruit and wood introduces very round and seductively textured medium weight flavors that possess a velvety character, all wrapped in a persistent and vibrant finish where the wood telegraphed by the nose reappears."
This is the lowest listed price in the USA today!
The average price is $65
Domaine de Montille Les Malconsorts Cuvee Christiane, Vosne-Romanee Premier Cru 2013 750ML ($599.95) $499 special, 3 bottles available
Neal Martin-Wine Advocate 94-96 points
"The 2013 Vosne-Romanée 1er Cru les Malconsorts "Christianne," which I asked to taste directly alongside the regular Malconsorts, has more delineation and precision, more mineralité coming through on the nose, veins of wet limestone and sea spray emerging with time. The palate is also noticeably different with greater tension and focus, a sense if coiled-up energy that is uncommon in this vintage. This surely illustrates the profound effects of terroir:
a serious 2013 that should age with style
."
Stephen Tanzer-Vinous 92-95 points
"Bright, deep red. More discreet on the nose than the "regular" Malconsorts, showing ineffable floral lift. A step up in fruit intensity and pungency, but with powerful crushed-stone minerality keeping the wine under wraps today. Conveys a very strong impression of extract and stuffing but very closed in on itself today. Brisk acidity contributes to the impression of energy. The wine's sophisticated tannins spread out horizontally to saturate the palate on the sappy, very firm finish. Great incipient complexity here but this will require serious patience."
Remoissenet Pere & Fils Vosne-Romanee 2011 750ML ($79.95) $49 special, 16 bottles available
Antonio Galloni 89 points
"Sweet tobacco, orange peel, red cherries and mint are some of the many notes that emerge from the 2011 Vosne Romanée. Lifted aromatics and a total sense of finesse are the hallmarks in this undeniably attractive, mid-weight Burgundy." AG
This is the only listing in the USA today!
Arriving This Month and Next from Vosne Romanee
Meo-Camuzet Les Chaumes, Vosne-Romanee Premier Cru 2014 750ML ($169.95) $136 pre-arrival special, ETA April
Wine Spectator 95 points "Black currant and blackberry aromas and flavors are complemented by licorice, smoke and spice in this taut red. Sports density and concentration, yet manages to stay elegant and lively on the long aftertaste. Best from 2020 through 2038. 818 cases made"Meo-Camuzet Vosne-Romanee 2014 750ML ($119.95) $99 pre-arrival special, ETA April
Neal Martin-Wine Advocate 89-91 points "The 2014 Vosne Romanée Villages comes from two parcels, one in Les Communes, the other Les Barreaux. It has a very well defined bouquet, very pure and harmonious. The palate is medium-bodied with a grainy texture, firm structure, good depth for a village cru and plenty of material on the finish. Impressive for a village cru, though it will need a year in bottle."
Burghound 89-91 points –Outstanding– "Noticeable wood frames the overtly spicy nose of dark pinot fruit, cassis and Asian-style tea nuances. There is excellent richness to the velvety medium-bodied flavors that coat the palate with dry extract on the delicious, complex and well-balanced finish. This is not an especially elegant Vosne villages but the quality is clearly excellent."
Stephen Tanzer-Vinous 89-91 points "Bright, deep red. Sexy aromas and flavors of cassis, smoke, minerals and coffee. Supple, creamy, seamless and sweet but with firm minerality giving definition and tension to the mid-palate. Finishes with suave tannins, excellent grip and perfumed length. Three-quarters of this very promising blend is from the climat Les Barreaux, located high up on the slope (this is the same lieu-dit from which Anne Gros makes her consistently superb Vosne villages, by the way. ) The vines were planted in the mid-1970s and are now maturing, noted Méo."
This is the lowest listed price in the USA today!
Domaine Arnoux-Lachaux Romanee-Saint-Vivant Grand Cru 2014 750ML ($799.95) $699 pre-arrival special, ETA April
Stephen Tanzer–Vinous 93-96 points "(100% vendange entier; 80% new oak): Deep red-ruby. Alluring aromas of black raspberry, licorice and minerals show a noble, deep vegetal nuance that reminded me of a young Romanée-Conti. The youthfully unevolved middle palate displays the depth, pliancy and freshness of the vintage at its best. Finishes extremely long and ripely tannic, with palate-saturating sweetness and mineral pungency. These 90-year-old vines were originally planted by the father of Robert Arnoux, according to Pascal, who added that the estate's vines in Suchots are even older, at 94."
This is the lowest listed price in the USA today!
The next best price is $840
Domaine Arnoux-Lachaux Les Suchots, Vosne-Romanee Premier Cru 2014 750ML ($249.95) $219 pre-arrival special, ETA April
Burghound 93-95 points "On the nose it's as though the Reignots and Suchots have switched places as this is much, much more restrained with its intensely floral red berry and spice suffused nose that merges seamlessly into impressively rich and full-bodied middle weight flavors that possess just a hint of minerality on the hugely long and palate staining finish. This lightly austere and beautifully well-balanced effort is an obvious wine of class and grace."
Stephen Tanzer–Vinous 92-95 points "(100% vendange entier; 80% new oak; from a healthy crop of 42 hectoliters per hectare):Bright red-ruby. A touch of reduction mostly dissipated to reveal classic Suchots scents of black raspberry, Oriental spices, flowers and fresh herbs, plus an intriguing note of paprika. Wonderfully silky, plush, generous wine with sneaky inner-mouth energy. The wine's sweet oak component will need a few years to harmonize with its fruits and flowers. Finishes with terrific length and substantial ripe tannins. This should ultimately make a wonderfully complete Burgundy."
This is the lowest listed price on the West Coast today!
Sylvain Cathiard Romanee-Saint-Vivant Grand Cru 2009 750ML ($2,799.95) $2,499 pre-arrival special, ETA April
Burghound 94-97 points "A dazzlingly complex, perfumed and pure nose reveals a bit of wood influence yet remains strikingly elegant with its superb scope of spicy red berry fruit aromas that are followed by ripe, seductive and beautifully intense flavors that display marvelous depth and perfect balance on the sappy and naturally sweet finish of monumental length. This is a wine of indisputable class and a model of grace and understatement that should age effortlessly for 20 to 30 years."Domaine Perrot-Minot Les Beaux Monts Vieilles Vignes, Vosne-Romanee Premier Cru 2010 750ML ($199.95) $179 pre-arrival special, ETA May
Antonio Galloni 91-93 points "The 2010 Vosne-Romanée Les Beaux Monts is deep, dark and sensual. It currently comes across as young, but there is gorgeous fleshiness and mid-palate pliancy that makes the Beaux Monts totally irresistible."
This is the lowest listed price in the USA today!
The next best price is $186.99
~~~~~~~~~~~~~~~~~~~~~~~~~~~~
Staff Producer Pick:
Pascal & Nicholas Reverdy – Sancerre
While the resurgence in Loire wines has brought attention back to a region with deep history in winemaking, there are still producers flying just below the radar. My favorite from the village of Sancerre is Pascal Reverdy. Pascal and his late brother built the winery little by little, financing the operation vintage by vintage building their reputation on the best Rouge in Sancerre. Their rose, however, made from the same pinot noir they grow for their rouge, is light and drinkable with aromas of peach and apricot, and the same peppery notes that permeate their red and white. Beautiful flavors of currants and light citrus and stone fruit braced with crackling acidity; it is probably the most stand up Sancerre rose aside from the gems from Cotat and Boulay. This is a wine to take you all the way to autumn feeling the warmth of the sun on your arms and the chill of the wine in your glass.
The other two offerings, a Sancerre blanc and a rosé are equally tasty. The Sancerre has a pleasant roundness to it, enhanced by lees aging. It has fruit that is at once juicy and snappy, as though it couldn't have been more perfectly ripe. This is balanced by the typical bolt of acidity that makes Sancerre so refreshing. Their pinot noir certainly won't be mistaken for Burgundy, and that is good; it stands out with hallmark Loire minerality, further demonstrating the ability of pinot to truly reflect terroir. Hand harvested, using only indigenous yeasts and aged in large foudre the wine is bright with sour cherry fruit and that snap of cracked pepper; delicious.
Our current selection of wines from Pascal & Nicholas Reverdy:
Pascal & Nicholas Reverdy Sancerre Les Coutes 2015 750ML ($27.95) $21.90 special, 22 bottles available
Importer note "A single hillside plot of 50 year old vines on chalky Kimmeridgian Marne (aka Terre Blanche), hand-harvested at 45 hl/ha. Fermented and aged in stainless steel tanks. Bottled unfiltered."
This is the lowest listed price on the West Coast today!
The average price is $26
Pascal & Nicholas Reverdy Terre de Maimbray Rose 2106 750ML ($24.95) $21.90 special, 36+ bottles available
Importer note "Traditional vinification with low temperature fermentation & maturation on fine lees in tank. Pale color, dry, but fruity with aromas of white currant, apricot & peach. Bottled unfiltered. 100% Pinot Noir."
This is the lowest listed price in the USA today!
Pascal & Nicholas Reverdy Terre de Maimbray Rouge 2013 750ML ($29.95) $26 special, 9 bottles available
Importer note "I think it is safe to say that Nicholas and Pascal are the two tallest individuals to inhabit (or ever to have inhabited) the tiny hamlet of Maimbray nestled in a valley surrounded by chalk hills, nearing mountains in steepness. Maimbray is a humble looking village, forming right angles with neighboring Chavignol and Verdigny. Here Pascal and Nicolas bootstrapped their operation up year by year, having begun with virtually no capital. Already in France they were regarded as one of the finest producers of Sancerre Rouge, when I met them in 1995. Tragically, Nicolas was killed in an accident in the vineyards in late November 2007, but his wife Sophie has joined Pascal and his wife, Nathalie, in the enterprise and works full-time in the vines with Pascal. The yields are very low, about 50 Hl/Ha, with excellent natural ripeness."
This is the only listing in the USA today!
~~~~~~~~~~~~~~~~~~~~~~~~~~~~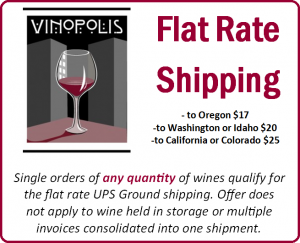 ~~~~~~~~~~~~~~~~~~~~~~~~~~~~
Mind the Mencia
While Tempranillo is the premier prestige grape of Spain and Garnacha the engine that dries its inexpensive table wines, Mencia occupies a role somewhat in between.  The wines made from the grape, which grows in Galacia (that part of northwest Spain above Portugal) as the red counterpart to Albarino.
Like Albarino, there's a good deal of stylistic variation in how the wines are made and how they taste.  Modern takes on the grape drink like very full bodied Pinot with rich, round flavors, almost no tannins and a touch of oak.  Old-school producers make snappier, funkier versions of the wines that have a delicious rusticity to them.  We're really excited about both ways to make the wines and have divided our offerings into two groups, so you can get a sense for the style of both!
Modern Mencia:
Bodegas Avancia Mencia, Valdeorras 2014 750ML ($41.95) $26 special, 36+ bottles available
Josh Raynodls–Vinous 93 points "(fermented and aged in new French oak for 14 months): Bright purple. High-pitched cherry and blue fruit scents are complemented by a suggestion of candied lavender and accented by white pepper. Silky and sweet on the palate, offering intense boysenberry and cherry-cola flavors and a repeating lavender quality. Blends richness and vivacity with a deft hand and closes subtly tannic, with excellent focus and mineral-driven persistence. These vines were reportedly planted between 1902 and 1920 at an altitude of nearly 1,500 feet."
This is the lowest listed price on the West Coast today!
Bodegas Avancia Cuvee de O Mencia, Valdeorras 2014 750ML ($19.95) $11.90 special, 36+ bottles available
Josh Raynolds–Vinous 91 points "(initially fermented in large stainless steel tanks, with malo in French oak barrels followed by six months of aging in the same casks before bottling): Deep ruby. Mineral-accented cherry, blackcurrant and licorice scents are complemented by a hint of dark chocolate. Coats the palate with vibrant dark berry and spicecake flavors complemented by candied lavender and licorice. Smoothly melds power and finesse and finishes on a youthfully tannic note, with very good persistence and repeating floral character. Offers serious bang for the buck."
This is the lowest listed price in the USA today!
Descendientes de J. Palacios Petalos, Bierzo 2014 750ML ($21.95) $16.60 special, 36 bottles available
Wine Advocate 93 points "The 2014 Pétalos del Bierzo was already up for tasting as they sell the wine quite quickly even if the volumes are not small, but the wine had only been in bottle for one week and it might have been a little closed, especially when compared with the aromatic 2013. However, the aromas, if subtle, are phenomenal, very complete and balanced, with an extra degree of complexity when compared with the 2013. The harvest was a little healthier without being easy (or dry). There is great volume in the palate, fleshy, juicy and rich without being heavy, medium-bodied, somehow similar to the 2012 even if it still needs to develop further complexity. There's always a subdued minerality, a texture and mouthfeel difficult to find in wines of this price level. This is approachable now, but it will be better in one year and should develop nicely in bottle. Drink: 2016-2022."
James Suckling 92 points "A pure mencía with wild strawberries, black pepper and underbrush. Balanced and pretty red showing subtle berry character throughout. Silky tannins. The entry-level red of the famous Bierzo estate. Drink now."Descendientes de J. Palacios Villa de Corullon, Bierzo 2013 750ML ($49.95) $41.90 special, 7 bottles available
Wine Advocate 95 points "If I was impressed with the 2012 vintage, the 2013 Corullón is otherworldy, especially for the vintage. The wine is tight and solid, a little exotic, extremely balsamic with lots of smoky notes and aromas that reminded me of a cypress, developing very classical aromas of pear and blood orange. Subtle and elegant. The palate is medium-bodied, sharp, very fresh, serious, with good concentration. Very consistent and compact, sometimes these wines from a mélange of vineyards can be extremely complete, and this is a good example. This could very well be the surprise of 2013. Drinkable and approachable, but with the stuffing and balance to live and develop for a good decade (or more). The price is very reasonable for the quality it delivers; wines of this quality are very often double the price asked here. 11,448 bottles produced, one of the shortest vintages of Corullón, where they had to sort and discard plenty of grapes."
This is the lowest listed price on the West Coast today!
Old-School Mencia:
Adega Algueira, Ribeira Sacra 2015 750ML ($19.95) $16 special, 23 bottles available
VinopolNote: Along the banks of the Sil River, once home to monasteries built by monks in the 12th century, is the Algueira winery. Built in a style in keeping with the regional history, the winery is tucked among old growth chestnut and oak trees. The view from the river is dramatic. Steeply terraced banks line the shores evoking thoughts of the Mosel. Yet much like the menu at the small attached restaurant, this is all Galacian: from indigenous grape varieties to the distinctive terroir in the glass. Despite the winery's tiny production, it has received glowing international press. The Mencia is from younger vines and is aged in 100% stainless steel.
"Adega Algueira overlooks the River Sil from its lofty perch and uses fruit from its own vineyards: Mencia, Alvarello, Merenzao, and Caino for their reds, and Godello, Loureiro, Alvarino and Treixadura for the whites. Fernando Gonzalez Riveiro oversees a splendid portfolio that epitomizes the freshness and vitality that both the white and reds can offer." –Neal Martin
Aires de Vendimia Mencia de Valtuille, Bierzo 2012 750ML ($44.95) $38 special, 15 bottles available
Wine Advocate 91+ points "I was quite impressed with the 2012 Aires de Vendimia, especially for a warm vintage. It's old-vine Mencía which fermented with 50% full clusters in an oak vat with indigenous yeasts and aged for 11 months in contact with the lees in 225- and 300-liter oak barrels. It's still a bit marked by the oak, clean, good-quality oak, with faint notes of vanilla and other spices over a core of violets, red cherries and blueberries; it is quite harmonious and aromatic but with certain restraint. The palate is medium-bodied, supple with juicy fruit, focused, with good freshness developing a licorice final note."
Guimaro Finca Meixeman, Ribeira Sacra 2014 750ML ($41.95) $36 special, 11 bottles available
John Gilman 94+ points "The Finca Meixemaìn bottling from Pedro Rodriìguez is produced from seventy-five year- old Menciìa vines, with the fruit foot-trodden and raised in old oak barrels. The 2014 vintage of this fine single vineyard wine is stunning, with great nascent complexity already in evidence on both the nose and palate. The beautiful bouquet offers up a wild and classy blend of mulberry, pomegranate, graphite, a bit of bonfire, a beautifully complex base of slate minerality, balsam bough and chicory. On the palate the wine is pure, full-bodied and tangy, with a sappy core, great soil signature, suave tannins and outstanding focus and grip and beautiful balance on the very long and nascently complex finish. This is a beautiful example of Ribeira Sacra- deep, complex and still light on its feet, with simply gorgeous complexity. It is very easy to drink already, but it is still a puppy and will be far better five to ten years down the road, as the wine has enormous potential! 2017-2050+"
This is the lowest listed price on the West Coast today!
~~~~~~~~~~~~~~~~~~~~~~~~~~~~
May Preview
Here's your insider's scoop on wines arriving next month:
Featured May Arrival: Specially Sourced for You
Sister Winery to Corliss Estates, at an Incredible Price!
"Corliss is more timeless, Tranche more cutting edge and exploratory." – from the winemakers, Michael and Lauri Corliss
Tranche Cellars Blue Mountain Vineyard Syrah, Walla Walla Valley 2010 750ML ($39.95) $21.90 pre-arrival special, ETA May 5th
Case-12 Tranche Cellars Blue Mountain Vineyard Syrah, Walla Walla Valley 2010 750ML ($419.95) $219 pre-arrival special (that's only $18.25/bottle!), ETA May 5th
Wine Advocate 93 points "A gorgeous effort, the 2010 Syrah Blue Mountain Estate Vineyard offers up ripe, full throttle aromas of smoked black fruits, hints of chocolate, toast and spice to go with a full-bodied, rich and layered profile on the palate that has no hard edges, a great mid-palate and ripe tannin that emerges on the finish. A superb value, it will dish out loads of pleasure over the coming decade. Made by the team at Corliss, these Tranche Cellars releases are not only superb, they represent excellent value as well."
This is the lowest listed price in the USA today!
The next best price is $31.20More great deals also arriving in May:
Chateau Rayas Chateauneuf-du-Pape Reserve Rouge, Rhone 2006 750ML ($419.95) $399 pre-arrival special
Josh Raynolds–Vinous 94 points "Medium red. Vibrant strawberry, raspberry, anise and floral aromas could fill a room. Juicy and sharply delineated, offering sweet red berry and cherry preserve flavors with compelling accents of licorice, sassafras, lavender and smoky minerals. Extremely elegant wine with outstanding finishing cut and persistence. Not many grand cru Burgundies could match this for finesse."Chapter 24 Vineyards 'The Last Chapter' Pinot Noir, Willamette Valley 2014 750ML ($89.95)$69 pre-arrival special, ETA May 5th
Josh Raynolds–Vinous 94 points "(66 percent new oak) Bright magenta. An intensely perfumed bouquet evokes ripe red berries, potpourri, vanilla and Asian spices, along with a smoky mineral overtone. Juicy and seamless on the palate, offering alluringly sweet raspberry liqueur, lavender pastille and spicecake flavors that deepen and spread out smoothly with aeration. Displays a suave blend of power and finesse and finishes with subtle tannic grip and superb, floral-tinged persistence."
This is the only listing in the USA today!
Luce della Vite 'Luce' Toscana IGT, Tuscany 2013 750ML ($119.95) $79 pre-arrival special, ETA May 5th
James Suckling 97 points "The beauty and polish to this are very impressive on the nose and the palate. Blackberry, blueberry and sandalwood character. Full body, ultra-fine tannins and an elegant finish. So crafted and fine."
This is the lowest listed price in the USA today!
Il Marroneto Brunello di Montalcino DOCG, Tuscany 2012 750ML ($74.95) $64 pre-arrival special, ETA mid-May
Wine Advocate 96 points "Made strictly according to the Sangiovese playbook, the Il Marroneto 2012 Brunello di Montalcino shows that exacting Sangiovese precision and personality. This is Alessandro Mori's greatest talent. He takes this workhorse grape and gives it a platform to articulate its most hidden and intricate inner feelings and sentiments. This is a bright and very tight red wine that will benefit from more years to flesh out further. All those budding aromas of wild berry, licorice, cola, and blue flower are strategically in place and ready to explode in time. The wine opens to a luminous dark ruby color and a compact mouthfeel that is spicy and fresh on the close. This is an impressive annata wine that shows the personal evolution of a man and his estate."Il Marroneto Madonna delle Grazie, Brunello di Montalcino DOCG 2012 750ML ($219.95)$189 pre-arrival special, ETA mid-May
Wine Advocate 99 points "Alessandro Mori is the Sangiovese whisperer: l'uomo che sussurrava il Sangiovese. I need to say it in Italian, too, because it sounds so beautiful. The 2012 Brunello di Montalcino Madonna Delle Grazie is a phenomenal wine that speaks so highly of the potential of the mighty Tuscan grape, Sangiovese. This wine mirrors all the greatest attributes of the 100-point 2010 edition. Most significantly, it delivers profound purity and a most authentic varietal voice that sings both the high notes and the bass-baritone. First you have the wine's dark ruby appearance that is brilliant and vibrant but beautifully concentrated. Then you have the multilayered bouquet that skillfully presents ethereal notes of wild berry and grilled herb on first nose. Those lighter tones lift gracefully to reveal substantial aromas of dark fruit, spice, tobacco and white truffle that form the wine's lasting aromatic core. The mouthfeel is feather light in texture, but don't underestimate its power or persistence. This is a true gem of Italian enology and sadly only 6,200 bottles were made."Jean-Claude Dagueneau Domaine des Berthiers Pouilly-Fume, Loire 2015 750ML ($24.95) $20.90 pre-arrival special, ETA mid-May
Case-12 Jean-Claude Dagueneau Domaine des Berthiers Pouilly-Fume, Loire 2015 750ML ($299.95) $219 pre-arrival special (that's only $18.25/bottle!), ETA mid-May
Late Breaking News
"For wine lovers who favor richness, weight and emphatic flamboyant fruit, 2015 will be a vintage to dive into, deeply… Patient wine lovers who heed what many producers and wine lovers call the "15-year rule" for northern Rhône Syrah and allow their 2015s to lose some baby fat for a decade and a half will be richly rewarded, but those hoping to find nuance and detail during the first few years after the wines hit the market may wonder what the fuss is about." –Josh Raynolds, Vinous Media
Paul Jaboulet Aine Hermitage La Chapelle, Rhone 2015 750ML ($319.95) $236 pre-arrival special, ETA October
Wine Advocate 97-100 points "A wine that might surpass the 2009 and 2010 is the 2015 Hermitage La Chapelle, which has more than a passing resemblance to the 1990. This inky black/blue-colored Hermitage offers an off-the-charts array of blackberries, blueberries, crushed rocks, wood smoke and charred meats. Thick, unctuous, full-bodied and incredibly layered, with sweet tannin, it's a tour de force that's going to have three to four decades of longevity."
Josh Raynolds–Vinous 96-98 points "(20% new oak): Dark purple. Explosive, mineral-accented scents of ripe dark berries, licorice, incense, vanilla and exotic spices, with a smoky nuance in the background. Deeply concentrated yet strikingly lively and precise on the palate, offering intense, finely detailed black and blue fruit, bitter cherry and floral pastille flavors that are complemented by hints of olive, allspice and star anise. Offers an uncanny blend of richness and finesse, with no rough edges. Shows remarkable energy and thrust on the endless finish which features supple tannins that add shape and gentle grip. This is one of the finest examples of young La Chapelle that I have ever tasted from barrel, and that includes the legendary 1989, 1990 and 1991 trio. If you love northern Rhône wines this one really shouldn't be missed."Paul Jaboulet Aine Domaine de Thalabert Crozes-Hermitage, Rhone 2015 750ML ($47.95) $36 pre-arrival special, ETA October
Wine Advocate 93-95 points "The 2015 reds from the Northern Rhône are truly spectacular and this vintage rivals or surpasses the 2010s and 2009s. Brought up in a mix of tronconique tanks and Burgundy barrels (20% being new), the 2015 Crozes Hermitage Domaine de Thalabert is a big, serious, full-bodied effort that's reminiscent of a slightly softer version of the 2010. Scorched earth, black fruits, cassis, black olive and a hint of graphite all emerge from this sensational Crozes Hermitage. You'll need to forget bottles for 4-5 years, but it will have over two decades of longevity."
Josh Raynolds–Vinous 92-94 points "(made from vines that range from 40 to 60 years old; raised for a year in oak barrels, 20 percent of them new) Youthful violet. Powerful mineral- and spice-accented blue fruit liqueur and violet aromas are complemented by suggestions of licorice and white pepper. Concentrated and expansive on the palate, offering intense blueberry, cherry and spicecake flavors and an exotic Indian spice quality that builds on the back half. Shows excellent clarity and lift on the finish, which is framed by velvety, harmonious tannins that fold smoothly into the juicy dark fruit."
~~~~~~~~~~~~~~~~~~~~~~~~~~~~
April Sales RecapThese great deals expire on May 1st – don't miss your chance!
~~~~~~~~~~~~~~~~~~~~~~~~~~~~
Thank you for reading!