Saint Cosme
Beloved by All / Best Prices All Here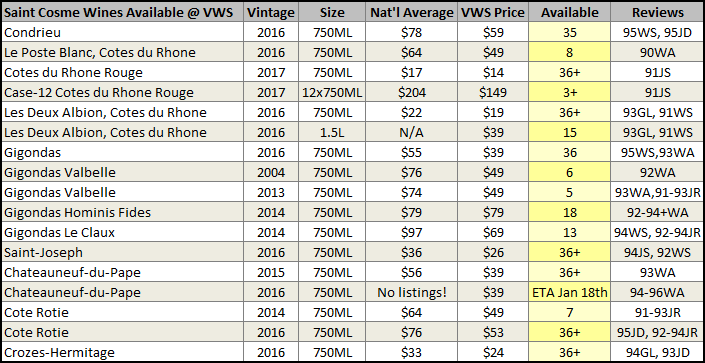 Are you a fan of historic – and we mean Greco-Roman historic – estates crafting their region's best (and best value) wines? You're a newsletter subscriber, so we know the answer is yes. Turns out, you don't have to hunt through the back roads of who-knows-where to drink who-knows-what to find such a gem. It's Saint Cosme!
Yes, St Cosme. We've mentioned them a time or two before, sure. But have you checked in with the wines lately? They are a joy to drink. And our prices are ridiculously below average, with most wines clocking in at $10 or more below the next best price out there.
But really, are they good?
There's plenty of upfront appeal, fruit, spice, charm, balance, value, hands-off winemaking, purity, points, terroir, history and cellaring-potential to tick boxes for just about any wine lover out there. And these wines do appeal to just about anyone. Ask James Molesworth at Wine Spectator, Joe Czerwinski at the Wine Advocate, Josh Raynolds at Vinous Media, Matt Walls at Decanter Magazine, Anna Iijima of the Wine Enthusiast, Jeb Dunnuck,  James Suckling, and Kerry Winslow of Grapelive – all of whom have declared the greatness of the wines in recent vintages.
So what are you waiting for? Mother Nature just gifted the Southern Rhone two glorious vintages in a row (2015 and 2016), with an equally great, yet tiny, vintage in the wings (2017). To cap it all, we've got back vintages at crazy-low prices from back before they got "discovered." Without a doubt, Saint Cosme should be on your short list. We suggest you follow Joe Czerwinski's advice and "snap up" the best and your favorites now.
"The 2016 vintage in the Southern Rhône seems comparable to 1982 in Bordeaux (also a high-cropping vintage) for the profound impact it's likely to have on the market. These are incredible wines produced in reasonable quantities that are still largely undervalued (outside a few trophy collectibles). The wines are approachable yet age-worthy… Smart consumers will snap up wines from their favorite producers and any of the microproduction cuvées as soon as they can, as the 2017s will be even more expensive and harder to find when they're released…." – Joe Czerwinski, The Wine Advocate
"For the reds, Barruol sees 2016 much as the other vignerons I have visited on this trip—with bold ripeness reminiscent of vintages like 2009 and '10, but with a level of freshness that sets it apart….The pHs are low here too. But not as obviously different from the normal as in Châteauneuf '16,' he says, comparing it to his own Gigondas…The quality and style of the vintage is very consistent all over though. The impression of freshness is in all the wines." – James Molesworth, Wine Spectator
"The reference standard for the Gigondas appellation for the better part of two decades now" –Josh Raynolds, Vinous Media
"Louis Barruol's Chateau de Saint Cosme is unquestionably one of the reference point estates in Gigondas. It's certainly going to be another outstanding wine from Barruol [and will] shine for a decade or more." –Jeb Dunnuck, JebDunnuck.com
"It really is hard to imagine a better wine under $40… it's a wine that screams Rhone and terroir from start to finish" –Kerry Winslow, Grapelive, writing on the 2016 Saint Cosme Gigondas
"Our dedication to Saint Cosme is total. We want to express at their best the extraordinary potential of the terroirs [combined] with the old vines. The ancient know-how, the organic viticulture and the understanding of the terroirs are part of our strong ideas." – From the winery
Really, what are you waiting for? Shop the complete list on our web store!
National average prices sourced from wine-searcher.com on 1/13/19