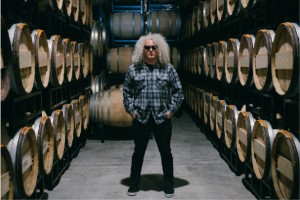 The wines of K Vintners need very little introduction, as the wines Charles Smith makes under this label are some of our most popular year in and out.  The new releases arrive next month and they're highly praised and highly allocated, as usual.  Three wines in particular stand out for their combination of scores and price and we expect the Beautiful, Hidden, and Cattle King bottlings to go the fastest, so if those wines look appealing to you, jump on them post haste.  It's likely we'll sell out of several other bottlings before they arrive, but those will go the fastest.
Shop the New K Vintners Release Here!
If you're unfamiliar with the winery, know that Charles Smith fashions himself a bit of a rock star and he ought to—he used to manage them.  Then, one day, on a motorcycle trip, he rode through Walla Walla and was struck by the majesty of the terrain and the vineyards.  Within a few years, he had returned to open a winery.
His first vintage was 1999 and he produced a mere 300 cases of Syrah under his label 'K Vintners.' And the winery has grown by leaps and bounds since.  By our count, K makes more than 15 wines, most of them single vineyard Syrah, and that doesn't count the additional projects he's involved in such as Substance and Sixto.
At this point, Charles Smith is one of the defining wine makers for what might be the modern Washington style.  His wines are big, rich, and ripe but polished. They show distinct differences between the vineyards and always have a hint of that savory, bacony quality that Syrah can bring to the table like nothing else.  The only thing we can complain about is that we can't carry them more often.
Featured K Vintners Wines Arriving In October:
"a compelling Syrah that brooks no argument"-WA
Charles Smith K Vintners The Beautiful Syrah, Walla Walla Valley 2015 750ML ($79.95) Buy Now: $59 pre-arrival special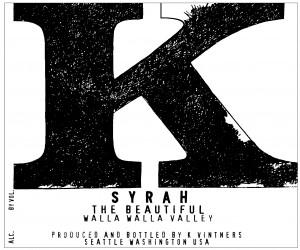 Wine Advocate 98 points "Co-fermented with 3% Viognier, the 2015 Syrah The Beautiful is fabulous, bursting from the glass with exotic aromas of violets, blackberries, panforte, black olives and lychee nuts (fanciful though that mélange sounds). On the palate, it's full-bodied, velvety and lavishly textural, cutting a broad swath across the palate, with a deep core of dark fruit and pungent savory nuance, concluding with a fine-grained, mouthwateringly sapid finish. It's a compelling Syrah that brooks no argument."
Jeb Dunnuck 97 points "Co-fermented with 4% Viognier, the 2015 Syrah The Beautiful Powerline Vineyard was fermented with plenty of stems and brought up mostly in neutral oak. Candied violets, game, blackcurrants, and incense notes all emerge from this beautiful, seamless beauty. It has a rich, full-bodied profile on the palate as well as a great mid-palate, fine tannin, and nicely integrated acidity. This is another singular, layered, silky beauty from this team. Keep in mind, this comes from very young vines, so I suspect the best is yet to come here, which is saying something at this quality level."
"a monumental wine from Washington"
Charles Smith K Vintners The Cattle King Syrah, Snipes Mountain 2015 750ML ($119.95) Buy Now: $89 pre-arrival special
Jeb Dunnuck 100 points "Another off the charts effort is the 2015 Syrah Cattle King Upland Vineyard, which is also saturated purple/black in color. Possessing a more backward, yet insanely pure bouquet of crème de cassis, black fruits, smoked earth, graphite, and violets, it's beautifully concentrated, has no hard edges, thrilling purity, and a gorgeous, layered, awesome, multi-dimensional style. It needs short-term cellaring but is a monumental wine from Washington."
"It's unquestionably one of the greatest Syrah from this team"
Charles Smith K Vintners The Hidden Syrah, Wahluke Slope 2015 750ML ($119.95) Buy Now: $89 pre-arrival special
Jeb Dunnuck 100 points "One of the inkier, blacker colored wines in the lineup, the 2015 Syrah The Hidden is a profound Syrah and as good as it gets. Blackcurrants, smoked meats, graphite, and tapenade notes all emerge from this seriously badass, deep, rich, balanced beauty. Concentrated, thick, and huge, yet with no weight on the palate, building tannin, and incredible elegance, it needs to be tasted to be believed. It's unquestionably one of the greatest Syrah from this team."
Wine Advocate 96+ points "Inky and wild, the 2015 Syrah The Hidden Northridge Vineyard offers up a savory bouquet of grilled meat, licorice, blackberries, cherries and cracked black pepper. On the palate, it's full-bodied, ample and rich, with an authoritatively chewy chassis of fine-grained tannins and bright, succulent acids. There's a lot of fruit and power here but plenty of savory nuance to match it. This is even more massive than the Syrah Cattle King, but it's more nuanced too. Given the structure, it will need some time in the cellar, so forget it for 4 or 5 years and follow it for the next 15."
K Vintners Wines Arriving In October:
The Chateauneuf styled blend from K Vintners
Charles Smith K Vintners Charlotte Red Blend, Walla Walla Valley 2015 750ML ($59.95) Buy Now: $49 pre-arrival special
Jeb Dunnuck 95 points "The 2015 Charlotte Rhône Blend Rock Garden Vineyard checks in as a co-fermented blend of 43% Grenache, 24% Mourvèdre, 20% Syrah, and 13% Roussanne vinified in concrete aged in neutral puncheons and demi-muids. Its saturated ruby/plum color is followed by a rocking bouquet of smoked meats, dried herbs, spice-box and blackcurrant fruit. It's medium to full-bodied, seamless, and silky on the palate, yet has savory tannin that's going to keep it drinking beautifully for a decade."
The Deal, indeed.
Charles Smith K Vintners The Deal Sundance Vineyard Syrah, Columbia Valley 2015 750ML ($49.95) Buy Now: $39 pre-arrival special
Jeb Dunnuck 95 points "All from the Sundance Vineyard on the Wahluke Slope, the 2015 Syrah The Deal (100% Syrah, not destemmed and aged in 30% new puncheons) offers smoking notes of red and black fruits, black olive, smoked earth and a huge meatiness. Full-bodied, silky and seamless, with a rock, mineral, backward style."
"With incredible purity, notable structure, and a lifted, perfumed style, it's flat-out gorgeous"
Charles Smith K Vintners Klein Syrah, Walla Walla Valley 2015 750ML ($89.95) Buy Now: $79 pre-arrival special
Jeb Dunnuck 98 points "Almost always one of my favorite releases at this address, the 2015 Syrah Klein Vineyard is up with the crème de la crème in the vintage. Plums, candied cherries, violets, lavender, chocolate, and tons of dusty, earthy minerality all emerge from this exotic, singular, full-bodied, effort that has building tannin and a vibrant, rich, textured style. With incredible purity, notable structure, and a lifted, perfumed style, it's flat-out gorgeous."
The overlooked wine in the portfolio—this is great.
Charles Smith K Vintners 'Ovide' Jack's Vineyard Cabernet – Syrah, Walla Walla Valley 2015 750ML ($59.95) Buy Now: $49 pre-arrival special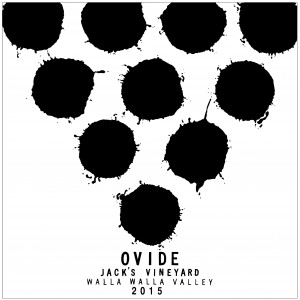 Jeb Dunnuck 95 points "The 2015 Cabernet / Syrah Ovide Jack's Vineyard is named after Charles' father and comes from a site next to River Rock, both in the Rocks region of the Walla Walla Valley. A blend of 70/30 Cabernet Sauvignon and Syrah, its deep ruby color is followed by a terrific bouquet of blackcurrants, tapenade, dried earth and dried herbs. It's rich, full-bodied, and concentrated, with beautiful depth."
The return of the high scoring favorite.
Charles Smith K Vintners Powerline Estate Syrah, Walla Walla Valley 2015 750ML ($59.95) Buy Now: $49 pre-arrival special
Jeb Dunnuck 98 points "Made from 100% Syrah, the 2015 Syrah Powerline Vineyard is much more backward, brooding, and mineral-laced, with sensational notes of blackcurrants, cassis, crushed rock, and tapenade. A true powerhouse on the palate, with terrific concentration, building tannin, and a great, great finish, it's a singular, incredible wine that does everything right. Give bottles 2-3 years and enjoy over the following decade."
"An elegant, pretty, pure expression of the Rocks Terroir"-JD
Substance 'Cs' Vineyard Collection Jack's Cabernet Sauvignon, Columbia Valley 2015 750ML ($59.95) Buy Now: $44 pre-arrival special
Wine Advocate 94 points "The 2015 Cabernet Sauvignon Jack's Vineyard offers up rich aromas of red and blackcurrants, espresso roast, burning embers and brown sugar. On the palate, it's full-bodied, rich and lavish, with an ample core of fruit, melting tannins, loads of savory complexity and a sapid, saline finish. It's a characterful Cabernet Sauvignon to follow for the coming decade."
Jeb Dunnuck 94 points "Kirsch, caramelized red and black currants, spice, and cedar pencil notes all emerge from the 2015 Cabernet Sauvignon Jack's Vineyard. An elegant, pretty, pure expression of the Rocks Terroir, as well as Cabernet Sauvignon, it's going to keep for a decade at least."
"complex, elegant, singular Cabernet"-JD
Substance 'Cs' Vineyard Collection Powerline Cabernet Sauvignon, Walla Walla Valley 2015 750ML ($59.95) Buy Now: $44 pre-arrival special
Wine Advocate 95 points "Wafting from the glass with notes of rich red and black fruits, cigar tobacco, petroleum jelly and spice, the 2015 Cabernet Sauvignon Powerline Vineyard is the richest, most lavish and velvety bottling in the Wines of Substance portfolio, cutting a broad swath across the palate. Full-bodied, ample and generous, it boasts plenty of savory complexity and concludes with a dry, saline finish. Dramatic and characterful, it's immensely appealing. Sadly, at 239 cases, it's the smallest of all these cuvées too."
Jeb Dunnuck 94 points "Coming from mostly 169 and 2 clones of Cabernet Sauvignon, the 2015 Cabernet Sauvignon Powerline Vineyard offers a deep ruby color as well as complex notes of ripe black cherries, currants, leafy herbs, and tapenade. It's rich, full-bodied, silky, and seamless, with fine, polished tannin and a great finish. Drink this complex, elegant, singular Cabernet over the coming decade or more."
Substance 'Cs' Vineyard Collection Stoneridge Cabernet Sauvignon, Columbia Valley 2015 750ML ($59.95) Buy Now: $44 pre-arrival special
Jeb Dunnuck 94 points "The 2015 Cabernet Sauvignon Stoneridge Vineyard sports a medium ruby, mostly opaque color to go with classic graphite, dried earth, tobacco leaf and currant fruit. It's full-bodied, silky, pure and polished, with a hint of chocolate and oak on the finish. With a seamless texture, fine tannin and a great, great texture, drink it over the coming 10-15 years."