Staff Pick Highlight: The Fleurie of Alain Coudert; Cheval Blanc Goes South: Subscriber-Only Special Pricing – Your Price Down To $55 or $50 Per Bottle; New Week – New Arrivals; New Jura Arrivals from Ganevat; Thanksgiving Day Sales Feature: Agathe Bursin; Enchanted by Champagne Henriot; Also Arriving Wednesday: A Bounty of Bordeaux; Krug #164 – #1 in Our Hearts; Pierre Peters Cuvee de Reserve; Top Piedmont Picks Arriving Late November; "Mind-Blowing" Sangiovese Arriving Early December
~~~~~~~~~~~~~~~~~~~~~
Staff Pick Highlight:
The Fleurie of Alain Coudert
Saul:
The Clos de la Roillette is a remarkable place to grow Gamay—technically in Fleurie, but on the border with Moulin-a-Vent.  The trees that demark the far end of the estate are basically the boundary and, as Mr. Coudert is quick to tell you, for years and years the Roillette wines didn't carry an appellation (as they were associated with Moulin-a-Vent before the creation of the Fleurie AOC which irked the original owner).  The wines seem to be a cross between the two, as you might expect, with depth and power, but the floral lightness of Fleurie riding across and giving the wines a vibrancy that makes them aggressively delicious.
I was originally going to write on one of the wines that we have in from Roilette, but I love them all and apparently can't pick just one, so I'm going to run down all of them, starting with the "basic" Fleurie, which isn't basic at all.  It's a perfect embodiment of the estate, and if you plan on drinking your Beaujolais younger than 5 years old, is the one you should be buying out of the lineup.
The somewhat confusingly named "Cuvee Tardive" is from older vines and is meant to be aged longer—this is a wine I buy for people to celebrate their weddings, or kids, or any year that's important to them.  It's not going to go 30 years like a classic Burgundy, but for drinking from 5-20 years from vintage, it's stellar, resembling Pinot more and more as it ages.  We also have magnums of it in right now and those will age as long as you'd like.
Finally, we have the "Griffe du Marquis," a wine honoring Alain's father.  The Griffe is the most powerful wine out of the lineup, structured like the Tardive but with more fruit richness.  This is a relatively new bottling and it should age well; it's explosive out of the gate.  It's the Roilette equivalent of the Lapierre "Cuvee Marcel" or Foillard's "3.14."
Coudert Pere 'Clos de la Roilette' Fleurie, Beaujolais 2016 750ML ($24.95) $20.90 special, 28 bottles in stock now
Importer note "The Clos de la Roilette, in the village of Fleurie, covers nine hectares of one of the best slopes in the Beaujolais Crus. The clos has an eastern exposure, borders the Moulin-à-Vent appellation, and produces wines that are beautiful when young and have the capacity to age 5-10 years, depending on the vintage. By the mid-1960s, the owner's heirs had lost interest in the clos and a large portion of the land had gone wild and untended. In 1967, Fernand Coudert bought this poorly maintained estate, and replanted the vineyards. His son Alain joined him in 1984, and has been the winemaker since.  The Couderts say their particular terroir (mainly clay and manganese), and the age of their vines (25 to 33 years-old) account for the richness of their wine. It has a deep blackcurrant color with a hint of purple, a restrained nose of crème de cassis, a rich, full mouth with aromas of cassis, black cherries, and a nutty character, and finishes with zesty acidity. This is a wine that ages gracefully and takes on the aromatic character of a Pinot Noir."
Coudert Pere 'Clos de la Roilette' Fleurie Cuvee Tardive, Beaujolais 2016 750ML ($34.95) $29 special, 16 bottles in stock now
Coudert Pere 'Clos de la Roilette' Fleurie Cuvee Tardive, Beaujolais 2016 1.5L ($69.95) $59 special, 6 magnums in stock now
Importer note "A few vintages ago, [the Coudert family] started a selection of old vines cuvée that is partially aged in older oak barrels. They call this Cuvée Tardive, meaning that it needs more aging time and has even greater longevity than the Clos cuvée."
Coudert Pere 'Clos de la Roilette' Fleurie Griffe du Marquis, Beaujolais 2015 750ML ($37.95) $33 special, 21 bottles in stock now
Importer note "Griffe du Marquis comes from the same two parcels of eighty-plus-year-old vines that go into Roilette's Tardive wines. It is aged in old Burgundy barrels and structured to develop with age. From Alain Coudert: 'The name comes from my parents' surname in the village, which was Marquis. It's definitely not from past lineage, so don't think we're royalists! I think it started with a good family friend who used to come over to drink a glass with my dad every day. He'd see my mom on the balcony and salute her, then tell people he'd seen the Marquise when he'd get back to the village. It stuck!'"
This is the lowest listed price in the USA today!
~~~~~~~~~~~~~~~~~~~~~
Cheval Blanc Goes South
Subscriber-Only Special Ends Monday at Midnight!
Your Price on 3-5 btls = $55/btl
Your Price on 6+ btls = $50/btl
The Marvelous Cheval des Andes
At the Best (And Even Better) Prices in the Country
Cheval Blanc is a hallowed name in the world of wine—one of those bucket list estates that wine dreams are made of.  Their Argentine project, Cheval des Andes, has the same ambition, but working with a very different (higher altitude) terroir.  The wine is made by Nicolas Audebert, a former winemaker at Krug and Veuve Cliquot, and seems to exude both the exoticism of the best wines made from Argentina with more than a touch of Bordelaise class and structure.  It's a blend of Malbec (a grape with a Right Bank pedigree) and Cabernet, built to age but with the rich fruit we expect of a classic wine from the Southern Hemisphere.
What's more, we've got two vintages coming in at outrageously low prices—plus an extra discount for newsletter subscribers.  These wines arrive on Tuesday and the only complaint we have is that we can't get any more!
Arriving Tomorrow, October 31st:
Terrazas de Los Andes 'Cheval des Andes', Mendoza 2009 750ML ($89.95) Displayed Price: $59 pre-arrival special
Stephen Tanzer–Vinous 94 points "(60% malbec and 40% cabernet sauvignon; this wine is a joint venture between Cheval Blanc and Terrazas de los Andes): Bright, saturated medium ruby. Black fruits, tobacco, licorice, wild herbs and an intriguing balsamic note on the nose; as much Bordeaux Right Bank as Argentina in style. Plush, concentrated and sweet; full without any heaviness. Utterly seamless flavors of dark berries, herbs, flowers and earth, plus hints of dried fruits. Really urgent, dense fruit here, with terrific definition and energy. Finishes with noble tannins and outstanding rising length. A fully ripe, outstanding vintage for this consistently excellent bottling."
This is the lowest listed price in the USA today!
The next best price is $69.96
The average price is $84
Terrazas de Los Andes 'Cheval des Andes', Mendoza 2012 750ML ($89.95) Displayed Price: $59 pre-arrival special
James Suckling 97 points "Fabulous aromas of blackberry, spice and flower. Perfumed. Lavender, rose and lilac too. A wine that grows on the palate with extreme finesse and complexity that shows ultra-fine tannins, currants, and flowers. Super length. Mostly mablec with cabernet sauvignon and petit verdot. Best Cheval des Andes ever? Drink or hold."
Wine Advocate 94 points "2012 was a warmer vintage but they harvested earlier to preserve freshness. The 2012 Cheval des Andes has more floral notes (that they attribute to the early picking) violets and lilies. While the blackberries and blackcurrants are there, they do not overpower the nose. In this vintage the final blend (which changes every year, they have no rules) was 64% Malbec, 28% Cabernet Sauvignon (a higher percentage to provide freshness in this warmer vintage) and then 8% Petit Verdot. This is a hedonistic Cheval showing the character of the vintage but with better balance and more integrated oak than in the earlier releases. They reduced the percentage of new oak to 30% and also started experimenting with some 500-liter barrels that were widely used in 2014, and the aging was longer at 14 months. The palate is powerful, and to drink at around 15 C. It gets more depth and nuanced with time in the glass. Even if young, this is polished and can be drunk starting now."
This is the lowest listed price in the USA today!
The average price is $88
Subscriber-Only Special:
Buy 3-5 bottles of any Cheval des Andes wine, your price is $55/bottle (save $4/bottle)!
Buy 6+ bottles of any Cheval des Andes wine, your price is $50/bottle (save $9/bottle)!
Subscriber-Only Special will not appear online
We will adjust your invoice before charging
Special Ends Monday at Midnight!
~~~~~~~~~~~~~~~~~~~~~
New Week – New Arrivals
Oregon
Staff Pick!
Goodfellow Family Cellars Fir Crest Vineyard Pinot Noir, Yamhill-Carlton AVA 2015 750ML ($49.95) $39 special
Suzanne: The Fir Crest vineyard was planted in 1985 on marine sediment soil at an elevation of 400 feet in the coastal foothills. The vines are own-rooted Wadenswil clone. The 2015 release is aged for 20 months in French oak, 25% of which is new. The nose is subdued at first but opens with air to a cascade of aromas: floral, pine, crushed raspberries, exotic spices, fresh bay and lemon zest. The overall feel is round and silky with lingering tannins that seem to build on the very lengthy finish.
This is the lowest listed price in the USA today!
Cristom Mt. Jefferson Cuvee Pinot Noir, Eola-Amity Hills 2015 750ML ($31.95) $24 special
Wine Advocate 90 points "Pale to medium ruby-purple in color, the 2015 Mt Jefferson Cuvee Pinot Noir has vibrant red cherry and black raspberry notes with suggestions of baking spices, fertile soil and violets. Medium-bodied with a good core of rich, ripe red berry flavors and a solid backbone of grainy tannins, it finishes with a refreshing lift."
This is the lowest listed price in the USA today!
California
Mount Peak Winery Sentinel Cabernet Sauvignon, Napa County 2014 750ML ($69.95) $59 special
Robert Parker 92+ points "Lastly, 4,750 cases were made of the 2014 Cabernet Sauvignon Sentinel, 83% from the Monte Rosso Vineyard in Sonoma and the rest from other Sonoma sources. It is a blend of 97% Cabernet Sauvignon and 3% Petite Sirah aged in 53% new French oak. Again, ripeness is well-noted in the 15.7% alcohol, but there is not a bit of heat to the wine's overall character. A wine of considerable stature, gravitas, intensity and full-bodied power, it is muscular, backward and somewhat primordial, this wine needs a good 1-2 more years bottle age and should last for 25-30 years. Patience, please."
This is the lowest listed price on the West Coast!
Spain – Rioja
Bodegas Exopto Horizonte de Exopto Tinto, Rioja DOCa 2015 750ML ($24.95) $19 special
James Suckling 93 points "Sweet black fruit and fine vanilla from the oak. Surprisingly plush for this category in spite of the serious tannins. Long and quite polished finish. Drinking well now."
~~~~~~~~~~~~~~~~~~~~~
New Jura Arrivals
Ganevat
Since 1650, Jean-Francois Ganevat's family has grown wine grapes and produced wine in the hamlet of La Combe in the Jura.   His vineyard and winery practices are exacting and biodynamic.  From his small 21 acres of land, he produces up to forty different wines in tiny quantities each year.  Some of these varieties are ancient native varieties inter-planted in his vineyards yet not allowed under the AOC, such as Petit Béclan, Portugais Bleu, Enfariné, Argant, Poulsard Blanc.  In recent years, poor growing conditions have moved him to source grapes from friends around the Jura and even outside of the region. These wines, labeled A & JF Ganevat below, are held to the same exacting standards and no less a true expression of his unique style.
See the new arrivals below or visit our web store to order!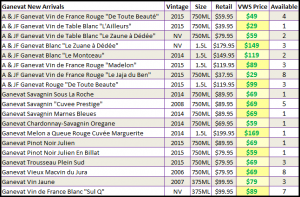 ~~~~~~~~~~~~~~~~~~~~~
Thanksgiving Day Sales Feature:
Agathe Bursin
Alsatian wines are a classic pairing with Thanksgiving Day foods and offer excellent flexibility at the table. Check out our exclusive special highlights from our favorite producer: Agathe Bursin
Agathe Bursin Sylvaner Eminence Zinnkoepfle, Alsace Grand Cru 2013 750ML ($31.95) $28 special, 18 bottles in stock now
Ian D'Agata–Vinous 92 points "Gold-tinged straw. Delicate aromas of peach, apricot and poached apple. Rich and dense on the palate, with lively acidity lifting the sweet flavors of orchard and tropical fruits. Finishes very long, with impeccable balance. These Sylvaner vines grow in the grand cru Zinnkoepflé, the soils of which are marked by calcaires à entroques. Planted in 1930 with a southeast exposure, these vines give the description vieilles vignes real meaning, but Bursin doesn't care to use this wording on the label since she believes the term has been reduced to mainly marketing purposes. "In France, vieille vigne wines are made with vines ranging anywhere from as little as 20 years to as much as 100 years of age, so what's the point?" she asks."
This is the only listing in the USA today!
Agathe Bursin Pinot Gris Dirstelberg, Alsace 2016 750ML ($27.95) $24 special, 35 bottles in stock now
VinopolNote: The Disrstelberg vineyard is mostly composed of pink sandstone and is known as a high quality vineyard for a variety of grapes.  The wines from the site tend to be linear and crisp, with good varietal character.  Unlike many Alsatian producers, Bursin errs on the side of delicacy and raciness rather than pick too late and allow the wines to become rich and flabby for the sake of "power."
This is the only listing in the USA today!
Agathe Bursin Gewurztraminer Zinnkoepfle, Alsace Grand Cru 2016 750ML ($44.95) $36 special, 22 bottles in stock now
Agathe Bursin Gewurztraminer Zinnkoepfle Vendanges Tardives, Alsace Grand Cru 2015 750ML ($69.95) $59 special, 22 bottles in stock now
Agathe Bursin Gewurztraminer Zinnkoepfle Selection de Grains Nobles, Alsace Grand Cru 2015 750ML ($89.95) $79 special, 11 bottles in stock now
VinopolNote: The Zinnkoepflé vineyard has been recognized as a top site since the beginning of vine cultivation in Alsace.  The road in leading to the vineyard is known as "The Street of Gold" so famed were the wines.  The shelly-limestone soils provide for great acidity, so wines from here are always both rich and racy—a rare and impressive combination.
These are the only listings in the USA today!
See our complete list of Thanksgiving Day Sale Wines below:
~~~~~~~~~~~~~~~~~~~~~
Arriving Wednesday
Enchanted by Henriot
A Magical Library Vintage
For One of Champagne's Top Wines
Champagne Henriot has a rich tradition and lineage having been owned and managed by the same family since its inception in 1808. The wines are always built from the best crus with the house style focusing on the Chardonnay for its combination of elegance, complexity and pure expression of the vineyards. The most notable exception to their house preference is in the Cuvee des Enchanteleurs. This cuvee, made in only the best vintages is traditionally 50/50 Chardonnay and Pinot Noir coming from the family's favorite holdings in the 6 best Grands Crus: Mesnil-sur-Oger, Verzy, Verzenay on Montagne de Reims, Mailly Champagne, Avize, and Chouilly.
It is like a tightly woven basket, where distinct flavors and aromas seem inseparable at first. It takes time to start to pick apart the individual strands. Initially, the wine is so pleasurable, you might not need to analyze it any further. The first whiff is both crunchy with salinity and warm with biscuity notes, followed promptly by fruits of citrus, melon and pear. The mousse at this point is delightful and creamy across the palate and the finish of light red berries and stone fruit is tremendously enjoyable and lengthy.
The Enchanteleurs is aging wonderfully, but drinking majestically right now. The magnums we have in stock seem destined for cellars, but if you're celebrating a nice achievement this year, this is a glass of pure pleasure to share with friends or family.
Arriving Wednesday, November 1st
Henriot Cuvee des Enchanteleurs Brut, Champagne 1996 1.5L ($449.95) $399 pre-arrival special
Wine Spectator 97 points "Tight-grained, with an immediate impression of the sea before forest floor and citrus notes take over. This is bright and fresh, with plenty of spice, toast and candied berry flavors, backed by a firm structure. The finish just keeps going. Best from 2012 through 2040."
Also Arriving Wednesday
A Bounty o' Bordeaux
Le Clementin du Chateau Pape Clement, Pessac-Leognan 2015 750ML ($49.95) $39 pre-arrival special
James Suckling 92-93 points "A firm and silky second wine with blueberry and blackberry aromas and flavors…Full body, bright and fresh. Fine tannins."
Chateau Meyney, Saint-Estephe 2014 750ML ($39.95) $33 pre-arrival special
Antonio Galloni 92 points "Super-ripe dark cherry, plum, smoke, chocolate, licorice and tobacco are some of the signatures in the 2014 Meyney. This is one of the more overt, flamboyant 2014s readers will come across. Although certainly not a shy wine, it is loaded with personality. The late harvest and the generally intense style favored by consulting winemaker Hubert de Boüard are very much in evidence. Tasted two times."
James Suckling 92 points "This is one of the most immediately appealing 2014s from the appellation thanks to its very ripe black fruits, and there's still a lot of structure behind it. Reminds me of some of Meyney's top vintages of the 1960s."
Chateau Lanessan, Haut-Medoc 2010 750ML ($29.95) $26 pre-arrival special
Case-12 Chateau Lanessan, Haut-Medoc 2010 750ML ($359.95) $279 pre-arrival special (that's only $23.25/bottle!)
James Suckling 92 points "Aromas of currants, plums, and minerals follow through full body, with chewy tannins and a chewy finish. Needs time to soften. Serious depth to this wine. Better in 2015."
This is the lowest listed price on the West Coast today!
Chateau Calon-Segur, Saint-Estephe 2013 750ML ($119.95) $99 pre-arrival special
Wine Enthusiast 96 points "This is an impressive wine that transcends the problems of the vintage. It has rich fruit that is sustained by the tannic structure that rests on a bed of fresh blackberry fruits cut with fresh acidity. The wine will certainly age well. Don't think about drinking it before 2024."
This is the lowest listed price on the West Coast today!
Chateau Coutet, Barsac 2003 750ML ($59.95) $39 pre-arrival special
Wine Spectator 95 points "Honey, apple tart and lemon rind. Full-bodied, medium-sweet and very spicy with intense flavors of mace, apple and honey. Long finish. Thick and powerful. Best after 2010."
This is the lowest listed price on the West Coast today!
~~~~~~~~~~~~~~~~~~~~~
Arriving November 9th
Krug #164
#1 in Our Hearts
"Readers will find much to admire in these new releases from Krug. Specifically, the Grande Cuvee 164eme Edition is off the charts. Chef de Caves Eric Lebel and his team deserve all the recognition they will surely receive for this superb Champagne. Krug's decision to give consumers technical information on their wines, most notably the multi-vintage Grande Cuvee, is one of the very best decisions this historic house has ever made." –Antonio Galloni
Krug Grande Cuvee 164eme Edition Brut, Champagne NV 750ML ($199.95) $159 pre-arrival special
Antonio Galloni 97 points "Krug's NV Grand Cuvée 164 Edition is a total knockout. Based on the 2008 vintage, the 164th Edition shows all the crystalline tension and energy that is such a signature of the year. At times, the 164 reminds me of the 2008 vins clairs I tasted after harvest. The flavors are brisk, delineated and pulsing with energy, while the more oxidative notes that are such a signature of Krug Champagnes are not especially evident. A wine of total pedigree and class, the 164 reminds me of some of the great Grand Cuvées of the 1960s and 1970s I have been lucky to taste over the years. No Champagne lover will want to be without this spectacular, captivating wine. All that said, readers should be patient, as the 164 is painfully young, austere and in need of serious cellaring."
Also Arriving November 9th:
Dom Perignon Brut, Champagne 2009 750ML ($179.95) $159 pre-arrival special
James Suckling 97 points "This is a DP that shows the ripeness of the 2009 vintage yet remains full of energy. Gorgeous aromas of cream, apple, mango, honeysuckle, and chalk follow through to a full body and super fine, tight texture. Dense and agile. Vinous. It's like a top grand cru white Burgundy. Think Batard-Montrachet. More depth than the 2006. Drink now."
Decanter 96 points "Unbroken sun through August and early September helped to shape an idyllic harvest, on 12th September. Superb maturity of fruit in flawless health has produced a wine with wafting scents of both fresh and confit of spiced lemon and wild cherry. Despite the heat, the wine has freshness, vitality and length. Still a youngster, this will grow greatly by 2019. A more stylish son of the '03, and cousin of the slender and charming '06. Disgorged June 2016."
Antonio Galloni 94+ points "The 2009 Dom Pérignon is a gorgeous, totally seductive Champagne that will drink well right out of the gate. Medium in body and unusually open-knit at this stage, the 2009 is one of the most accessible young Dom Pérignons I can remember tasting. It is an excellent choice to drink while waiting for the release of the stellar 2008 and some recent vintages that remain very young, including the 2006. Despite the warm, ripe personality of the 2009 Dom Pérignon is quite gracious, but there is plenty of depth underpinning the fruit. With each successive tasting, the 2009 seems to have gained more power and breadth, especially on the finish. Above all else, the 2009 is decidedly restrained for a warm, radiant vintage. It is not as overtly flamboyant as the 2002 nor as phenolically intense as years like 2003 and 2006. Instead, the 2009 is a beautifully balanced Champagne, with all of its elements in the right place. Tasted three times."
This is the lowest listed price on the West Coast today!
In Stock Now from Krug:
Krug Grande Cuvee 163eme Edition Brut, Champagne NV 750ML ($199.95) $159 special, 9 bottles in stock now
Antonio Galloni 95 points "The NV Grand Cuvée 163 Edition is wonderfully open-knit and giving, qualities that make it a terrific choice for drinking now and over the next 30 or so years. Pastry, apricot, lemon confit, chamomile and white flowers, along with soft contours, give the wine its inviting, alluring personality. There is more than enough energy and overall freshness to support several decades of fine drinking. Even so, the 163 is virtually impossible to resist at this early stage."
Wine Spectator 95 points "This mouthwatering Champagne shows a lovely sense of finesse, with firm acidity deftly married to a rich profile of crème de cassis, toasted brioche and lime blossom, accented by hints of café au lait, singed orange peel and exotic spice. Long and plush on the finish." (10/2016)
~~~~~~~~~~~~~~~~~~~~~
Pierre Peters
Class of Champagne
At A Fantastic Price
Pierre Peters needs little in the way of introduction.  For many lovers of grower Champagne, they define the Blanc de Blancs style—lean and linear, with biscuity richness that rounds out the profile.   Based in Mesnil sur Oger, arguably the best village for growing Chardonnay in Champagne, they make wines that are a class above almost any others in the region, especially for the prices asked.  We've got a bunch coming in soon and they're going to sell out quickly, so if this is something you're after, act soon.
Arriving ETA November 10th:
Pierre Peters Cuvee de Reserve Blanc de Blancs Grand Cru Brut, Champagne NV 750ML ($59.95) $49 pre-arrival special
Base vintage: 2014; Disgorged 4/8/2017
VinopolNote: A perennial favorite NV Champagne at the shop, this wine is 100% Chardonnay from Grand Cru estate vineyards in the Cote des Blancs. The base vintage is 2014, but it also contains perpetual wine from 21 vintages: '88, '90, '93 and '95-2013 with the exception of '99 and '03. The wine is aged in a mix of stainless steel, oak casks and concrete and on the fine lees for 24+ months.
Terry Theise note: "Based on 2014, it has a riotously attractive aroma and a richer, more patisserie palate; napped with Satsuma marmalade; more exotic, with a clinging brown-butter finish. I think the "average drinker," (whoever that person is…) will like it even more. Péters does the "perpetual reserve" with his NV, which means that the current wine is 50% of (the latest vintage) and 50% the previous blend, so today's wine is half-2014 and half last year's wine, which was half-2013 and half the previous year's wine. The wisdom of this approach is manifest and tangible; it assures "house style" without creating uniformity, because vintages differ. Rodolphe continues to clarify his preferences the longer we know each other. For example, he hates the "quince" flavor and wants it nowhere near his wines. And he's suspicious of the "saffron" descriptor because, he says, it results from botrytis, and he prefers his wine from pristine fruit."
Top Piedmont Picks Arriving Late November
Adriano Marco e Vittorio Basarin, Barbaresco DOCG 2014 750ML ($34.95) $29 pre-arrival special
Case-12 Adriano Marco e Vittorio Basarin, Barbaresco DOCG 2014 750ML ($379.95) $315 pre-arrival special (that's only $26.25/bottle!)
Wine Spectator 94 points "Elegant, leading off with perfumed aromas of rose, cherry, strawberry and white pepper. The profile is sleek, with a solid base of acidity and tannins. Shows terrific length, evoking fruit and mineral on the aftertaste. Best from 2019 through 2033."
This is the lowest listed price in the USA today!
Armando Parusso Bussia, Barolo DOCG 2013 750ML ($89.95) $79 pre-arrival special
James Suckling 97 points "This is one of the greatest wines I have ever had from here. So much ripe cherry, raspberry and floral character. Medium body, super-refined tannins and a long and flavorful finish. So much going on here. Better in 2021."
Wine Advocate 95 points "The 2013 Barolo Bussia is my favorite wine among Marco Parusso's new releases. This wine shows an extraordinary level of richness and softness that speaks to the unique winemaking style proposed by this innovative producer. The Bussia cru tends to produce softer and finer fruit characteristics. The bouquet delivers elegant notes of wild berry, forest floor and white truffle with mineral notes such as pencil shaving delicately tucked in at the back. The wine sees up to 60% stem inclusion and maceration times are long. This Barolo is articulate and profoundly expressive."
~~~~~~~~~~~~~~~~~~~~~
Arriving Early December
"Mind-Blowing" Sangiovese
Isole e Olena Cepparello Toscana IGT, Tuscany 2014 750ML ($79.95) $69 pre-arrival special
Case-6 Isole e Olena Cepparello Toscana IGT, Tuscany 2014 750ML ($479.95) $389 pre-arrival special (that's only $64.83/bottle!)
Isole e Olena Cepparello Toscana IGT, Tuscany 2014 1.5L ($179.95) $149 pre-arrival special
Antonio Galloni 95-97 points "Isole e Olena's 2014 Cepparello is mind-blowingly beautiful. The product of a long, cool growing season with perfect weather at the end of the fall. Dark, savory and intensely mineral, the 2014 possesses remarkable depth and intensity. In 2014, the grapes reached full maturity at lower sugars than is the norm today. I tasted the 2014 from an assortment of barrels. If the finished wine is like the wine I tasted from barrel, the 2014 Cepparello will be one of the big surprises of the vintage. I love the mid-palate depth here."
Monica Larner – Wine Advocate 93-95 points "Here is another big surprise from an underdog vintage. The 2014 Cepparello had recently been bottled when I preview tasted it, but it is far from its release date. Paolo De Marchi sold off any finished wine that did not live up to his standards and picked the very best results for this edition. Production this vintage is down by almost a quarter. This is a beauty. It flaunts a deep, dark appearance with succulent fruit, savory spice, leather and grilled herb. The oak element needs additional time to integrate and it surely will as the wine continues its slow bottle evolution. Only a third of the blend is aged in new oak. This upcoming Cepparello is a wine of substance and distinction."
This is the lowest listed price in the USA today!
The average price is $79
~~~~~~~~~~~~~~~~~~~~~
Thank you for reading!