October Sale Ends Tonight; New Week – New Arrivals; Oregon Top Up: Cameron, Matello, Brick House & more!; New November Sales – Price Reductions on Cristom, Mascarello, Reynvaan,  Felsina, FX Pichler & others; New Reviews: 2015 Domaine Huet; Arriving Next Week – 95 point CV Red from Matthews, Occhipinti & Foradori; Producttori 3L Arriving Nov. 17th / Barthod Bons Batons & more 2013 Opus One too; Domaine de Montille Sale Ends Friday; Last Day for October Sales
~~~~~~~~~~~~~~~~
All Good Things Must Come To An End!
Our October sales expire tonight at midnight. We've cut prices on Produttori del Barbaresco, Caparzo Brunello Riserva, Albert Bichot, Round Pond and 49 other wines!
For a full recap, see the bottom of the newsletter.
~~~~~~~~~~~~~~~~
Shipping Season Has Arrived
Don't miss out!
If you have wine being held for cooler weather
please contact us to arrange shipping at this time.
Email or call today!
~~~~~~~~~~~~~~~~
New Week – New Arrivals
Oregon
Domaine Serene 'Evenstad Reserve' Chardonnay, Dundee Hills 2014 750ML ($59.95) $46 special
Wine Spectator 95 points "Focused and expressive, this is layered with wet stone, tangy citrus, pear and green guava flavors that swirl through an expansive finish, gaining momentum and extra dimension with each sip. Drink now through 2024."
Westrey Oracle Vineyard Chardonnay, Dundee Hills 2014 750ML ($49.95) $36 special
Vinopolnote- Has it all, fullness and refinement intertwine; could pass as a Chassagne-Montrachet.
This is the only listing in the USA today!
Westrey Pinot Noir 'Cuvee 22,' Dundee Hills 2014 750ML ($69.95) $54 special
Vinopolpick- A commemorative bottling from Amy & David; a best of the best barrel selection, in a best of the best vintage. Notable Dundee purity and complexity. One for the ages.
This is the only listing in the USA today!
Vincent Bjornson Vineyard Pinot Noir, Eola-Amity Hills 2014 750ML ($39.95) $33 special, 12 bottles available
"Bjornson vineyard is higher in the Eola Hills, where there's red volcanic soil over basalt and the afternoons see coastal winds come over the hill to keep the daytime high temperatures moderate. This year's Bjornson is brilliant ruby in color, not as dark as usual but with no less intensity. The aroma is piney with a touch of mint mixed in with bright crystalline red berry fruit notes. The flavors echo all that, with a bright, energetic thrust and a strong mineral quality…I like wines with a bit of edge and nerve, rather than plush but shapeless flavor of more heavy-handed winemaking technique. This wine has all that, and is poised to age well as usual with this site. Two barrels." – Winery Notes
This is the lowest listed price in the USA today!
The average price is $37
Vincent Zenith Vineyard Pinot Noir, Eola-Amity Hills 2014 750ML ($39.95) $33 special, 12 bottles available
"This year's Zenith is a breakthrough. I've loved this vineyard for decades, when I was a consumer and buying St. Innocent's wines from the O'Connor Vineyard, later renamed Zenith. I've worked with the vines here since 2008, when I was still making wine in my garage. In 2014 I'm bottling three barrels of Zenith because it's so good. Full disclosure – this is the darkest wine of the year, the most full and rich. But it's so elegant still, so layered and complex, with black cherries and darker fruit elements, then fine tannin that will help this wine unwind nicely over many years. I don't force extraction in the winemaking process. We get what we get from the vintage, and in 2014 the Zenith seems exceptional to me. Buy accordingly. Three barrels."-Winery Notes
This is the lowest listed price in the USA today!
The average price is $37
Vincent Pinot Noir, Eola-Amity Hills 2014 750ML ($29.95) $24 special, 12 bottles available
"This bottling is a blend of remaining barrels from Crowley Station, Zenith and Bjornson after those single vineyard designates have been selected. Where the Ribbon Ridge is more black cherries, the Eola-Amity Hills bottling is more raspberries and lovely earthy notes, a touch darker in tone than Ribbon Ridge. Good density here for drinking now or cellaring several years. Eight barrels." -Winery Notes
This is the lowest listed price in the USA today!
The next best price is $29.95
Washington
Cadence Winery Ciel du Cheval Vineyard Red, Columbia Valley 2013 750ML ($49.95) $39 special
Wine Advocate 93+ points "Possessing a pretty bouquet of cassis, spring flowers, lead pencil and licorice, the 2013 Ciel du Cheval Vineyard (39% Cabernet Franc, 38% Cabernet Sauvignon, 15% Petit Verdot and the rest Merlot) is medium to full-bodied, with a tight, reserved style that will reward cellaring. It's a beautiful wine that needs 3-4 years of bottle age and drunk over the following decade."
This is the lowest listed price in the USA today!
Cadence Winery Tapteil Vineyard Red, Columbia Valley 2013 750ML ($49.95) $39 special
Wine Advocate 94 points "I've always loved the Tapteil release from Cadence and the 2013 Tapteil is no exception. A Cabernet Sauvignon dominated blend that incorporates 18% Merlot and 11% Cabernet Franc, it offers full-bodied, beautifully pure aromas and flavors of black and blue fruits, graphite, leafy herbs and distinct minerality. More voluptuous and sexy than the reserved Ciel du Cheval bottling, it certainly offers pleasure today, but will be even better in 2-3 years of bottle age and will keep for two decades after that."
California
Freemark Abbey 'Bosche' Cabernet Sauvignon, Rutherford 2012 750ML ($119.95) $99 special
Robert Parker 97 points "The classic 2012 Cabernet Sauvignon Bosché Vineyard is 90.1% Cabernet Sauvignon and the rest 9.9% Merlot, aged 26 months in oak. This is one of the iconic wines of Napa, and one of the great vineyard sources coming from Rutherford on foothill bench soils at the base of the Mayacamas Mountains. This is one of the finest examples of this wine I've ever tasted, and there have been many. The wine shows plenty of loamy soil notes intermixed with blackberry, cassis, cedar wood and spice box. It's full-bodied, shows terrific intensity, a multi-dimensional mouthfeel and moderate tannin in the finish. It still needs cellar time – and 5-6 years should bring forth plenty of magic, but this wine will also last 30-40 years."
This is the lowest listed price in the USA today!
The next best price is $109.95
Inglenook 1882 Cabernet Sauvignon, Rutherford 2013 750ML ($49.95) $39 special
Antonio Galloni 91 points "The 2013 Cabernet Sauvignon 1882 shows just how compelling this vintage is, even at the entry-level. Black cherries, plums, menthol, lavender and licorice flow across the palate in a dark, sumptuous wine endowed with real depth and nuance. Fleshy and supple, but with plenty of supporting acidity and vintage 2013 energy, the 1882 is a terrific introduction to the vintage. This is a very serious wine."
Inglenook Cask Cabernet, Rutherford 2012 750ML ($79.95) $59 special
Wine Advocate 93+ points "There have been a number of changes of late at Inglenook, so I was anxious to taste the 2012 Cabernet Sauvignon Cask. This wine was first created in 1949 and during that era, through the 50s and early 60s, was considered one of the finest wines of California. This is the best, young Inglenook Cabernet Sauvignon I have tasted during my professional career of 35 years. Dense ruby/purple with classic crème de cassis, but underlying minerality and spice box. The wine is full-bodied, but not over-the-top, yet nevertheless authoritative, rich and quite long. There is a thickness and concentration I haven't seen from this estate in many a year and this wine should age beautifully for 20-25 years at the very minimum."
Inglenook 'Rubicon' Red, Rutherford 2012 750ML ($189.95) $169 special
Robert Parker 95 points "The 2012 Cabernet Sauvignon Rubicon, which used to be a proprietary blend and had a somewhat rustic, Italian personality, has now been put under the Inglenook Vineyard designation. Where the Cabernet Sauvignon was a blend of 85% Cabernet Sauvignon and 12% Cabernet Franc and 3% Merlot, the Rubicon has abandoned any Italian varietals in favor of a blend of 86% Cabernet Sauvignon, 9% Petit Verdot, 4% Cabernet Franc and 1% Merlot. I think it's safe to say this is potentially the best Rubicon made to date. It's not to denigrate other vintages, but there is a finesse and elegance combined with great richness and an avoidance of any rusticity that plagued some of the other vintages – which is to be admired. At three times the price, it's not three times the wine of the Cask Cabernet Sauvignon. It possesses a dense purple color, beautiful, sweet crème de cassis notes with a floral underpinning. I don't see any of the Rutherford dust, per se, but there is an undertone of earthiness. The wine is full-bodied, rich, potentially complex and certainly capable of lasting 20 to 30 or more years. This is a great young Rubicon that will have its peak in 5-7 years and last 25-30."
France-Champagne
Philipponnat Clos des Goisses Brut, Champagne 2000 750ML ($219.95) $189 special
Gilbert & Gaillard 99 points "Deep gold. Intense nose deploying notes of stone fruits, dried fruits and toasted undercurrents after swirling. The palate combines abundant fullness, vinosity and magnificent freshness. Already nicely open, this 2000 is at its peak. Excellent."
France-Beaujolais
Domaine du Pavillon de Chavannes Cote de Brouilly Cuvee des Ambassades 2014 750ML ($24.95) $21.90 special
Josh Raynolds–Vinous 92 points "Pale red. A pure, expansive bouquet displays vibrant strawberry, blood orange and floral pastille scents and energetic minerality. Taut, spicy and sharply focused, offering juicy red fruit and floral pastille flavors plus a touch of five-spice powder. The mineral and floral qualities repeat on a long, gently tannic finish that leaves a sweet red berry note behind."
France Bordeaux
Chateau Gigault Cuvee Viva, Cotes de Bordeaux Blaye 2005 750ML ($29.95) $24 special
James Suckling 93 points "Wow. Lots of bright and intense fruit on the nose with blueberries, milk chocolate, and flowers too. Full-bodied with seamless tannins and a long intense finish. The fruit here is compelling and beautiful. Give it time to come together, but already impressive."
Wine Spectator 91 points "Ripe cherry and berry, with a melange of fresh herbs, olive and a hint of coffee and chocolate on the nose. Medium to full-bodied, intense and silky, with loads of fruit pushing through the long finish. Delicious even now. This is always excellent value" WS
This is the lowest listed price in the USA today!
France-Loire
Beatrice et Pascal Lambert Domaine Les Chesnaies Chinon Bag in Box 2014 3L ($39.95) $33 special
In-store only, sorry, no shipping
Vinopolnote- We couldn't resist. 3L Bag-in-Box from one of Chinon's notable estate vignerons; biodynamic viticulture and without use of sulfur in bottling bagging. Chinon on tap for you at the equivalent of $8.25 / bottle.
France-Rhone
Matthieu Barret Domaine du Coulet Cornas Les Terrasses du Serre, Rhone 2009 750ML ($79.95) $59 special
Wine Advocate 95 points "While they didn't present this cuvee in 2012, I sourced a bottle of 2009 Cornas les Terrasses du Serre locally to see a slightly older vintage. Classic Cornas, with chewy, meaty, bloody notes of black fruits, lavender, olive tapenade and violets, this beauty has everything you could want from a Syrah from these steep granite slopes. Full-bodied, concentrated and beautifully textured, with integrated acidity and plenty of tannin, drink it anytime over the coming decade or more."
Xavier Chateauneuf-du-Pape Cuvee Anonyme X 2010 750ML ($59.95) $49 special
Wine Advocate 95+ points "The powerful, rich 2010 Chateauneuf du Pape Cuvee Anonyme reveals an off-the-chart level of extract, lots of glycerin (nearly 16% natural alcohol) and copious black cherry, blueberry, forest floor, lavender and graphite characteristics. This full-throttle red requires 3-4 years of cellaring and should keep for two decades."
Italy-Tuscany
Tenuta di Arceno Chianti Classico Riserva DOCG 2012 750ML ($27.95) $19 special
James Suckling 92 points "A bright and pretty red with dried berry, cherry and hits of hazelnut on the nose and palate. Full body, silky tannins and a fresh finish. Clean and balanced. American owned. Drink now."
This is the lowest listed price in the USA today!
Petrolo Torrione Valdarno di Sopra 2009 750ML ($34.95) $28 special
James Suckling 94 points "Aromas of lightly stewed fruit, with hints of fresh herbs and spices. Full bodied, with soft tannins and a fruity finish. This is balanced and long, with a caressing finish. Best ever. Mostly Sangiovese, with a hint of Merlot. Better after 2013" JS
Italy-Piedmont
Roagna Dolcetto d'Alba, Piedmont 2014 750ML ($21.95) $18 special
Eric Asimov's Top 20 under 20 "Nebbiolo is renowned for its complex, long-lasting, soulful Barolos and Barbarescos. Barbera is valued for its juicy, zesty reds. Which leaves dolcetto, the also-ran among the three best-known red grapes in the Piedmont region of Italy. That oversight can often make it a great value. This bottle, from a superb producer, is pure and refreshingly bitter, direct, honest and delicious."
Antonio Galloni "A gracious, light to medium-bodied wine, the 2014 Dolcetto d'Alba shows the more delicate side of the grape. Sweet plum, blueberry, mint and sweet spices are all given an extra kick of freshness from the cool conditions of the year. The 2014 Dolcetto is a bit slender, but quite pretty, and quite reminiscent of the style of Dolcetto that was more common a generation ago. Yields are down 50% and the alcohol is in the 12% range, typical for the year."
Azienda Agricola T.E. (formerly Trinchero) Vigna del Noce, Barbera d'Asti DOCG 2008 750ML ($49.95) $39 special
Antonio Galloni 93 points "The 2008 Barbera d'Asti Vigna del Noce is a dark, strapping wine. Cedar, smoke, dried flowers, licorice, tobacco and dried cherries give the 2008 much of its somber, brooding personality. Even with all of its intensity and power, the acidity of Asti gives the wine a kick of freshness to balance things out. The Vigna del Noce is one of the more unusual Barberas readers will come across, but it represents the essence of Asti."
Bartolo Mascarello Barolo DOCG, Piedmont 2007 750ML ($149.95) $119 special
Antonio Galloni 97 points "Mascarello's 2007 Barolo shows just how compelling this vintage can be, even now. Sensual, layered and totally voluptuous in the glass, the 2007 shows the more flamboyant side of Barolo. I find the wine's voluptuous, engaging personality impossible to resist. Sure, 2007 is not a classic vintage, but when a wine is this good, I say: Who cares?"
This is the lowest listed price in the USA today!
Elio Grasso Ginestra Vigna Casa Mate, Barolo DOCG 2008 750ML ($149.95) $119 special
Antonio Galloni 98+ points "Licorice, tar, menthol, spices and crushed rocks are some of the nuances that flow from the 2008 Barolo Ginestra Vigna Casa Mate. This dramatic, large-scaled Barolo impresses for its towering depth, complexity and sheer pedigree. Tar, menthol, licorice and spices wrap around the fleshy, deep finish. The Ginestra Vigna Casa Mate is considerably more powerful than the silkier Gavarini, but both wines represent the height of finesse in Nebbiolo. Anticipated maturity: 2018-2038."
Produttori del Barbaresco Ovello, Barbaresco Riserva DOCG 2008 750ML ($69.95) $51.90 special
Wine Advocate 95+ points "The Produttori's 2008 Barbaresco Riserva Ovello is a reference point wine for the village, even if, in truth, Ovello is a fairly diverse zone with many exposures. Firm, steely tannins support a core of expressive fruit in this vibrant, energetic Barbaresco. The 2008 is going to require considerable patience, but it is striking, even today. Sweet floral notes reappear on the vivid, utterly breathtaking finish, adding lift, precision and vibrancy. This is a stunning wine from the Produttori. The style is built on tension, energy and focus; in other words, all the qualities Ovello is known for. Anticipated maturity: 2018-2048." WA
Cappellano Barolo Chinato NV 750ML ($89.95) $71.90 special
Importer note "Giovanni [grandfather to the current owner]'s brother, Giuseppe, was a pharmacist who created the family formula for their famous (then and again now) Barolo Chinato, the Barolo infused with a variety of "medicines".  The Barolo Chinato is produced by following the family recipe handed down generation to generation.  The "medicinal" herbs and spices are ground using a stone mortar and pestle.  Both the recipe and the process are family secrets."
Italy-Sicily
Calabretta Nerello Cappuccio Etna, Sicily 2013 750ML ($49.95) $39 special
Organic/ biodynamic
Importer note "Since the winery's founding in 1900, the Calabretta family has farmed and produced wines from Etna's ancient indigenous varieties—including Nerello Mascalese and Nerello Cappuccio—in the mountain's unique noble vineyards. Historically, the family had sold its wine in sfuso or in barrel to restaurants and to private customers, many of whom travelled long distances to pick up their wine. But in 1997, third and fourth-generation father and son Massimo and Massimiliano Calabretta decided to bottle their best wine under their own label to ensure the winemaking traditions of their family and Etna would not be lost."
Italy-Campagnia
Feudi di San Gregorio Serpico Rosso Irpinia, Campania 2010 750ML ($49.95) $39 special
Wine Advocate 95+ points "The outstanding 2010 Irpinia Aglianico Serpico is Aglianico from a pre-phylloxera vineyard that sees 18 months of medium toast oak. This vintage reveals an impressive sense of balance and inner harmony with dark fruit tones that are enhanced by bright accents of cherry and dried blueberry. Extra focus and intensity is achieved thanks to the dusty mineral shadings that give pretty contours to the plump fruit. There are distant endnotes of crushed white pepper as well. The tannins offer both firmness and texture. This is a beautiful expression of Aglianico."
Spain
La Rioja Alta Gran Reserva 904, Rioja DOCa 2005 750ML ($59.95) $39 special
Wine Advocate 96 points "The 2005 Gran Reserva 904 is a superb blend of Tempranillo from the villages of Briñas, Labastida and Villalba with 10% Graciano from Briones and Rodezno. The grapes were destemmed and crushed and fermented in stainless steel for 18 days at 25 C. Malolactic fermentation was spontaneous and lasted 38 days. These wines are marked by a long aging in used American oak barrels following the most strict Riojan tradition; four years during which time the wine was manually racked eight times. This is usually my favorite wine from La Rioja Alta and 2005 is one of its best showings, going back to the quality of the vintages of the 1950s and 60s. The nose is very balsamic with notes of camphor, hints of mint, leather and hung game wrapped around a core of cherries in liqueur. Together it is balanced, subtle, truly elegant and classical. The palate is only medium-bodied but with great concentration of flavors that are very tasty, mineral, almost salty and framed by ultra-fine tannins and smashing balance. A great classic. This wine will be released in October 2015, a full ten years after the vintage. At this quality level this is a bargain." 4/2015
Chile
Montesecano Refugio Pinot Noir, Casablanca Valley 2015 750ML ($24.95) $21.90 special
James Suckling 93 points "Cedar, strawberry, flower, light iodine, and oyster shell. Medium to full body, silk tannins and a juicy finish. Shows soul. From Alsace's Andrew Ostertag and Julio Donoso. Drink now. Made from biodynamic grown grapes. (5/12/16)"
~~~~~~~~~~~~~~~~
Oregon Top Up
Old Favorites, Back in Stock
Cameron Dundee Hills Chardonnay 2015 750ML ($21.95) $19 special
VinopolNote: A blend of wine sourced from 36-year-old 108 vines in Abbey Ridge and two barrels from the estate Clos Electrique Vineyard. Granted, the oak has yet to integrate in this wine, but the silkiness, suppleness, and succulence already signal a charming cuvee: Give this wine a few months or more before consumption. You'll be glad you did, and even gladder that you swooped some up before this Cameron wine goes the way of all the others… out of stock soon enough.
A dedicated Cameron fan? Who isn't, really…? If you're looking for the single vineyard releases – stay tuned to our newsletter. We expect the grand announcement next week!
Matello Caprice, Willamette Valley 2014 750ML ($17.95) $14 special
80% Pinot Blanc, 20% Pinot Gris
Winery note "The Caprice white wine is produced from a single block of fruit planted to Pinot Blanc and Pinot Gris. The vineyard soils are from the oldest marine sedimentary deposits in Oregon. Caprice has white flower notes, a slight smokiness, and hints of mango and passionfruit in the nose. The palate is sturdy and intense, with stone fruit and tropical notes, a rich texture and mouth-watering acidity. It's a perfect wine for pairing with almost anything that swims. This wine will evolve for the next several years in bottle and can be drunk anytime between now and 2020."
This is the only listing in the USA today!
Goodfellow Family Cellars Pinot Noir, Willamette Valley 2014 750ML ($21.95) $18 special
Winery note "Uplifted Sedimentary & Volcanic soils. 15 months French oak. Average vine age 24 years."
Evesham Wood Pinot Noir, Willamette Valley 2015 750ML ($21.95) $18 special
Winery note "Although the Willamette Valley bottling is our least expensive and largest production bottling we put just as much of ourselves into it as our top cuvées. Vineyards such as Illahe and Mahonia who Evesham Wood has been working with for decades make up the bulk of the blend along with Jubilee and Sojourner, two vineyards in the Eola Amity Hills we've had the recent pleasure to start working with.  Those grapes are fermented in small lots and punched down twice a day. This vintage of the WV blend shows a bright nose with cherry, earthy mushroom and a slight creamy/silkiness that's balanced by juicy acid.  Showing well now, watch this wine evolve over the next 3 months to 5 years."
Brick House Vineyards Gamay Noir, Ribbon Ridge 2014 750ML ($31.95) $26.60 special – A great wine for your Thanksgiving table!
Grapelive 93 points "The latest Gamay from Brick House rocks! Without question one of the most beautiful and complex Gamay wines in America, and it really comes close to Foillard and Lapierre level of enjoyment, this is a blockbuster vintage for this wine. The Willamette Valley with it's maritime and volcanic soils create a special terroir for Gamay and this Brick House 2014 drinks wonderfully with silky Pinot Noir like texture and detail with delicate perfume, mineral spice and a mix of cool blue fruit and bright red fruit all coming together in a gorgeous example of this varietal. Doug Tunnell's estate Gamay now includes a secret new Cru Beaujolais clone in the mix along with his heritage Gamay Noir old vines, which they say is giving added layers, but regardless this is sleek and stylish stuff with just enough earth tones and savory notes to balance the ripe fruit core, this is a class act from start to finish. The start is a bit flamboyant, as you'd expect from a near perfect vintage, with sweet florals and vivid fruit and a sexy ruby hue glittering in the glass leading to a lengthy and refined palate with satiny tannins, poised acidity and deep flavors including black cherry, strawberry, dusty plum and blueberry along with a hint of porcini, flinty pepper, walnut/cedar and zesty anise/fennel. This will not be an easy find, but worth the search and every penny, this is lovely and highly seductive wine, Gamay has well and truly lost any stigma and has been complete released from its chains of perception to take its place as one of the great grapes of the world, free at last, drink this gorgeous Brick House 2014 over the next 3 to 10 years!"
Brick House Vineyards Select Pinot Noir, Ribbon Ridge 2014 750ML ($37.95) $33 special
Producer notes: "When Mother Nature offers a bountiful year, we routinely bottle this entry level Pinot Noir. As the name implies, the 'Select' is a selection of barrels representing all the vineyard blocks on the farm at the discretion of the winemaker. The most easy-going and approachable of all our Pinot Noirs, the 'Select' is a moderately priced, estate grown wine and a worthy accompaniment to a casual meal of salmon, lamb or wild game."
~~~~~~~~~~~~~~~~
New November Sales- Begin Today
Cristom Jessie Vineyard Pinot Noir, Eola-Amity Hills 2013 750ML ($69.95) Was $59, Now $49, 24 bottles available
Josh Raynolds–Vinous 92 points "Ruby-red. Highly perfumed scents of dark berries, cola and rose oil. Fleshy, expansive black raspberry and bitter cherry flavors display a suave blend of richness and energy, picking up a spicy character with air. Finishes juicy and very long, with lingering dark fruit flavors and slow-building tannins."
Cristom Eileen Vineyard Pinot Noir, Eola-Amity Hills 2013 750ML ($69.95) Was $59, Now $49, 25 bottles available
Josh Raynolds–Vinous 92 points "Bright red. Tightly wound red berry and Asian spice aromas pick up a suave floral nuance with air. Silky and precise, offering energetic raspberry and bitter cherry flavors with a touch of star anise. A suave, seamless Pinot with no excess weight. Closes tangy and very long, with silky tannins and lingering spiciness."
B. Leighton Olsen's Brothers Vineyard Gratitude, Yakima Valley 2013 750ML ($49.95) Was $41.90, Now $39, 7 bottles available
Wine Advocate 93 points "Inspired by the wines of Domaine Tempier in Bandol, Leighton's 2013 Gratitude checks in as a Mourvèdre dominated blend that incorporates 25% Grenache and 5% Syrah, all of which was aged in two- to three-year-old puncheons. Cured meats, spice-box, black currants and blackberry nuances all emerge from this sweetly fruited, layered, downright sexy Mourvèdre that has fine, polished tannin and a great finish. Not harvested until the last week of October, drink this rock star 2013 over the coming decade, and I certainly wouldn't be surprised to see it evolve for longer."
This was the lowest listed price in the USA today,
Now it's even lower!
The average price is $44
B. Leighton Olsen's Brothers Vineyard Grenache, Yakima Valley 2012 750ML ($49.95) Was $41.90, Now $39, 20 bottles available
Stephen Tanzer—Vinous 92 points "(14.5%; from a north-facing slope on limestone caliche soil at 1,200 feet): Good medium red. Raspberry, mocha and smoky minerality on the alluring nose. Creamy and sweet but lively in the mouth, with the raspberry fruit complicated by rocky minerality and subtle notes of fennel, sweet dirt and peppery spices. Finishes with a firm tannic spine that should support a graceful evolution in the bottle. This is the new project of Brennon Leighton, who left Efesté a couple years ago to join Charles Smith on his new white wine projects."
This was the lowest listed price in the USA today,
Now it's even lower!
The next best price is $45.40
B. Leighton Olsen's Brothers Vineyard Syrah, Yakima Valley 2013 750ML (49.95) Was $41.90, Now $39, 33 bottles available
Wine Advocate 94 points "Lastly, and from tiny yields, the 100-case 2013 Syrah Olsen Vineyard was fermented with 100% whole clusters and aged in 20% new puncheons for 18 months. Gamey, spice and complex, with gorgeous crème de cassis fruit and a touch of graphite, this beauty is full-bodied, layered and elegant, with ripe tannin, a stacked mid-palate and a great finish. This is a serious wine that will benefit from short-term cellaring and drink well through 2028."
This was the lowest listed price in the USA today,
Now it's even lower!
Latta Northridge Vineyard Malbec, Wahluke Slope 2011 750ML ($59.95) Was $44, Now $39, 30 bottles available
Wine Advocate 95 points "Rock star stuff, especially in the vintage, the 2011 Malbec Northridge Vineyard gives up classic blackberry, pepper and assorted flowers and spice aromas and flavors to go with a full-bodied, seamless and elegant feel on the palate. Gaining more than one "awesome" in my notes, this should not be missed by any Washington State wine lover. This is a new project by Charles Smith winemaker Andrew Latta, and the wines are awesome across the board. This is one bandwagon to get on. His 2011 Malbec is the best example of the variety I've tasted from Washington."
This was the lowest listed price in the USA today,
Now it's even lower!
The next best price is $45.98
Reynvaan Family Vineyards The Unnamed Syrah, Walla Walla Valley 2014 750ML ($79.95) Was $66, Now $59, 27 bottles available
Wine Advocate 92-94 points "Incorporating 8% Grenache Blanc and from the Rocks region of Walla Walla, the 2014 The Unnamed Syrah offers a unique profile with pretty notes of white peach (from the Grenache Blanc no doubt), dried violets, plums and bouquet garni. Medium to full-bodied, supple, layered and beautifully balanced, it should shine right out of the gate, yet also evolve gracefully."
This is the lowest listed price in the USA today!
The average price is $68
Giacomo Borgogno & Figli Langhe Nebbiolo No Name, Piedmont 2011 750ML ($49.95) Was $41.90, Now $29, 24 bottles available
Antonio Galloni 90 points "The 2011 Langhe Nebbiolo No Name is a pretty wine to drink now and over the next handful of years. Delicate and medium in body, the 2011 is laced with expressive violets, rose petals, mint and sweet red cherries. Dusty tannins complement the otherwise supple finish." AG
This is the lowest listed price in the USA today!
The next best price is $31.99
The average price is $41
Giacomo Borgogno & Figli Barolo Vigna Liste, Barolo DOCG 2008 750ML ($119.95) Was $79, Now $69, 36+ bottles available
James Suckling 94 points "Wonderful aromas of balsamic, plum, grilled meat and spices. Full body, with round and chewy tannins. Excellent depth of fruit. The 2008 vintage shows that extra complexity to the 2009 in general. Better in 2015."
Antonio Galloni 93+ points "Cool veins of bracing minerality form the backbone in Borgogno's 2008 Barolo Liste. Today, the 2008 is virtually impenetrable, as the vintage and the site have combined to produce a big, powerful Barolo that will require considerable cellaring before it is ready to show all its cards. Still, there is a lot to like here, especially for those who can be patient. Tar, smoke, incense and scorched earth all add gravitas on the close, but with more time in the glass some of the sweeter notes begin to emerge. The 2008 Liste is shaping up to be magnificent." AG
Stephen Tanzer – Vinous 92+ points "Medium red. Lovely lift to the aromas of redcurrant, marzipan and rose petal. Sappy, sweet and concentrated; a step up in tangy, saline intensity and inner-mouth tension from the Fossati. Wonderfully silky and lush in texture but a bit youthfully unforthcoming today. Delivers terrific verve and energy to its red berry and floral flavors. Finishes with sweeter tannins than the Fossati, an enticing light touch and excellent length and life. This should evolve gracefully in bottle for 20 years or more."
This was the lowest listed price in the USA today,
Now it's even lower!
The next best price is $108.22
Giuseppe Mascarello e Figlio Monprivato, Barolo DOCG 2011 750ML ($159.95) Was $119, Now $105.75, 36+ bottles available
Wine Spectator 95 points "This is expressive, with alluring cherry, strawberry, floral and mineral flavors building to a long, expansive finish. The elegant profile belies the serious structure underneath, which should allow this red to develop over the next 15 to 20 years. Offers fine berry fruit and a minerally aftertaste. Best from 2018 through 2033."
Jancis Robinson 18/20 points "Very pale ruby. More stony and liquorice-like than Villero. Brooding concentration but holding back on the nose. Lithe and very elegant palate with amazing tactile and fine tannins. Has the wow factor."
This is the lowest listed price in the USA today!
Felsina Berardenga Fontalloro Toscana IGT 2011 750ML ($59.95) Was $49, Now $39, 29 bottles available
Wine Spectator & Antonio Galloni 94 points "Felsina's 2011 Fontalloro is wonderfully expressive today. Dark red cherry, plum, smoke, rose petal and sweet spices all blossom in the glass. Impeccably layered and sensual, the 2011 captures all the best qualities of the year. Sweet floral and red-toned notes burst with great energy on the structured finish. Fontalloro seems to have come a long way over the last few years. The 2011 is another drop-dead gorgeous beauty." AG
This is the lowest listed price in the USA today!
Peter Lauer 'Barrel X' Saar Riesling, Mosel 2015 750ML ($24.95) Was $19.90, Now $17, 36+ bottles available
Eric Asimov 20 Wines under 20 Pick for Fall 2016 ""Barrel X" is the entry-level riesling of Peter Lauer, which has become something of a cult producer. Its wines are precise and jewel-like, and this one is no different, rocky on the palate with an almost razor-like focus and just the most tender touch of residual sugar."
Importer note "You all know by now the stratospheric work Florian is doing in the Saar.  This has always been the ambassador wine from the winery but this vintage elevates to Senior levels of complexity."
This is the lowest listed price in the USA today!
Kruger-Rumpf Munsterer Dautenpflanzer Riesling Spatlese, Nahe 2004 750ML ($49.95) Was $39, Now $33, 36+ bottles available
Jancis Robinson "Top 20 German Wine Producer in 2004 – There is no hurry to consume the best Kabinett and Spätlese Rieslings from the 2004 – these wine styles are some of the wine world's longest-lasting – but most of them are delightfully easy to like even at this early stage. The ripeness of the acidity seems to have something to do with it, and the extract nicely counterbalances the acidity anyway. Many of the wines have marked minerality – just what we want from fine German wine. [July 2005]"
Wine Spectator 89 points "Very firmly structured, but this is dense and offers spice and mineral shadings to complement the apple and white peach notes. Still leaning toward the structure on the finish, but this shows promise. Best from 2007 through 2020. 250 cases made." WS [Reviewed 2006]
David Schildknecht "Rumpf's 2004 Munsterer Dautenpflanzer Riesling Spatlese smells of pineapple, pear and white peach, following with a delicate and refined palate impression saturated with a sense of liquid slate and pure pear, peach and pineapple fruit. The finish is smooth and long with generous fruit augmented by subtle spice and crushed stone. Classic 2004 virtues are on display."[Reviewed 2005]
Terry Theise notes "Dautenpflänzer is one the leading Grand Crus of the lower Nahe, with a typical mélange of soil types within its borders. Rumpf claims some of it is slatey and some of it is "sandy loam," which agrees more with the standard references. It is in any case singular and immediately significant, giving a sometimes damnably complex set of aromas and flavors including coconut, violet, soursop, leaf-smoke—it is a very long list even if you're sober. In any case it belongs with the vamping exotics of the Nahe." [Reviewed 2015]
This was the lowest listed price in the USA today,
Now it's even lower!
The next best price is $39.95
The average price is $41
Julian Haart Wintricher Riesling, Mosel 2012 750ML ($59.95) Was $44, Now $37, 10 bottles available
Mosel Fine Wines 91 points "This powerful wine delivers complex notes of quince, date and tangerine as well as a great feeling of spices on the palate. The remarkable thing here is the superb balance which gives the wine a seemingly weightless touch in the finish. This very attractive wine is one that will develop even more complexity and finesse with aging. 2015-2022."
This is the only listing in the USA today!
F.X. Pichler Grüner Veltliner Smaragd M, Wachau 2013 750ML ($99.95) Was $89, Now $79, 24 bottles available
F.X. Pichler Grüner Veltliner Smaragd M, Wachau2013 1.5L ($219.95) Was $189, Now $169, 6 magnums available
Wine Advocate 94 points "Lucas Pichler's monumental 2013 Grüner Veltliner Smaragd M opens with an ultra-ripe, concentrated and slightly speck-y yet still precise and even mineral-scented bouquet on the nose. Very rich and intense on the palate, this elegant, full-bodied, densely textured and powerful Veltliner from late-harvested grapes reveals an aromatic and juicy fruit core along with a stunningly vibrant acidity that gives structure, length and a lifting as well as lingering salinity and piquancy. Maracuya and other tropical fruit flavors dominate the aromatic aftertaste. Although I have no experience with matured samples of this Austrian icon Veltliner, I suspect it has an aging potential of 5-10 years and should be cellared at least for another 2 or 3 years."
David Schildknecht–Vinous 93 points "Made with fruit from Loibenberg (a 50% share), Kellerberg, Liebenberg, with a small bit of Kollmütz, this installment of "M" enjoyed the longest pre-fermentation skin contact of any Pichler 2013, and was raised in a new large oval, then moved to tank shortly before bottling, which is when I last tasted it. Its impressive features include imposing richness of peach, melon and pineapple; an expansive and flatteringly creamy palate; high-toned inner-mouth allusions to almond extract; peach kernel piquancy; and pronounced smokiness and stoniness that suggest a mingling of Szechuan peppercorn, black tea and ash. The bright, Riesling-like juiciness characteristic of so many Grüner Veltliners from this vintage is absent here. But the finish of this static, statuesque wine (recall that "M," after all, stands here for "monumental") glows persistently in its evocation of peach kernel and pepper."
This is the lowest listed price in the USA today!
F.X. Pichler Loibner Klostersatz Gruner Veltliner Federspiel, Wachau 2013 750ML ($49.95) Was $41.90, Now $33, 18 bottles available
David Schildknecht–Vinous 90 points "Crunch and juiciness of lettuce, cucumber and apple, along with a bite of cress, render this more typical of Grüner Veltliner than the character displayed by the corresponding Frauenweingarten bottling, although there is a high-toned hint of almond extract reminiscent of that sibling. Metaphorically cooling, sleek and slippery, this goes down all too easily, leaving the palate refreshed and cleansed, but by no means bereft of finishing flavor. On the contrary: delightfully salad-like salinity and piquancy are understated but stubbornly persistent."
This is the lowest listed price in the USA today!
~~~~~~~~~~~~~~~~
Our Current
Shipping Promos:
Welcome to the club, Colorado!
Along with Oregon, Washington, Idaho, and California,
we now offer flat rate shipping to Colorado. Here's the scoop:
Single orders of any quantity of wines qualify for the flat rate;
this does not apply to orders held in storage for any reason
or multiple orders consolidated into one shipment.
The flat reach for each state is, as follows:
-to Oregon for $17,
-Washington & Idaho for $20,
-and California & Colorado for $25
Take Advantage of the Flat Rate!
~~~~~~~~~~~~~~~~
New Domaine Huet Reviews
(and the final remnants of Huet V.2015)
From the Wine Advocate's Stephan Reinhardt:
"2015 is an exceptional and historic vintage again at Huet (perhaps the best since 1997). I can only recommend to buy cases of all styles. You might know or have learned from my last Huet report (see Interim November 2015), that even the dry and medium-dry wines can age for decades…. The 2015s combine super ripe, tropical fruit flavors and juicy textures with concentration, perfectly integrated acidities and enormous precision that reflects the different terroirs"
Domaine Huet Vouvray Le Haut-Lieu Sec 2015 750ML ($37.95) $30.90 special, 24+ bottles available
Stephan Reinhardt – Wine Advocate 93+ points "The citrus-colored 2015 Vouvray Le Haut-Lieu Sec is pure, fresh and chalky on the nose where ripe and concentrated fruit aromas along with some subtle herbal aromas are displayed. Full-bodied, very mineral, salty and ripe, this is a concentrated, powerful, densely woven yet finesse-full and elegant Chenin with a very long and grippy, tension-filled finish. Great aging potential."
Domaine Huet Vouvray Le Mont Sec 2015 750ML ($39.95) $33.60 special, 3 bottles available
Stephan Reinhardt – Wine Advocate 95 points "The 2015 Vouvray le Mont Sec is pure, precise and very flinty on the nose, which reveals a concentrated and elegant fruit with lemon and crushed stone flavors. Full-bodied, pure and piquant, with a tight and mineral structure, as well as a very persistent finish, this is a highly complex yet finesse-full Chenin with a great aging potential. I'd love to drink the 2015 today, although I know it will become much more complex over the years. The finish is enormously long and reveals fine tannins."
Domaine Huet Vouvray Le Haut-Lieu Demi-Sec 2015 750ML ($41.95) $36 special, 17 bottles available
Stephan Reinhardt – Wine Advocate 94+ points "The 2015 Vouvray Le Haut-Lieu Demi-Sec has a creamy, intense and elegant bouquet of ripe and concentrated fruits, along with delicate earthy and lemony flavors. Full-bodied, intense and powerful, with a dense texture and firm tannins, this is a very complex and firmly structured Chenin for the next decade. The sweetness is perfectly integrated and the acidity rather mild in the first moment. The finish though is enormously vital and mineral."
Domaine Huet Vouvray Clos du Bourg Moelleux Première Trie 2015 750ML ($79.95) $69 special, 2 bottles available
Stephan Reinhardt – Wine Advocate 96 points "The dark golden-colored 2015 Vouvray Clos du Bourg Moelleux Première Trie is super ripe and intense, yet precise and mineral on the nose where orange and dusty flavors are displayed along with some caramel flavors. Intense and juicy, with a concentrated and sweet, yet vital and elegant fruit, this Chenin has vibrant acidity. This is a full-bodied, well structured, persistent and powerful Chenin with a sweetness that is almost fully integrated. The finish is enormously vivacious and firm, and reveals a stimulating minerality."
Domaine Huet Vouvray Le Mont Moelleux 2015 750ML ($51.95) $44 special, 7 bottles available
Stephan Reinhardt – Wine Advocate 96 points "The apricot/golden colored 2015 Vouvray Le Mont Moelleux shows a very intense, elegant and also subtle bouquet of ripe fruit intermixed with flinty aromas. Dense, piquant and concentrated on the palate, this is a great and tension-filled Chenin with grip and persistence, but also great finesse and elegance. This is a highly complex and energetic, but also light-footed and stimulating wine with lots of mouthwatering salinity. A fascinating Chenin with great aging potential."
Domaine Huet Vouvray Le Haut-Lieu Moelleux 2015 750ML ($49.95) $41.90 special, 22 bottles available
Stephan Reinhardt – Wine Advocate 92+ points "The 2015 Vouvray Le Haut-Lieu Moelleux displays open and elegant ripe fruit (pineapples, oranges) with some dusty flavors of crushed rocks. Powerful but full of finesse and elegance, this is a piquant and stimulating sweet wine with grip and tension. However, I find it rather less complex than the Sec and the Demi-Sec."
~~~~~~~~~~~~~~~~
Arriving This Week
Matthews Estate Reserve Red 2013 750ML ($59.95) $51.90 pre-arrival special
Wine Advocate 95 points "Another sensational wine is the 2013 Reserve, which is largely Cabernet Sauvignon blended with 28% Merlot and 4% Cabernet Franc, aged 21 months in new French oak. It reveals fabulous purity of fruit and full-bodied richness, as well as textbook Bordeaux-like notes of black currants, cassis, lead pencil shaving and leafy herbs. It shows more and more tannin with time in the glass, but it never loses its overall sense of elegance and purity."
This is the only listing in the USA today!
Azienda Agricola Arianna Occhipinti Il Frappato Sicilia IGT, Sicily 2014 750ML ($39.95) $33 pre-arrival special
Azienda Agricola Arianna Occhipinti Il Frappato Sicilia IGT, Sicily 2014 1.5L ($79.95) $69 pre-arrival special
Wine Advocate 93 points "Arianna Occhipinti has outdone herself with the 2014 Il Frappato. This is a wine of character and personality. It flaunts those slightly rustic edges with charm and confidence. The bouquet opens to ripe blueberry, raspberry and dried cassis. The quality of fruit shows good integrity and balance. You don't notice any of the raw or unclean smells you sometimes get with wines made in such a natural and non-interventionist approach. The nose is pristine. In the mouth, Il Frappato delivers vibrant acidity and snappy fruit flavors. More than any other wine, this vintage and this producer can claim to have produced something close to a Pinot Nero with an all-Sicilian soul."
Azienda Agricola Arianna Occhipinti SP68 Bianco Sicilia IGT, Sicily 2015 750ML ($29.95) $24 pre-arrival special
Winery note "60% Moscato di Alessandria and 40% Albanello. 15 year old vines farmed organically in red sand and chalky soils. Aged for 6 months in concrete vats and 1 month in bottle. Unfiltered."
Azienda Agricola Arianna Occhipinti 'Tami' Grillo Terre Siciliane IGT Bianco, Sicily 2015 750ML ($19.95) $16 pre-arrival special
Winery note (from the importer): "The Tami project was an idea that came to me a few years ago, and that was to prove that it's possible to make good, simple, natural wine in Sicily. Tami is something I've started with some friends who own vineyards in Contrada, a district close to mine. Three years ago, we agreed we would convert their vineyards to organic viticulture. In 2009, we made the first "all grape" vinification. The goal was to take good grapes and make a simple, every day wine. There is a white [Grillo], and two reds. The vineyards are about 10 years old. The wine is made with a short maceration (1 week) and then six months in stainless steel. We do filter it because it's very young. A big part of this project is also to give younger people an opportunity to try something simple but delicious, something that can introduce them to the pleasures of wine."
~~~~~~~~~~~~~~~~
Arriving November 17th
Ghislaine Barthod Bourgogne Rouge Les Bons Batons 2014 ($49.95) $49 pre-arrival special
Burghound 86-89  "A beautifully fresh nose offers up pretty and layered aromas of both red and dark pinot fruit that evidences an appealing top note of floral elements. There is good volume and nice detail to the delicious and saline-inflected flavors that terminate in a mildly austere finale. Barthod consistently fashions one of the best examples of the genre and this would be a good choice for a house red to pick up by the case."
Produttori del Barbaresco 'Barbaresco DOCG' 2012 3L ($179.95) $159 pre-arrival special, 6 jeroboam available
Wine Spectator 93 points "A pretty red, boasting floral, strawberry and raspberry flavors, accented by tobacco and underbrush notes. The tannins are firm yet well-integrated, creating a balanced impression. Best from 2017 through 2027."
Antonio Galloni 92 points "A big, powerful wine, the 2012 Barbaresco hits the palate with surprising depth allied to nervous tannins that are going to need time to soften. Tobacco, smoke, licorice, menthol, game and a host of dark, ferrous notes give the wine much of its virile personality. The 2012 is not as finessed as some recent vintages, yet it offers considerable potential for the future. Most importantly, it is a terrific value at a time when well-priced Barbaresco is increasingly hard to find. In 2012, the Produttori did not bottle their Riservas. When that happens, the straight Barbaresco is often an overachiever. That is certainly the case here, as the 2012 offers outstanding quality for the money, with plenty of potential for the future. I can't think of too many wines that deliver this much pleasure and value."
Opus One Proprietary Red Napa 2013 ($279.95) $259 pre-arrival special
James Suckling 100 points "The greatest Opus ever. Terrific aromas of crushed black currants, blueberries and flowers with hints of sweet tobacco. Roses continue to exude opulence and class. Full body, superb balance of ultra-fine tannins and vibrant acidity. Complex aftertaste of black fruits and citrus fruit. Extremely persistent. So approachable now and enjoyable. But will be even better in 2019 and beyond. 79% cabernet sauvignon, 7% cabernet franc, 6% merlot, 6% petit verdot, 2% malbec. This will always be beautiful to drink." (01/2016)
~~~~~~~~~~~~~~~~
Domaine de Montille Sale
The Côte de Beaune hardly hosts a better-known name than de Montille. It's as if the family of archetypical Burgundian vignerons arose from the earth of Volnay centuries ago. The late Hubert de Montille helped make the domaine famous for its classic style of age-worthy Burgundy, but now his son and daughter make the wines. Low yields and partial whole-cluster fermentation remain the norm, but the modern de Montille reds have softer tannins, are more aromatic, and they don't require as much cellar time as before. Few other wines from Beaune, Pommard, and Volnay speak of their terroir and of Burgundian culture like de Montille wines do. These are very fine, hard to find, Burgundy.
We've cut prices on 22 wines from Domaine de Montille
Don't miss your opportunity for a great deal!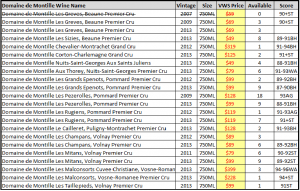 October Recap
Sales Expire Tonight at Midnight!
Shop or read full reviews online at www.vinopoliswineshop.com
october-sales