Orin Swift Machete; Just Arrived: Eisele (Araujo) 2013, Cuvee Sauvage, Two Hands; Grand Cru Champagne: Selosse, Krug…; Sherries, Ports, and Madeiras: Equipo Navazos, Quinta do Infantado, D'Oliveira, and more; Spanish Case Deals: Buil & Gine, Remelluri, Roda Sela, etc.; Markus Molitor 2013 in-stock and 2015 pre-arrival; VinopolPicks; New December Sales: Podere Salicutti
Orin Swift "Machete"
Slashes its Way Back to Vinopolis!
Arriving Friday
#6 Wine Spectator Top 100 of 2016
Orin Swift Machete, California 2014 750ML ($49.95) $44 pre-arrival special
Robert Parker 96 points "The 2014 Proprietary Red Blend Machete finished at 15.7% natural alcohol and is a blend of Petite Sirah, Syrah and Grenache aged 10 months in 40% new French oak. This wine, at 15,500 cases, is telltale opaque bluish/purple with a super nose of barbecue meat and herbs, blackberries, blueberries, white flowers and sweet, dark raspberries in the background. The wine has fabulous texture, great intensity, full-bodied power (15.7%), and a long, long finish. It is a killer effort and like the Abstract, probably best drunk in its first 5-6 years of life because of its charm."
Wine Spectator 94 points "Generous and expressive, big and brawny, offering a mouthful of tannins but also brimming with flavors and aromas, including Earl Grey tea, dark chocolate, dried violet and toasted gingerbread. Rich notes of plum and black cherry are balanced by forest floor and earthy accents, lingering on the long finish. Petite Sirah, Syrah and Grenache. Drink now through 2030."
Just Arrived
Something for Everyone and Every Budget
Our Inventory and Selection Only Expand!
Franciscan Estate Cuvee Sauvage Chardonnay, Carneros 2013 750ML ($27.95) $20.90 special, 24 bottles available
Wine Enthusiast 92 points "This wine is medium to full bodied, with integrated, toasty oak and a healthy dose of baked apple and pear. Made in a luxurious style, it delivers in flavor and subtle elegance, with the structure to age further. Drink through 2020."
Robert Parker 90 points "The 2013 Chardonnay Cuvée Sauvage is a beauty from Franciscan Estate. No doubt, based on the name, it was wild yeast fermented with some of their best fruit from Carneros. The wine was aged for 16 months in 100% French oak, and shows nice honeysuckle, poached pear and citrus oil in a medium to full-bodied, beautifully pure and fresh style. This is very Burgundian and could age nicely for another 4-5 years."
This is the lowest listed price in the USA today!
The average price is $36
Araujo Estate Eisele Vineyard Cabernet Sauvignon, Napa Valley 2013 750ML ($599.95) $499 special, 4 bottles available
Araujo Estate Eisele Vineyard Cabernet Sauvignon, Napa Valley 2013 375ML ($299.95) $259 special, 12 bottles available
Robert Parker 100 points "Both 2013s are clearly the finest Eisele wines made under the administration of François Pinault and his top lieutenant, Frédéric Engerer, who also runs the show at Château Latour. The utterly compelling 2013 Cabernet Sauvignon is 100% Cabernet Sauvignon in this vintage and 1,800 cases were made. The wine is off-the-charts great, with an opaque bluish/purple color to the rim, an aroma of pen ink, graphite, blackberry and blueberry fruit, a hint of licorice, camphor and incense. The wine is full-bodied, with extraordinary concentration, remarkable equilibrium and noticeable, but sweet, well-integrated tannin. This is a large-scaled Eisele Vineyard Cabernet Sauvignon, but flawless and with no edges. It is an amazing effort and a great achievement from this incredible terroir. Drink it over the next 30-40 years…Readers should note that the relatively new owners of what was formerly known as the Araujo Estate have finally changed the name to the Eisele Vineyard."
This is the lowest listed price for the 375ML and for the 750ML in the USA today!
Re-Arrived
#71 Wine Spectator Top 100 of 2016
Two Hands Wines Lilys Garden Shiraz, McLaren Vale 2014 750ML ($69.95) $41.90 special, 36+ bottles available
Wine Spectator 94 points "Notes of espresso and toasted hazelnut are rich and thick, with mocha-accented tannins that lend a velvety backdrop to the polished blackberry, licorice and black cherry flavors, lingering generously on the long finish. Drink now through 2030."
This is the lowest listed price in the USA today!
The next best price is $58
See below for this Friday's arrivals, plus the latest addition to our December Sales!
Our Current
Shipping Promos:
Welcome to the club, Colorado!
Along with Oregon, Washington, Idaho, and California,
we now offer flat rate shipping to Colorado! Here's the scoop:
Single orders of any quantity of wines qualify for the flat rate;
this does not apply to orders held in storage for any reason
or multiple orders consolidated into one shipment.
The flat reach for each state is, as follows:
-to Oregon for $17,
-Washington & Idaho for $20,
-and California & Colorado for $25.
Take Advantage of the Flat Rate!
A Selection of Our Finest Champagne
In-stock Now
Not too much need for an introduction here—the wines speak for themselves.  With the holidays upon us, we wanted to highlight a selection of what we think are some of the best Champagnes in the world.  All are in stock and available for pickup or shipping!
Cedric Bouchard Roses de Jeanne Les Ursules Blanc de Noirs, Champagne 2012 1.5L ($399.95) $279 special, 3 magnums available
Antonio Galloni – Vinous 94 points "The 2012 Blanc de Noirs Les Ursules is another knockout. Here it is the freshness and energy of Pinot Noir that makes the strongest impression. White orchard fruit, flowers, white pepper and mint give the Ursules its distinctly high-toned personality. The interplay between the richness of the Pinot Noir and inherent tension that characterizes all of these wines is dazzling. Scents of orchard fruit, spice, herb and flowers infuse the creamy, voluptuous layered finish. Disgorged: April 2016. No dosage."
This is the lowest listed price in the USA today!
Krug Brut, Champagne NV 3L ($1499.95) $1199 special, 1 double-magnum available
Wine Spectator 97 points "This is all about balance and the integration of power and finesse, with finely honed acidity supporting flavors of quince paste, dried black cherry, spun honey and candied orange zest, while rich notes of roasted walnut, coffee liqueur and toasted cardamom resonate on the finish. Hard to stop sipping. Drink now through 2028." WS
2003 Jacques Selosse Blanc de Blancs Grand Cru Millesime, Champagne 750ML ($519.95) $399 special, 13 bottles available
James Suckling 97 points "A wine that has an absolutely unique character, Selosse has interpreted a truly extraordinary vintage with poetic insight. He describes the double stresses of an April frost that claimed 75% of the yield in Avize, coupled with a very hot and dry June and August. He speaks of the evapotranspiration and the effect of depositing an immense amount of mineral residue into the plant, which has manifested in this striking wine, and compares it to a chef reducing and concentrating a sauce. The smoky, toasty notes are more than autolysis; you can smell the heat of the vintage here. It has profound stony and chalky aromas, gentle spices, grilled hazelnuts and dehydrated stone fruits. The minerals explode onto the palate. It's electric, hitting like an ionic blast before rolling out dark nutty flavors ahead of plush orange and ripe nectarine, peach and big, rich phenolics. It has many layers through the finish. Extremely long, balanced and resolved. Drink now or age confidently for a fascinating savory journey – this has a sturdy nature."
This is the lowest listed price in the USA today!
Jacques Selosse Les Carelles Blanc de Blancs Grand Cru Extra Brut, Champagne NV (2008) 750ML ($449.95) $379 special, 5 bottles available
Antonio Galloni 97 points "The brighter, more focused side of Chardonnay screams out of the glass in the NV (2008) Le Mesnil sur Oger Les Carelles. Here the flavors are distinctly high-toned, with plenty of citrus peel, white pepper, smoke and slate. Vivid and finely sculpted throughout, with a slightly reductive quality, the Mesnil remains tightly wound and in need of time in bottle. There is an implosive energy that is just waiting to emerge fully. When it does, the Mesnil will be utterly captivating. Actually, it already is. Disgorged February 17, 2015. Dosage is 2 grams/liter."
This is the only listing in the USA today!
Pierre Peters Les Chetillons Oenotheque Blanc de Blancs Grand Cru Brut, Champagne 2000 750ML ($319.95) $299 special, 2 bottles available
Wine Advocate 95 points "The 2000 Brut Cuvee Speciale "Les Chetillons" is a sumptuous, opulent wine that flows with layers of smoke, licorice, lime, minerals, ripe fruit and spices, all of which are supported by a gorgeous streak of minerality. This is an exciting, racy wine that I find completely irresistible and sensual. Needless to say, the 2000 Cuvee Speciale "Les Chetillons" is highly recommended. Anticipated maturity: 2008-2020."
Stephen Tanzer 93 Points (Nov/Dec 08): "Light, bright gold. Bright lemon and orange aromas give way to richer pear and white peach with air. Round and sappy, offering candied lemon and honeysuckle flavors, with impressive mineral snap on the back. Becomes richer on the finish, which repeats the lemon and mineral notes. Put this youthful, impressively pure wine in a cool spot for another five years or so."
Philipponnat Clos des Goisses Brut, Champagne 1996 750ML ($399.95) $348 special, 10 bottles available
Antonio Galloni 97 points (December 2015); Antonio Galloni 96 points (March 2015) "One of the all time greats from Philipponnat, the 1996 Clos des Goisses captures the essence of a vintage in which both sugars and acidities were elevated. Tension, energy and salinity are the signatures. Readers who can wait on the 1996 will be rewarded with a stunning bottle of Champagne that will likely still be profound at age fifty."
This is the lowest listed price in the USA today!
Krug Brut, Champagne 2003 750ML ($279.95) $199 special, 20 bottles available
Wine Spectator 95 points "Like taffeta in texture, this harmonious Champagne is finely honed and fresh. A wonderfully expressive version, with ample spice and graphite accents to the blackberry pâte de fruit, coffee liqueur, dried apricot, singed orange peel and crystallized honey notes. Hard to stop sipping."
James Suckling 95 points "A rich nose with deep, ripe chardonnay and pinot noir, red fruits, some dark mushrooms and plenty of grilled nuts, plus caramel, some deep spices, dried citrus, lemon peel and bready aromas. The trademark complexity is here and it freshens with air. The palate is intricately detailed and stitched together like needlework; very precise, very even. The acidity is articulated with some finesse and yet it has much more in terms of phenolics as the leading structural component. The phenolics are rich and ripe, sitting polished and even around immensely concentrated fruit with flavors of peach, nectarine and white cherry. The finish is deep, even and resonant. Drink now but rest assured it will hold for a very long time, just like Krug has proven in other warm years like '76."
Josh Raynolds-Vinous 95 points "Light yellow. Powerful, complex bouquet evokes fresh peach, pear, floral honey, green almond and smoky minerals. Deep, palate-staining citrus and orchard fruit flavors show outstanding vivacity for a hot vintage, picking up ginger and talc notes with air. The strikingly long, sappy finish features zesty orange pith, smoky minerals and an echo of honeysuckle. I'd be in no rush to drink this one. Speaking of waiting, I had the chance to revisit the 2000 Vintage Krug and it has begun to pick up the smoky, weighty and nutty character that long-time fans of this producer crave. It's still plenty young but already unmistakably Krug, with a chewy texture and a sexy floral nuance dominating right now."
The average listed price for this wine is $249!
Tarlant La Vigne d'Antan Blanc de Blancs Extra Brut, Champagne 2002 750ML ($249.95) $219 special, 2 bottles available
Antonio Galloni 96 points "The 2002 La Vigne d'Antan is utterly breathtaking from the very first taste. A vivid, crystalline wine, the 2002 emerges with the essence of crushed rocks, salt and bright, citrus-infused fruit. Hints of white pepper and flowers add elements of exoticism in a striking, pure Champagne loaded with class. Readers who can find the 2002 should not hesitate as it is magnificent."
Philipponnat Clos des Goisses Brut, Champagne 2006 750ML ($249.95) $199 special, 10 bottles available
Wine Spectator 94 points "Floral and ripe apricot notes ride the creamy bead of this elegant Champagne, accented by hints of black currant, pastry and candied kumquat. Bright and lively, with a hint of smoky mineral lingering on the finish. Disgorged in May 2015. Drink now through 2026. "
Spanish Case Deals
Great for parties, gifts, and unexpected guests – no cellaring required!
Case-12 Buil & Gine 17-XI, Montsant 2014 750ML ($249.95) $199 special, 6 cases available
Josh Raynolds–Vinous 91 points "Brilliant ruby. Highly perfumed, evoking ripe cherry and blackcurrant that are complemented by slowly emerging aromas of cured meat, lavender and minerals. Enlivened by a spicy nuance, the silky, sweet and penetrating palate offers intense dark fruit and floral pastille flavors. Seamless and very nicely concentrated, with smooth tannins lending shape to a very long, fruit-driven finish." JR
Case-12 Marques de Vargas Reserva, Rioja DOCa 2009 750ML ($299.95) $236 special, 4 cases available
Josh Raynolds–Vinous 91 points "(75% tempranillo, 10% mazuelo, 10% cabernet sauvignon and 5% garnacha): Saturated ruby. Assertive aromas of raspberry, rose oil and oak spice show very good intensity and focus. Smooth, sweet and spicy, with ripe red and dark berry flavors, a subtle vanilla nuance and strong back-end lift. Sweet and energetic on the long, floral finish, which shows no rough edges. This is pretty delicious and looks just about ready to go."
Case-12 Alvaro Palacios 'Les Terrasses' Velles Vinyes, Priorat DOCa 2013 750ML ($449.95) $299 special, 2 cases available
Wine Advocate 93 points "The 2013 Les Terrasses Velles Vinyes, from a rainy year and a late harvest that resulted in perfect ripeness and low yields, is a blend of 55% Garnacha and 45% Cariñena. You might find labels and literature referring Cariñena to as Samsó, something that is wrong and creates confusion since Samsó is the Catalan name for Cinsault. The grapes are sourced from different villages (Gratallops, La Vilella Baixa, Bellmunt, El Lloar, El Molar, Porrera, Scala Dei, Torroja and Poboleda) all of them grown on schist llicorella soils, fermented in a combination of oak and cement vats with natural yeasts and matured in barrique for one year. It has a meaty nose with aromas that transported me to the Northern Rhône, showing smoky bacon intermixed with violets and really well-integrated oak resulting in a very fine and elegant impression. It seems more refined than other vintages of Les Terrasses, lighter and more elegant with none of the volatility or oak of yesteryear. It is really fine, polished and is without edges. Somehow within the Atlantic vintage you can see the Mediterranean character. Awesome Terrasses and good value for Priorat."
Case-12 R. Lopez de Heredia Vina Tondonia Reserva, Rioja DOCa 2003 750ML ($499.95) $359 special, 4 cases available
Josh Raynolds–Vinous 92 points "Bright ruby-red. Ripe cherry, vanilla and floral pastilles on the smoky, oak-spiced nose. Sweet and supple on the palate, offering pliant red fruit and spicecake flavors with suave mocha and vanilla bean nuances. Quite lively and fresh for a wine from a hot vintage, and showing no excess fat. Finishes sweet, toasty and very long, with smooth tannins making a late appearance."
Wine Spectator 91 points "Cigar box, cedar and balsamic notes frame cherry, raisin and licorice flavors in this lean, firm red. Displays grip and focus. A traditional style. Drink now through 2023.
Case-12 Remelluri Granja Nuestra Senora de Remelluri Reserva, Rioja DOCa 2010 750ML ($419.95) $379 special, 3 cases available
James Suckling 95 points "A wine with beautiful finesse and depth. Dark fruits, dark chocolate, hazelnut and floral character. Polished and refined. Full body. Long and beautiful. Tasty finish. The first recent vintage 100% made by Telmo Rodriguez. Drink or hold."
Wine Advocate 93 points "The wine that represents the house style and also the biggest volume here with around 350,000 bottles produced is the 2010 Reserva which was cropped from an almost perfect growing season. A blend of the reds Tempranillo, Garnacha, Graciano and the whites Viura and Malvasía Riojana, it fermented with indigenous yeasts in a combination of stainless steel and oak vats then matured in French oak barrels for 17 months. The nose has earthy aromas and notes of ripe orange peel giving old-style character to the wine marked by very well-integrated oak and an obvious Rioja character. There are cherries, plums and spices with licorice and ink aromas. The day after, it has more strawberries with very good freshness, so the evolution in bottle should be good. The palate is medium-bodied with grainy tannins and good acidity that ends with sweet fruit flavors and something earthy, very pleasant and easy to drink. It grows on you."
Case-12 Bodegas Roda Sela, Rioja DOCa 2012 750ML ($399.95) $269 special, 2 cases available
Wine Advocate 90 points "The 2012 Sela will be released in March 2015, and it's a great example of Sela. It opens to bright red fruit, more shiny than 2011, and is still pretty young showing faint lactic notes and more traces of the barrel that should be absorbed with time. 2012 could be fresher and more accessible. It's an elegant and balanced wine, with some fine-grained tannins that will be polished with bottle age. The palate is very tasty and has almost salty flavors that are quite gentle and velvety. In 2012 Sela was a blend of Tempranillo with 3% Graciano and 1% Garnacha."
Case-12 Bodegas Julia Roch e Hijos – Casa Castillo Monastrell, Jumilla 2014 750ML ($179.95) $149 special, 1 case available
Wine Advocate 91 points "The entry level wine here is the 2014 Monastrell, a wine that mixes grapes from different valley vineyards within the estate where you find more sand and clay and the age of the vines varies between 35 and five-years-old. Starting with this vintage, which was nothing short of challenging, the wine is not a pure Monastrell, but a blend with some 10% Syrah (from the Valtosca vineyards, which was not produced in this vintage) and some 5% Garnacha from new plantings coming into production. In future years the percentage of other grapes — mainly Garnacha — will be increased, and the wine will not be called Monastrell anymore, but simply Casa Castillo. It fermented with indigenous yeasts and matured in used barrels for some eight months before bottling. This feels like a superb vintage for the cuvée, very complete, aromatic, subtler than in the past, more elegant. The palate also feels very complete, nicely balanced, with great acidity and a very fine thread which makes it nicely textured. It's remarkable how the wines seem to be fine tuned each vintage, irrespective of how hard the climate conditions are. This is always a great value and represents the zone and vintage quite faithfully. It's thought out to be enjoyed young, but I've drunk incredible bottles at age 20! Some 220,000 bottles produced."
Josh Raynolds–Vinous 90 points "Lurid ruby color. Fragrant ripe cherry and red plum. Sappy and incisive, the palate offers bitter cherry and berry skin flavors, showing very good lift and energy. Fat-free, focused and brisk, with strong closing cut, fine-grained tannins and lingering berry skin and cherry pit notes."
For the complete list of wines on sale for the month of December, see the bottom of this newsletter!
Give the Gift that Never Expires!
Can't decide on the perfect gift?
Let them!
We offer gift certificates in any amount with no taxes, fees or expiration date.
Gift certificates are not available through our web store.
To order, please stop in, call or email. We are happy to mail gift certificates to any domestic address at no charge.
New December Sales!
Podere Salicutti Piaggione, Brunello di Montalcino DOCG 2011 750ML ($99.95), Was $79, Now $69 special, 19 bottles available
Antonio Galloni 95 points "The 2011 Brunello di Montalcino Piaggione is one of the most sensual wines of the vintage. Racy, open-knit and expressive, the 2011 will thrill Salicutti fans who are looking for a wine to drink young. Silky tannins wrap around the succulent fruit and add t the wine's total sense of allure. The warmth of the vintage comes through, yet the wine is never heavy or ponderous. Sweet macerated cherries, cinnamon and rose petal meld into the sumptuous, inviting finish. A wine of weightless elegance, the 2011 is superb. It's hard to imagine the Riserva will be better than this. Proprietor Francesco Leanza gave the 2011 three years in barrel, starting with a year and a half in 500-liter and 10-HL casks, followed by another year and a half in 20 and 40-HL casks."
Podere Salicutti Sorgente Rosso di Montalcino, Tuscany 2013 750ML ($59.95), Was $49, Now $39 special, 22 bottles available
Antonio Galloni 93 points "Salicutti's 2013 Rosso di Montalcino Sorgente is a wine of nearly indescribable finesse. The purity of the fruit alone is striking, but all the elements are perfectly balanced. Gently spiced, floral notes add nuance in a brilliant, captivating Rosso that shows just what is possible with Sangiovese in Montalcino. The pliant, inviting finish with its expressive red cherry, plum and floral notes, only adds to the wine's captivating appeal. Proprietor Francesco Leanza takes Rosso di Montalcino to another level in this reference-point wine. The Salicutti Rosso is aged in 500-liter barrels and is made from Brunello-designated vineyards."
For the complete list of December Sale Wines, see the bottom of this newsletter!
Fireside Chat Wines
In-stock Today
D'Oliveiras Verdelho Vintage Madeira 1986 750ML ($149.95) $119 special, 7 bottles available
Wine Spectator 93 points "This is loaded with dried mango and apricot flavors, flanked by notes of cinnamon and allspice. Dry, with plenty of seductive smoky accents. The bright finish offers citrus zest, dried rosemary and sea salt hints. Drink now through 2030."
This is the lowest listed price in the USA today!
Fonseca Vintage Port 2000 750ML ($149.95) $119 special, 10 bottles available
Wine Advocate 96 points "The 2000 Fonseca continues to exude finesse and focus on the nose, with pure blackberry, juniper berries, licorice and a touch of sloes, perhaps as Adrian Bridge remarked, just beginning to close after ten years in bottle. The palate is underpinned by very fine tannins, a sensual, svelte texture with wonderful acidity. The harmony and symmetry is alluring, the finish precise and demonstrating the persistency to suggest a long future ahead. Drink 2020-2060."
Equipo Navazos La Bota de Manzanilla Pasada No. 60 'Bota Punta' Sherry NV 500ML ($119.95) $88 special, 5 bottles available
Wine Advocate 97 points "The so-called NV La Bota de Manzanilla Pasada 60 Bota Punta is sourced from a special cask "Bota Punta" that was already bottled as numbers 20, 40 and 50. This particular cask from the Manzanilla Pasada 'solera' from the Calle Misericordia winery from La Guita was isolated, because it has a very marked biological character – a very old Manzanilla that keeps more 'flor' than the other butts in the 'solera' and shows less oxidative. The other particularity is that this cask is always refilled with wine from the other 14 casks from the 'solera', and therefore keeps an average age a couple of years older, around 17 years, while keeping a younger/fresher profile. They all have the iodine and saline character, the seaweed, low tide and the vertical palate. This is the most special -and scarce and expensive – of all the manzanillas pasadas from Navazos. Really world class. This is the one with depth and sharpness beyond belief, a step up in complexity, elegance and balance. It's funny how the wine seems to overcome oxidation and starts getting sharper and sharper again. This is truly outstanding."
We also have these available today: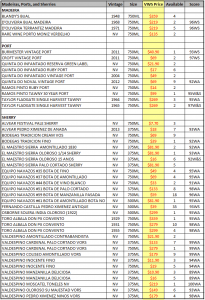 VinopolPicks
Classics at Classic Prices
Joseph Swan Vineyards remains one of the most notable names in California wines.  Joe Swan was a trailblazer and legendary figure in the California's vinicultural history, and his son-in-law Rod Berglund is a talented winemaker of equal skill.  That said, it sometimes seems like this winery doesn't get mentioned as often as it should when we talk about California's great wineries, which is a shame.
The Joseph Swan Zinfandels are many things, but easy to pin down and describe they aren't.  Depending on the growing conditions and the vineyard, they can be lighter, spicier wines or bigger, powerful and fruit driven.  They're never marked by new oak, though, so they always seem to be flexible and comfortable at the table.
We're highlighting the 2012s, but we also have a few older vintages available on the website.
Joseph Swan Vineyards Bastoni Vineyards Zinfandel, Sonoma County 2012 750ML ($34.95) $29 special, 36 bottles available
Winery Note "Located in what I refer to as the Riebli Valley, just a few miles east of Hwy 101, this site has been farmed by the Bastoni family since 1906…. Although the old vines are gone, the replants are going strong and are meticulously cared for….It exhibits what I have come to view as a classic Bastoni nose of deep blue tinged fruit, like a cross between boysenberries and blueberries. There is also a slight hint of cooking spice, perhaps cardamom, and much less pepper than we see in the lower Russian River Valley zins. Good but not overwhelming tannin and acidity and medium to full body."
This is the lowest listed price in the USA today!
Joseph Swan Vineyards Mancini Ranch Zinfandel, Russian River Valley 2012 750ML ($34.95) $29 special, 33 bottles available
Winery Note "Planted in the early 1920's to Zinfandel and a host of other grapes.  This will be the final vintage for this vineyard as a few years after Frank Mancini's passing, the vineyard was sold. Blackberry, white pepper floral hints, bit of lushness. Complex balanced, elegant. A classic old style zinfandel made with new age sensibilities. And, it is under 13% alcohol!"
Joseph Swan Vineyards Ziegler Vineyard Zinfandel, Russian River Valley 2012 750ML ($34.95) $29 special, 34 bottles available
Winery Note "Like its neighbor across the road, Mancini Ranch, Zeigler Vineyard was planted in the early 1920's. However, for no explainable reason, it starts its spring growth and ripens about two weeks earlier than its neighbor. Boysenberry and the usual black pepper aromas are there but there is also cardamom, a bit of allspice and dried rose petal. It is super complex. At only 13% alcohol, almost as low as Mancini, it is not lacking at all for body. Our favorite Zeigler in a long while."
Meanwhile, in the Old World…
Chateau du Fort Pontus, Fronsac, France 2010 750ML ($24.95) $18 special, 36+ bottles available
Chateau du Fort Pontus, Fronsac, France 2010 750ML Case-6 ($149.95) $99 special, 36+ bottles available
VinopolNote "Tucked away on Bordeaux's Right Bank, just down the Dordogne from St. Emilion and Pomerol, the Fronsac Appellation quietly produces some of Bordeaux's best early-drinkers. The lazy river, the wooded hills, the gravelly soil, and the châteaux: Fronsac is definitely Bordeaux. Château du Fort Pontus represents its bordelaise roots, but with a twist. The wine is 100% Merlot. Grown across 15 acres, the vines, 30 years old, are harvested manually, and the wines raised in the traditional style. Add all of this to a vintage like 2010, rated "outstanding" and which produced wonderfully concentrated wines, and you've got a wine that's drinking deliciously today. Red and dark fruits, spice, and a Fronsac raciness combine across smooth, ripe tannins, all in balance, to end in a refreshing finish that clearly speaks with a Bordeaux accent. This is a wine to buy a case of, for when your taste demands fine French Merlot at an under-twenty-bucks price."
This is the only listing in the USA today!
All the Molitor
We have these fine 2013's in stock now
Weingut Markus Molitor Bernkasteler Lay Riesling Auslese, Mosel 2013 750ML ($99.95) $79 special, 31 bottles available
Wine Advocate 98 points "Stunningly clear and pure on the citric-perfumed nose, the sweet 2013 Bernkasteler Lay Riesling Auslese *** is characterized by its laser-like precision and elegance, which is perfectly paired with its vibrant acidity and piquant minerality that lingers and makes this Auslese a memorable one."
Weingut Markus Molitor Erdener Treppchen Riesling Auslese**, Mosel 2013 750ML ($59.95) $41.90 special, 12 bottles available
Wine Advocate 96 points "Even purer and perhaps more sophisticated than the Bockstein is the sweet 2013 Erdener Treppchen Riesling Auslese ** with its cool, slate purity and springlike citrus and blossom aromas, which are delivered as lime chutney on the nose. This again is a kind of pure Armani perfume and the cool character of a true gentleman who turns out to be a notorious rake, elegant and balanced as it is. The texture is nobly concentrated and juicy, and there is no single botrytis berry in this stunning wine. Drink it now, but drink it slowly, or store it for a decade or two."
Weingut Markus Molitor Kinheimer Hubertuslay Riesling Auslese***, Mosel 2013 750ML ($89.95) $69 special, 10 bottles available
Weingut Markus Molitor Kinheimer Hubertuslay Riesling Auslese***, Mosel 2013 375ML ($59.95) $39 special, 32 half-bottles available
Wine Advocate 97 points "The 2013 Kinheimer Hubertuslay Auslese *** needs a little but of time to open up and show its finest, intense raisin aromas indicating grapefruit/lemon and pineapples on a piquant background. Rich, oily textured and extremely elegant on the palate, the wine offers a lavish tropical juiciness quoting pineapples, but is stunningly pure and piquant. The finish is beautifully balanced and highly elegant. This is perfectly made."
We'll Have These Wines in March:


We have a healthy stock of 182 different German Rieslings in our store today! Such a selection rarely exists outside of Germany!
Arriving Friday
Numanthia Termes, Toro, Spain 2013 750ML ($27.95) $16 pre-arrival special, 36+ bottles available
VinopolNote "In its review of the 2012 Numanthia Termes, Wine Enthusiast wrote: "Since its inception, Numanthia has never once bottled a disappointing Termes. . . . This is true-to-form Toro." The 2013 vintage follows suit, delivering power, dark fruit, and smooth, bold tannins. Another great buy from Spain."
This is the lowest listed price in the USA today!
Veuve Clicquot Ponsardin Brut, Champagne 2008 750ML ($89.95) $59 pre-arrival special, 12 bottles available
Wine Spectator 93 points "Very elegant, this is chiseled by racy acidity that's swathed in the refined, creamy mousse and flavors of crème de cassis, preserved lemon, biscuit and dried apricot. Long and lacy on the smoke-tinged, minerally finish."
Gilbert & Gaillard 93 points "Light yellow. Refined nose showing subtle notes of stone fruits and brioche. Lovely refined texture and bubbles, ethereal freshness and a tense profile on the palate. Precise yet streamlined. A beautiful rendition of minimalist elegance."
Veuve Clicquot Ponsardin Brut Rose, Champagne 2008 750ML ($99.95) $69 pre-arrival special, 12 bottles available
Gilbert & Gaillard 97 points "Coppery orange-pink. The nose is shy on first pour then delivers delicate red fruit, dried fruit and mild spice notes after swirling. Fleshy attack, fine bubbles and superb freshness. A tense, elegant rose'. Hugely successful, almost a foregone conclusion."
Perrier-Jouet Grand Brut, Champagne NV 750ML ($49.95) $39 pre-arrival special, 24 bottles available
Perrier-Jouet Grand Brut, Champagne NV 3L ($219.95) $179 pre-arrival special, 1 bottle available
Wine Spectator 90 points "Lively and mouthwatering, with flavors of black currant, graphite, candied lemon zest and smoky mineral, supported by a creamy mousse. A balanced crowd-pleaser. Drink now through 2018."
December Sales Recap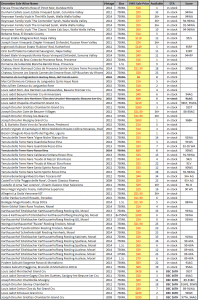 We're up to 68 wines on sale through the month of December! These sales expire December 31st at midnight
Read reviews and browse the full selection of sale wines by searching for "December Sale" on our web store – we're also happy to talk you through the offerings if you email us at info@vinopoliswineshop.com or call 503-223-6002.