Dom Perignon; Perrier-Jouet Belle Epoque 2007; Roederer and Roederer Estate; 2007 Vintage: Finca Dofi, Magnien, Vega Sicilia, Chapoutier, and lots more; Champagne Season: Gimonnet, Coutier, Krug, etc.; Nikolaihof Vinothek Riesling 1997; Numanthia Termes 2012 re-arrived; December Sales Ending Soon!
Dom Perignon
Crazy Prices In Time For NYE 2017!
Arriving Friday
Dom Perignon Brut, Champagne 2006 750ML ($179.95) $119 pre-arrival special
Antonio Galloni 97 points "The 2006 Dom Pérignon is a beautifully balanced, harmonious Dom Pérignon that strikes an incredibly appealing stylistic middle ground. Rich, voluptuous and creamy, the 2006 shows off fabulous intensity in a style that brings together the ripeness of 2002 with the greater sense of verve and overall freshness that is such a signature of the 2004. Bass notes and a feeling of phenolic grip on the finish recall the 2003, as the Pinot Noir is particularly expressive today. After an irregular summer that saw elevated temperatures in July followed by cooler, damp conditions in August, more favorable weather returned in September, pushing maturation ahead and leading to a long, protracted harvest. The 2006 falls into the family of riper, more voluptuous Dom Pérignons, but without veering into the level of opulence seen in vintages such as 2002."
Wine Advocate 96 points "The 2006 Dom Pérignon comes from a very rich vintage with an early ripeness that brought a lot of aromatic maturity. The white-golden prestige cuvée contains a bit more Chardonnay than Pinot Noir and opens with a deep and seductive, pretty accessible nose with intense yet fresh fruit aromas of pineapples, with peaches and tangerines. Lively and elegant on the palate, this is a full-bodied, unusually aromatic and fruity DP with a long and tension-filled expression."
This is the lowest listed price in the USA today!
The average price is $173
Perrier-Jouet Belle Epoque 2007
Grande Marque Champagne
Full Bottles at Half the Price!
Arriving Friday
Perrier-Jouet Belle Epoque – Fleur de Champagne Brut Millesime, Champagne 2007 750ML ($159.95) $79 special
Wine Enthusiast 95 points "For Perrier-Jouët the symbols of the Belle Epoque are the house calling card. This prestige cuvée, in its stylish flowered bottle, has been released with good maturity, offering toast as well as fruit and a crisp, tight and mineral backdrop. There is an elegant style to the wine, fresh and with poise. Drink now."
Wine Spectator 93 points "Driven by smoky minerality, this firm and balanced Champagne offers a subtle palate of pineapple pâte de fruit, blackberry tart, lemon preserves and fleur de sel. Offers a long-lasting finish. Drink now through 2027. 600 cases imported."
This is by far the lowest listed price in the USA today!
The average price is $150
Roederer Estate Brut
Wine Spectator's Wine of the Week
Stateside Bubbles at Festive Prices
In-Stock Now
Roederer Estate Brut, Anderson Valley NV 750ML ($24.95) $16 special
Wine Enthusiast 92 points "Thickly moussed, Roederer's Brut, 60% Chardonnay blended with 40% Pinot Noir, aged two years on yeast is affordable and luxurious. A gorgeous, very dry sparkling wine with aromatics of honey, raisin, apple and pear, it is rich and soft and offers both depth and length. It's an ideal marriage of bright acidity and ripe fruit character." WE
Wine Spectator 90 points "Elegantly balances lively crispness with plush, rich fruit and notes of fresh cherry, baked apple and brioche, ending with a long, minerally finish. Drink now."
This is the lowest listed price in the USA today!
Roederer Estate L'Ermitage Brut, Anderson Valley 2009 750ML ($49.95) $33 special
Case-6 Roederer Estate L'Ermitage Brut, Anderson Valley 2009 750ML ($259.95) $179 special
Wine Spectator 92 points "[$48 list] A luxurious sparkler, with toasty brioche, mineral and lemon brûlée aromas and rich, complex flavors of crisp apple and raspberry, showing accents of fresh ginger and spice."
Lucky Number Seven—Want to start 2017 with good fortune? Celebrate with something from 2007! Read on for a long list of '07 wines, and one exquisite 1997 bottling…
Happy Holidays
From the team at Vinopolis Wine Shop
Please note that we will be closed on New Year's Day, January 1st
We will re-open for our regular hours 10 am – 6 pm on January 2nd
This shop never closes: www.vinopoliswineshop.com
Our Current
Shipping Promos:
Welcome to the club, Colorado!
Along with Oregon, Washington, Idaho, and California,
we now offer flat rate shipping to Colorado! Here's the scoop:
Single orders of any quantity of wines qualify for the flat rate;
this does not apply to orders held in storage for any reason
or multiple orders consolidated into one shipment.
The flat reach for each state is, as follows:
-to Oregon for $17,
-Washington & Idaho for $20,
-and California & Colorado for $25.
Take Advantage of the Flat Rate!
Champagne Champagne!
New Year's Eve is a time for Champagne and we have a lot of it here at Vinopolis (you can visit our website to see all 104 different Champagnes in stock!).  We're highlighting two different categories of Champagne—bottles that really mark the occasion as special, and bottles you can grab and pour with a little less gravitas.
Champagne for Entertaining: Our Best Value Picks
First, let's highlight the bubbly we think is wonderfully celebratory, but is inexpensive enough that it can be *poured* not sipped.  These are all wonderful wines with equally wonderful pricing.
Vinopolis Champagne of the Year:
Vouette et Sorbee Cuvee Fidele Extra Brut, Champagne NV (2012) 750ML ($89.95) $59 special
Case-6 Vouette et Sorbee Cuvee Fidele Extra Brut, Champagne NV (2012) 750ML ($479.95) $336 special (that's only $56/bottle!)
Antonio Galloni 95 points "The NV (2012) Extra Brut Fidele is another fabulous wine from Vouette & Sorbée. Here, the richness of Pinot Noir comes through loud and clear in the wine's depth and overall richness. Creamy and beautifully layered throughout, the 2012 hits all the right notes. Red berry, mint, flowers, sweet spices and candy fill out the wine's broad frame effortlessly. What a gorgeous wine this is. Simply put, the 2012 is a total knock-out."
Perseval-Farge C. de Pinots Premier Cru Brut, Champagne NV 750ML ($49.95) $37 special
Josh Raynolds–Vinous 90 points "(55% Pinot Noir and 45% Pinot Meunier; 7 g/l dosage): Light yellow. Ripe pear and nectarine on the musky, floral nose and palate. In a fleshy, ample style, showing a sweet touch of vanilla on the back half. Closes smooth and broad, with building spiciness and a hint of smokiness."
This is the lowest listed price in the USA today!
The next best price is $44.89
Perseval-Farge 'La Pucelle' Premier Cru Brut Nature, Champagne NV 750ML ($69.95) $59 special
Winery Note: Solely made of Pinot Noir grapes and exclusively coming from the location named "La Pucelle" on the Charmery Land. The Vintage Premier "La Pucelle" os "non-dose".
This is the lowest listed price in the USA today!
The average price is $64
Aubry Premier Cru Brut, Champagne NV 750ML ($49.95) $36 special, 36+ bottles available
Case-12 Aubry Premier Cru Brut, Champagne NV 750ML ($479.95) $399 special
(That's only $33.25/bottle
Wine & Spirits 92 points "This tastes of pure, pale white limestone transformed into crisp yellow apple. It's appetite inducing in its zesty freshness, bright white floral notes and clean, lively length of flavor, especially if there are oysters nearby. The Aubry brothers maintain a reserve wine blend composed of vintages going back to 1998; that blend provides 50 percent of this Brut, with the other half from 2013. The varietal composition is also distinctive: pinot Meunier makes up 45 percent, with chardonnay and pinot noir each providing 25 percent and the remaining five percent made up of traditional local varieties including arbanne, petit meslier and fromenteau."
Andre Clouet Grande Reserve Brut, Champagne  NV 750ML ($49.95) $33 special,
Case-12 Andre Clouet Grande Reserve Brut, Champagne  NV 750ML ($479.95) $359 special,
(that's only $29.92/bottle and the lowest listed price in the USA today!)
Antonio Galloni 90 points "The NV Brut Grande Reserve emerges from the glass with layers of hazelnut, pear, spice and dried flower aromas. This rich, creamy wine impresses for its balance and sheer richness. I loved it." AG
Andre Clouet Silver Grand Cru Blanc de Noirs Brut Nature, Champagne NV 750ML ($49.95) $33 special, 36+ bottles available
Case-12 Andre Clouet Silver Grand Cru Blanc de Noirs Brut Nature, Champagne NV 750ML ($479.95) $359 special, 2 cases available (that's only $29.92/bottle and the lowest listed price in the USA today!)
Antonio Galloni 91 points "The NV Brut Nature Silver is naturally a very focused, driven wine given the no-dosage style. This shows wonderful nuance and depth all the way through to the long finish, with bright aromas and flavors but less of the toastiness than some of the house's other wines. The mousse and finish are both utterly impeccable in their elegance." AG
Pierre Gimonnet et Fils Blanc de Blancs Cuvee Oenophile Premier Cru Extra Brut Non Dose, Champagne 2008 750ML ($79.95) $59 special, 10 bottles available
Gilbert & Gaillard 94 points "Light yellow-gold. The nose displays splendid minerality then reveals pastry and almond notes. The palate shows seductive precision. Refined texture and mouth-filling freshness. Well-structured, strict and elegant. A stellar Champagne with a real sense of place."
Wine Advocate 92 points "The 2008 Oenophile Extra Brut offers an invitingly clear, bright and fresh bouquet of crisp apples, lemons, brazil nuts and grated hazelnuts along with some hints of herbs and flowers. On the palate this is a very elegant, firm, fresh and minerally accentuated Champagne of with a good grip and an animating citric finish. It is a crisp, elegant, refined and a really stimulating aperitif on a really high level. Beautifully structured and mineral, I just can't get enough!" WA
Rene Geoffroy Rose de Saignee Premier Cru Brut NV 750ML ($69.95) $56 special
Wine Spectator 92 points "Vibrant acidity frames flavors of steeped white peach, raspberry, candied orange zest and smoke in this rich, expressive rosé. Well-balanced and lively, with a mouthwatering, spiced finish."
Special Champagnes with Equally Special Pricing!
And now a few of our favorite prestige cuvees, vintage wines and otherwise rare bottles that are sure to make an impact.  If you want to have a memorable bottle on New Year's Eve—check out some of these fantastic wines, at some of the lowest prices in the nation.
Veuve Clicquot Ponsardin La Grande Dame Brut, Champagne 2006 750ML ($149.95) $112 special, 24 bottles available
Wine Spectator 94 points "Bright and graceful, this seamlessly knits a subtle streak of smoke-tinged minerality with flavors of almond financier, poached pear, candied kumquat and crème de cassis, focused by vibrant acidity and a refined, creamy mousse. Drink now through 2030."
This is the lowest listed price in the USA today!
The average listed price for this wine is $153
Salon Cuvee 'S' Le Mesnil Blanc de Blancs, Champagne 2004 1.5L ($1,499.95) Was $1,190, Now $989, 2 magnums available
Antonio Galloni 97+ points "The 2004 Salon has been superb each time I have tasted it over the last year or so. Bright, tense and crystalline, with all of the energy that is typical of both Salon and the vintage in the Côte des Blancs, the 2004 bristles with superb precision and cool, pulsating minerality. The 2004 spent a dozen years on its lees. Over the last six months or so, it has gradually begun to open up, but it is very much a wine for the cellar. Two thousand four is remembered as a vintage with record high yields. Salon (and Delamotte) did a terrific job in keeping the vines well balanced. Production was just 46,000 bottles, as opposed to the 60,000 or so that is more typical. Chef de Caves Michel Fauconnet opted for a low dosage of just 4 grams per liter. This is a tremendous showing."
Philipponnat Clos des Goisses Brut, Champagne 1996 750ML ($399.95) $348 special
Antonio Galloni 97 points (December 2015); Antonio Galloni 96 Points (March 2015)
"One of the all time greats from Philipponnat, the 1996 Clos des Goisses captures the essence of a vintage in which both sugars and acidities were elevated. Tension, energy and salinity are the signatures. Readers who can wait on the 1996 will be rewarded with a stunning bottle of Champagne that will likely still be profound at age fifty."
This is the lowest listed price in the USA today!
Philipponnat Clos des Goisses Brut, Champagne 2006 750ML ($249.95) $199 special
Wine Spectator 94 points "Floral and ripe apricot notes ride the creamy bead of this elegant Champagne, accented by hints of black currant, pastry and candied kumquat. Bright and lively, with a hint of smoky mineral lingering on the finish. Disgorged in May 2015. Drink now through 2026. "
Pol Roger Cuvee Sir Winston Churchill, Champagne 2000 1.5L ($519.95) $419 special, 3 magnums available
Antonio Galloni 94 points "The first thing that is evident about the 2000 Brut Cuvee Sir Winston Churchill is its finesse and total silkiness. The 2000 is a rich, creamy and deeply expressive Winston Churchill. I don't see the 2000 being an especially long-term ager, but it is wonderfully radiant and open today. Hints of pastry, spice, apricots and succulent ripe pears blossom on the expansive, broad-shouldered finish. Anticipated maturity: 2012-2030."
This is the lowest listed price in the USA today!
And we also have a few wonderful Champagnes in half bottles!
Pierre Paillard Bouzy Grand Cru Brut NV 375ML ($27.95) $21.90 special
Josh Raynolds–Vinous 91 points "Light gold, with a faint onion skin cast. Spicy orange zest and honeydew on the fragrant, mineral-accented nose.  Dry and tightly focused, offering lively Meyer lemon and melon flavors and a deeper suggestion of nectarine.  Finishes with building floral character and excellent tangy persistence, leaving bitter citrus zest and dusty mineral notes behind." JR
R.H. Coutier Tradition Grand Cru Brut, Champagne NV 750ML ($39.95) $33 pre-arrival special
R.H. Coutier Tradition Grand Cru Brut, Champagne NV 375ML ($27.95) $21.90 pre-arrival special
Wine & Spirits 93 points "[$50 Best Buy] This takes the early, red-fruit richness of an Ambonnay Champagne and charges it with energy. It has stamina that seems to drive right along with the bubbles, the flavors firm and juicy, broadened by clay soils, cut by chalky soil acidity. Finely integrated and lasting."
These are the lowest listed prices in the USA today!
Re-Arrived from Spain
To Warm Up Your New Year
Numanthia Termes, Toro 2012 750ML ($27.95) $16 special
Wine Enthusiast 92 points "Since its inception, Numanthia has never once bottled a disappointing Termes. Aromas of lemon peel and orange rind mix with blackberry and cassis notes. This feels tight and tannic, but structured and appropriate. Dark-berry and chocolate flavors finish tannic but healthy. This is true-to-form Toro."
Robert Parker 90 points "The 2012 Termes is pure Tinta de Toro (aka Tempranillo) from a number of vineyards on sandy and stony soils aged in 30% new barrels for 12 to 15 months. There are some savory aromas mixing cured meat with the classical Tempranillo black raspberries, and some lactic and spice aromas (cola nut), with hints of granite and licorice. The palate shows good freshness within the ripe and powerful style of the zone; it has good balance between tannins, alcohol and acidity. This is the more drinkable of the three."
This is the lowest listed price in the USA today!
The average price is $23
There's Still Time to Ship New Year's Wine!
Oregon, Washington, Northern California, and parts of Idaho and Montana
Get us your order by 2pm PST today, December 28th, and UPS Ground will deliver by Friday!
Other states can select 2-Day shipping: please contact us for quotes.

777
Toast to a Lucky 2017
With a Bottle From 2007
In-Stock Now
Ramey Wine Cellars Cabernet Sauvignon, Napa Valley 2007 750ML ($79.95) $69 special, 15 bottles available
Robert Parker 92 points "A stunning yet reasonably priced, high end Napa Cabernet Sauvignon is the 2007 Cabernet Sauvignon Napa. The final bottling from the extraordinary Larkmead Vineyard, it boasts a dense purple color as well as a big, sweet bouquet of blueberry and black currant fruit intertwined with licorice, bay leaf, cedar and fruitcake notes. Full-bodied and opulent, this precocious 2007 is drinkable now and should evolve for another 15+ years."
Stephen Tanzer–Vinous 92 points "(includes 5% merlot, 4% malbec and 2% each of cabernet franc and petit verdot) Inky ruby. Intensely perfumed bouquet of red- and blackcurrant, dark chocolate and anise, with mounting spiciness. More open-knit and accessible than last year's tasting suggested it would be, offering sweet dark fruit and cherry flavors and building tannins. The fruit takes over on the finish, which echoes the spice and cherry notes. This has turned out better than I expected, perhaps because all of the Larkmead fruit went into this wine in this vintage."
Frederic Magnien Valmur, Chablis Grand Cru 2007 750ML ($99.95) $69 special, 22 bottles available
Burghound 91 points "An ultra pure and high-toned green fruit nose that evidences hints of citrus, algae and tidal pool aromas merges into linear, driving and wonderfully delineated flavors that are wrapped in a dry, clean and energetic finish. This is understated to the point of being discreet yet the balance is impeccable."
This is the only listing in the USA today!
Alvaro Palacios Finca Dofi, Priorat DOCa 2007 750ML ($79.95) $69 special, 11 bottles available
Wine Advocate 93 points "The 2007 Finca Dofi ups the ante. It is sourced from a single vineyard with a cepage of 60% Garnacha and 40% Cabernet, Syrah, and Merlot aged in 100% new oak. It displays a more expressive nose of mineral, Asian spices, smoke, espresso, black cherry, and licorice. On the palate it is dense but approachable. It merits several years of cellaring, and its optimal drinking window extends from 2013 to 2022."
Stephen Tanzer–Vinous 92+ points "Opaque ruby. Expansive aromas of dark cherry, blackberry, iron, tobacco and cedar. Very rich but lively, offering sweet red and dark berry flavors and a hint of licorice. Packs serious punch and shows a chewy, youthfully tannic quality on the long, penetrating finish. Unevolved right now and in need of at least another few years in bottle, but this is very promising."
This is the lowest listed price in the USA today!
The average price is $77
Gramona III Lustros Gran Reserva Brut Nature Cava, Catalonia 2007 750ML ($49.95) $39 special, 15 bottles available
Wine Advocate 93 points "The 2007 Gran Reserva Brut Nature III Lustros is a sparkling wine with a long history, aged for seven years in contact with the lees and kept without adding any liqueur d'expédition (Brut Nature). They like a blend of 75% Xarello and 25% Macabeo, which is a constant across the range, but the long aging provides for the telltale Penedès balsamic aromas of camphor, bay leaf and fennel, with a touch of petrol. The palate shows a compact wine, with very good integration of all the components, bright acidity and fine bubbles that provide a silky texture. It feels younger than it is, a good compromise between youth and development."
This is the lowest listed price in the USA today!
Giovanni Manzone Bricat, Barolo DOCG 2007 750ML ($79.95) $59 special, 10 bottles available
Wine Advocate 94 points "The 2007 Barolo Bricat is tighter and more focused than the 2007 Gramolere. Sweet dark cherries, menthol, licorice and spices are some of the notes that take shape in the glass. The vineyard's high altitude seems to have helped preserve a measure of freshness and vibrancy. The firm tannins could use another few years to soften. Anticipated maturity: 2015-2025." WA
This is the lowest listed price in the USA today!
M. Chapoutier Hermitage Monier de la Sizeranne 2007 750ML ($129.95) $79 special, 5 bottles available
Robert Parker 90-93 points "The 2007 Ermitage La Sizeranne displays a similar deep ruby/purple-tinged color in addition to sweet aromas of raspberries, black currants, smoke, gun flint, and spice. This full-bodied, well-made wine reveals outstanding richness, purity, and overall balance. Consume it over the next 15-20 years." RP
This is the lowest listed price in the USA today!
The average price is $98
Our ever-expanding inventory includes almost two dozen more 2007s: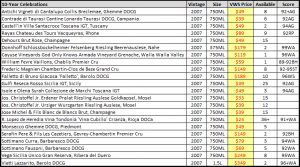 1997
Things that happened in 1997 (you know, 20 years ago from 2017): Bill Clinton is inaugurated for his second term. Hong Kong transitions to Chinese rule. The Red Wings win their first Stanley Cup in over 40 years.  The USS Constitution sets sail for her 200th anniversary. MCI and WorldCom merge. Princess Diana, the Notorious BIG and Mother Theresa die.
Also, the (legendary) winery Nikolaihof puts some Riesling in barrel that will become a Vinothek release more than 17 years later, when the wine is bottled.  It's this wine that we'd like to offer for you to celebrate (or just to drink because the wines are delicious).
Familie Saahs Nikolaihof Vinothek Riesling, Wachau 1997 750ML ($219.95), Was $179, Now $149 special
Wine Advocate 97 points "Aged for 17 years in a domestic 3,500-liter cask before it was bottled in August 2014, the 1997 Riesling Vinothek is the best part of the regular 1997 Riesling Smaragd Im Weingebirge, which was bottled and marketed in late 1998. The aged Vinothek version offers a fascinatingly clear, bright, deep and multi-layered nose with iodine and ripe as well as intense white-fleshed fruit aromas. Full-bodied, full of finesse and elegant, this dry, transparent and mineral Riesling develops a great intensity, complexity and power on the palate, but never leaves its silky road of purity, finesse and transparency. There is a lot of Spiel and tension here, but the most exciting characteristic trait is the intense and very mineral, almost endless finish. How youthful this wine is! And its further aging potential is still terrific. The wine reminds me of certain sherries, white Riojas and Jura wines, although it is not less oxidative. But it spent a long time in cask and has the freshness, complexity and thrilling taste of those. It's a great, unique and stimulating wine that was bottled with 12.8% of alcohol, 6 grams of residual sugar and 6.5 grams of acidity."
2016!
December Sales Recap
We're up to 73 wines on special sale through the month of December! These sales expire December 31st at midnight
Read reviews and browse the full selection of sale wines by searching for "December Sale" on our web store – we're also happy to talk you through the offerings if you email us at info@vinopoliswineshop.com or call 503-223-6002.