May 2017
Staff Pick: Matello Souris 2011 & 2012
Suzanne: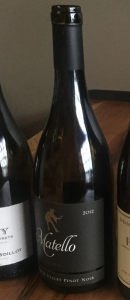 With substantial increases in production in the 2014 and 2015 vintage, many Oregon wineries are running out of space to hold back vintages of treasured wines. And to your benefit! With top picks from the 2011 and 2012 vintages slowing dwindling on our shelves, we jumped at the chance to offer more library releases from one of our favorite local Pinot producers – Matello. Until the 2012 vintage, Marcus Goodfellow bottled a barrel selection from his best sites (Whistling Ridge, Durant and Bishop Creek, though it varied from vintage to vintage) under the name Souris.
The 2011 was, not surprisingly given his track record, delightfully young and fresh, when we checked in a few months ago. Richly perfumed aromas of dark red rose and fresh lilac spilled from the glass. The palate gave up black raspberry and black tea aromas mixed with a peppery vanilla note. The wine had very fine yet present tannin, moderate acidity and a spicy oak profile that pairs well with the lush aromatics. The long, cool growing season resulted in concentrated flavors balanced by elegance and crisp acidity. As enjoy able as it was right out of the bottle today, this baby is worth cellaring for at least another five years (the 2005 is showing beautifully now!)
The 2012 offers a similar lengthy potential aging (though I'll leave the debate on which should and will last longer to the ages).While the 2011 shows the vintage's leaner body and brighter acidity, the 2012 is a touch lusher and richer, though without the high alcohol of so many of the '12s. The spiciness and violet aromas take back stage to freshly crushed blackberry and sappy red fruits. The finish reminds me of the 2011: spice, dried roses and a surprising levity.
No need to regret opening a bottle now and cellaring a few for later. Not many, if any, other Pinots can compete in terms of quality to price at this level.
Matello 'Souris' Pinot Noir, Willamette Valley 2011 750ML ($39.95) $28 special
Josh Raynolds-Vinous 91 points "($45) (from fruit grown in the Whistling Ridge and Durant vineyards; made with 55% whole clusters and raised in 40% new oak): Vivid red. Vibrant red berry and Asian spice aromas are given depth by notes of vanilla and licorice and pick up a minerally nuance with air. Juicy raspberry and cherry-cola flavors tighten up in the mid-palate and show very good clarity. Finishes spicy and long, with silky tannins adding structure." ST
May Sale Wine!
Matello 'Souris' Pinot Noir, Willamette Valley 2012 750ML ($41.95) Was $37, Now $29 super special!
Case-12 Matello 'Souris' Pinot Noir, Willamette Valley 2012 750ML ($449.95) $299 special (that's only $24.92/bottle!)
Case-6 Matello 'Souris' Pinot Noir, Willamette Valley 2012 750ML ($249.95) $166 special (that's only $27.67/bottle!)
Josh Raynolds–Vinous 93 points "Vivid ruby-red. Heady, complex scents of fresh red and dark berries, incense and Asian spices, with a bright mineral overtone. Intense black raspberry and spicecake flavors convey a shapely, seamless quality. Fleshes out and deepens with aeration and finishes sweet and extremely long, with lingering smokiness and harmonious tannins."