Available Here Now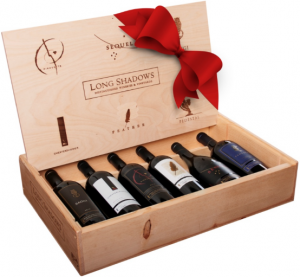 Long Shadows Vintners Collection Gift Box ($399.95) $319 special
Contains one 750ML bottle each of Long Shadows' six acclaimed red wines, packaged together in a beautifully etched wood box:
2013 Pirouette [Philippe Melka (Vineyard 29, Lail, Hundred Acre) & Agustin Huneeus, Sr. (Quintessa)]
2013 Feather [Randy Dunn (Dunn Vineyards)]
2013 Pedestal [Michel Rolland (International Wine Consultant)]
2013 Sequel [John Duval (Penfolds Grange, Plexus, Entity)]
2013 Saggi [Ambrogio & Giovanni Folonari (A & G Folonari Tenute, Tuscany)]
2012 Chester-Kidder [Allen Shoup (Chateau Ste. Michelle, CEO) & Giles Nicault (Woodward Canyon)]
Only pay shipping on the bottles – the OWC ships for free!
For more information on each bottling, read on:
Pirouette: A blend of Cabernet Sauvignon and Petit Verdot from the Wahluke Slope, Sagemoor's Old Vine and Red Mountain Vineyards with Merlot from the estate Benches Vineyards in Horse Heaven Hills.  Richly layered and complex, the wine is unfiltered and unfined to allow for a generous spectrum of aromas and flavors including black cherry, sweet spices and a hint of earth.  The wine's refined texture provides a seductive mouth feel and lengthy finish.
Feather: Randy Dunn selects the Cabernet Sauvignon the Feather from a diversity of sites: the estate Benches Vineyards for dark fruit and earthiness, the Wahluke Slope for structure and ripe tannins, and two of Washington State's oldest vineyards, Weinbau and Dionysus, for complexity.  The wine is concentrated and beautifully balanced; Feather might best be described as 'an iron fist in a velvet glove.'  This incredibly complex wine offers an array of fresh berry aromas, complimented by spicy, dark cherry and dried current flavors that persist on the palate.
Pedestal: Produced by one of the world's most famous winemakers, Michel Rolland.  Rolland selects the Merlot from the Conner Lee and Dionysus Vineyards as well as from the estate Benches Vineyards to produce an unusually complex Merlot.  Tapteil Vineyards Cabernet from Red Moutain gives it its strength and extra richness.  The wine shows intense, fruit-forward notes, bursting with fresh blueberries, ripe plum, cedar and spice.  Good concentration in the wine adds to its pleasing mouth feel; balanced acidity enhances its appeal.  Supple tannins are well-integrated on the entry, across the mid-palate and throughout a long, layered finish.
Sequel: John Duval, formerly the the iconic Penfolds Grange, chose the Columbia Valley as his "Sequel" for the continuation of his life's work with Syrah. He uses grapes from the Benches Vineyard for its dark flavored fruit, the Red Mountain Vineyard adds structure, and Boushey Vineyards add elegance.  A generous and concentrated wine of great character, Sequel is notable for its deep purple hue, rich aromatics and layers of flavor.  Almond, dark chocolate and cherry notes fill the glass, complemented by hints of black licorice, blackberry, cocoa powder and a touch of smoke.
Saggi: Father and son team Ambrogio and Giovanni Folonari teamed up to produce a wine that showcases Washington's terroir with plenty of Italian character.  Saggi, meaning 'wisdom,' is a blend of Cabernet Sauvignon, Sangiovese and Syrah.  The Folonaris selected Sangiovese from a 1993 planting at Boushey Vineyard which provides delicate flavors and silky tannins.  Cabernet Sauvignon from Stone Tree Vineyard and Syrah from Bacchus and Boushey Vineyards enhance the wine's refined texture.  Dark cherry aromas and raspberry flavors combine with a hint of nutmeg and smoky earthiness.  An elegant entry in the front of the mouth reveals refined tannins with focused concentration, enhanced by the wine's rich and supple mouth feel.
Chester-Kidder: Allen Shoup selected winemaker Gilles Nicault to produce his vision of a wine that says "this is how good Washington wine can be."  The back bone of this wine is Cabernet from Walla Walla and nearby Candy Mountain.  Its deepness and darkness is Syrah from the estate's Benches Vineyards in Horse Heaven Hills.  Finally, a unique complexity is produced by the Petit Verdot and Cabernet Franc from the Sagemoor farms.  Aromas of dried figs and cocoa powder, along with hints of tamarind and toasty oak are followed by intense violent and blueberry jam flavors beautifully integrated around a spicy core.