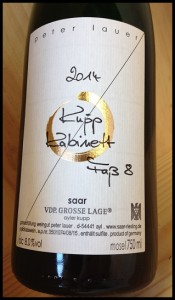 Peter Lauer Fass 8 Ayler Kupp Kabinett, Mosel, Germany 2014 750ML ($37.95) Buy Now: $31.90 special
Like tiny flowers pressed between the pages of a book you borrowed years ago but have yet to read (or return!), this year's Fass 8 is delicate but not wimpy, bittersweet yet not overwrought, and perhaps a little flirtatious. It trades off solos from sweet to saline and floral to fruit with ease, ne'er too serious and yet fully confident with what's at stake in the glass. After all, Riesling faces an uphill battle even during its own renaissance.
I fear that writing down a bunch of adjectives in quick succession reduces this wine to something to be scored rather than enjoyed. To hell with points! All I can say is that I really enjoyed it and believe that the chances are pretty high that you will, too.
Lauer himself – the third in the family to coax wine from earth and into bottle – makes drop-dead gorgeous wines. It seems as though this was once a secret, known only by a spattering of sommeliers and retail nerds. In counting myself among the latter, I'm not too worried that the cat's out of the bag with this one.  There's enough to go around. Enjoy it. – Tyler