June 2017
La Jota Vineyard Cabernet Sauvignon, Howell Mountain 2013
A Great Big Cabernet at a Great Big Discount!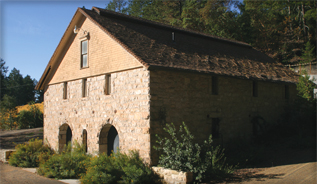 It's telling that La Jota's full name is "La Jota Vineyard Co."  Founded in 1898, it's a winery explicitly tied to a place, in this case Howell Mountain.  Howell Mountain is a special place in Napa to grow Cabernet Sauvignon and the history of the winery reflects that—the first awards for the winery were in the 1902 Paris Exposition.  They shuttered during prohibition and became a "ghost winery" until the current winery opened in 1982.
The winery makes its wines from estate fruit spread over 28 acres of prime volcanic Howell Mountain real estate, and the Cabernet is what they're known for.  We've been lucky enough to score a great deal on the lauded 2013 version, which has dense, rich dark flavors that the mountain fruit provides.  This is one of those wines that could only be made in one place: Howell Mountain.  This wine would be fantastic at full freight, but at the best price in the country, it's a no-brainer.
La Jota Vineyard Cabernet Sauvignon, Howell Mountain 2013 750ML ($99.95) Was $77, Buy Now: $69
La Jota Vineyard Cabernet Sauvignon, Howell Mountain 2013 1.5L ($179.95) Buy Now: $136
Decanter 98 points "Resplendent aromas of voluptuous blackcurrant and plum. This is certainly rich and concentrated, yet it all seems to be in balance, with firm chocolatey tannins supporting the dense and solid fruit. (Feb 2017)"
Wine Enthusiast 95 points "This full-bodied, concentrated wine shows plenty of power in its bringing together of the variety with smaller percentages of Merlot, Cabernet Franc, Petit Verdot and Malbec. With a huge presence on the palate that lingers and stays in one's brain, it shows a reductive quality of toasted oak along with black pepper, bark and leather saddle,. It's a wine to enjoy from a giant leather chaise, if possible."