Miraculous Best Price Deal: Perrier-Jouet Belle Epoque 2008: $99!; Holiday #Trend Setter: Petalos; Rodney Strong's Crown Jewel; Highly Anticipated Release: Marques de Caceres 2012 Arriving Friday; Colgin Sale of the Season

Arriving Tomorrow
Miraculous Best Price Deal!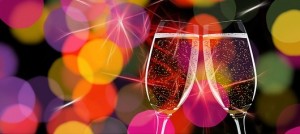 Perrier-Jouet Belle Epoque – Fleur de Champagne Brut Millesime 2008 750ML ($149.95) $99 pre-arrival special
Decanter 93 points "Perrier Jouët Belle Epoque 2008 reminds me somewhat of the grace of the exceptional 1995, Cellarmaster Hervé Deschamps' first solo vintage and still one of his best. Though the two vintages 13 years apart share the same grace and class, the 2008 is more mineral, reflecting a quite sunless summer season. Only the return of warmer weather at the start of September imbued the vintage with a freshness of great Chardonnay in tune with the subtly restrained power of Pinot Noir and a soupçon of rounded Meunier – that final little touch making the wine more pleasurable to drink soon, unlike other wines from the Champagne 2008 vintage, which need a lot more time. Chardonnay is from Cramant, Avize, and Mesnil, Pinot Noir from Ay and Ambonnay in the Montagne de Reims, and Pinot Meunier from Dizy. Shimmering pale gold with green lights, radiant clarity; persistent tiny bubbles: riot of white flowers scents, hawthorn, then more stone-fruit than citrus, reine claude (greengage) and elderflower. Vibrant mouthfeel, invigorating, expansive – perfect with saline fruits de mer."
This is the lowest listed price in the USA today!
The next best price is $119.98
The average price is $149

Holiday Trend Setter
Our most popular red – perfect for parties & presents – at a very popular price!
In Stock Now
Descendientes de J. Palacios 'Petalos', Bierzo 2014 750ML ($24.95) $18 special
Case-12 Descendientes de J. Palacios 'Petalos', Bierzo 2014 750ML ($269.95) $199 special (that's only $16.58/bottle!)
Wine Advocate 93 points "The 2014 Pétalos del Bierzo was already up for tasting as they sell the wine quite quickly even if the volumes are not small, but the wine had only been in bottle for one week and it might have been a little closed, especially when compared with the aromatic 2013. However, the aromas, if subtle, are phenomenal, very complete and balanced, with an extra degree of complexity when compared with the 2013. The harvest was a little healthier without being easy (or dry). There is great volume in the palate, fleshy, juicy and rich without being heavy, medium-bodied, somehow similar to the 2012 even if it still needs to develop further complexity. There's always a subdued minerality, a texture and mouthfeel difficult to find in wines of this price level. This is approachable now, but it will be better in one year and should develop nicely in bottle. Drink: 2016-2022."
James Suckling 92 points "A pure mencía with wild strawberries, black pepper and underbrush. Balanced and pretty red showing subtle berry character throughout. Silky tannins. The entry-level red of the famous Bierzo estate. Drink now."
This is the lowest listed price on the West Coast!
The average price nationally is $20

Arriving Friday, December 15th
Rodney Strong's Crown Jewel
Family-owned and proud of their roots, Rodney Strong consistently offers one of the country's best Meritage (Bordeaux-style blend). Easy enough to afford, and even easier to drink and arriving here tomorrow!
Rodney Strong Single Vineyard Alexander's Crown Cabernet Sauvignon, Alexander Valley 2013 750ML ($79.95) $53.50 pre-arrival special
Robert Parker 94 points "A famous wine from the early days of The Wine Advocate, the 2013 Cabernet Sauvignon Alexander's Crown Single Vineyard comes from a lower elevation of 250 to 360 feet. The wine displays broad, sweet crème de cassis, black cherry and blueberry fruit, some licorice, graphite, a full-bodied mouthfeel, and outstanding length and purity. This is a beauty, and makes me think back to the great 1974, which was the first one I remember tasting."
This is the lowest listed price in the USA today!
The next best price is $59.79
The average price is $70

Arriving Friday!
Highly Anticipated Release from the Marques de Caceres
#19 Wine of the Year – Wine Spectator Top 100 in 2017
Marques de Caceres Reserva, Rioja DOCa 2012 750ML ($29.95) $18.50 pre-arrival special
Case-12 Marques de Caceres Reserva, Rioja DOCa 2012 750ML ($299.95) $199 pre-arrival special (that's only $16.58/bottle and the lowest listed price in the USA today!!)
Wine Spectator 93 points "Black cherry, currant and floral notes are expressive and alluring, balanced by loamy earth, tobacco and mineral elements that add a savory quality. Firm, well-integrated tannins give support to the polished texture, while orange peel acidity fuels the fresh finish. Drink now through 2027."
This is the lowest listed price on the West Coast!
The average price nationally is $20

Sale of the Season
Over 15% Off!
In Stock Now
"Everything at Colgin is done in such a meticulous, almost obsessive way, it's no surprise that they have been on a qualitative surge since establishing their winery high on Pritchard Hill. Of course, they have a talented team led by Ann Colgin. Winemaker Allison Tauziet, who mentored under Mark Aubert, continues to develop as a superstar while working with well-known Bordeaux consultant Dr. Alain Raynaud. Furthermore, the long-time viticulturalist managing these fabulous vineyards is none other than David Abreu. The 2014s have put on weight across the board, and it's no surprise that they are nearly as profound as the Colgin 2013s (just released in September of 2016) have turned out to be. These are all amazing wines from one of the world's greatest small wineries and merit serious attention." – Robert Parker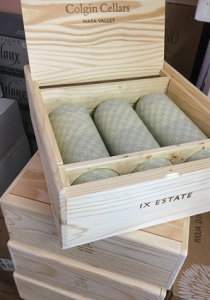 Colgin Cellars IX Estate Red, Napa Valley 2014 750ML ($699.95) Was $589, Now $499 special, 24 bottles in stock now
Robert Parker 98+ points "From their steep hillside vineyards on Pritchard Hill, the 2014 Proprietary Red IX Estate is an old-fashioned Médoc blend dominated by Cabernet Sauvignon, but with some Cabernet Franc (rarely seen in the Médoc these years) as well as Merlot and Petit Verdot. Striking aromatics of violets, forest floor, loamy soil nuances, blueberry, black raspberry and blackberry soar from the glass of this spectacular 2014. The acidity seems reasonable but on the lower side, the texture is magnificent, and the overall purity and equilibrium flawless. This is a wine pushing, even demanding, a three-digit score once again, but I'm holding back – at least for now. This magnificent effort from Colgin should drink beautifully for 25-30 years."

Thank you for reading!