February 2018
Heymann-Loewenstein


A winery defined by their remarkable vineyards

Heymann-Löwenstein is the signature producer of Germany's Terrassenmosel region. The Terrassenmosel is part of the lower Mosel river valley where the steepness of the slopes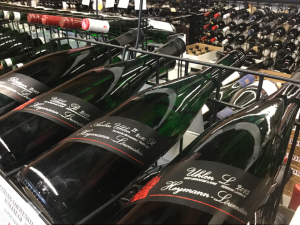 requires terraces just to be able to grow grapes. It's a daunting place to work—everything is so steep that no mechanized work is possible and so every single vine must be tended by hand.
Reinhard Löwenstein fits in with this region, then, as an absolute perfectionist who will do any and everything possible to make sure that his wines are as profound as possible. His yields and selection in the vineyards are made solely with quality in mind and he holds his wines back longer before release than most German producers—cash flow be damned.
In terms of style, the word that comes to mind when tasting these wines is 'mineral.' Not minerality paired with fruitiness, like with much Mosel Riesling, but sheer rockiness in liquid form. The wines are lean, racy and benefit from air or a few years in bottle, but are incredibly rewarding in the way that only the great wines of the world can be.
In Stock Now from Heymann-Loewenstein:
Heymann-Loewenstein Winninger Uhlen 'R' Roth Lay Riesling Auslese Goldkapsel, Mosel 2007 375ML ($99.95) Buy now: $69 special
Wine Spectator 96 points "Candied citrus, jujube, sweet spice and quince paste aromas and flavors mark this sweet, bracing Riesling, which is light on its feet and resonates on the finish with a mouthwatering feel and echoes of citrus. Best from 2012 through 2045."
Wine Advocate 95 points "Lowenstein's 2007 Winninger Uhlen Riesling Auslese Gold Capsule Roth Lay (as in the corresponding dry wines, the letter "R" is prominent on the label of this A.P.#9) benefits from counterpoint and collaboration among bright citrus, rich pit fruit essences, and the honey of botrytis. For all of its enormous sheer ripeness and concentration, this retains a striking sense of delicacy. A snappy, spicy, pungent streak – taken together with vivid, diverse pit fruits and citrus – serves for exhilaration in a finish of memorable length and energy, with a vivid impression of crushed stone one hardly expects in a wine of such sweetness and prominent botrytization. There seems to be something of a personality role reversal at work this year, because the corresponding Rottgen Auslese is cool and refined whereas this Uhlen displays more of the piquancy and (as French growers might say) nervosite that I associate with Rottgen. But then, botrytis is always something of a wild card, so that a wine like this is profoundly and unpredictably influenced by the precise microclimatic conditions for and differences in the nature of that fungus. No doubt this too will be worth following for two or more decades."
Heymann-Loewenstein Winninger Uhlen 'R' Roth Lay Riesling Auslese Goldkapsel, Mosel 2010 750ML ($199.95) Buy now: $149 special
Wine Advocate 93 points "Lowenstein's 2010 Winninger Uhlen Riesling Auslese Gold Capsule Roth Lay – destined for auction – displays an almost sweaty aromatic alliance of salinity and musky pungency, along with nose-prickling lemon rind such as one might expect from an Eiswein. Suggestions of marigold and narcissus add to the exotic, pungent muskiness on display here. Fig and peach preserves; pear drops; marzipan and salted caramel intensely mark the palate, while zesty, musky, and saline mineral impingement serve for strikingly persistent stimulation. Despite its lower (7.5%) alcohol, though, this comes off not only as more viscous but also less buoyant (let alone "uncannily" so) than its Rottgen counterpart. That wine is an example of botrytis performing its magic and leaving nary a fingerprint behind, whereas here, prints are quite evident, even if fascinatingly smudge-free. This compellingly complex concentrate will not be everybody's cup of nobly rotten Riesling, but ought to merit at least the better part of two decades attention."
Heymann-Loewenstein 'von Blauem Schiefer' Riesling, Mosel 2015 750ML ($44.95) Buy now: $33 special
Mosel Fine Wines 89 points "The 2015er Trocken vom blauen Schiefer is made from fruit out of the Koberner Weissenberg, Koberner Fahrberg and Klottener Brauneberg. It offers an inviting nose of spices and herbs as well as mirabelle and some wet slate. The wine proves nicely full-bodied but packed with glorious zesty acidity and minerals on the palate and leaves a long and powerful yet mouth-watering finish. This needs a few years in the bottle to shine. 2017-2023"
Heymann-Loewenstein Kirchberg Erste Lage, Mosel 2015 750ML ($49.95) Buy now: $39 special
Mosel Fine Wines 92+ points "This wine is rather reduced but offers a gorgeously flowery nose of pear and Provence herbs. It proves superbly elegant on the palate where grip and saltiness define the aromatics. Great multi-layered complexity already comes through in the long and airy finish. This is still very primary and in need of bottle age to balance out but this beauty will easily turn into the most complete and elegant expression of Kirchberg we have taste to date. This is hugely impressive and has even some upside potential. 2018-2025."
Heymann-Loewenstein Rottgen Riesling Erste Lage, Mosel 2015 750ML ($59.95) Buy now: $49 special
Mosel Fine Wines 92 points "The wine proves slightly bold at this stage as it delivers ripe scents of canned peach, mirabelle, quince, herbs and spices on the nose and a delicate baroque and toffee-infused side full of grip on the palate. These elements are nicely framed by minerals in the intense finish, leaving one with a complex and very individualistic set of flavors in the after-taste. This wine is nicely made in the richer style that has made the success of Heymann-Löwenstein and, consequently, will need some time find its inner balance. 2018-2025."
Heymann-Loewenstein Schieferterrassen Riesling, Mosel 2015 750ML ($39.95) Buy now: $29 special
Mosel Fine Wines "The 2015er Trocken Schieferterrassen is made from the Estate's holdings in Winningen (Domgarten, Brückstück and Hamm) and Kobern (Fahrberg and Weissenberg) as well as from declassified fruit from its "cru" vineyards. It offers a gorgeous nose of marzipan, herbs and spices. The wine is delicately baroque and full of character on the palate as ripe yellow fruits are nicely complemented by spicy herbs and a hint of tartness in the finish. 2018-2025"
Heymann-Loewenstein Stolzenberg Riesling Erste Lage, Mosel 2015 750ML ($49.95) Buy now: $39 special
Mosel Fine Wines 90+ points "This offers a gorgeous nose of ripe peach lifted up by a hint of honey, marzipan and dried herbs. The wine is delicately rich yet balanced on the palate and leaves a nicely clean feel of spices in the finish. This delicately full-bodied expression of Stolzenberg delivers great elegance in the finish and could easily exceed our initial expectations. 2017-2025."
Heymann-Loewenstein Uhlen B Blaufusser Lay Riesling, Mosel 2015 750ML ($69.95) Buy now: $59 special
Mosel Fine Wines 92+ points "A gorgeously elegant nose of greengage, almond, fresh herbs and spices as well as slate and smoke leads to rich flavors of minerals and good grip on the palate. Spicy herbs come through in the long finish, adding a gorgeously complex and multi-layered side to the wine. This is still quite backward and needs several years to develop its balance. We would not be surprised if it even exceeds our expectations once it reaches its maturity plateau. 2018-2025."
Heymann-Loewenstein Uhlen Laubach Lay Riesling 2015 750ML ($69.95) Buy now: $59 special
Mosel Fine Wines 92 points "This offers a gorgeously elegant and refined nose of pear, mirabelle, ginger, fresh herbs and spices. The wine proves ostentatious yet loaded with flavors in the finish and leaves a gorgeously multi-layered feel of minerals, herbs and a slight touch of power in the finish at this early stage. The raw material is beautiful and only needs time to integrate and deliver a full-bodied wine with multi-layered complexity. 2020-2030."
Arriving in April:
Heymann-Loewenstein Uhlen 'R' Roth Lay Riesling, Mosel 2015 750ML ($89.95) Buy Now: $79 pre-arrival special
Mosel Fine Wines 92-95 points "We tasted the three different casks which will make out the final Uhlen R. While there are differences in structure and mouth-feel between the casks, all casks offers a similarly gorgeous nose of candied grapefruit, yellow peach, wet stones and fine dried spices. The wine is beautifully well balanced on the palate, marrying aromatic precision with silky smoothness and delicately tickly zest as fruit and minerals coat the palate. The finish is beautifully pure and multi-layered. There is huge potential here if the wine's presence and finesse will make it into the bottle and shine through at maturity. 2020-2030."