New Wines from Domaine Vocoret
The Best Value in Chablis?
Only Here:
We have the only listing, or the lowest listing by $10-$20/bottle!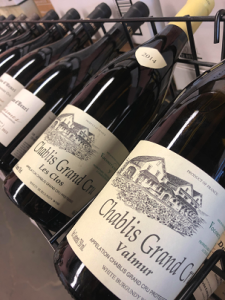 Classic Chablis at reasonable prices is increasingly rare.  The best producers make exceptional and classic wines, but at prices that are hard to afford for casual drinking.  There is an ocean of affordable but mass-market Chablis that lack any sort of typicity. Domaine Vocoret, on the other hand, exists in a perfect overlap—the wines are delicious and have an essential-ness about them that screams Chablis.  The pricing, too, is within reach, even with the Grand Cru wines, all under $70 a bottle. When you combine the quality of the estate with the excellent 2017 vintage, you have a truly winning set of wines on your hands that you can buy now.  Writing for the Wine Advocate, William Kelley declared that "there can be little argument that 2017 is the finest Chablis vintage since 2014." Furthermore, he urged his readers " to acquire the wines while they are still available."  At these prices, that's going to be an easy thing to do.  These wines are in stock now and you'd do well to put your order in right now.