Domaine Leon Barral Faugeres 2012 750ML ($37.95) Buy Now: $31.90 special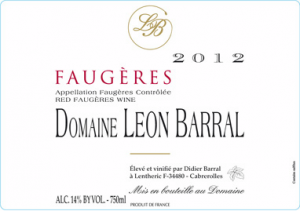 "I remember my first Faugeres wine like my first Jimi Hendrix record: I don't recall where, or which it was, even, but I remember perfectly the feeling that this was unique, special, worthwhile… So many of the producers in Kermit Lynch's portfolio have achieved that same effect, at once jarring and welcome. The Faugeres from Barral – like Hendrix – so wonderfully walks that line between edgy and suave, punk and soulful.
"Didier Barral is a postcard producer for Lynch, someone to check in on from time to time to get a feel for that vintage and region, even if he's riffing differently than the other guys. Farming biodynamically, he relies on a miniature ecosystem in order to work his vines. Cows, pigs, and horses graze freely, begetting mushrooms and earthworms and other beneficial lifeforms. Hippie stuff, but with a purpose.
"This cuvee is a blend of 50% Carignan, 30% Syrah, and 20% Grenache from 40-70 year old vines; all grapes are harvested and sorted by hand, then vinified in cement cuves employing native yeasts. A month of maceration in old wooden vat is followed by a light pressing in a wooden basket press; the wine is then aged for roughly two years in barrel, almost all old. The resulting wine is tinged with rusticity, boasting dark fruit, licorice, and smoked meats. Hold onto a few if you can, but don't feel bad for popping the cork if you're feeling particularly groovy…" – Tyler