Delamotte – Extended Tirage Masterpieces
8-20-2020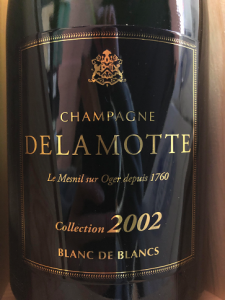 Delamotte is best known as the more affordable arm of Salon—the original luxury-collectible single vineyard Blanc de Blancs from Le Mesnil.  While that's understandable, it tends to ignore the fact that Delamotte is a Champagne house of not in its own right (it's much easier for other merchants to shout "Salon for $$" than to sell the Champagne on its own merit).  If one were making a case for Delamotte as a great producer on their own, you could look no further than their "Collection" wines.
These are the peak of the Delamotte range, held on the lees longer and disgorged late to capture the full glory of mature Champagne.  They have the racy brightness of their Cote de Blancs origins balanced against toasty, rich flavors that only come with age.  The best comparison for these wines might be
Bollinger
's "RD" series, except that
Bollinger
always works from a place of power and Delamotte from elegance and finesse.
The only challenge with these wines is finding them—they're extremely rare and so when we discover a parcel of them, we jump on it as quickly as we can.  We've managed to secure a few different vintages, some of which have already sold out.  The rest won't last long.
In Stock Now:

Delamotte Blanc De Blancs Collection, Champagne 2000 750ML ($249.95) $219 special
Delamotte Blanc De Blancs Collection, Champagne 2000 1.5L ($599.95) $499 special
Delamotte Blanc De Blancs Collection, Champagne 2002 1.5L ($599.95) $499 special, 2 magnums in stock now
William Kelley-Wine Advocate 94 points
"The 2002 Blanc de Blancs Millésimé Collection is showing superbly, bursting from the glass with aromas of lemon curd, lime zest, white flowers, praline and walnut oil. On the palate, it's medium to full-bodied, ample and fleshy, with muscular structuring extract, incisive acids and a long, complex finish. This is a beautifully complete, expressive vintage Delamotte that is beginning to drink well."
Delamotte Blanc De Blancs Collection, Champagne 1999 750ML ($249.95) $219 special,

SOLD OUT!


Wine Advocate 94 points
"From a very warm and generous year, the 1999 Blanc de Blancs Collection (disgorged in October 2015) offers a rich and intense bouquet of ripe Chardonnay and buttercup. Rich, super ripe and intense, but also precise on the palate, this is a full-bodied, complex, mineral and fresh Champagne. It is very well-defined and even finesse-full, with great tension. This is at perfect maturity. It is a simply a great vintage Champagne that has been produced only in the vintages of 1964, 1970, 1983, 1985, 1988, 1991, 1990, 1999, 2000 and 2002."
Wine Spectator 93 points
"Flavors of baked plum, lemon preserves, biscotti and crystallized honey are enlivened and focused by well-cut acidity that firms this harmonious Champagne. Lacy in texture and fresh, with a zesty finish of delicate spice and mineral details. Disgorged 2018. Drink now through 2024. 25 cases imported."
Antonio Galloni 92 points
"The 1999 Brut Vintage (Collection) is a gorgeous wine that will especially please readers who enjoy Champagnes with the nuance that develops with time in bottle. Apricot jam, orange peel, hazelnut, dried flowers and lightly honeyed notes all develop in a rich, burnished Champagne endowed with tons of nuance intermingled with the freshness that Chardonnay in the Côte des Blancs expresses so eloquently. Certainly, the 1999 is a bit rustic relative to recent vintages here, but it nevertheless offers fine drinking."