Vinopolis Pick Estate:

Decugnano dei Barbi
This historic Umbrian estate works with ancient marine soils dating back over three million years. As the first-in-the-US to carry a wide range of these sustainably produced wines in stock and by-the-bottle, we are offering five wines: two Super Tuscan-style blends and three mineral-driven whites.
Of course with a standalone email offer like this, you'd expect the wines to run in the triple digits (and given the quality in the glass, you'd certainly be justified!) Fortunately for you, these are far, far below that, with prices ranging in the teens and low twenties.
Were these Tuscan or even French, we'd expect them to go for double easily. Tasting them, you know that these might just be the best value in Italian wine you'll find in our shop. (Pro tip: the wines are all bottled under Diam corks, which means there's no risk of cork taint.)
Start with their refreshing "
Casa Pica
" bottling sourced from younger Vermentino vines (made famous in Sardinia yet tragically overlooked elsewhere in Italy), named for the century-old family farmhouse. Then look to their Orvieto Classico "
Frammento
," which blends of fragrant indigenous and internationally famous grapes with more heft and complexity (recognized as a "Top Wine" by Slow Wine multiple years in a row). Finally for whites, we reach the apex: "
Mare Antico
" (ancient sea, a nod to the terroir). This Orvieto Classico Superiore includes Chardonnay in the blend for a truly thrilling taste-driven tour of the essence of the place.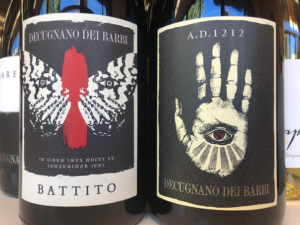 Moving to the reds, we have two blends. The first, the "
Battito
," is a Sangiovese-Cabernet-Merlot little number with character and class to spare. The bottle features an ancient Latin palindrome "In girum imus nocte et consumimur igni," which they translate as "we wander in the night and are consumed by fire." With such evocative inspiration, it's no wonder this wine exudes hedonism and class. It's a wine to spark passion and pleasure, or, as the winery puts it, the wine calls you to "indulge in an exciting journey through your deepest desires and allow yourself to be consumed by its fiery passion."
The top red bottling, "
A.D. 1212
," is named for the year in which clergy first made wine at what is now the estate. The hand on the label is in homage to their imprint on the estate. This is the only red vinified in French oak. It's Syrah-based, with a splash of Montepulciano to add verve. It's a sensuous wine that will satisfy now and for years to come.
In Stock Now:
Decugnano dei Barbi 'Casa Pica' Bianco, Umbria IGT 2021 750ml $14 special
Case-12 Decugnano dei Barbi 'Casa Pica' Bianco, Umbria IGT 2021 750ml $149 special (that's only $12.42/bottle!)Suzanne:
Unlike the big and bold reds, the whites are restrained and mineral-driven. The Casa Pica is the most forward of the three with a deep lemon yellow color. It has notes of shucked oyster shells, lemon zest, vitamin box, and tarragon, notes which repeat on the palate. It's moderately full in body with a refreshing crispness to the acidity. The savoriness and saline quality remind me of oysters with mignonette sauce. The moderate finish leaves an impression of lemon juice and green pears. It's rich enough for chicken sauté or fried tofu dishes.
Winery note
"The name "Pica" is the local name for the magpie in Orvieto. Just as the magpie is known for its curiosity, Casa Pica Vermentino is a fresh, savory, and mineral wine that captivates you with its sunny, maritime, and enveloping flavor."

This is the lowest listed price in the USA today!
The next best price is $15/bottle by the case
Decugnano dei Barbi 'Frammento' Orvieto Classico, Umbria 2021 750ml $16 special
Suzanne:
What a fascinating nose! It is decidedly mineral with layers of chalk, talc, and calcium. It's as minerally as an antacid! Joking aside, there are lovely notes of pear juice, fresh bay, and mint. In the mouth, this is more reserved than the Casa Pica, but with noticeably more depth. The body is moderate, perhaps a touch lighter than the Casa Pica, but with more acidity. It's exceedingly well balanced. The finish shows touches of lees, like a high quality Muscadet or a Côte des Blancs Champagne.
Winery note
"Immerse yourself in the experience of tasting our Orvieto Classico, Frammento – an elegant and pleasantly versatile wine, perfect for accompanying your everyday moments. Its name evokes the fragments of seashells that fill our soils, witnesses of the sea that once covered them millions of years ago. But it also evokes the philosophical concept of terroir, and the fact that even in a sip of wine (a "fragment"), the totality of the soul of the place is still preserved."

This is the lowest listed price in the USA today!
The next best price is $20/bottle by the case
Decugnano dei Barbi 'Mare Antico' Orvieto Classico Superiore, Umbria 2021 750ml $21.90 special
Suzanne:
This pours a delicate straw color. The nose has floral aromas of peonies, geraniums, jasmine and mint. There's a touch of vanilla fragrance like vanilla bean ice cream. On the palate, this is densely flavored with notes of pear tart, Chantilly cream, oyster shells, and white tea. There's a briskness note here like freshly ground coffee. Overall, this gives an impression of a dry GG Riesling or Chablis. The finish has notes of cultured butter and Maldon sea salt. It's long and lingering. An incredible value.
Winery Note
"Mare Antico is the wine that best represents Decugnano dei Barbi. The name itself refers to that ancient sea on which our vineyards grow today. The grapes come from our oldest vineyards, whose roots lie in sandy and shell-rich soils to capture the soul of the place and transform it into a delicious drop of wine."

This is the lowest listed price in the USA today!
The next best price is $25/bottle by the case
Decugnano dei Barbi 'Battito', Umbria IGT 2020 750ml $17 special
Suzanne:
The wine is an inky ruby in the glass. Notes of black cherries and flamed orange peel emerge with air. There is an intriguing tar and engine grease note, underneath the fruit. Overall, its aromatics are moderate in intensity. On the palate, there are vibrant red and black raspberry notes alongside a touch of orange zest, stewed plum, and mulling spices. The body is moderately full with fine, sandy tannins. The Sangiovese really comes through. The finish shows amaro-like spice notes with a hint of green olives. The wine is juicy enough to pair with a heavily spiced Thai chicken curry, but serious enough for a braise or roasted mushroom dish, especially with tomatoes.
Winery note
"Battito is a wine with an intense and broad aroma that explodes in the mouth with a full and generous taste, structured and full-bodied. It is the perfect companion for red meats and aged cheeses, enhancing its complexity and depth."

This is the lowest listed price in the USA today!
The next best price is $20/bottle by the case
Decugnano dei Barbi 'A.D. 1212', Umbria IGT 2019 750ml $24 special
Suzanne:
The wine is dark and inky in color with aromas of graphite, black tea, and purple lilacs. It's fragrant and lush on the nose, just like the palate, which has juicy flavors of blackberries and black olives. There's a little hint of toasted rye bread from the oak. The tannins are grippy and drying. The finish is full of black raspberries, olives and toast. Yum.

This is the only listing in the USA today!
These wines have captured our hearts,
and we know they will yours.

This is an estate on the rise,
and we're excited to join them in their journey.

We hope you'll join us!