Crowley Rose of Pinot Noir, Willamette Valley 2015 750ML ($24.95) Buy Now: $18 special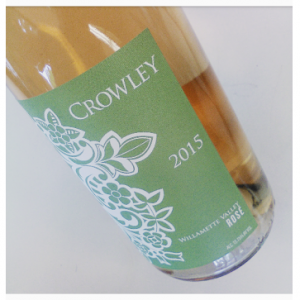 Welcome summer with the first ever release of Crowley Rose!  This wine shows poise, balance and thought.  It opens with a bright, fresh nose of white cranberries and dried ginger.  On the palate is again a lovely red berry note with touches of fresh milk and black tea.
This rose is from the coolest single block in the Four Wines Vineyard.  It was whole cluster pressed and underwent a slow malolactic fermentation (finishing at 13.68% alcohol and 3.4-3.5 pH for those inquiring minds).
The Four Winds Vineyard is within the McMinnville Coast Range.  Planted in 1990 to 100% Pommard clone, the vines are all own-rooted.  The soil is Jory-Nekiah (uplifted marine sedimentary loam and silts with alluvial overlays – an ideal soil type for Oregon Pinot Noir).  The vineyard, as with all vineyards Crowley Winery works with, is dry-farmed (not irrigated).
Winemaker Tyson Crowley is the current president of the Deep Roots Coalition or 'drc:'  The drc was formed around the idea that irrigation is unnecessary to successful (and classic) grape growing and negatively impacts resulting wines (pumping up alcohol and watering down the essence of the terroir, pun intended).  The drc takes the firm stance for dry-farmed (non-irrigated vines).  These vines are forced to dig their roots deep to search for water, thus delving into the truer terroir of the region while being less prone to the vagaries of day to day weather.  As water scarcity across the West Coast grows in urgency, this mission of sustainability is becoming increasingly important.  We are proud to carry the wines from many members, including (but not limited to): Ayres, Belle Pente, Brick House, Cameron, Crowley, Matello/Goodfellow and Westrey. -Suzanne