Chateau de Cabriac and Clos Canos
Southern France

Wines
First Time Available in the USA
Corbieres is an AOC within the Southern French region of the Languedoc-Roussillon: mostly known for its rich and herbal red wines. The Corbieres region produces only small amounts of white and rose wines. The northern portion, known as Alaric, has plains to the north and south-facing slopes along the Montagne d'Alaric. This is an excellent area for Mourvedre as well as other Southern French varietals such as Grenache and Carignan. In the center of the AOC is the Corbieres-Boutenac AOC, created in 2005. Corbieres-Boutenac is recognized for producing high quality wines from the ten communes that surround a limestone ridge covered in garrigue (a term for the scrubland herbs such as rosemary and lavender that is often used to describe aromas found in the wines). We at Vinopolis are excited to now premier the full breadth of newly-imported selections of two grower / vignerons chosen by the former owner and winemaker of Evesham Wood, Russ Raney. Russ has been a long-time part-time resident in this remarkable region. These wines offer excellent value in a range of genres: some complex yet easy-drinking, some powerful and full-bodied, and others are great cellar candidates.
Chateau de Cabriac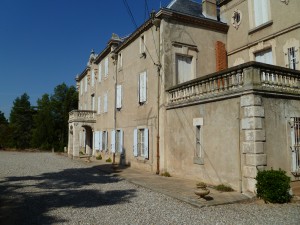 Ch Cabriac Estate Courtesy of Russ Raney
Russ Raney Reports: "Chateau de Cabriac is located in the northwestern section of the rather large Corbières AOC – just downhill from the imposing Mount D'Alaric and facing the foothills of the Cavennes. The micro-climate here is still very much Mediterranean – surrounded by the typical garrigue landscape. They are a medium-sized family owned estate which produces both red & white wines under the Corbières appellation as well as 'Pays d'Oc' wines (e.g. 100% Carignan). The congenial proprietors are Jean and his wife, Michèle Cibeins. Jean is a native of the region as a result, understands well what is required to produce typical wines from this terroir (primarily limestone and sandstone). The predominant grape varieties used in their blends are: Carignan, Grenache and Syrah for red and Vermentino (Rolle) for whites. I was very much impressed by the 'restraint' and authenticity of their wines, which tend to not be so viscous and alcoholic as some from this warm region. Considering Cabriac's long tenure, they have kept their pricing very reasonable."
The domaine is composed of 70 hectares, with 25 hectares in the Corbieres AOC and 45 hectares considered Vin de Pays. The family was one of the first to introduce Syrah and Mourvedre into the AOC. The micro-climate allows for a slower maturation of the grapes, resulting in balance and in intense flavors without over-ripeness.
Chateau de Cabriac Available Here Now
Domaine de Cabriac Vermentino 2013 750ML ($12.95) $9 special
Winery note "[Translated] aged for four months in vat. Tasting notes: Notes of honey candy, caramel, dried fruits, and quince. Fresh, with a refined nose of anise, lily and acacia flowers. Bright acidity with good structure for a white. In the mouth it is peppery and spicy, with notes of cumin, honey, quince and lily of the valley."
Domaine de Cabriac Carignan Vieilles Vignes 2013 750ML ($14.95) $11.90 special
Case-12 Domaine de Cabriac Carignan Vieilles Vignes 2011 750ML ($149.95) $119 special
Winery note: "[Translated] Aged in vats. Tasting notes: A ruby red color with violet hues that reveals aromas of ripe red fruits, currants and cassis accompanied by some spicy notes. The wine is elegant, well-structured with a roundness and ampleness in the mouth. The fruit flavors are followed by soft tannins with good persistence."
Chateau de Cabriac Tradition, Corbieres 2011 750ML ($14.95) $11.90 special
Case-12 Chateau de Cabriac Tradition, Corbieres 2011 750ML ($149.95) $119 special
Syrah/Mourvedre/Carignan/Grenache
Winery note "[Translated] Traditional winemaking. Separate vinification by grape variety. 18 months aging in vats. Tasting notes: Intense color, exuberant nose of black fruits. The palate is round, full, and fruity, with notes of blackcurrant, blackberry, and roasted coffee. The palate is fleshy, dense and powerful. Nice Balance. Lots of fun."
Chateau de Cabriac Prieuré St Martin, Corbieres 2008 750ML ($19.95) $14 special
Syrah/Mourvedre/Grenache
Winery note: "[Translated] This is blended after careful tasting to produce a wine of power and intensity. Hand harvested. Long maceration in barrel, aging occurs in oak for 12 months. Tasting notes: A nose first of cherry, blackberry jam, green tomato, smoked and salted caramel, which then progresses to peanut notes, paprika and bay leaf. The mouth is full and ends with cumin, blackberry, nutmeg and woody notes."
Clos Canos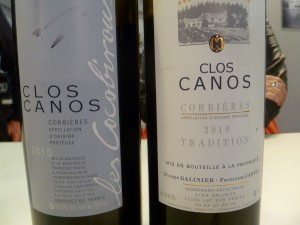 Bottle shot courtesy of Russ Raney
Russ Raney Reports: "Clos Canos is a small family operation (11,000 cases/year) situated on the edge of the village, Luc-sur-Orbieu – which is within the sub-appellation of Corbières-Boutenac, and more or less in the center of the AOC. The husband-wife owners are Pierre Galinier and Françoise Castel. Pierre is a 5th generation vigneron in Luc, but it wasn't until the year 2000 that he discountinued selling the estate's grapes to negociants, and began to produce wine under their own label. The soil type in their location is largely claylimestone, and like Ch. Cabriac their predominant red grapes employed are Carignan, Grenache and Syrah. For the whites they use primarily Sauvignon Blanc and the Rhone variety Roussanne. Clos Canos also makes a lovely, floral and regressing rose… produced mainly from Grenache Gris, Grenache Blanc and Grenache Noir. Canos' wines are also in the 'good value' category, but they produce some excellent ageable wines as well, like their 'Tradition,' which is 90% old-vine Carignan with loads of character."
Clos Canos Available Here Now
Clos Canos Rose, Corbières 2013 750ML ($13.95) $9.90 special
From the winery: "Light pink. Nose: very fine and floral; palate: full and fleshy. 25% Grenache Gris, 25% Grenache Blanc, 25% Grenache Noir, 25% Syrah. From clay limestone vineyards."
Clos Canos Rouge, Corbières 2012 750ML ($14.95) $11.90 special
Case-12 Clos Canos Rouge, Corbières 2012 750ML ($149.95) $119 special
50% Syrah, 30% Grenache, 20% Carignan
Clos Canos Tradition, Corbières 2011 750ML ($14.95) $11.90 special
90% Carignan w/ Grenache & Syrah
From the winery "From quartenary period clay limestone. 10 months in barrel. Grenache is destemmed. Nose: Red fruits, palate: ripe fruits and garrigue (scrubland herbs)."
Clos Canos "Les Cocobirous," Corbières 2011 750ML ($25.95) $21.90 special
Carignan/Grenache/Syrah
From the winery "Nose: red fruits and blackcurrant, palate: warm, very supple tannins, fine and well balanced. Age for up to 10 years."