Featured May Sale Wine
May 2017
Me and My Arrow:
Wherever We Go, Everyone Knows
It's Bow & Arrow
"Scott Frank's Rhinestones 2015 maybe the best under $25 wine I've ever tasted from Oregon" -Kerry Winslow, Grapelive
"This wine is way too easy to drink" –Josh Raynolds, Vinous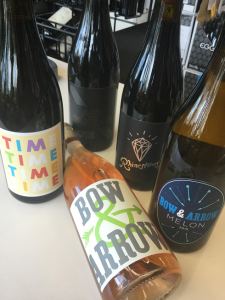 We can't say enough good things about Bow & Arrow and the wines they make. Scott Frank seems to have cracked the code to do two things that are nearly impossible for other Oregon wineries. First, he makes wines that are vibrant, fresh and delicious in a truly old-world fashion. The wines are awesome. There's a liveliness that we find in the Bow & Arrow wines that can often be lacking from lots of other wines from this state—a zippiness, if you will. As a result, the wines (especially the wines we're featuring today) can be compulsively drinkable. We may have mentioned this already, but the wines are great.
The other major puzzle that Scott seems to have cracked is affordability. We often see wines from the US marketed as 'daily drinkers' in style but the wines are priced at $30++, well north of a comparable wine from Europe. With Bow & Arrow, though, we're pleased as punch that a delicious local wine is cheaper than most of the competition from Europe. (and delicious—that's important, too). We tasted a 2014 [Famous Redacted Burgundy Producer Imported by a Certain Berkeley-Based Import Company -ed.] Passetoutgrains the other day that was both more expensive and (more importantly) not as good as the Rhinestones that we've got on sale this month. Scott Frank's pricing seems free of ego that can sometimes infect his domestic brethren. We should mention again that the wines are awesome. Don't forget that part.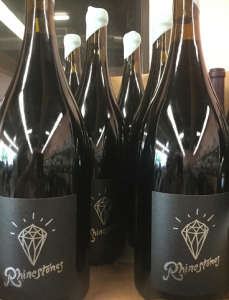 Bow & Arrow Rhinestone Red, Willamette Valley 2015 750ML ($24.95) Buy Now: $21.90 special
Bow & Arrow Rhinestone Red, Willamette Valley 2015 1.5L ($59.95) Buy Now: $39 special
Grapelive 94 points "Scott Frank's Rhinestones 2015 maybe the best under $25 wine I've ever tasted from Oregon. In fact the 2015 is so good I almost prefer it to some over $50 Pinot Noir offerings. This is serious stuff that really delivers the quality and depth you'd not maybe expect from this fun blend… It redefines Oregon's paradigm! The 2015 starts with a nose of dark roses, spice, truffle and blue fruits leading to a vivid palate of black cherry, blueberry, plum and tart currant fruits along with walnut/cedar, peppery stones, sage/mint/anise, cinnamon and iron/mineral tones finishing long and lingering with strawberry, earthy beet root and lavender. The texture is amazing and the mouth feel is exceptional considering how alive and bright this brilliant medium weight wine is. It is a satiny stunner with glorious vitality and grace. Don't over think the grapes or label: this wine is the new Oregon and it deserves your open mind and attention. Drink this over the next 5 to 10 years. What a truly fantastic effort!"
John Gilman 92 points "The 2015 version of Rhinestones is a blend of sixty percent pinot noir and forty percent gamay. The wine is a tad tight when first opened, but with a bit of swirling offers up a lovely bouquet of red and black cherries, a touch of pepper, spit-roasted meats, fresh herbs and dark soil tones. On the palate the wine is bright, full-bodied and tangy, with a fine core, lovely focus and grip and a long, moderately tannic finish. This is 12.5 percent octane and absolutely laser-like on the palate, with superb backer energy. I am sure this is intended as an early quaffer for restaurants in Portland, but this has the balance and structure to also age very well indeed! 2016- 2030."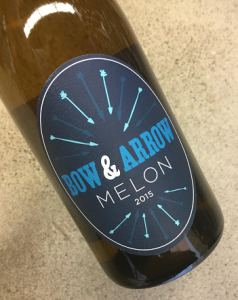 Bow & Arrow Melon Johan Vineyard, Willamette Valley 2015 750ML ($24.95) Buy Now: $18 special
Grapelive 91 points "Inspired by the Loire Valley's Muscadet Sevre et Maine, the natural and stylish biodynamic Melon de Bourgogne by Bow & Arrow delivers brisk and bright salty flavors with a touch of New World richness, but remains faithful to the French version with driving acidity and steeliness making for a vibrant example of this varietal. Bow & Arrow's Johan Vineyard Melon starts with an austere nose of saline, ether, crushed earthy stones, straw bale and zesty citrus leading to a pithy palate of lemon/lime, unripe melon and a core of stone fruit, making it a superb seafood companion. Frank's touch is brilliant here, as with Johan's fruit giving loads of energy and character. It opens to fleshy peach and kiwi along with some bitter herb and spice offering a fruity vs savory balance. The hint of brioche/lees offers mouth feel and substance. This white impresses for its zip and restraint while still giving texture and layers. The vintage shines through in all of the Bow & Arrow wines. These are wonderful efforts."
Josh Raynolds-Vinous 89 points "Bright straw. Aromas of lemon zest, green apple and quinine, along with subtle floral and herb nuances in the background. Juicy orchard and citrus fruit flavors unfurl slowly with air and show good delineation and lift. Finishes on a zesty lemon note, showing good cling and lingering florality."
Bow & Arrow Rose 2016 750ML ($19.95) Buy Now: $17 special
VinopolNote: Pinot Noir with a touch of Gamay, this rosé has it all: crisp acidity, a creamy, textured body to complement food and the length of finish to make you want to open another bottle. Is it too early to call it the best pick for Thanksgiving?
Bow & Arrow Time Machine NV 750ML ($17.95) Buy Now: $14 special
VinopolNote: A multi-vintage blend of Cab France, Gamay and Pinot Noir. The easy drinkability, vibrant acidity and lush earthy red fruit flavors will make you wish the bottle was bigger on the inside…