July 25th, 2018
In Stock Now!
Best prices on Aldo Conterno!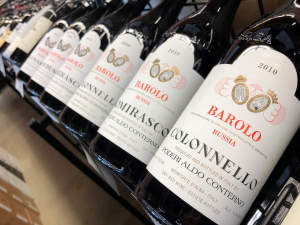 Poderi Aldo Conterno has been producing remarkable wines ever since it was created in 1969 by the man whose name is on the label.  Sick of fighting with his brother over the winemaking style to be used at the family's estate, the venerable Giacomo Conterno, Aldo left and never looked back. Over the course of the next several decades he established the winery as one of the most important in Italy.
Based in the Bussia hamlet in Monforte, the estate's wines have always been powerful yet polished, with dark rich fruit.  These wines are bold Barolos, with great density and power—though they still have nuance and complexity.  We have a small assortment of wines in from three heralded vintages, 2008, 2010, and 2013.  Antonio Galloni rated the 2008 vintage in Barolo at 96 points and the 2010 a 98+. Obviously 2013 is shaping up to be one of great potential.  Needless to say these wines are epic and if you like powerful Barolo, you should buy as much as you can.
Last Call on In-Stock Aldo Conterno:
SOLD OUT!
Poderi Aldo Conterno Bussia Cicala, Barolo DOCG 2010 750ML ($189.95) Buy Now: $133 special
Wine Spectator 98 points "A gorgeous red, scented with rose, mint, menthol, cherry and leather notes, with intense flavors matching the aromas. Dense with tannins, finely wrought and dovetailing on the long, detailed finish, this is very harmonious, yet will need time to fully express itself. Best from 2018 through 2038. 200 cases imported."
Monica Larner-Wine Advocate 97 points "The 2010 Barolo Bussia Cicala opens to a dark ruby color and a richly concentrated appearance. This wine will appeal to those who appreciate added texture and heft in their Barolo. A special nod also goes to the aging potential of the wine that promises to be long and steady especially given the high quality of the 2010 fruit. Bussia Cicala imparts deep textural richness with lovely finesse and structural integrity. Hold this wine for ten years or more. Its profound beauty is already evident, but the wine has barely started its evolutionary course. Drink: 2018-2035."
This is the lowest listed price in the USA today!
The next best price is $175
Only 1 bottle available:
Poderi Aldo Conterno Bussia Cicala, Barolo DOCG 2013 750ML ($149.95) Buy Now: $119 special
James Suckling 99 points "The aromas of flowers, blackberries, and white truffles are superb. Full to medium body and ultra-fine tannins. The finish lasts for minutes. An amazing Cicala. Don't miss this. Drink in 2022."
Wine Advocate 95 points "The 2013 Barolo Bussia Cicala is a beautiful wine with impressive depth and a profound sense of sharpness. This part of the Bussia cru sees a mix of clay soils (40%) with limestone (60%). In a sense, Cicala is the most indicative of the greater Bussia cru both in terms of its geological properties and its general taste profile. You get a lot of fruit in this wine followed by tannic firmness and evident power. Together, the wine presents balanced results. The alcohol here is 14.5% and I'm told that the upcoming 2016 vintage is almost a full degree stronger."
Wine Spectator 94 points "This starts out with brilliant macerated cherry flavors, accented by rose, tar, spice and mineral elements. Firm, yet pure, complex and long, with a dense matrix of tannins shoring up the finish. Offers a fine, brambly aftertaste. Best from 2022 through 2043. 400 cases made."
This is the lowest listed price in the USA today!
The average price is $156
Only 10 bottles available:
Poderi Aldo Conterno Colonnello, Barolo DOCG 2010 750ML ($179.95) Buy Now: $125 special
Wine Spectator 98 points "A beautifully crafted Barolo, with ripe cherry, plum, leather, spice, mineral and smoke elements. Starts off supple and approachable, but the gripping tannins soon move in, securing the lengthy, spice-filled finish. An underlying mineral vein adds depth. Best from 2018 through 2036. 200 cases imported."
This is the lowest listed price in the USA today!
The next best price is $159.99
SOLD OUT!
Poderi Aldo Conterno Colonnello, Barolo DOCG 2013 750ML ($149.95) Buy Now: $119 special
James Suckling 98 points "Terrific aromas of blackberries, walnuts, spices, bark and mushrooms. Full body, ultra-fine tannins and bright acidity. So beautiful now but be patient. This needs four or five years to come completely together. Wow. What class and precision define this wine. The aromas show such subtle complexity and beauty. Full and tight with a solid core of fruit. Polished tannins to the maximum. Better in 2021. "
Wine Spectator 95 points "Camphor and leather notes introduce this rich red, which transitions to cherry, licorice, spice and tobacco flavors. Firm and intense, with a lingering aftertaste of mineral, licorice and spice. Terrific now, but should be even better with time. Best from 2021 through 2042. 400 cases made."
Wine Advocate 94 points "The 2013 Barolo Bussia Colonnello is the most ethereal and delicate of the Bussia series of wines. Fruit is sourced from a portion of the Bussia vineyard that is located closer to the village of Barolo (one kilometer away) than it is the village of Monforte d'Alba (five kilometers away). The sandy soils found here make for softer and tamer tannins especially when compared to the other parts of Bussia. The bouquet opens to aromas of blue flowers, spice, wild berry, licorice and white truffle. This is a softly nuanced and finessed Barolo made with fruit from 45-year-old vines."
This is the lowest listed price in the USA today!
The average price is $144
Only 1 bottle available:
Poderi Aldo Conterno Granbussia, Barolo Riserva DOCG 2008 750ML ($499.95) Buy Now: $389 special
James Suckling 100 points "Incredible aromas of blackberries, blueberries, dark chocolate and hints of cream. Roses, rose petals and leaves. Speechless. Full-bodied, tight and concentrated. The finish is endless. Perfect harmony. Made from a selection of the best grapes from the oldest vines: 70% romirasco, 15% cicala and 15% colonnello. All co-fermented and macerated for one month in wood. Aged in a 25-hectoliter cask for 33 months. Five years in bottle. Only 3,000 bottles. Perfect now and it will improve with age for decades ahead."
Wine Advocate 96 points "The 2008 Barolo Riserva Granbussia is an unexpected wine and is perhaps the least characteristic of the three Granbussia vintages presented in this mini vertical. The wine opens to a deeply ruby red color and bright aromas that show some very distant touches of jam or marmalade. This is a big surprise given the generally cooler conditions of the vintage. Franco Conterno tells me fruit was harvested very late —at great risk—during the first week of November. The Nebbiolo grape loves a long growing season. The aromas are dense and dark with blackberry, plum and black fruit. Those super charged tones continue with leather, spice and tar."
Wine Spectator 96 points "This is beginning to open, with fragrant cherry, rose, leather and sweet spice aromas and flavors. Vibrant and intense, with a terrific finish of sweet fruit, spice, tar and mineral notes. Shows fine presence and harmony, yet this should only improve over the next decade. Best from 2018 through 2030. 250 cases made."
This is the lowest listed price in the USA today!
The next best price is $499
SOLD OUT!
Poderi Aldo Conterno Romirasco Bussia, Barolo DOCG 2010 750ML ($289.95) Buy Now: $199 special
James Suckling 99 points "This is a big and powerful wine with incredible depth and power. Full body, with fabulous texture. It lasts for minutes on the finish. It shows dark fruits, hazelnut, chocolate and minerals. This is a monopole vineyard of 3.8 hectares. One of the wines of the vintage. So energetic and tangy. All in the finish. Better in 2018."
Monica Larner-Wine Advocate 98 points "Last but not least in this spectacular flight, the 2010 Barolo Bussia Romirasco is an absolute stunner that shows a level of excellence that is not easy to forget. This is one of the top five wines of the widely celebrated 2010 vintage. At this young stage, the bouquet is fresh and fruit-driven with evident tones of black currant and dried cranberry. Beyond those primary aromas, are a slew of interesting secondary tones that include tar, white truffle, forest floor, leather, cola and balsam herb. Most significant, however, is the superior performance this Barolo gives in the mouth. The structure is firm and unyielding, yet the wine's texture is supple and silky. That's a difficult balance to achieve. Put this bottle aside for more years of aging. Drink: 2018-2042."
Wine Spectator 97 points "A touch of oak in the aroma leads off, masking the cherry, leather, tar and tobacco flavors for now. A solidly structured mineral element emerges at the end. Should come around nicely, given the overall balance and fine length on the finish. Best from 2018 through 2036. 150 cases imported."
This is the lowest listed price in the USA today!
The next best price is $223.20
Only 6 bottles available:
Poderi Aldo Conterno Romirasco Bussia, Barolo DOCG 2013 750ML ($219.95) Buy Now: $159 special
James Suckling 98 points "Beautiful dark fruits of crushed raspberries and blueberries plus hints of champignon mushrooms and black truffles. Lavender undertones. Full and chewy with lots of tannins. Old vines give this a mossy, bark-like undertone. Needs five to six years to come around."
Wine Advocate 97 points "The stunning 2013 Barolo Bussia Romirasco represents a stylistic blend between the elegance of Monforte d'Alba and the brooding power of Serralunga d'Alba. These are magnesium-rich soils mixed with limestone and clay. Romirasco is also home to some of the estate's oldest vines at 55-years-old on average. This beautiful wine opens to a dark and rich garnet color that comes from the concentrated fruit produced by these old plants. The bouquet is laced with mineral and iodine-like nuances with rust and iron. It comes across as rich and intense and the mouthfeel is slightly softer, but denser overall. The wine ends with long balsam tones of rosemary and dried ginger."
Wine Spectator 95 points "This packs some vanilla- and Bourbon-scented oak aromas, with a core of cherry, leather, tar, iron and tobacco flavors. Solidly built, with dusty tannins clinging to the long finish. A powerful example, this should gain finesse with age. Best from 2022 through 2040. 400 cases made."
This is the lowest listed price in the USA today!
The next best price is $187.99