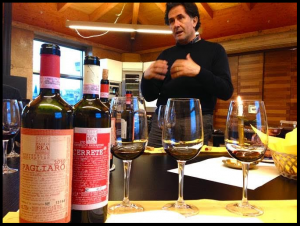 Paolo Bea Pagliaro Secco, Sagrantino di Montefalco DOCG 2008 750ML ($89.95) $79 special
Umbria, the heartland of Italy; the only region of Italy that is in fact surrounded by Italy. Its rolling hills and intermittent plains are something of an agricultural paradise. Montefalco is said to be the balcony of Umbria; an ancient hilltop fortess village. And the nearby Montefalco hills are the center of Umbrian wine tradition, with pre-Roman origins. For all of its prized olive oils and sometimes prized wines, the greatest "export" from Umbria may well be the particular theology of the Franciscan Order, founded in 13th Century Assisi, 20 miles to the north from Montefalco.
The Bea Family in Montefalco pre-dates the 16th Century. For all the impact that Paolo Bea has had on the world of wine, the estate is tiny and not specifically devoted to wine. Of total 40 acres only one-third is vineyard. On the rest; olives, fruits, vegetables, and livestock. All undertaken with Paolo's organicist passion for earth, nature, and sustenance. Today Paolo is looking ahead to his 80th birthday, and guiding his sons Giuseppe (agronomy) and Giampiero (winemaking) in the continuation of their family base and their unique wines. It is not hard to see shades of Saint Francis in Paolo Bea. They both restored respect for all nature and the role of humility within a world that had been institutionalized to consider man separate and supreme. Those institutions being the medieval church in the case of Francis and late 20th century ag science & corporate farming in the case of Paolo. Neither of them invented, rather they each restored a sensibility that had been cast aside.
Staff note: "Sagrantino di Montefalco is a brawny, tannic wine. Bea's interpretation of the grape entails careful winemaking with an aim to limit intervention. There's so much structure here, with a musical balance of muscle and grace – the smoke and spice conjure thoughts of campfire and fragrant cigar boxes, while a coquettish blend of cranberry, dark chocolate, granite-tinged minerals, and freshly-tilled earth dances across the tongue.
"The surest bet is to decant the wine, taking little sips as you revisit over the course of two to three days, perhaps more for the uber-curious. Listen close to the wine and it ought to disclose some fun, surprising secrets. With patience and some great, simple food, this may very well knock your socks off."
Distributor's note: "When the Rosenthal team visited Bea in March of this year, they were treated to the best tasting of any visits to the estate up to this point. Giampiero Bea had lined up for them all 14 of the red wines he produced in 2008, 2009 and 2010 (as well as some of his whites), he tasted them through the wines, and then they spent probably another hour afterwards going back and forth, re-tasting, discussing the wines, and making additional notes.
"I am quite confident in saying the Pagliaro is the clear standout of Bea's four 2008s (his other three 08s, San Valentino, Rosso de Veo and Pipparello, have already come and gone). The Importer's hand-scrawled tasting note included "The best 08. More stable, fresher. Spicy. Finer. Impressive. Quite nice. Savory."