Click here to see all 14 of the 2016 Prum wines in our January Sale in our web store.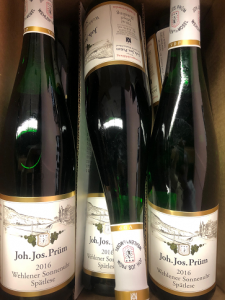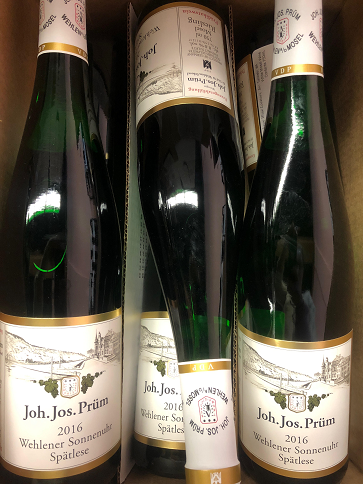 Manfred and Katarina Prum make some of the finest and most sought after wines of the middle-Mosel. We're adding a number of these great wines to our January sale, all from the excellent 2016 vintage.  2016 is a fantastic vintage to stock up on.  We've bought a bunch and you should, too—it's a perfect counterpoint to the ageworthy 2015's and the somewhat inconsistent (and expensive) 2017's that are in the pipeline.
Keep reading for more, including details on all of the wines
The Prum wines are high-wire acts of tension between fruit and intense minerality and display their terroir in the most expressive way.  Part of this is that their parcels have lots of old, ungrafted vines and part of it is spontaneous fermentation and whatever magic the Prum family uses in the cellar.  No matter what, these are always some of the finest and longest lived wines in Germany.
We're dropping these prices to offer you even better deals on wines across the Prum range and trust us, these are wines you're going to want to own plenty of.
Want to see all 14 of the 2016 Prum wines in our January Sale in our web store, just click here 
In Stock and On Sale Now:
Joh. Jos. Prum Graacher Himmelreich Riesling Kabinett, Mosel 2016 750ML ($37.95) Was $30.90, Buy Now: $27 January Sale Special
Joh. Jos. Prum Graacher Himmelreich Riesling Kabinett, Mosel 2016 1.5L ($79.95) Was $69, Buy Now: $59 January Sale Special
Stephan Reinhardt-Wine Advocate 93 points "The 2016 Graacher Himmelreich Kabinett (AP 21 17) is deep, cool and flinty on the nose, pretty mineral though still a bit reductive. Round, intense and juicy, this is a densely woven Kabinett with ripe nectarine and plummy flavors as well as a tightly woven and refreshing mineral structure. The finish is pretty persistent and extremely stimulating. Compared to the Badstube, the Himmelreich is more aromatic and expressive. Tasted in March 2017."
Stuart Pigott – JamesSuckling.com 93 points "Very youthful, but brimming with white fruits and minerals. This is easy to enjoy right now. However, in the background of this sleek beauty, there's a note of wet stones that grows through the long and cool finish. Drink or hold."
Joh. Jos. Prum Graacher Himmelreich Riesling Spatlese, Mosel 2016 750ML ($49.95) Was $39, Buy Now: $36 January Sale Special
Joh. Jos. Prum Graacher Himmelreich Riesling Spatlese, Mosel 2016 1.5L ($119.95) Was $89, Buy Now: $79 January Sale Special
Stephan Reinhardt-Wine Advocate 95 points "The 2016 Graacher Himmelreich Spätlese (AP 08 17) is discreet and smoky on the deep, well-defined nose. Juicy-piquant and salty on the well-structured and refreshingly mineral palate, the Himmelreich is tight and expressive, with the sweetness superbly balanced by the spicy, grippy phenols/minerals. This is a really complex Spätlese that is highly stimulating today and will still be so in 20 or 30 years."
David Schildknecht – Vinous 94 points "This is another Prüm 2016 seductively loaded with floral perfume, but here it's bittersweet, suggesting gentian and iris as well as honeysuckle. The palate and superbly sustained finish deliver delicacy allied to silken richness and gloss, featuring intense pear, pineapple, quince and almond paste flavors together with striking transparency to stony and maritime mineral nuances."
Joh. Jos. Prum Graacher Himmelreich Riesling Auslese, Mosel 2016 750ML ($59.95) Was $49, Buy Now: $44 January Sale Special
Joh. Jos. Prum Graacher Himmelreich Riesling Auslese, Mosel 2016 375ML ($37.95) Was $29, Buy Now: $26 January Sale Special
Stephan Reinhardt-Wine Advocate 95 points "The 2016 Graacher Himmelreich Auslese (AP 09 17) shows very fine botrytis and orange tea character on the delicate and nicely concentrated nose. Very elegant, piquant and lush on the palate, with mineral expression, refreshment and persistent structure, this is a serious and complex Auslese of great class. Highly recommended."
Wine Spectator 93 points "Well-crafted, showing a bright and suave character, displaying ripe peach, mango and mineral nuances, this auslese sings harmoniously on the palate. Silky and full of energy, with a lingering aftertaste of lime and honey. Very delicious now, but will also age for years. Drink now through 2034."
Joh. Jos. Prum Wehlener Sonnenuhr Riesling Kabinett, Mosel 2016 750ML ($39.95) Was $31.90, Buy Now: $28 January Sale Special
Joh. Jos. Prum Wehlener Sonnenuhr Riesling Kabinett, Mosel 2016 1.5L ($89.95) Was $77, Buy Now: $69 January Sale Special
Stuart Pigott – JamesSuckling.com 94 points "Still a little funky from the wild ferment, but there are also beautiful notes of floras and ripe white peaches. Very elegant and polished with a super vibrant finish that makes you reach out for the glass again. Drink or hold."
Mosel Fine Wines 92 points "This delivers a beautiful nose of flowers, whipped cream, herbs, smoke, vineyard peach, and apricot blossom. The wine is delicate, light weighted and has good presence with ripe fruits including peach, pear and a touch of toffee on the palate. It develops quite some Spätlese presence and intensity in the hugely long finish."
Joh. Jos. Prum Wehlener Sonnenuhr Riesling Spatlese, Mosel 2016 750ML ($49.95) Was $41.90, Buy Now: $36.60 January Sale Special
Joh. Jos. Prum Wehlener Sonnenuhr Riesling Spatlese, Mosel 2016 1.5L ($119.95) Was $96, Buy Now: $89 January Sale Special
Stuart Pigott – JamesSuckling.com 95 points "Welcome to the heart of the Mosel! A great floral beauty with an extremely precise balance of delicate fruit sweetness and filigree acidity. Drink or hold."
Stephan Reinhardt-Wine Advocate 94 points "The 2016 Wehlener Sonnenuhr Spätlese (AP 23 17) is still discreet, floral and finely mineral rather than fruity on the nose compared to the other 2016 Spätlesen. Lush, piquant and juicy on the palate, this is a firm but sensual Sonnenuhr with remarkable finesse, lightness and lingering salinity. Tasted March 2018."
Joh. Jos. Prum Wehlener Sonnenuhr Riesling Auslese Goldkapsel, Mosel 2016 750ML ($129.95) Was $119, Buy Now: $99 January Sale Special
Joh. Jos. Prum Wehlener Sonnenuhr Riesling Auslese Goldkapsel, Mosel 2016 375ML ($79.95) Was $66, Buy Now: $59 January Sale Special
Joh. Jos. Prum Wehlener Sonnenuhr Riesling Auslese Goldkapsel, Mosel 2016 1.5L ($279.95) Was $249, Buy Now: $219 January Sale Special
Stephan Reinhardt-Wine Advocate 96 points "The 2016 Wehlener Sonnenuhr Auslese (Gold Capsule) is clear, fine and subtle yet concentrated, with vegetal and ripe fruit aromas. Rich, round and piquant, this is an intense and densely woven Auslese (AP 14 17) with a long, tensioned and refreshing mineral finish that lifts the sweet fruit. Gorgeous but made for another decade."
Stuart Pigott – JamesSuckling.com 96 points "Super elegant and filigree with a delicacy that you don't find in many other high-end white wines regardless of grape variety and region of origin. A very long and clean finish. Drink or hold."
Wine Spectator 95 points "Lush and thick in texture, combining power and grace, with a firm backbone of acidity and mineral details. Stunning on the palate, featuring different nuances that keep emerging with each sip. Slate, apricot jam, flan, honeysuckle and kumquat fruit notes are the most prominent, leading to a long, mineral-laced finish. Drink now through 2040."
Joh. Jos. Prum Zeltinger Sonnenuhr Riesling Spatlese, Mosel 2016 750ML ($41.95) Was $36, Buy Now: $33 January Sale Special
David Schildknecht – Vinous 93 points "Fresh apple garlanded in honeysuckle and heliotrope sets the tone for a generously juicy, subtly creamy palate seductively loaded with inner-mouth floral perfume and leading to an inhalative, delicate but seriously sustained finish vividly underlain with wet stone and tinged with bittersweet, smoky nut oils and mouthwatering salinity."
Stuart Pigott – JamesSuckling.com 93 points "There are delicate spices and very attractive succulence to this Spätlese. The acidity is very much in the background until the finish lifts off. Drink or hold."